After being forced to operate behind closed doors last year, the 2021 Goodwood Festival of Speed was a triumphant return to form.
This year's event saw crowds return to the Goodwood estate en masse, and there was no shortage of metal both old and new on display. Some, though, stood out more than others. These are our favourites.
Aston Martin Valkyrie
Goodwood regulars are no stranger to all things exotic. Be it four, six, eight, 10 or 12 cylinders, I sometimes get the feeling they've heard it all before. So it takes something truly special to send them sprinting for a view of the hillclimb course. Say, the 10,500rpm redline of the Aston Valkyrie's Cosworth-developed V12. It's simply astonishing that anything road legal can make this kind of noise. It really wouldn't sound out of place next to a mid-1990s Formula 1 car. Tom Morgan
Chevrolet C8 Corvette
The definitive sports car. And no, I'm not talking about the relative newbie from Stuttgart… The Corvette is a car I've been lusting after for eons, but this one is the game-changer. For starters, it's mid-engined – the first time in the 'Vette's history. Plus it's officially available over here in right-hand drive – two factors that mean it's no longer a fringe car in the UK. The Festival of Speed was made for this sort of reveal. Piers Ward
Lotus Emira
The old Evora was an absolute standout car for ride and handling but it was always too tough to use – with offset pedals, wide sills, hard-to-see dials and flimsy interior bits. Plus it looked weird. If the new Emira puts those bad bits behind it but retains its dynamic excellence, it'll be quite something. Matt Prior
Kimea EVO37
Restomods are restomods, really, and we see a lot of them these days. But however desensitised you've become to the succession of uprated, updated motoring legends, surely the Kimera EVO37 is exciting enough to rekindle your interest? Faithful enough to the original Lancia 037 to please the purists, but with a scarcely believable 371kW from its rally-bred turbo four and a proper, frill-free cockpit, it's the ultra-exclusive rally special to beat them all, and we can't wait to have a go. Felix Page
M-Sport Ford Puma Rally1
Using a compact crossover as the basis for a rally car is ludicrous. And the history of rallying suggests that good things rarely happen when marketing decisions dictate what machines are used. Remember the Peugeot 307 WRC? Or the Citroën BX4TC? Exactly. So I feared the worst when I heard Cumbrian squad M-Sport was going to replace its gorgeous Fiesta WRC with a Puma for the new hybrid-based Rally1 rules that will come into effect next year. And then I saw it and, well… how can something so wrong be so right? It's a stunner. Clearly, it helps that the Puma road car is really very good, and the shared underpinnings of the supermini and crossover mean that the Puma Rally1 is basically a Fiesta WRC with a new front end. The result is something that looks the part – and looks capable not just of winning rallies, but of making people believe in hot crossovers. James Attwood
BMW i4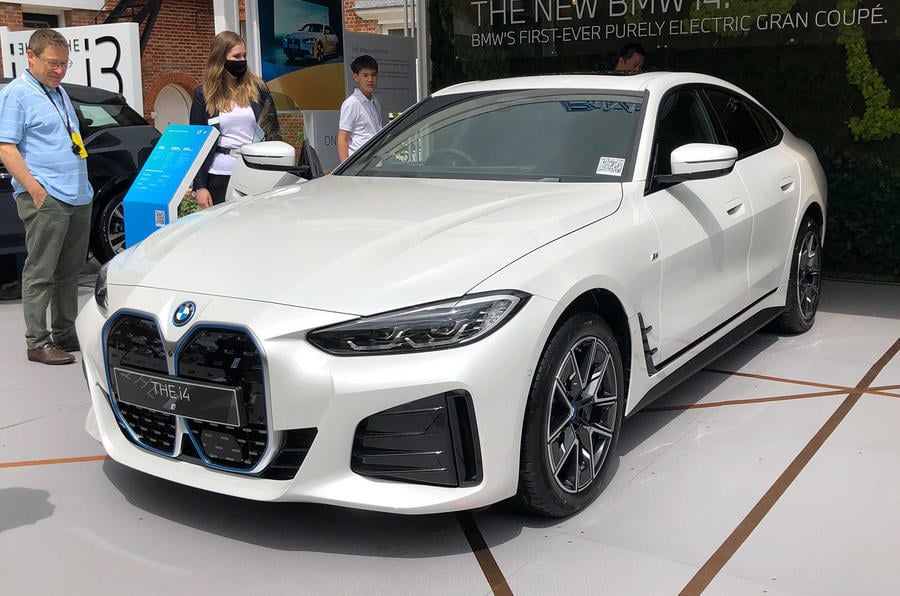 The new BMW 2 Series was uncovered for the first time at Goodwood, but it was the Tesla-rivalling all-electric BMW i4 that caught my eye. I think its understated design looks great even with that controversial grille. A range of 590km, 250kW on offer and a 0-100kph sprint time of 3.9sec from an M-badged M50 variant will mean it'll be worth the wait. Jack Warrick
Toyota GR 86
Let's face it, the GR 86's bulked-up boxer engine won't exactly sing and the car's interior won't in any way feel 'premium'. But this is 2021 and Toyota is about to give us an all-new rear-drive sports car of modest cost and sensible physical footprint, with a manual gearbox, no turbos to be seen and a chassis that deliberately develops less grip than it could do, all in the name of fun. Can I get a hallelujah? Richard Lane
Land Rover Defender V8
It's the new Defender, with a V8 engine. What's not to like? Land Rover thought the V8 would do well but has been blown away by demand for it. And it's the kind of application of a V8 we just don't see much of these days, where it's tuned for easy-going refinement and torque rather than a shouty turn of pace. But, by all accounts, it'll do that, too. The ultimate version of the ultimate 4×4, then. We drive it later this month. Bring it on.
Mark Tisshaw