Lamborghini, Ferrari and Porsche all build cars capable of exceeding 320km/h. The cars on this list can do significantly more than that.
Speed matters, especially when it comes to the fastest cars in the world.
But what manufacturers claim their multi-million dollar hypercars are capable of and what they have actually been proven to achieve are two very different things. That's why this list focuses on recorded times, not the 'theoretical' top speed figures. Unless it set a time in real life, it hasn't made the cut.
Like owning a watch that works on the moon, or a pen that can write at 200m under the sea, it's nice to know that, your car can perform speed miracles – were you to find somewhere where it was safe and legal to do so.
With that in mind, here are the fastest production road cars by the numbers (from 'slowest' to fastest).
McLaren F1 – 386.4km/h
Famously set by racing driver Andy Wallace at Volkswagen's Ehra-Lessien test track in March 1998, the monumental British hypercar carried the title of World's fastest production car for the best part of 15 years. However, that figure required the rev limiter to be raised to 8300rpm – no production F1 has ever been recorded at more than 340km/h, though unmodified, the 6.1-litre V12 should be capable of a still astonishing 350km/h.
Koenigsegg CCR – 388km/h
The car to knock the F1 off the top spot did so at Italy's Nardo Ring test track in February 2005. Koenigsegg's second-ever production model used a 4.7-litre twin-supercharged V8 to produce 596kW and urge it on to beat the McLaren by a single mile per hour. The record wouldn't stand for long, however; just two months later, Bugatti would take the crown in spectacular fashion.
Bugatti Veyron 16.4 – 408.4km/h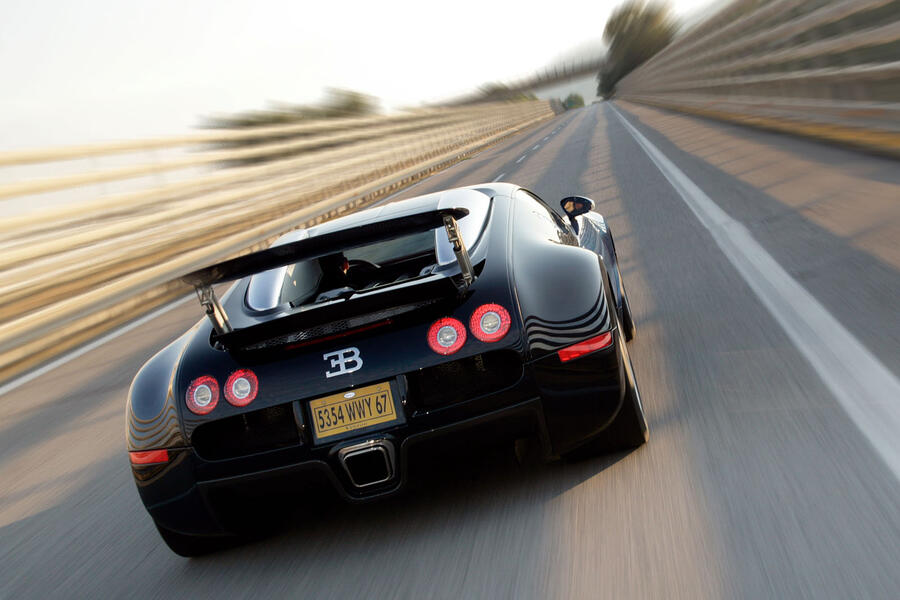 At the time it was the most expensive and most powerful road car ever built, but VW Group bosses wanted the Bugatti Veyron to be officially the fastest car in the world as well. An 8.0-litre quad-turbocharged W16 engine produced 736kW from the factory, with a seven-speed automatic gearbox sending power all four wheels. The car had to be put into its Top Speed Mode for the run, activated with a special key that retracts the rear spoiler, shuts the front air diffuser and lowers the ground clearance to just 6.5cm. The result? A record-breaking 408.4km/h at VW's Ehra-Lessien test facility.
SSC Ultimate Aero TT – 412.28km/h
SSC, then known as Shelby Supercars, produced the Ultimate Aero for seven years – not a long lifespan, but long enough to overtake Bugatti in the top speed stakes. In September 2007, the 882kW, twin-turbocharged V8 hypercar used a temporarily-closed two-lane stretch of public road near the Washington company's headquarters to set an average top speed of just over 412km/h.
Bugatti Veyron Super Sport – 431km/h
Not happy to have the record taken from them, Bugatti gave the Veyron a substantial overhaul in order to raise its top speed even further and have a new go at winning the title. The Veyron Super Sport was limited to just 30 cars, with each one seeing power output boosted to 882kW and aerodynamics overhauled to cope with the forces it would experience well beyond 400km/h. In July 2010, Bugatti test driver Pierre Henri Raphanel clocked 431km/h at the Ehra-Lessien oval.
Hennessey Venom GT – 435km/h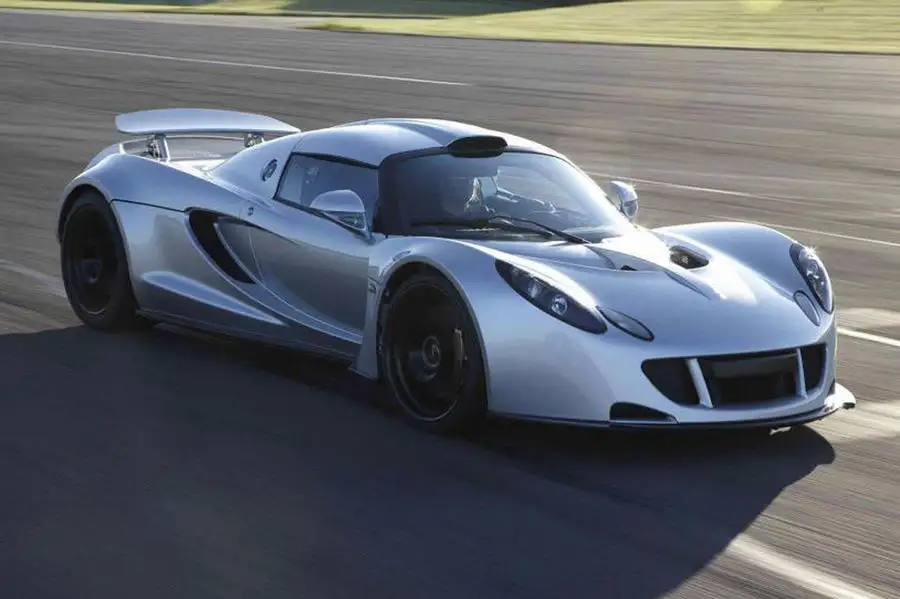 American tuning house Hennessey Performance Engineering is no stranger to speed, having previously taken its Dodge Viper-based Venom beyond 340km/h. It was the Venom GT, which used a Lotus Exige as its foundation, that would go on to steal the record from Bugatti – though not without controversy. In February 2014, on the 5.1km space shuttle landing runway at Florida's Kennedy Space Centre, it recorded a one-way speed of 435km/h. However, NASA wouldn't let Hennessey attempt an opposite direction run, and so didn't qualify for an official Guinness World Record.
Koenigsegg Agera RS – 447km/h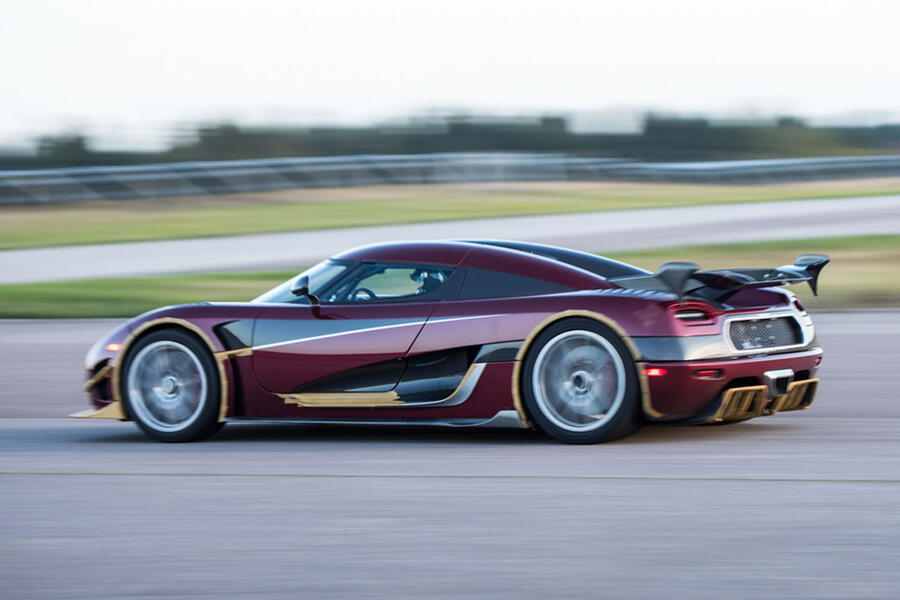 When it used a customer-owned Agera RS to earn the outright world record top speed in 2017, Koenigsegg also took the record for the highest speed ever recorded on a public road. Mercedes had held that particular crown since 1938 when a highly modified W125 Grand Prix car managed 431km/h on a closed stretch of autobahn. As an indication of 80 years of progress, the Agera RS was entirely standard, with the company's optional 1MW engine package producing a colossal 1014kW.
SSC Tuatara – 460.4km/h
The SSC Tuatara claimed the title of the "world's fastest production car," after posting a two-way average speed of 508.72km/h on a closed strip of state highway just outside of Las Vegas, Nevada. However, that was later declared incorrect and its fastest speed record thus far is 460.4km/h, which still makes it the second-fastest car on earth.
Bugatti Chiron Super Sport 300+ – 490.3km/h
The top speed champion is once again a Bugatti. Again limited to 30 customer cars, like the Veyron Super Sport, this purpose-built speed machine was taken to 490.6km/h by British sportscar veteran Andy Wallace at the VW Group's Ehra-Lessien test track. Appropriately nicknamed Thor (because it brings the thunder), the Chiron's quad-turbocharged W16 engine produced 1176kW in record-setting guise. It was given a new gearbox with longer ratios, and front and rear bumpers that were optimised for high speed runs.
Who will be next to break the car speed record?
With Bugatti having promised to bow out of setting production car speed records, there are several potential successors to its crown.
Hennessey Venom F5 – over 480km/h (claimed)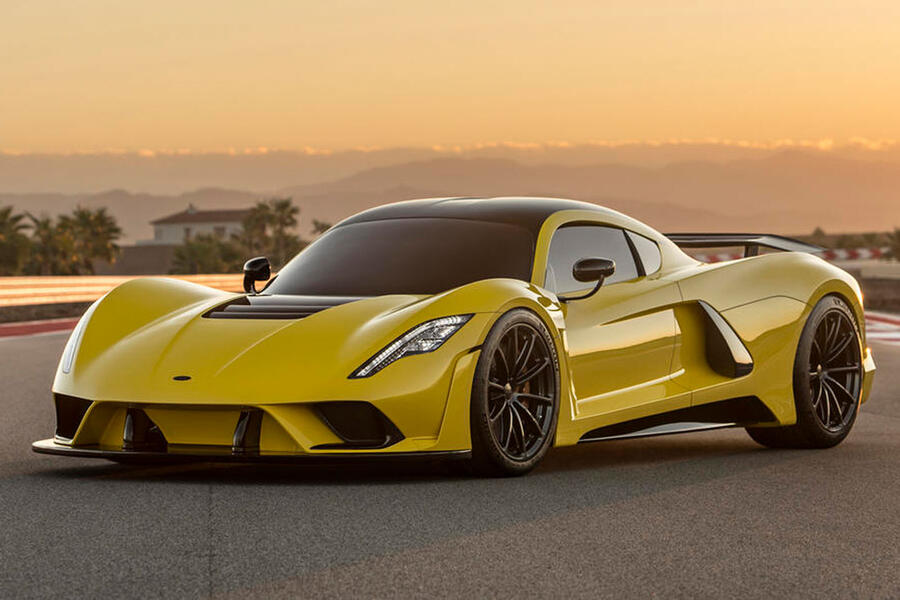 Hennessey says its Venom F5 carries on where the Venom GT left off, with a 6.6-litre twin-turbocharged V8 producing 1354kW and 1600Nm. It should be capable of 0-100km/h in around two seconds, and has a theoretical top speed of over 480km/h.
Koenigsegg Jesko Absolut – over 530km/h (claimed)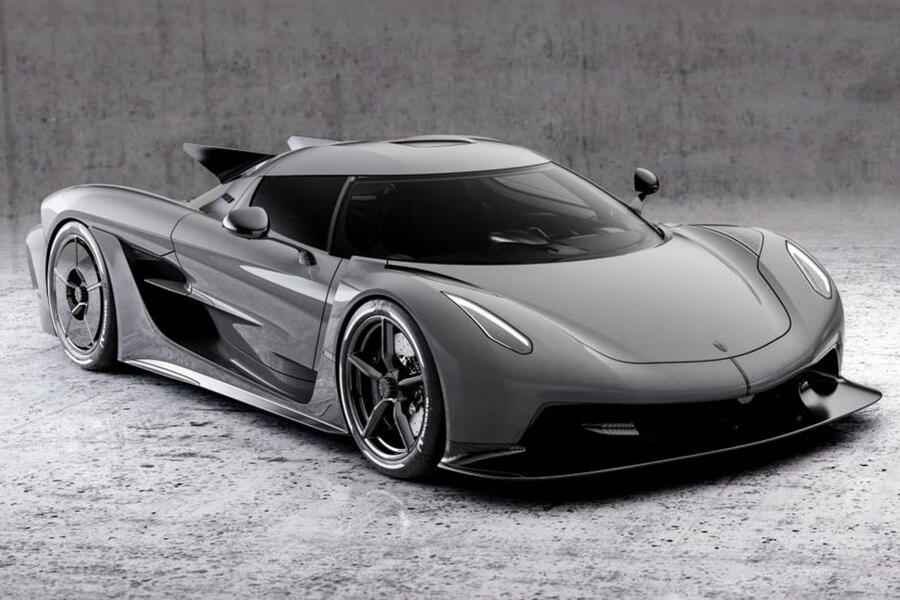 The Swedish film has yet to confirm an official top speed for its 1190kW+ hypercar, which it says will be the fastest car it will ever produce. Simulations suggest the combination of twin-turbocharged, 5.0-litre V8 engine, a low 0.278 drag coefficient and unique multi-clutch 9-speed transmission will allow for a top speed of 530km/h.