When Andrea Adamo walked into Hyundai Motorsport for the first time, he couldn't have been more relaxed. Yes, he was at its HQ in Alzenau, Germany, for a job interview, but it was going be the easiest interview of his life.
Whether he left there as Hyundai Customer Racing manager or not, it wouldn't change his life.
"I had been working in motorsport for 25 years," says Adamo. "But I had stopped. I was ready for a normal life, to work from eight in the morning until five in the evening and then go home. And stay home at the weekend.
"I had a call to ask if I would come for the interview. Why not? I went and had a nice chat with [then Hyundai Motorsport team principal] Michel Nandan and then I took the plane back to Turin. I didn't think more about it. That was on the Wednesday. I got another telephone call, this time asking if I could start on Monday."
That was in 2015. Adamo started on the Monday.
His job was to oversee the development of customer operations running alongside Nandan's factory World Rally Championship outfit. Having invested millions of euros in an i20 WRC car, the Koreans wanted to see some financial return in the shape of sales of a second-tier R5 car, with an i30 TCR race car following a couple of years later.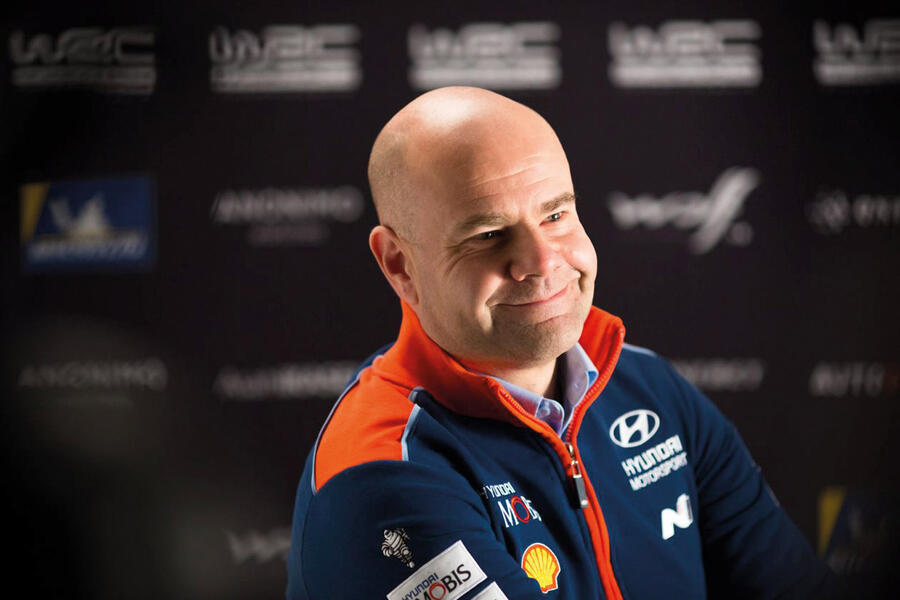 In comparison to Hyundai's first stint as a factory team in the WRC – a dismal, podium-less, four-year effort based on the Accent WRC and concluding with a mid-season WRC walkout in 2003 – the second shot delivered almost instant success. In season one, 2014, the i20 was in the top three by round three and winning six rallies later.
This time, Hyundai Motor Corporation had decided to do the job itself; no outsourcing to a European preparation firm. Instead, a vast premises on the outskirts of Frankfurt was retained and Hyundai Motorsport born.
The German city's direct freight flights to and from Seoul made for an entirely workable association and development cycle between Europe and Asia. The only issue for Nandan was that Seoul saw no reason why the car couldn't be ready in next to no time. Next to no time, like yesterday.
As famous as Thierry Neuville's Rally Germany victory was in 2014 – coming after he rolled through a vineyard at shakedown – it flattered to deceive and came after the best of the rest had fallen by the wayside.
Designed and built in a matter of months, the i20 was no match for the car developed just down the road in Hanover. Volkswagen's well-resourced and precisely timed return to rallying crushed everything in its path for four years.
VW's 2016 Dieselgate-driven departure from the WRC opened a window of opportunity for its rivals. Hyundai was widely expected to be the team to benefit the most.
Pre-season testing in late 2016 identified Nandan's i20 Coupé WRC as the prime mover on the eve of the debut of the sport's fastest-ever generation. Neuville's rally-leading speed through Monte Carlo and Sweden demonstrated pace as well as promise. But mistakes from the Belgian failed to turn that promise into prizes.
The i20 was an exceptional rough rally car and nothing could touch it in the ruts. But when there wasn't so much for the car to grab hold of and grip, the results fell away. Rally Finland – the season's fastest and smoothest event – has been a consistent disappointment from the i20's arrival in 2014.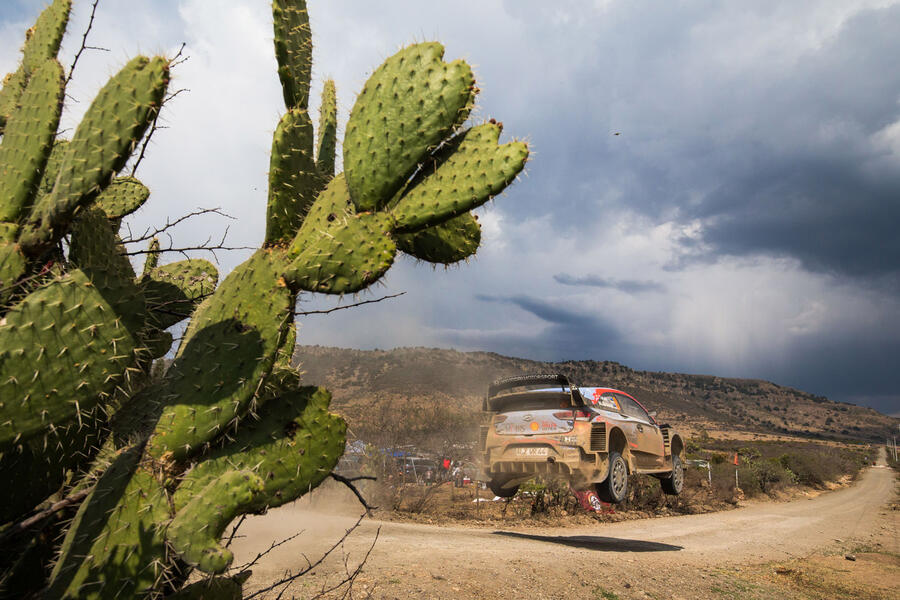 After five years with no title, change was needed. Nandan was gone. In walked Adamo.
His brusque management style immediately ruffled feathers, both in the team and in the media. Lacking Nandan's patience, he fired one-word answers in the direction of what he deemed stupid questions.
"People died for you to be able to express your opinion and I respect that," he says. "But the most important thing we have is time and I hate to waste time. I don't want to intimidate no one, but I want to speak with people who have something to say. When people come to me with stupid questions or accusations, I get annoyed because I'm busy enough. My time is Hyundai Motorsport's time. They pay for my time and I don't want to waste it."
Adamo cut his teeth at Lancia, working under such legends of the sport as Ninni Russo and Sergio Limone and walking corridors that still echoed the forthright views of Cesare Fiorio.
"I grew up in an environment where not winning was a big problem," he says. "I was so fortunate to have incredible teachers. The lesson was that we had only one target. We're not interested to see the car out there, running around, blah, blah, blah. I remember being told: 'I don't care. You have to win.'"
His rotation of a third driver in the team has allowed him to manipulate the running order and deploy team orders on a scale that would have impressed Ferrari team management at the height of their Formula 1 pomp.
Such a single-minded approach didn't sit well with everybody.
After the Rally de Portugal in 2019, Sébastien Ogier had had enough. The Frenchman said, fuming: "I got the information, not from any drivers – I have my sources – that this great gentleman that is Andrea Adamo asked him [Dani Sordo] to stop in the stage and start in front of Kris [Meeke]. That was really mean."
Adamo batted the then six-time world champion away: "I won't answer such low-level accusations."
What mattered to Adamo was the result at the end of his first season in charge. Hyundai Motorsport topped the world.
Equally as impressive as lifting Hyundai's maiden title in 2019 was the way he landed his employer that year's drivers' champion, Ott Tänak, for 2020. Adamo quickly found common ground with the Estonian driver, who is known for a frank, forthright approach.
"You have to be prepared to invite Angelina Jolie to dinner," says Adamo in a trademark left-field analogy of his decision to ask Tänak to switch from Toyota. "If you permit me to say, Ott is a little bit like me: on the outside, he's not the guy making all the jokes or being so sociable. Inside the team, it's different."
Tänak's experience of M-Sport's Ford Fiesta WRC and Toyota's Yaris WRC allied to a single-minded approach is recognised as a key factor in the development of the i20. His home win at Rally Estonia – an event every bit as smooth and fast as Finland – demonstrated the fruits of the team's collected labours last season.
"I am lucky," says Adamo. "I have good people around me. I'm here for them. I'm not here to make friends or to be the popular guy. I'm here with 254 other people to make sure Hyundai Motorsport is winning. I know I am sometimes too much, but I have this passion for our sport and I cannot keep it all the time in the basement."
An intriguing season ahead
Hyundai heads into 2021 chasing a third straight makes' title – but it is still seeking its first drivers' crown. Former champ Ott Tänak will lead the firm's charge, with Thierry Neuville also lined up for a full year.
Their main opponents will again be Toyota, with reigning champion Sébastien Ogier aiming to win an eighth title in what he says will be his final season. He'll again face pressure from Elfyn Evans, who narrowly missed out on honours last year. M-Sport will field a fleet of Ford Fiestas once more, with young drivers including Briton Gus Greensmith.
The 2021 calendar – subject to change – includes new events in Croatia, Chile and Belgium and a delayed return to Kenya and Japan. But there's no Rally GB, which has lost its slot due to funding issues.
Hyundai's rallying highs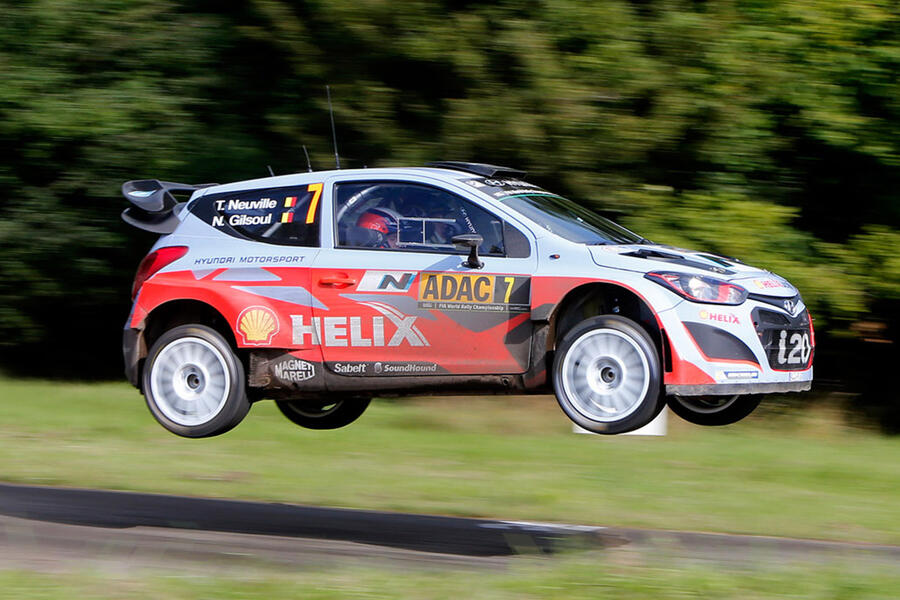 Rally Germany 2014: It's not often the World Rally Championship makes the TV news these days, but it did on 22 August 2014 with Thierry Neuville's monster, grape-crushing roll through a vineyard in shakedown. The reality was panel damage and a wry smile from the Belgian every time another wine-making gag was delivered. He had the last laugh three days later when he took Hyundai's first WRC win.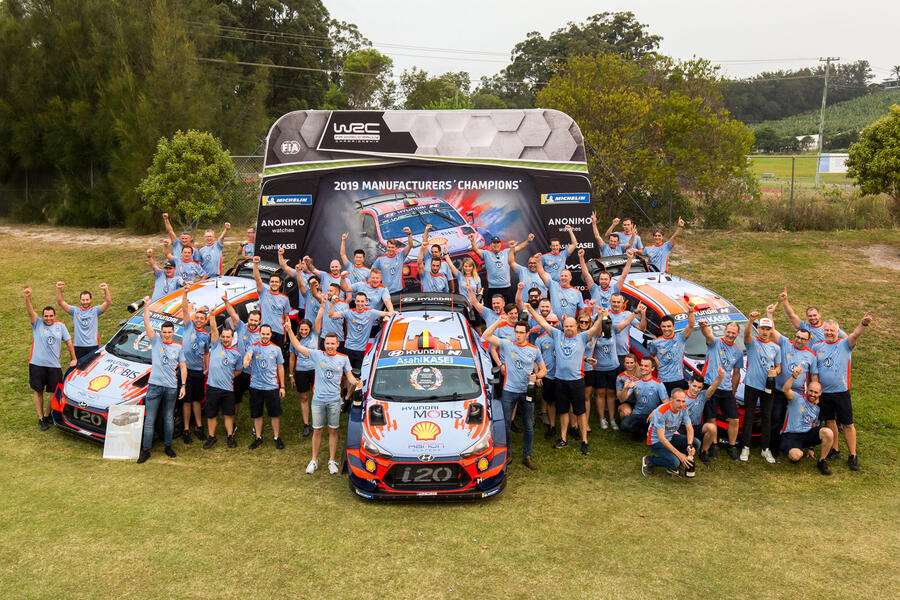 Rally Australia 2019: Eighteen points up on Toyota going to Australia, Hyundai Motorsport was favourite to lift its first makes' world title down under – but that success was delivered without the team turning a wheel after the route was ravaged by bush fires.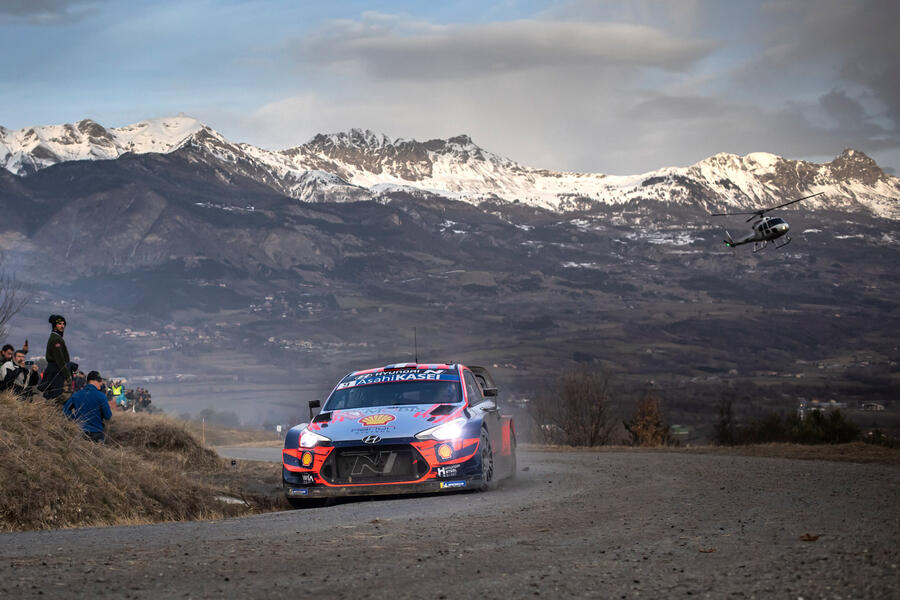 Monte Carlo Rally 2020: The Monte remains the one to win in the WRC and Neuville's success last season was well celebrated by the Koreans. But it was even more special for Adamo, who in his youth would tune in to Radio Monte Carlo's through-the-night coverage, waiting on news of his hero Walter Röhrl.
David Evans