"As a driver, you feel confident in your ability. But in F1, it's all about timing. Right place, right time…"
George Russell was in the right place at exactly the right time when a stand-in for Lewis Hamilton was needed at the Sakhir Grand Prix. Thanks to a stunning performance that merited the victory Russell was so cruelly denied, it's now a matter of when, not if, he becomes a full-time member of the all-conquering Mercedes-AMG grand prix team.
But being in the right place at the right time isn't about dumb luck. Russell has been groomed as a potential successor to Hamilton long before his Sakhir opportunity. Since Mercedes signed him as a junior almost four years ago, he has excelled at every level and, at just 22, has been polished into a diamond. Russell had never driven the W11 before Friday free practice in Bahrain, yet he ended the weekend doing a passable impression of the champ behind the wheel. Forget the rhetoric about the car doing the work: it takes a special driver to do that.
But Russell isn't an empty vessel shaped by Mercedes, and he brings the ideal mentality. He's a polished, presentable character off track with real intelligence and focus. Were you to speak to him without knowledge of his profession, Russell would inspire confidence that he knew what he was doing whatever his trade.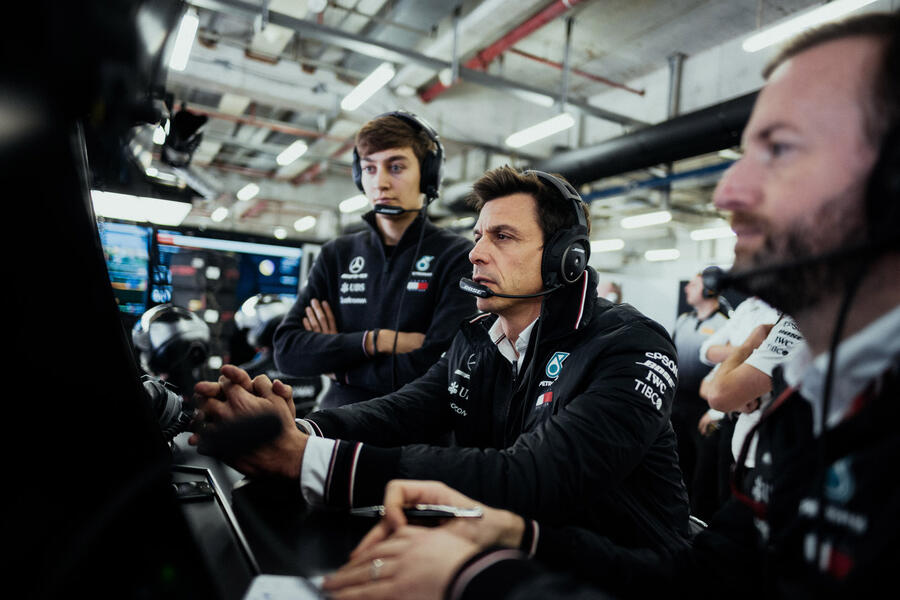 You would also see that he's very much his own man. Mercedes may push him and mould him, but Russell pushes himself harder. Russell has taken what he learns from Mercedes, rather than relying on being spoon-fed. That's the same mentality that ensured he didn't play himself in gently on his Mercedes debut.
"There's a few sides to that," he says. "There's me inherently; the days I spent with Mercedes as their reserve driver meant I learned there was a lot more to being a complete F1 driver than just jumping in the car and driving as fast as you can.
"That opportunity, being surrounded by them, made me recognise how I needed to improve from a technical and marketing perspective, just to try to be a more complete person and driver.
"F1 is like no other. It's ruthless, and you have to excel in all areas or you're going to be chewed up and spat out. I recognised that early, and I've been working ever since to become better and better."
In his first 35 races in F1, Russell did that in an uncompetitive Williams. But there was no sense of entitlement holding him back; he didn't use the poor machinery as an excuse to coast. More drivers than you might think would – but they're the ones who rarely make it to the top and, if they do, never stay there.
Russell treats every race as an opportunity to impress, and that ensured Mercedes turned to him when Hamilton tested positive for Covid-19. As Russell himself put it, had he been off-form, he might not have been given the chance. But in the Bahrain Grand Prix that preceded his big break, he had qualified and finished 14th in a car that couldn't have done any better.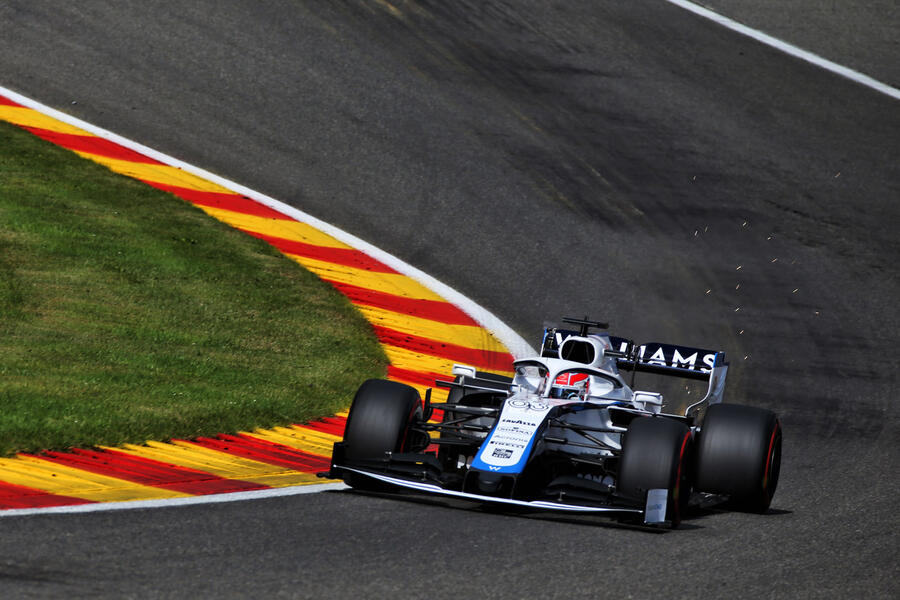 That Russell has excelled at Williams might surprise those who remember him for crashing behind the safety car at Imola. That was an unforgivable error, but nobody had to call him out for the amateur mistake because he had already done so himself. The mistake was atypical, a moment of over-aggression while he was trying to maintain tyre temperature at cruising speed on a cold November day, but his reaction wasn't. That was mental strength.
"If you're the one to make the mistake, it's always important to hold your hands up because it makes others realise that if they make a mistake, they can hold their hand up and learn from it," says Russell.
"That was important, not just for myself but also for the team, to say: 'I messed this up, I'm incredibly sorry and I'm doing my utmost to not let it happen again. I'll come back stronger and deliver the goods.'"
Easy to say, harder to do. Success in elite sport requires you to be tough on yourself and analytical to a fault. You need a robust character to be a serial winner. And being a successful racing driver is about far more than being fast because, at F1 level, they're almost all seriously quick. It's about channelling that speed via a bewilderingly complex machine that exists at the centre of an organisation of more than 1000 people.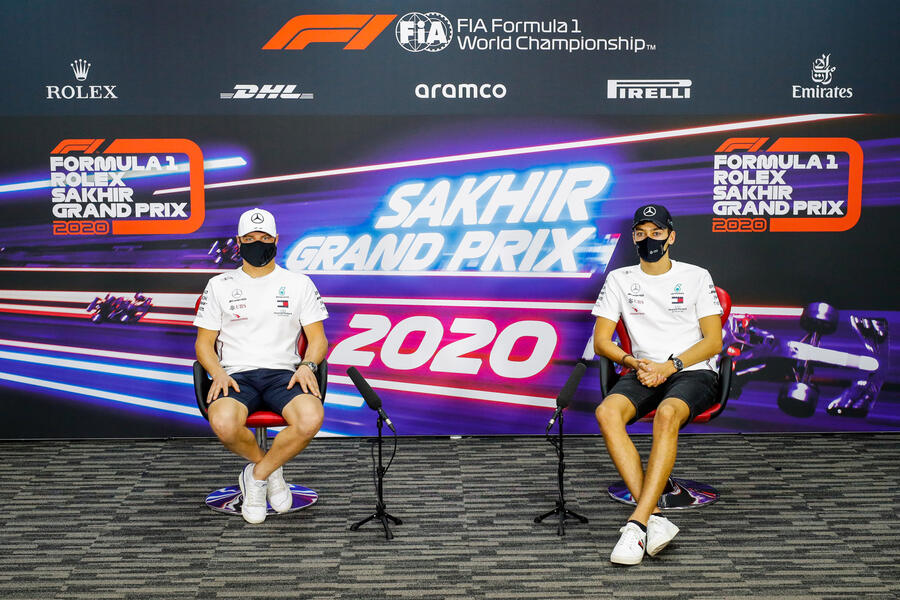 Russell absorbs information like a sponge. The crew on his car for the Sakhir GP weekend had to adapt to him being a lot more talkative than Hamilton. During practice, even on fast laps, he requested information over the radio. At a time when most would be fully absorbed in controlling the car, especially in which they didn't fit properly and had to wear boots a size too small, Russell was working out how to make it go even faster.
F1 cars aren't straightforward. Drivers talk about the 'tools' that are available to them, which sounds simple enough. But the array of differential settings, brake shapes, engine braking settings and more that can be adapted corner by corner to find those precious extra hundredths or thousandths of a second is seemingly endless. Russell put himself through a crash course to learn everything even at a time when he was unfamiliar with some basic systems; at one point in qualifying, he accidentally put the car into neutral.
But Russell isn't one to take the easy path. He's built up his confidence over the years and seems to revel in facing enormous challenges. The sense of self-belief, essential for success at the top level but rarely matched with the qualities needed to deliver, is a key part of any great driver's make-up. Pressure has cured him into a stronger driver, not broken him.
When asked if he has ever felt pressure to justify the support of Mercedes, Russell replies: "Arguably, when I was a bit younger, maybe my early races in GP3.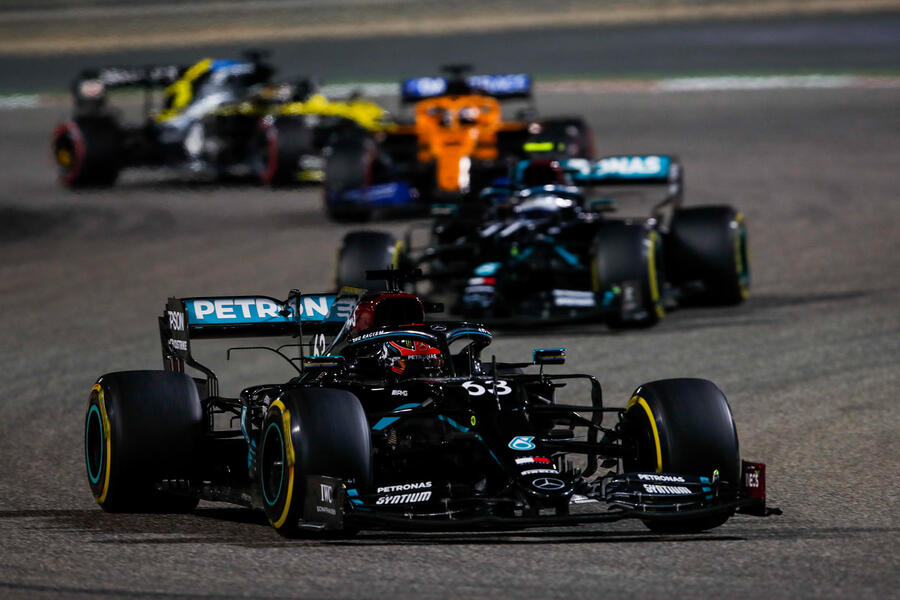 "Probably during 2017, there was a point where my mentality shifted. I told myself: 'I'm here for a reason and they haven't picked me up for the sake of it.' Mercedes don't sign 15-20 young drivers every year; at the time, I was one of three. I knew I had to go out there and do my job to the best of my ability.
My job to the best of my ability. "I've always had the most amount of pressure from myself. I know what I want to achieve, and I only saw being affiliated with Mercedes as a positive. Maybe I enjoyed that extra pressure that I knew all eyes were on me, even back then."
But most of all, Russell is seriously fast. The Williams has been, on average, the ninth-quickest car in F1 in 2020, yet Russell has reached the second stage of elimination qualifying more often than not. To do that, he has to beat at least five drivers, some in faster cars.
The best in F1 don't defy the laws of physics and outperform the car. What they do is maximise it while others can't, not over just one lap but every lap, every time they get in the car. That's what Hamilton does, that's what all the greats do and that's what Russell will have to do if he's to be ranked among their number.
Ranked among their number. "You've got to treat every opportunity as if it's your last because you don't know what's around the corner," says Russell. "I don't think anybody could have predicted what happened in Sakhir…"
How do we know he's so talented?
Fernando Alonso knows what it's like to toil in a backmarker, having spent his debut season with Minardi in 2001. So when he chose George Russell as his pick for the future, it carried a huge amount of weight. But how could he be so sure?
It's the eternal question for F1 fans, especially given the question marks over the two team-mates Russell has been compared with at Williams – the returning Robert Kubica in 2019 and the unheralded rookie Nicholas Latifi this year. But sheer speed and the capacity to make a car do your bidding always shows. And Russell shares with Alonso an uncanny feel for the limit, combined with rigorous self-analysis.
"I'm honest with myself, I know when there's a bit more time in there," says Russell. "When I watch a lap of Lewis Hamilton or Max Verstappen and I see what they're achieving, I know if I've managed to do similar or if I'm a bit away from them. I'm my biggest critic."
What Russell did in the Mercedes proves that the brightest talents shine through, even if they're driving a wheelbarrow, and really do translate to a front-running car.
Edd Straw