Covid-19 has given esports a unique opportunity to showcase itself, with real-life stars competing alongside pro gamers. We learn more
Almost as soon as the coronavirus led to racing engines around the world being turned off, so the simulators were fired up and motorsport went virtual. Much like Zoom video calls, Joe Wicks, home baking and online shopping, esports has enjoyed a lockdown-sized window of opportunity in which to showcase itself.
The result has been a surge in interest, fuelled by real-world drivers, manufacturers and championships out to fill the void until real racing can resume. It started with established esports organisers. As the Formula 1 circus headed home after the last-minute cancellation of the Australian Grand Prix, Veloce Esports and Torque Esports set up 'all-star' events, both featuring real-world drivers, including F1 stars Lando Norris and Max Verstappen, and leading sim racers. F1, Formula E, Indycar, Nascar and others quickly launched virtual championships, and sport-starved TV broadcasters jumped at the chance to fill their schedules, giving the already rapidly growing activity a huge profile.
"The last few months have been really cool," says Jack Nicholls, who commentates on F1 for BBC Radio 5 Live and Formula E on TV but started his career covering esports and has commentated on several current series. "Esports is big, but it has still only been for gamers, and 'real-world people' turned their nose up at it to a certain degree.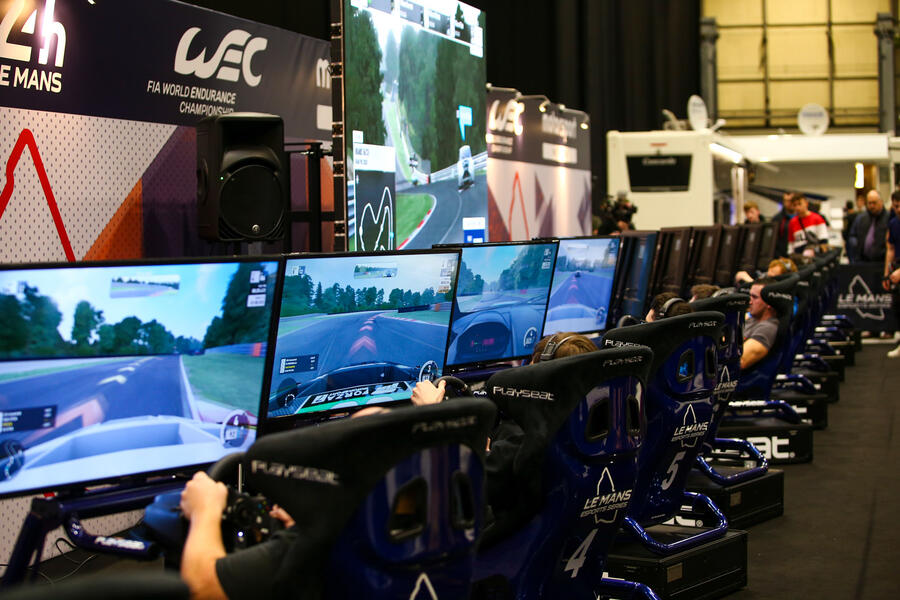 "The drivers who have got into it now is exciting. We're watching Fernando Alonso and Jenson Button racing in esports, and there was a huge grid for the 24 Hours of Le Mans Virtual." For championships and manufacturers, esports helped them maintain a media presence during lockdown. Nicholls estimates an esports race might achieve 10% of the exposure of a real contest – but at significantly less than 10% of the cost.
Formula E established the Race at Home Challenge, using it to raise money for Unicef. Hannah Brown, the championship's strategy boss, says: "We weren't sure what reach we would achieve when we started, but the take-up from broadcasters was great. It also attracted different viewers, so it has been really useful."
The official series helped draw in star names. While some, including Norris and Verstappen, regularly compete in esports, many were new to the discipline. Bruno Spengler, who usually races a works BMW M8 GTE, tried sim racing for the first time only last year. He now says that it "teaches real driving feeling", adding: "Because the right racing line in the simulator is also the right racing line on the real race track, I can take many of my experiences in the simulator with me into the real racing car." Thanks to television coverage, it's not just drivers who have been given fresh exposure to esports. "I know a commentator who thought esports was stupid but covered one event and at the end said 'wow, that was a proper race'," says Nicholls. "Well, yeah. It's virtual motor racing. The motors are virtual, but the racing is real."
It almost looks real, too. Modern sim-racing software such as iRacing, rFactor 2 and F1 2019 features incredibly realistic graphics. With the likes of the F1, Formula E, Indycar and Nascar broadcasters using their regular commentators and graphics, the results were impressive. "The F1 Virtual Grand Prix series was the best example," says Nicholls. "While the game itself isn't the most realistic there is, when you're watching Charles Leclerc and Alex Albon fight it out in the cars they really drive, it's so close to watching reality."
Esports has also allowed for 'fantasy' events. The Race Legends Trophy attracted incredible line-ups: one Indianapolis race featured Fernando Alonso, Mario Andretti, Jenson Button, Emerson Fittipaldi and Petter Solberg, among others.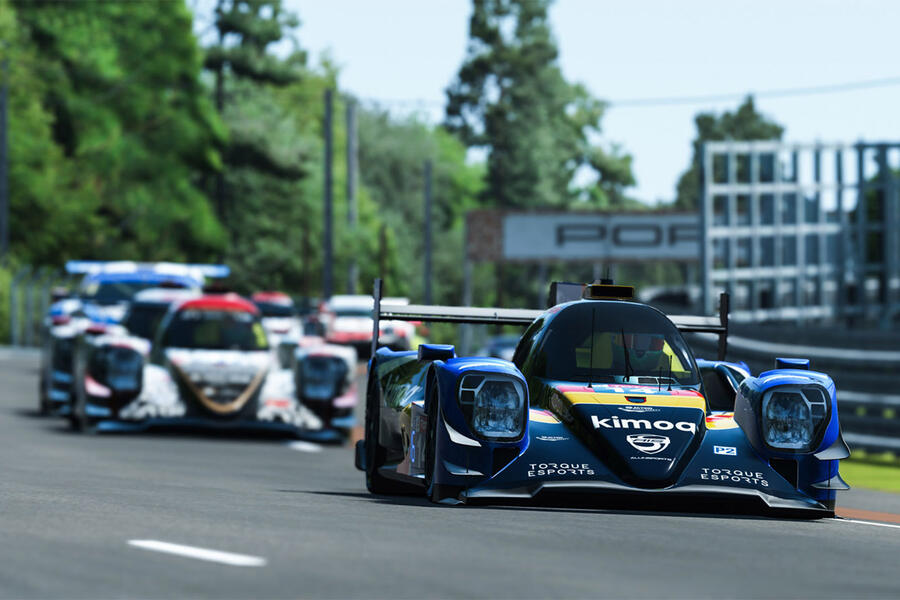 "A lot of the time, esports is a reflection of the real world that's not quite as good, which is a fair place to be, but something like the Legends Trophy is the sort of thing you've always wanted to see but will never be able to in real life," adds Nicholls. "Commentating on all those names really was a career highlight, which is quite bizarre when you think about it."
Esports has also allowed drivers to easily make guest appearances in other series. Verstappen contested a number of Australian Supercars events, while Norris took victory on an Indycar outing at Barber Motorsports Park. It didn't always end well, mind you, with Norris's follow-up appearance in a virtual Indianapolis race sparking a major inter-series row. Indycar champion Simon Pagenaud was angered when Norris overtook him in a move that would be dangerous in reality. He responded by deliberately taking out Norris to prevent him from winning.
There were other times when esports' failure to totally reflect reality caused issues for viewers. Huge crashes can barely cause a stir, competitors occasionally disappear mid-race when their internet connection plays up and the hugely successful Le Mans Virtual event required two race stoppages while computer servers were reset. Such discrepancies can jolt viewers from reality, and the sheer visceral thrill of watching real motorsport is missing. Still, as an approximation of the real thing, it's close – and people have watched.
The first official F1 esports event, the Virtual Bahrain Grand Prix, reportedly attracted a global TV audience of some 1.2 million and 3.2 million online viewers. The eNascar iRacing Pro Invitational Series race 'in Texas' attracted 1.35 million TV viewers in the US – a new record for any esports event. The Formula E Race at Home Challenge was shown by the BBC. And Torque Esports says its Race All-Star Series gained 4.75 million worldwide TV viewers through coverage across 71 international networks, including ESPN in the US.
Such numbers do need to be taken in context; TV ratings dropped as virtual seasons went on, with the final eNascar event drawing just 688,000 viewers. And they're dwarfed by what real racing achieves; when the Nascar season resumed last month, a peak of 6.32 million watched the first race.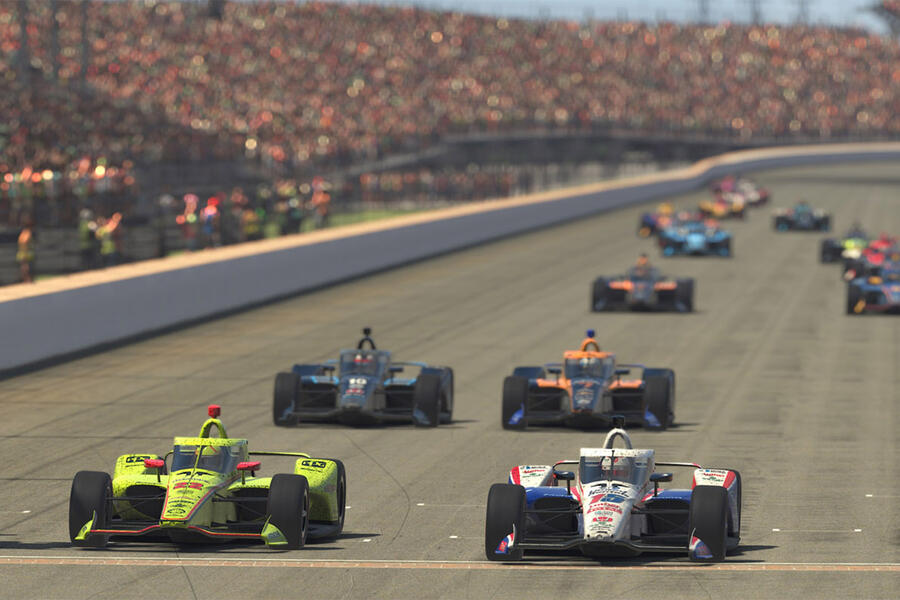 But TV ratings alone don't tell the full story. Esports is hugely popular on online streaming services, particularly Twitch. At times, Norris attracted more than 70,000 viewers to his personal video stream. "It's really enjoyable," he says. "Being able to speak [with fans] and answer questions is really nice. It allows people to see more of what I do. They get to see how I drive and how I act and react to spinning, doing well in qualifying and everything."
In an age when drivers are frequently dismissed as dull, corporate mouthpieces, esports platforms have allowed them to showcase their fun sides. "Norris was known as a character when he got into F1, but for me Leclerc was the big one," says Nicholls. "At Ferrari, he's obviously closely looked after, so seeing an F1 title favourite with his guard down, racing dressed as a banana, has been quite mad. To see behind the scenes in a Ferrari driver's house is a rare occurrence."
Yes, Leclerc really did tackle a race wearing a banana costume. Dubious sartorial choices aside, most of the real drivers have taken their esports outings seriously – and when they haven't, there have been consequences. Just ask Daniel Abt, who didn't enjoy sim racing and struggled in the virtual Formula E races as a result. He roped in a professional sim racer to take his place for an event and, when the ruse was uncovered, the outcry led to Audi sacking him from his real job.
With normality slowly returning, the attention of the motorsport world is sure to shift back from virtual to real life. But esports is set to benefit from its lockdown boom. "It's definitely something we think can be valuable for us in the future," says Formula E's Brown. "We've given a lot of thought on how to develop the product, by making sure it's authentic and valuable to the system."
Nicholls adds: "We all still want real motorsport to come back and, when it does, esports will continue for the guys who were doing it already, maybe with a bit more exposure than before. It has given sim racing a large amount of validity and shown that it's a serious proposition. The attitude that 'it's a silly game' is going away.
Esports in lockdown: the highs and the lows
Highs
Crossover stars: With switching codes as simple as switching software, races were enlivened by guest outings that couldn't happen in reality. F1 ace Lando Norris beat the best Indycar had to offer, Max Verstappen appeared in Australian Supercars and world rally legend Petter Solberg raced Fernando Alonso and Mario Andretti on the Indianapolis oval.
Ratings boom: With 1.3 million viewers, the virtual Texas Nascar race set a US TV record for an esports event. The F1 Virtual Bahrain GP attracted more than 3.2 million viewers worldwide across TV and streaming platforms. And the Formula E esports event was even shown on the BBC in the UK.
Level playing field: George Russell's talent has been hidden by a rubbish Williams so far, but with all the virtual F1 cars level, the 22-year-old Brit racked up three straight wins ahead of Charles Leclerc and other stars.
Lows
It's just not cricket: The F1 Esports Virtual Grand Prix events featured some questionable guest stars from elsewhere in the sporting world, including cricketers Stuart Broad and Ben Stokes, golfer Ian Poulter and footballer Thibaut Courtois. While they added some name recognition, it made it hard to take the series entirely seriously.
Defending their patch: Not all the guest stars were entirely welcomed. The Indycar esports race at Indianapolis ended in controversy when series champion Simon Pagenaud deliberately crashed into Lando Norris to prevent an outsider from winning, sparking a major transatlantic row.
Real-world sackings: Formula E driver Daniel Abt was sacked by the Audi team after roping in a professional gamer to clandestinely replace him in a virtual race. Nascar star Kyle Larson lost his real ride, too, for using racist language in a public channel.
James Attwood