Four-door coupes are becoming a more regular occurrence on our roads – but which are the best? We list them.
There is more than a hint of the emperor's new clothes about the concept of the modern 'four-door coupé', isn't there?
The classic three-box sedan has, for many decades, been a vehicle concept preferred to various others all over the world for its elegance and desirability. A good-looking saloon is, you might say, a car that really doesn't need much making over, styling up or reinventing.
And yet the visual makeover of the traditional sedan has been a key process with which the modern car industry has been busying itself for decades; and the four-door coupé is what it has come up with. Would it be unfair to describe these cars as sedans with curvier features and less impressive interior packaging? Perhaps, although in some cases it'd be pretty accurate. Cynics might even call some of these cars 'booted hatchbacks'.
Not the better ones, mind you; and those are the cars we're here to give credit to. A stylish, fairly compact modern sedan needn't be a self-proclaimed four-door coupé at all, as this list evidences. It simply needs to look great and retain commendable four-passenger practicality – and if it can deliver an appealing interior, a strong-feeling, poised-handling drive and distinguishing value for money, it's more likely to rise to the top of our chart.
These are the options vying for consideration at the more affordable end of the four-door coupé market. More expensive options such as the Audi A7 Sportback, the Porsche Panamera and the Mercedes CLS will be ranked in our upcoming Grand Tourers chart.
1. Alfa Romeo Giulia
The Alfa Romeo Giulia simply had to be a beautiful car. The first all-new-from-the-ground-up Alfa Romeo in many years, it was also the first rear-wheel drive Alfa in a generation, carrying on its shoulders the rejuvenation of a once world-leading Italian brand. Pressure like that often doesn't produce the best results from a team of designers; but the one responsible for this car – led by the since-departed Marco Tencone – certainly delivered the goods.
At the time of the Giulia's market introduction in 2016, automotive commentators were of one voice in praise of the car's perfect lines, details and proportions. Meanwhile, the Giulia's agile, incisive, perfectly balanced rear-driven handling won it almost as many fans when the road tests came around; and there was plenty of praise, too, for its engines – not least the headline-grabbing Ferrari-derived turbo V6 in the Quadrifoglio version.
The Giulia doesn't offer perceived cabin quality or infotainment sophistication to rival the best Germans in this list, and has been justifiably criticised by some owners for its disappointing reliability. Alfa Romeo ownership in the modern era clearly isn't too different, in some ways, from how it was 40 years ago. For Alfa brand fans, however – and for us – that fact doesn't alter one key reality: that the very best-looking new saloon car in production is once again an Alfa Romeo.
2. Audi A5 Sportback
The designers at Audi must dearly love it when the opportunity to draw up a new Sportback comes around. Few automotive brands have traded more squarely on discipline and restraint over the years. These days, big grilles and fussy headlights have forced their way in among the firm's more traditional straight lines and clean surfaces; and yet only when working on a car like the current A5 Sportback must an Audi designer have a bit more freedom to mix up the visual recipe.
That freedom was certainly capitalised on well with the current four-door A5, which, just as the first-gen car did, adds a large hatchback boot to the four-door coupé body make-up to the improvement of carrying convenience. This car's judiciously curvy aesthetic adds just enough seasoning to Audi's textbook saloon recipe, making the car stand out a little – but not a jot too much – and retain a dose of geometric, businesslike smartness to go with the freehand flourish.
The Audi's smart-looking, solid-feeling, well-appointed interior is every bit as powerful a selling point for the car as its exterior is, and there aren't many cars here that serve up a better mix of style with usable cabin space.
To drive, the A5 has a pretty Audi-typical character: it's composed and grippy but only moderately incisive or exciting. The car's engine range has changed a fair bit since its introduction in 2016, with upper-level petrol options having been either deleted or replaced. Notably, the range-topping S5 is now a 3.0-litre TDI diesel rather than a V6 petrol; and the blend of pace, drivabliity, refinement and efficiency it has seems very well suited to a fast Audi.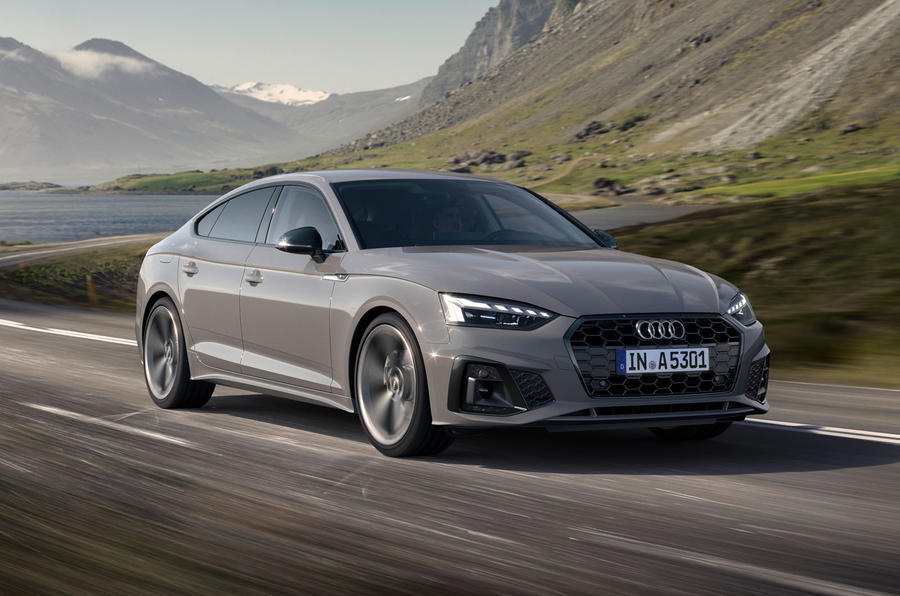 3. Kia Stinger
That the Kia Stinger has thrust its mercurial maker into this class and conversation at all, among the Alfas, Audis, BMWs and Mercedes, would have seemed a long-odds bet five years ago. The truth is, you don't see many Stingers on the road – but when you do, you'll probably notice it. This car really does stand out for its emphatic looks; and if that's job one for a stylish four-door, it's hard not to recognise the Kia as anything other than a success.
It stands out, also, for its supple-yet-poised, rear-driven chassis dynamics. The Stinger has the long-striding, precise-feeling yet laidback ride and handling of a talented modern sporting GT.
Its engines aren't quite so impressive, although the four-cylinder engines are more than passable; the exception to that being the turbocharged six-cylinder, 269kW GTS, which is a surprisingly credible cut-price alternative to an Audi S5 or a BMW M440i.
The Stinger is bigger than most of the cars in this list, with a roomy cabin fit for four adults with space to spare. For premium material richness, the car's interior is a little bit off the pace of its premium opponents; but it's not so in too many other ways.
4. BMW 4 Series Gran Coupé
The 'F36'-generation BMW 4 Series Gran Coupé is currently bathing in the glimmer of the twilight of its model cycle; which is another way of saying that it's as old as the hills and about to be replaced. The new version will be along in the wake of the related two-door 4 Series Coupé, in mid-2021.
There is a little bit less to set apart this car from its now-defunct 3 Series saloon relation visually than distinguishes an Audi A5 Sportback from an A4, but judging by the 4 Series' curvier roofline and more sculpted surfaces, you can still tell that you're looking at something a bit special. The car's interior is showing its age a little, and doesn't quite match the Audi for cabin space or ease of ingress and egress; still, the boot – accessed as it is by a big hatchback rather than a 'notchback' bootlid – is a good size.
The 4 Series engine range, and its ride and handling, are its saving graces, and what lifts it into the top order of this chart. You can choose between economical turbocharged four-cylinder options or smooth and potent turbo straight sixes on both petrols and diesels and, leaving aside the very cheapest options, there isn't a bad engine among them.
The car's chassis is more agile and precise handling than most in this class, hiding its age very effectively – and even though BMW's variable sport steering system is geared more towards high-speed autobahn driving than winding back roads, it knows how to entertain.
5. Mercedes-Benz CLA
The first-generation Mercedes-Benz CLA singularly failed, in many people's eyes, in its aesthetic bid to miniaturise the visual allure of the bigger CLS – but it was something of a smash hit in North America, being the first compact Mercedes-Benz model ever to go on sale there.
The new one is a much greater success in pure design terms, however. There is a sleekness and a sense of proportion about it which its predecessor was almost entirely missing. Those looking for a car to mix obvious desirability with style, at an affordable price, will surely like what they see.
The car's interior is a little bit short on space, particularly in the second row where adults may struggle for both knee and head room. Mercedes' latest infotainment and display technology, combined with its practised flair with luxury materials, ensures it remains a very pleasant place in which front-seat passengers might travel, however.
The range of engines and gearboxes available, and its various wheel sizes, delivers quite mixed comfort, refinement, performance and drivability.
6. Mazda 3
Options become quite limited these days for those who want a really striking, pretty-looking four-door family car. Few manufacturers have a more enviable recent track record on design than Mazda.
The latest is a cracking-looking car. It strikes a really upmarket note on cabin appeal, too, with lots of rich-looking materials that stand up well to tactile inspection.
The Mazda 3 Saloon shares its chassis settings and dimensions with the hatchback, and both are fine-handling cars with an edge of sporting verve sufficiently subtly applied that disinterested drivers won't really notice it.
There is one engine option: the company's new variable compression-ratio Skyactiv-X 2.0-litre petrol engine, which is usefully torquey by normally aspirated standards and efficient when running lean, although it could be keener and smoother when revving.
7. Peugeot 508
The second-generation Peugeot 508 is a vastly better-looking car than the first was. Sharing key visual features with the retro-cool Peugeot E-Legend concept that was shown side by side with the production saloon at the Paris motor show in 2018, it represents an effort from Peugeot styling boss Gilles Vidal to reclaim some of the firm's old styling flair and to recast its reputation as a maker of really desirable, alternative French cars.
More compact than many modern compact executive options, the 508 is designed for those who would choose to sacrifice some of the size and cabin space of its rivals for a better-looking, better-handling car. Grown adults will find its rear seats a squeeze, although kids in booster seats fit just fine. Up front, Peugeot's current imaginative touch with control layout and material choice makes the car seem fresh and inviting, while the firm's contentious i-Cockpit control layout – with its downsized steering wheel and high-mounted instrument pack – finds its most effective application.
The car's engine range isn't as fulsome as others in this chart, the four-cylinder diesels in particular being somewhat short on both performance and refinement. Fleet users are sure to be interested by the new plug-in hybrid petrol-electric option recently added to the range.
8. Kia Cerato
We may be stretching the bounds of acceptability on what counts as a saloon by including the Kia Cerato in this line-up; but this style-conscious shooting brake is undoubtedly the pin-up of the model family and, wagon or not, it counts as one of the more visually appealing compact cars on the market right now. There is more than a hint of the downsized Porsche Panamera Sport Turismo about it – and not entirely by accident, you suspect.
The Cerato is built on the same model platform, and comes out of the same factory, as the regular hatchback, but it has shorter suspension springs and other recalibrated hardware besides. All derivatives are front-wheel drive, with engines a 2.0-litre petrol and a 1.6-litre petrol turbo with just over 150kW. Performance is fairly strong in the latter case (although the car's standard-fit two-pedal automatic gearbox can feel a little bit mannered), and handling is quietly composed.
The car's interior is pleasant and well-equipped, with good-quality materials and decent fit and finish; although it's perhaps not what you'd call luxurious. Cabin space would shade some of the cars in this list, and boot space certainly would.
9. BMW 2 Series Gran Coupé
BMW's recent attempt to broaden its range of desirable four-door Gran Coupé models, and to add a more affordable way into one of them, has won somewhat qualified success.
The 2 Series Gran Coupé isn't the most instantly appealing car, and as such it rather falls at a hurdle that it really ought to have cleared at all costs. Under the skin, it may well be true that many of these cars are simply pretty humdrum hatchbacks and saloons in fancy clothes – but for this one to look so much like a hatchback (and, in the 1 Series, not a desperately pretty one at that) with a boot grafted on may be all you need to know about it.
For those minded to dig deeper, there is some reward to be found as long as you know where to look. For the moment, BMW offers a truncated engine line-up comprised of a disappointingly meek 1.5-litre three-pot petrol in the entry-level 218i and the top-of-the-range 2.0-litre turbo of the four-wheel-drive M235i xDrive, which is at least a fairly convincing any-weather driver's car.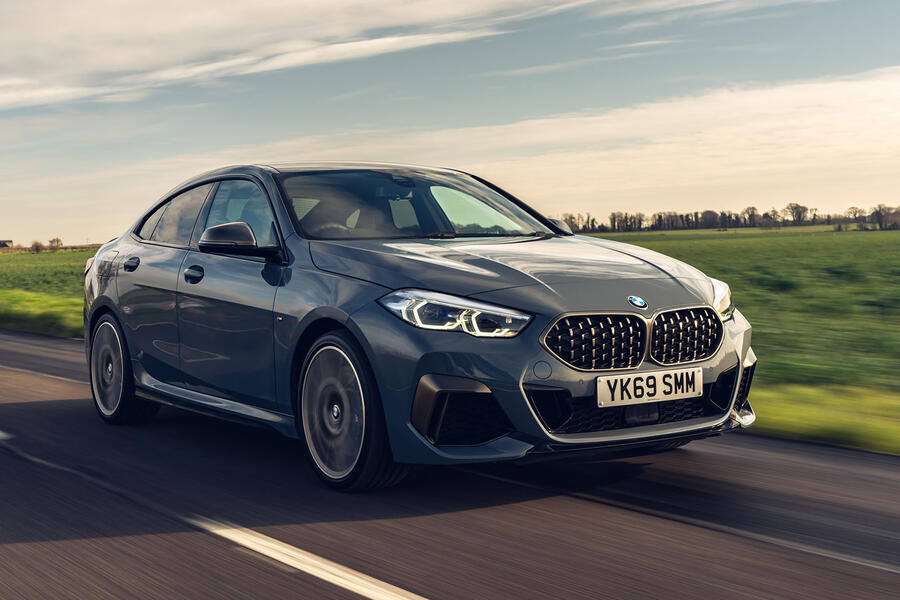 10. Volkswagen Arteon
It is a truth universally acknowledged that the Volkswagen brand tends to struggle when it comes to truly desirable, upper-level luxury cars. For proof of this just look at the non-defunct Phaeton – functionally impressive but it just lacked convincing style and desirability.
The Arteon four-door coupé is an attempt to find a better way to deliver VW-typical understatement and a progressive, functionality-first sense of style, but not a significantly more successful one. If you said 'wow' the first time you saw one, our experience suggests that you'd be in a vanishingly small minority; because really striking modern cars rely on more than a plunging roofline, a wide grille and an extra line of bootlid lettering to stand out, don't they? Truth is, this car is more likely to impress you for its practicality than anything else.
The understatement of the Arteon's specification and driving experience doesn't exactly make it memorable, although the latter is certainly comfortable and competent. Refined four-cylinder options make up the engine range, and ride and handling is mature and easy-going but is unlikely to excite.