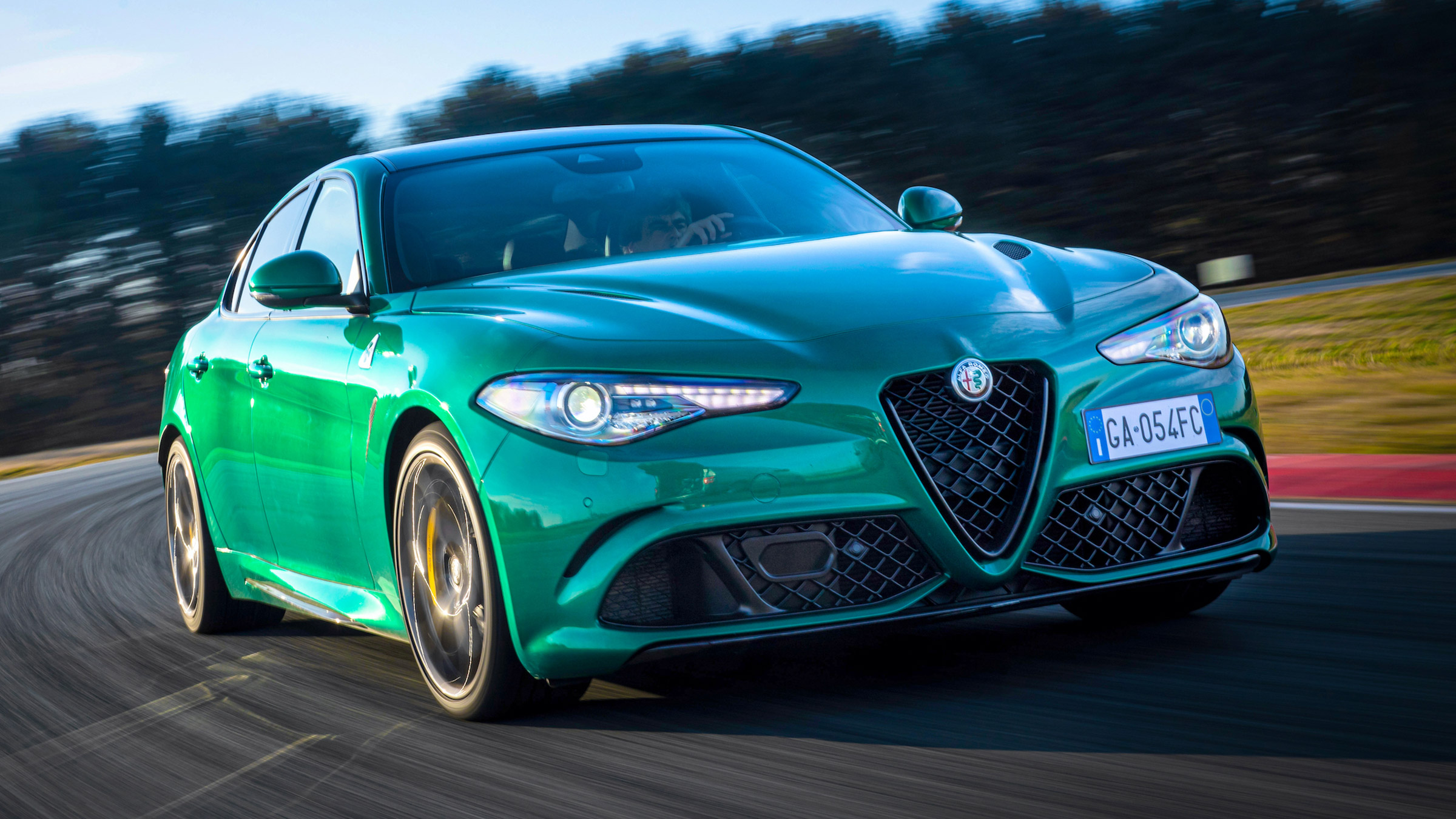 The range-topping Alfa Romeo Giulia Quadrifoglio super sedan has been updated for 2020, with a handful of cosmetic, technology and safety upgrades.
Alfa Romeo has launched an updated version of the BMW M3 rivalling Giulia Quadrifoglio, to coincide with the recent release of the refreshed standard-issue car. First deliveries are expected by the end of the year.
Cosmetic revisions are restrained, with the new Giulia Quadrifoglio receiving some updated badges and a pair of revised LED tail lights with smoked lenses. Buyers can also now have carbon fibre replacements for the standard car's radiator grille, mirror caps and rear spoiler as optional extras.
The dashboard and centre console has been re-trimmed, while a new leather steering wheel, a leather-trimmed gear selector, perforated seat upholstery and an improved 8.8-inch infotainment system are all included. The Giulia Quadrifoglio also adopts the standard car's revised cabin layout, which features a new centre console with additional storage space.
Alfa Romeo has also upgraded the Giulia Quadrifoglio's driver assistance technology, adding lane-keeping assist, active blind spot assist, active cruise control, traffic jam assist and a traffic sign recognition system with intelligent speed control. As such, the super saloon now has Level 2 autonomy, meaning the driver can hand over some control of the steering, brakes and throttle to the vehicle under motorway driving conditions.
In addition Alfa has created a new selection of customisation options for buyers to choose from. A quad-exit Akrapovic exhaust system with carbon fibre tailpipes is available, made from lightweight titanium and featuring a valve in the rear silencers which dampens engine noise when closed. New paint colours arrive, too, including a new metallic green paying homage to the shade used on the iconic Alfa Montreal.
Engine wise, there are no changes. The updated Giulia Quadrifoglio is powered by an all-aluminium, twin-turbocharged 2.9-litre V6 petrol engine, which develops 375kW and 600Nm. Power is sent to the rear wheels via an eight-speed automatic gearbox, where it's managed by Alfa Romeo's own torque vectoring differential.
Performance figures are identical to that of the previous Giulia Quadrifoglio, with a 0–100km/h time of 3.9 seconds and a top speed of 307km/h. The outgoing model's adaptive dampers, chassis control system, drive mode selector and active front splitter have also been retained.
Luke Wilkinson