R-Reforged will begin customer car construction later this year, "fixing" original Aston Martin design
The production version of the Vanquish 25, the debut project of former Jaguar design boss Ian Callum's new design group, has been officially revealed ahead of the start of customer car construction later this year.
Part of a series of R-Reforged edition cars fully endorsed by Aston Martin, the Vanquish 25 will arrive with more than 350 styling, material and engineering changes from the 2001 original Vanquish V12 that Callum designed while he worked for the British marque.
Mechanical upgrades include a 10mm-lower ride height, a track up to 60mm wider and specific Michelin Pilot Sport tyres – following more than 32,000 kilometres of testing on UK roads and at Michelin's proving ground in Ladoux, France – that aim to turn the car into "a more practical and relevant GT".
"After a year of piling on the miles in our development prototype, I'm confident we've hit the targets we set ourselves of a very responsive but supple car," said R-Reforged engineering head Adam Donfrancesco. "There was a perception that much of what we planned was aesthetic, but the way the car drives, feels, goes, stops and sounds is actually where a lot of our efforts have been focused."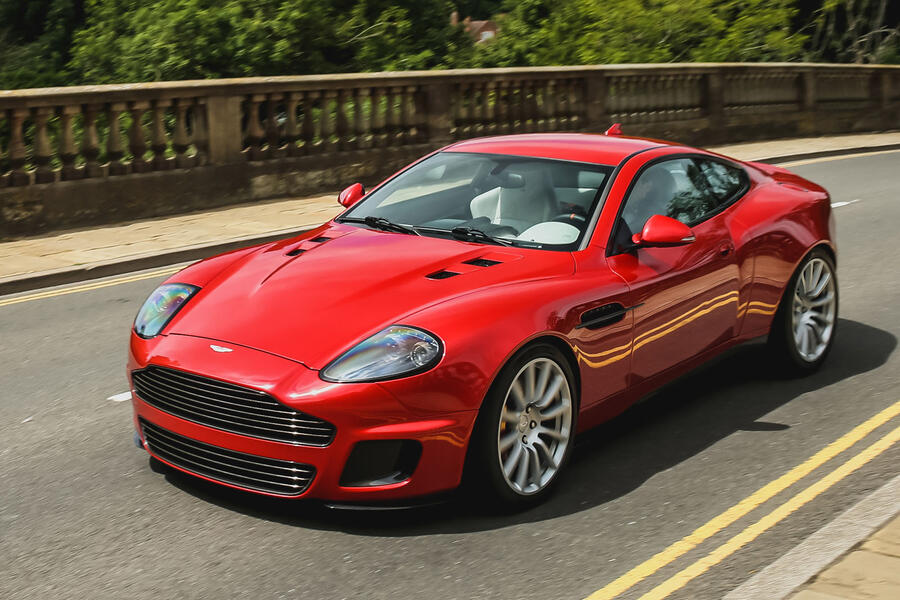 The company plans to offer an "infinite" number of body colours, eight bespoke trim colours, three bespoke 20in wheel choices and the choice of manual, automatic and semi-automatic transmissions. The Bridge of Weir Leather Company has been brought on board to upholster the interior, while Mulberry has designed a bespoke set of luggage. In addition, the engine recieves carbon and leather visual upgrades over the original car.
UK-based R-Reforged has previously worked with Aston Martin on other projects, and it will play a key role in the Callum project's customer experience. Customers are able to upgrade their existing Vanquish or have R-Reforged source one for them.
Each finished car is expected to cost AUD$980,000, including a sourced Vanquish. Delivery of finished cars is due to start late this year, with the first models destined for customers in Europe and Latin America. The full batch of 25 should be completed and delivered at the end of 2020.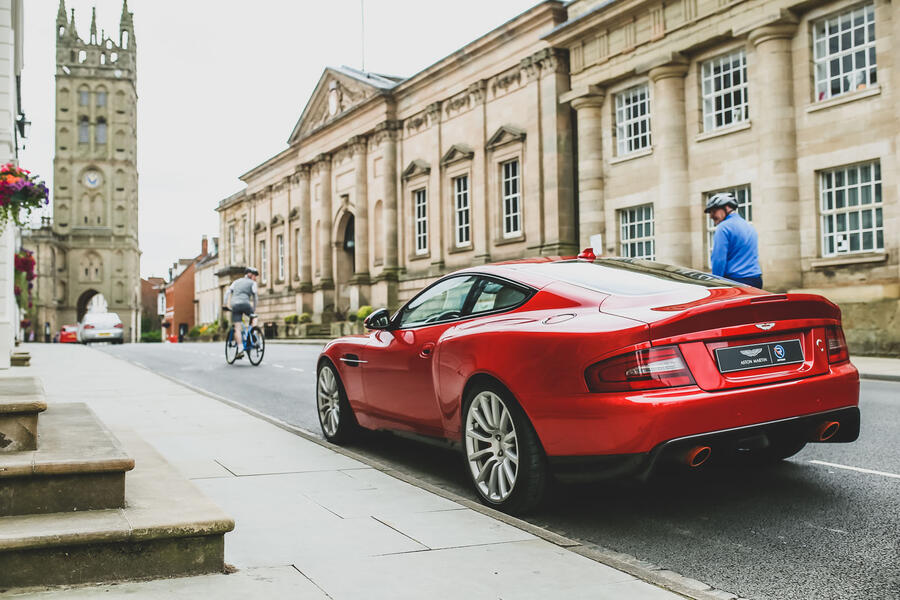 The Aston Martins will be returned to bare metal and rebuilt from scratch at Callum's new workshops in Warwick. They will incorporate dozens of subtle and not-so-subtle changes, some of which Callum has wanted to make since his original Vanquish design went into production in 2001.
"There are things on the car I've always wanted to fix," he said. "Now I have the chance."
One strong theme running through the whole car is a unique fabric and trim pattern that Callum, a loyal Scot, calls his "abstract tartan". It appears in the Vanquish in surprising places, such as air outlets and speaker grilles, as well as seating and trim panels, and will be used on Callum cars in future.
The partners at Callum have already built two Vanquish prototypes, one to show off their body and cabin developments and another to perfect a new suspension set-up that runs to bigger wheels and tyres, stiffer springs and dampers plus changes to anti-roll bars and suspension bushes.
All cars also get larger-diameter carbon-ceramic brakes plus new 20-inch wheels that use the Vanquish's original pattern but are now offset to improve stability and stance.
Each V12 engine gets software, camshaft and exhaust changes to boost its power to around 433kW, depending on the model. A modern six-speed torque-converter automatic is offered, although many owners are expected to stick with the Vanquish's original automated manual gearbox.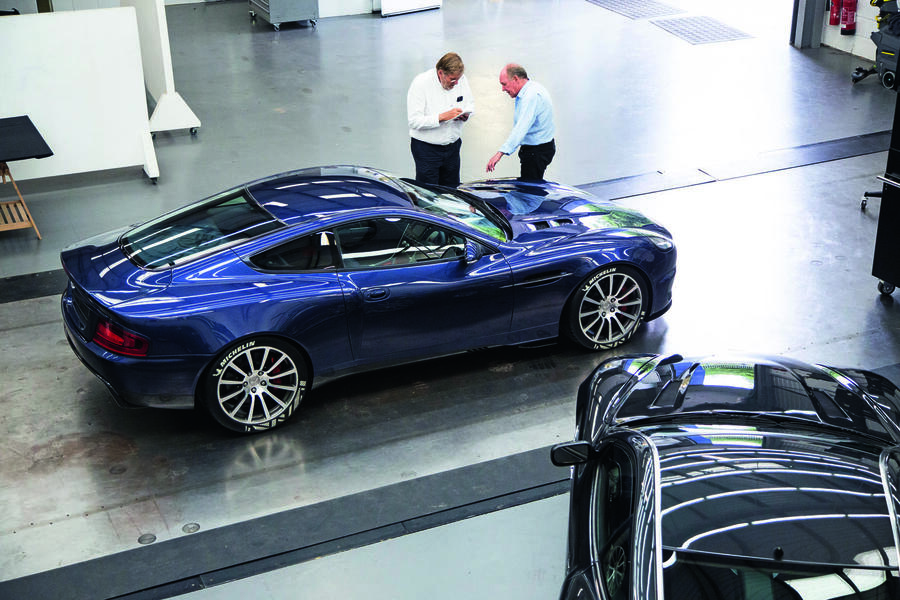 Ian Callum's "new old" Aston is still very recognisable as an original Vanquish but has many modern details. There's a new-style front bumper and grille, the latter subtly framed with carbonfibre and its horizontal bars most prominent. The lights are new LED units and the old, round foglights (Callum calls them "frog eyes") are dropped in favour of air scoops for the bigger front brakes. There are new-design exterior mirrors ("we've dropped the old boxing gloves") plus handsome side skirts incorporating a four-notch design that will become a feature of future Callum cars.
The exhaust's back box has been reduced in size and incorporated into the rear bumper assembly to improve the efficiency of the rear diffuser and the car gets new LED tail-lights, an unusual and expensive feature (but necessary, Ian Callum insists).
More subtle improvements abound. Special Michelin tyres carry the Callum tartan on their sidewalls. The side windows are framed with specially fabricated trim pieces (not the Jaguar cast-offs of the original). The interior is completely retrimmed over new architecture, with the emphasis on high-quality materials and execution. The new front seats adopt a more sporting profile and the tiny rear seats have been ditched in favour of better accommodation for those in the front. There's a new screen-based HMI and a demountable Bremont watch is fitted into the centre of every fascia.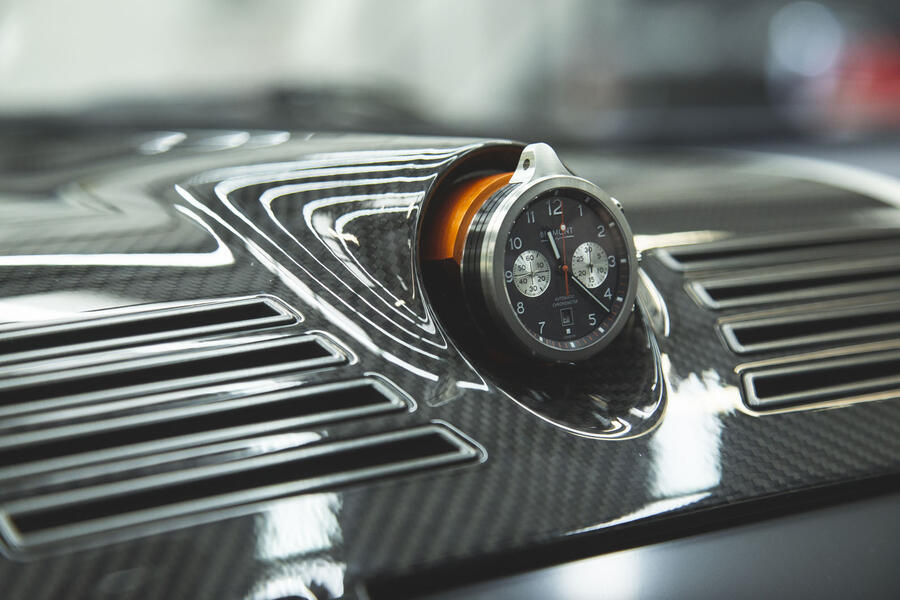 Although Ian Callum left Jaguar only a couple of months ago, his design partners — David Fairbairn, Adam Donfrancesco and Tim Bird — have been working on the project for much longer. "We want to get back to making things," said Ian Callum. "The idea is to do bespoke projects for customers as individuals."
​"I like that the Callum team's first project is based on the original V12 Vanquish designed by Ian," Aston Martin's Chief Creative Officer Marek Reichman said. "Aston Martin Lagonda is very proud of the cars created during Ian's time and they are an important part in both our heritage and evolution."
The original Vanquish, born from a 1998 concept designed by Ian Callum before he joined Jaguar, introduced a new era of Aston design and construction in 2001 that led directly to the successful years of the DB9 and smaller V8 Vantage. The car, although handsome, never found buyers as readily as others and was discontinued in favour of a new, DB9-based Vanquish in 2007.
Donor Astons for the Callum treatment will come either from existing owners or the company will source suitable cars itself. A fairly restricted series of colours and interior treatments will be offered: Ian Callum and his colleagues aren't keen to over-decorate their cars or offer wide colour or trim palettes. They hope customers will accept "design guidance" and customer reaction so far seems to back that up. "Put it this way," said the designer bluntly: "If we don't like it, we won't build it.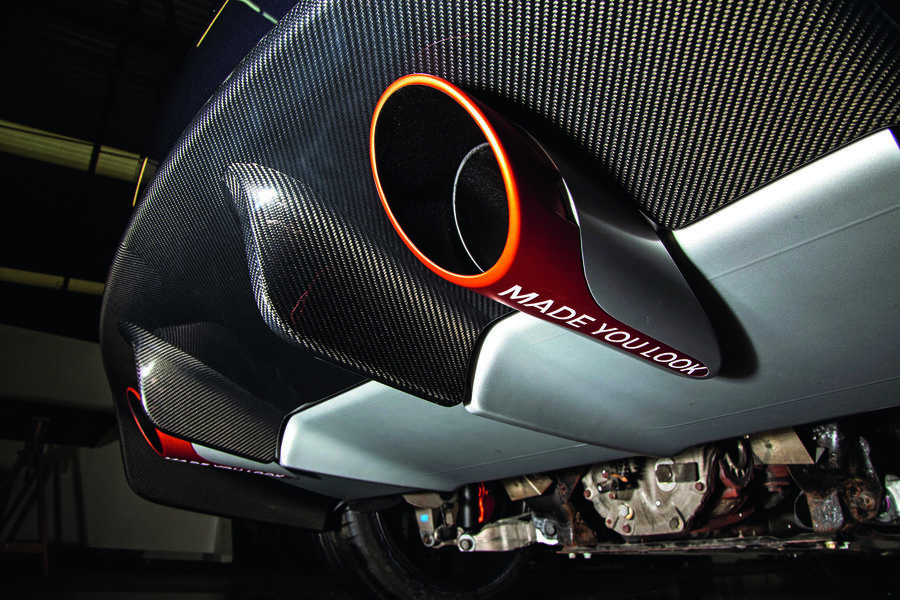 Opinion: This is design done differently
It's easy to view Ian Callum's new design house, Callum, as one of those places that set out to change everything about a car, and to charge a lot for doing it, for very little rhyme or reason. Such places exist. But Warwick-based Callum already looks very different.
This first Vanquish project shows what they're about: a design group with the restraint and good taste of those used to setting the best OEM (original equipment manufacturer) standards, freed from big group conservatism to display originality and creativity that has had to be masked.
Ian Callum has had a burning ambition to improve the original Vanquish for at least a decade and has tackled the problem with subtlety and restraint. This is going to be a beautiful car, not 'hot-rodded' like so many aftermarket conversions but improved, updated and made more beautiful. The original designer will preserve the soul of his original fine car and he has other similar plans in mind.
Steve Cropley