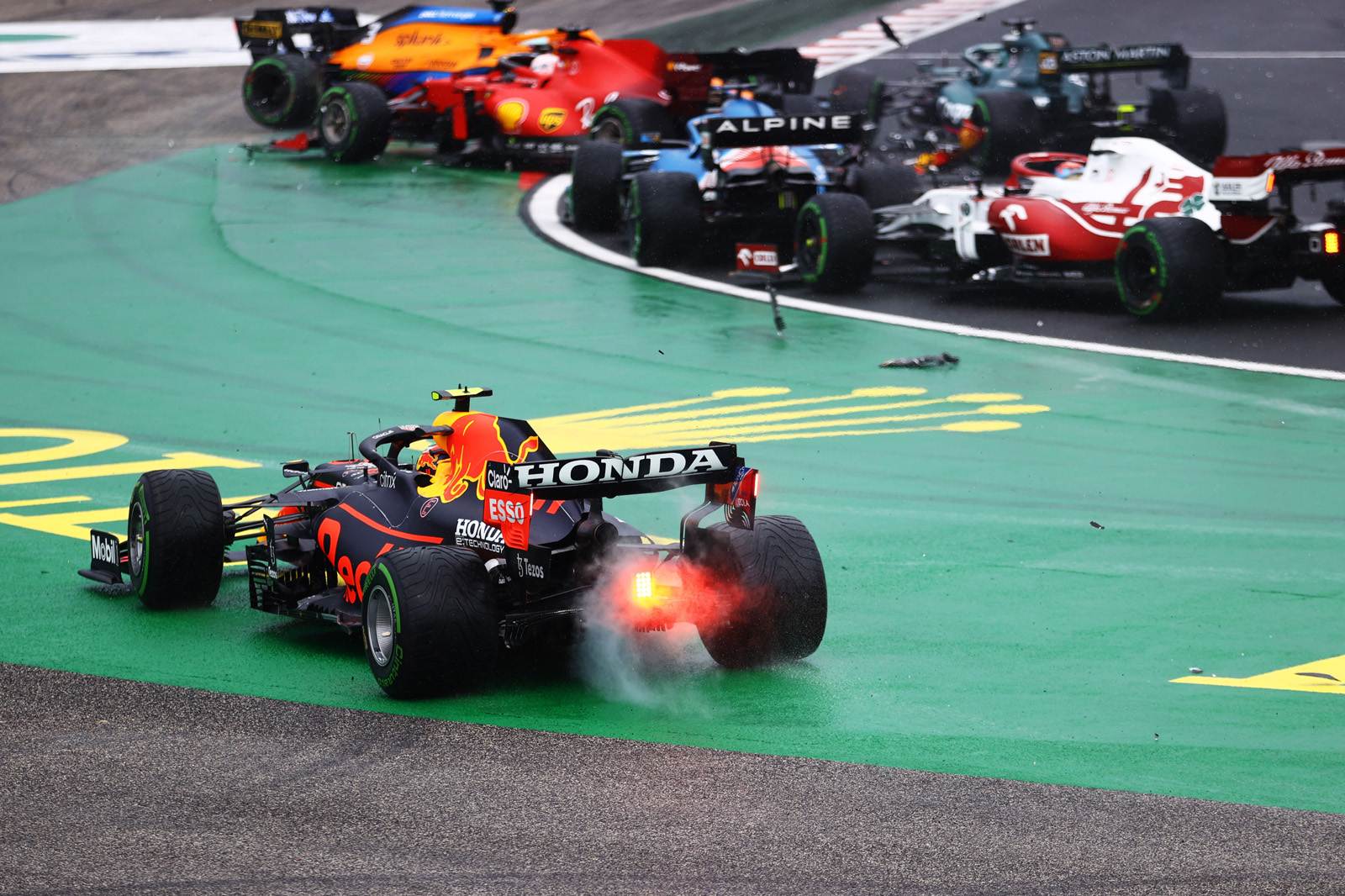 "Again taken out by a Mercedes," quipped Max Verstappen in the wake of his difficult Hungarian Grand Prix, which began with a bang in the worst possible sense, due to Valtteri Bottas sailing past his braking point.
At turn one, the calamitous Finn ran into the back of fast-starting Lando Norris, who was then powerless to stop his McLaren slamming into Verstappen, while Bottas also clobbered the second Red Bull of Sergio Pérez.
From then on, Verstappen was exaggerating only slightly when he said he was "missing the whole side of my car". In the circumstances, ninth place and a couple of points represented a decent salvage job as F1 headed into its summer shutdown.
When the action resumes at Spa-Francorchamps on the final weekend of this month, Verstappen will, instead of leading the title race, face a deficit to Sir Lewis Hamilton for the first time since May, following their controversial clash at Silverstone and the Hungaroring drama. But the gap is only eight points, and there could still be another dozen races to run this year, depending on a replacement being arranged for the cancelled Australian Grand Prix. So it's all to play for.
A golden chance
For my money, Verstappen is still perfectly placed to claim his first world title and finally end Mercedes-AMG's hybrid-era domination.
The performance edge that Red Bull displayed over the Black Arrows through the spring and summer can't be taken for granted for the autumn. Nothing ever can in F1. But there's no reason to believe the Honda-powered team will lose ground to its increasingly bitter rival. It knows that it has a gaping window of opportunity right now before the twin unknowns of a major rules change and a new adventure as an independent engine manufacturer (after Honda's withdrawal) kick in for 2022.
Who knows? Red Bull might come out of the traps at a sprint next year. But when car rules change, the teams with the deepest and best resources tend to benefit, and that won't be any different because of new budget caps. Verstappen and Red Bull are desperate to grab this chance while they can, which partly explains the ferocity of their response to the collision with Hamilton at Silverstone.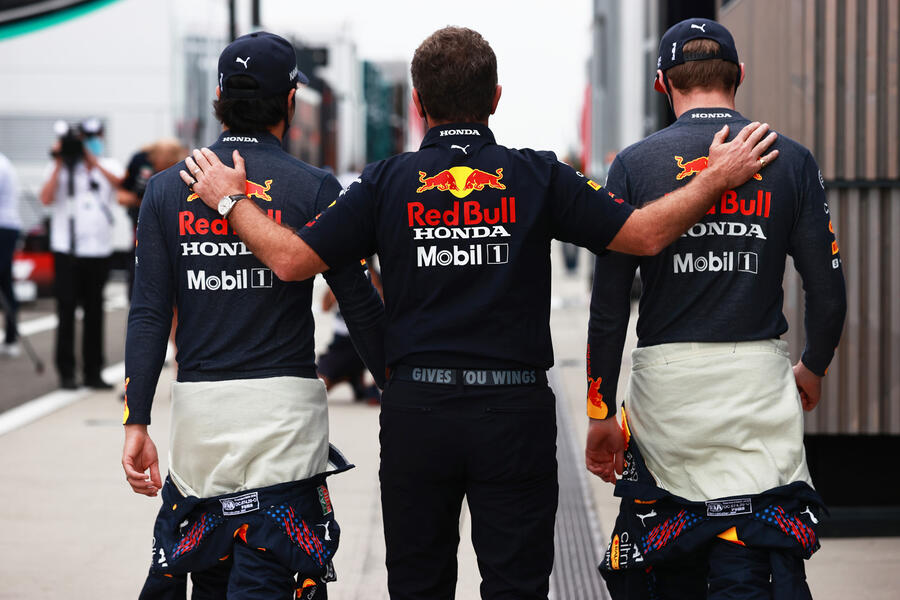 As for Hamilton, there's a big question mark hanging over him. In the cockpit, he remains a supreme performer, as seen in the comebacks from self-inflicted delays in Britain and Hungary.
But even before he felt "dizzy and fatigued" on the Hungaroring podium, it has been clear for some time that physically he's not his usual self; that driving in F1 is taking more from him than we've come to expect.
Hamilton's fear that he's suffering from long Covid after his bout of Covid-19 last December shouldn't be dismissed as paranoia. How long will it affect him and what long-term impact might it have on his life? Millions around the world are asking the same of themselves and, despite his obvious physical advantages, this 36-year-old athlete is no different.
Norris and Russell continue to rise
Behind the title battle, the parallel blossoming of Lando Norris and George Russell are my favourite takeaways from the 2021 season so far.
In Hungary, Bottas robbed Norris of his streak of scoring in every round this year, but the 21-year-old has every reason to enjoy his summer break. He has put away highly rated teammate Daniel Ricciardo, who continues to struggle to adapt to the MCL35M, and is showing all the composure of a premium-class performer.
Likewise, Russell has put far behind him the blot of Imola, when he showed ugly petulance after his collision with Bottas – the man he looks almost certain to replace. In Hungary, the first-corner chaos finally allowed him to score points for Williams; and while he finished behind makeweight team-mate Nicholas Latifi, who got lucky in the melee, what stood out was Russell's assertion on the radio that the Canadian should be prioritised for the good of the team. Just what Mercedes team principal Toto Wolff will have wanted to hear.
This pair have the world at their feet, and either could become Britain's 11th F1 world champion – although Russell's expected ascension to a Mercedes seat clearly puts him in pole position. Will McLaren ever win a title again? Big question.
Ocon out of the blue
When Esteban Ocon was re-signed by Alpine recently, I will admit to some mild surprise about the deal being done so early. The 24-year-old was shaded in 2020 by Ricciardo and this year hasn't exactly tucked up 40-year-old Fernando Alonso on his F1 comeback, as he surely had to for the sake of his reputation. But in Hungary, Ocon was gifted his chance and never looked like dropping the catch. Like Pierre Gasly and Pérez, both first-time grand prix winners in 2020, here's a fine racing driver with the temperament, belief and ability to win when the cards fall in his favour.
Ocon was once considered likely for Mercedes. Would he have been another Bottas, rather than a Hamilton? And is it right to consider Russell the likelier successor to statistically the greatest of them all? On small margins are such judgements made.
Alonso shows Hamilton the way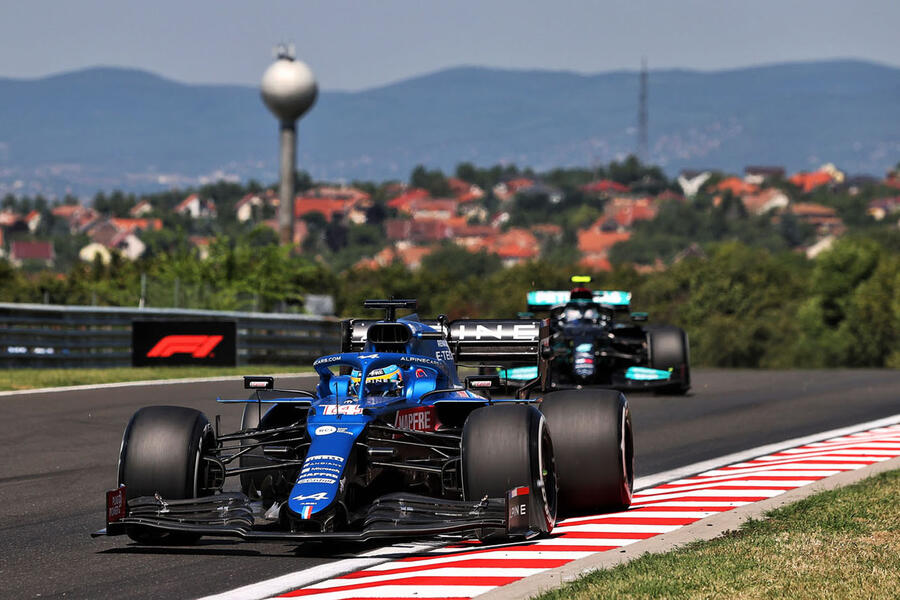 Ocon was happy to admit the debt of gratitude he owed to Alonso for his victory, as the Spaniard displayed the fine art of defensive driving in his wonderful throwback duel with old foe Hamilton. The glint-in-the-eye comments about "showing Lewis the racing line"? Classic Alonso.
Here was a reminder most of us didn't need of just how good he remains. Forget his age: F1 is richer for Alonso's warrior presence. He won his first grand prix in Hungary way back in 2003 for the self-same team. The new adventures in Alpine blue deserve to go on.
Damien Smith