For well over half a century, Volvo has been a car company with a conscious. Safety was the brand's first mission, but now it's added sustainability to its DNA. The company's plans are bold but they start with its first-ever electric vehicle – the XC40 Recharge Pure Electric.
Calm Space
Words by Jesse Taylor
Photos by Thomas Wielecki
THOUGHTFUL DESIGN AND ITS PLACE in the world has been a part of Volvo's DNA for decades. After all, it was Volvo who invented the three-point seatbelt back in 1959, at a time when even the lap belt was not common fitment in new cars. More than 60 years after its invention, the story of the three-point seatbelt is worth retelling, especially as the automotive industry is undergoing another paradigm shift. Tragically inspired by the death of a relative in a car accident, Volvo's then president, Gunnar Engellau, poached engineer Nils Bohlin from Saab to provide a better solution. Not only was Bohlin's three-point belt a better, safer solution, but Volvo made its fitment standard across its range (something that was not required) and tirelessly promoted the use of seatbelts.
Thanks in large part to Volvo's promotion, seatbelt usage in Sweden jumped from less than 25 percent in 1965 to more than 90 percent just a decade later.
And while Volvo patented Bohlin's innovation, the brand made the three-point seatbelt available to all car brands without any licensing fees. This move meant that Volvo walked away from billions of dollars in licensing fees, but also helped save lives and promote safer cars.
Volvo's commitment to safety has never wavered but it's now matched by the brand's commitment to the environment – the company intends to be climate neutral by 2040. By 2025, Volvo has committed to putting one million electric vehicles on the road. In the same year, Volvo also predicts that 50 percent of the brand's sales volume will be EVs. By 2030, the brand has committed to offering only EVs. The first of many steps on the way to that reality is the XC40 Recharge Pure Electric.
The Recharge slots into the broader Volvo line up and the XC40 range with ease. Unlike numerous EVs, the Recharge doesn't try to stand out for the sake of it with dated futurism. Instead, and like the very best EVs on the market – cars such as the Porsche Taycan – the Recharge has established itself as a valued member of the range. First and foremost, the Recharge is a Volvo – capable, dependable, safe, functional. Oh, and it's electric.
The Recharge Pure Electric Twin pictured tops the XC40 range at $79,900 and it arrives fully loaded. Just some of the highlights include 20-inch alloys, wireless Android Auto, wireless phone charging, 9.0-inch touchscreen infotainment system, Harman Kardon premium audio, panoramic sunroof, and heated front and rear seats. In fact, the only options are paint colours and even they are no-cost options.
As you'd expect from a Volvo, the XC40 Recharge Pure Electric is loaded with both active and passive safety systems. There's with autonomous emergency braking (AEB) with vulnerable road user detection, lane-keep assist, lane-departure warning, blind-spot monitoring, rear cross-traffic alert, as well as front, side, head and driver's knee airbags.
Both the interior and exterior of the Recharge variant mirror that of the rest of the XC40 range, with clean lines and a minimalist aesthetic to both. The faired-in grille is the biggest exterior tell to the propulsion, otherwise it's premium compact SUV as normal.
The premium feel continues inside, where the dash is dominated by the vertically-orientated touchscreen. As with the Polestar 2, the XC40 Recharge has Android Automotive as standard, with the software developed by Google – Hey Google is available when the system is online.
Typical of so many Volvo models over the years, the XC40 Recharge exudes a friendly functionality. As the first EV for the brand, what is atypical is the technology under the skin…
2022 Volvo XC40 Recharge

Motor Permanent magnet synchronous front and rear  Power 150kW @ 4350-13900rpm at front axle and 150kW @ 4350-13900rpm at rear axle for a total system output of 300kW Torque 330Nm at front axle and 330Nm at rear axle for a total system output of 660Nm Transmission Automatic single-speed reduction gear, all-wheel drive Steering Rack and pinion, electrically-assisted Suspension McPherson strut front, independent multi-link rear Brakes 345mm front, 340mm rear discs, ABS Weight 2188kg Top speed 180kph 0-100kph 4.9sec
TAKING CHARGE
This is the first of many electric Volvos between now and when the full switch over is complete in 2030. What makes the XC40 Recharge Pure Electric tick?
T
HE FUTURE IS ELECTRIC. VARIATIONS of this phrase have been used by Volvo for a couple of years now. Of course, you could argue that every car manufacturer has uttered the same words at some point over the last few years, but Volvo's commitment to the electrification of its range and the climate-neutrality of the entire company and its full operation is matched by very few automotive companies and exceeded by none. By the time the calendar flips over to 2025 (in just three years' time, remember), half of Volvo's range of new cars will be electric. In the same year, Volvo expects that it will have sold more than one million EVs – the XC40 Recharge is their first. By 2030, the entire lineup will be electric-powered and by 2040, the whole company will have achieved climate-neutral status. These are enormous and complex goals and they all start with this compact SUV.
The Recharge Pure Electric Twin sits atop the XC40 range in every facet – price, performance and equipment. Powered by a pair of electric motors – one on each axle, the all-wheel-drive Recharge Pure Electric boasts total outputs of 300kW and 660Nm – those are serious numbers in a compact SUV. The next most-powerful variant in the XC40 line-up is the T5 R-Design that makes a still-impressive 185kW and 350Nm from its turbocharged 2.0-litre four-cylinder petrol engine. The AWD Recharge Pure Electric delivers those outputs to each wheel via a single-speed transmission.
Volvo has also recently announced a front-wheeldrive Recharge Pure Electric Single Motor model with 170kW and 330Nm.
The chassis is an adaption of that used by the rest of the XC40 range – including the Recharge Plug-in Hybrid variant that drives the front wheels, using an electric motor in conjunction with a 1.5-litre turbocharged three-cylinder petrol engine.
Under the floor of the Recharge Pure Electric Twin is a 78kWh lithium-ion battery pack. It can charge at a maximum rate of 150kW on DC. At that maximum DC-charging rate, the 10-80 per cent charge time is approximately 40 minutes. In Australia, 50kW DC charging stations are significantly more common and this will see the same 10-80 per cent charge take just over an hour. The XC40 Recharge can also replenish its battery pack at 11kW on the AC cycle. A full charge on an 11kW AC charger will take around eight hours, easily achieved overnight.
Regardless of how you charge, with a WLTP test cycle range of 418km, most urban users would only need to charge their XC40 Recharge Pure Electric Twin every two weeks or so.
We'll touch on it in more depth during our road test below, but it's worth noting the acceleration claims of the Recharge Twin. In just 4.9 seconds, the compact SUV will scamper to 100km/h. I know the march of time and the enormous technological advances over the decades have not been kind to legendary fast cars, but this electric Volvo is faster to the 100km/h benchmark than a Lamborghini Countach. Yes, really.
While the XC40 Recharge Pure Electric T8 may possess the speed of a legendary supercar, its raison d'etre isn't chasing numbers. Of course, as a compact SUV, the Pure Electric is to slot into the everyday and its suspension helps achieve that goal. Up front are MacPherson struts, while the rear features a multi-link set-up. The chassis tune is set to the firmer side of what you might initially expect but you soon realise that its rounding off imperfections and doing a fine job of controlling both body movements and the 20-inch alloys (tyres are 235/45 R20 all around).
Like the very best electric vehicles, the XC40 Recharge Pure Electric slots into your routine well, like a car. Obviously it's as practical and safe as any other XC40 variant, it's loaded with convenience and safety equipment and its 400km-plus range makes it a genuine choice for a one-car family. Volvo's made the choice even easier by including the three-year, 100,000km service programme in the purchase price of the XC40 Recharge Pure Electric (normally a $1500 cost). With sealed for life electric motors that feature no serviceable components, the service interval for the XC40 Recharge Pure Electric is once every 30,000km or 24 months. Volvo will also offer a five-year service plan for the Recharge Pure Electric but pricing for this has yet to be announced (normally $3000 on combustion engine models).
Importantly, it's now time to discover how the Volvo XC40 Recharge Pure Electric Twin drives.
THIS IS HOW I ROLL

From ball-bearing manufacturer to safety and sustainability pioneer, Volvo's future is electric. We get behind the wheel of its first-ever EV in range-topping XC40 Recharge Pure Electric Twin guise.
E
LECTRIC VEHICLES ARE CHANGING the way we drive. Given the state of flux in which the automotive industry finds itself, that seems like the most obvious statement, but the way in which electric vehicles deliver their performance – and the amount of performance that they deliver – is introducing new sensations to the driving public. Even life-long car enthusiasts would be shocked by the step-off urge offered by the Volvo XC40 Recharge Pure Electric Twin.
The crisp clean lines of the compact SUV, especially when finished in the calming Sage Green of our test example, sit in stark contrast to the Volvo's ability to blast from rest to 100km/h in just 4.9 seconds. That figure, combined with the Recharge Pure Electric's $79,990 price, makes it one of the fastest cars you can buy under $100,000.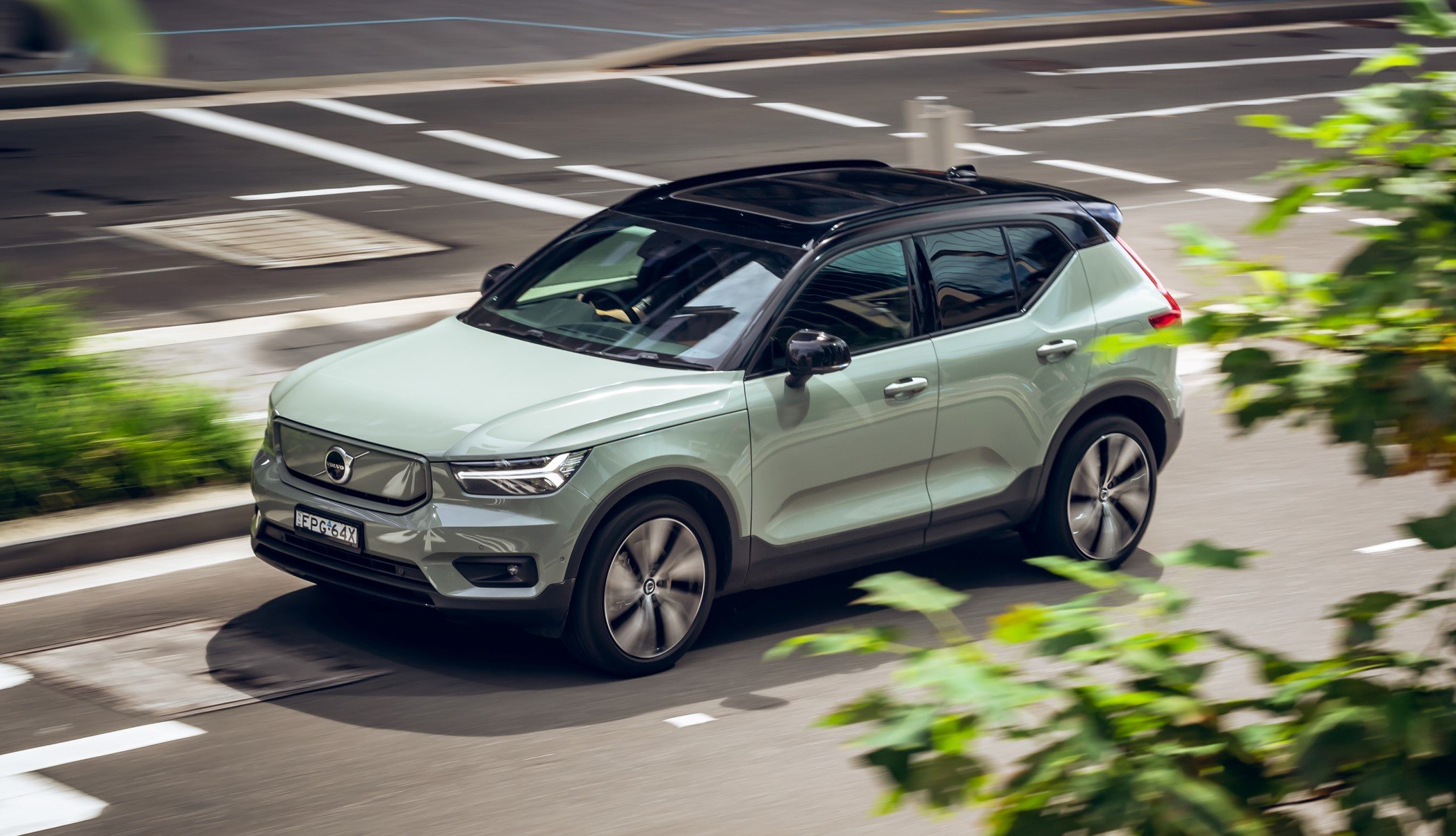 It also makes Volvo's first-ever electric car faster to the benchmark than bedroom poster icons such as the Lamborghini Countach, Ferrari Testarossa and Porsche 930 Turbo. If your knowledge of performance machinery doesn't stretch back to the shoulder pads and big hair of the 1980s, only a handful of Australian-built super sedans ever bettered 4.9-seconds to 100km/h before they were phased out last decade. And speaking from experience, extracting those numbers from thundering HSVs and FPVs was nothing like the simple press-and-hold operation of the Volvo's accelerator pedal. Need a more recent accelerative reference? What about today's crop of hot hatches? None of today's frontwheel- drive hot hatches can match the Volvo's exploits, though Volkswagen's upcoming all-wheel-drive Golf R claims an exact match to the Pure Electric's claim. In the hot hatch world, to go faster than the Volvo EV, you need to delve into the most serious end of the genre and look at the ballistic (and expensive) likes of the Mercedes- AMG A45 S and Audi RS3.
Sorry to labour the point, but the little Volvo SUV is shockingly fast if you want it to be. Away from the city limits, and remember its 418km range means that decent day trips are available even if you don't want to search out a charging station, the Recharge Twin continues to entertain with its turn of speed. It will fire out of corners with real urgency, the all-wheel-drive system and broad 245 tyres finding purchase on the surface below. The suspension does a fine job of keeping body movements in check and controlling those 20-inch alloys, but there's enough squat under hard acceleration to entertain and to signal how hard the chassis is working.
While short of fast-car feedback, the Recharge's steering has a reassuring weight against which to lean, again providing evidence of how hard you're working the chassis, all while drawing you in to the process of making quick and near-silent progress. It never comes during our week with the Recharge, but I'd enjoy the chance to sit behind a well-driven Golf R to judge the Volvo's dynamics. I'd wager that there'd be little in it.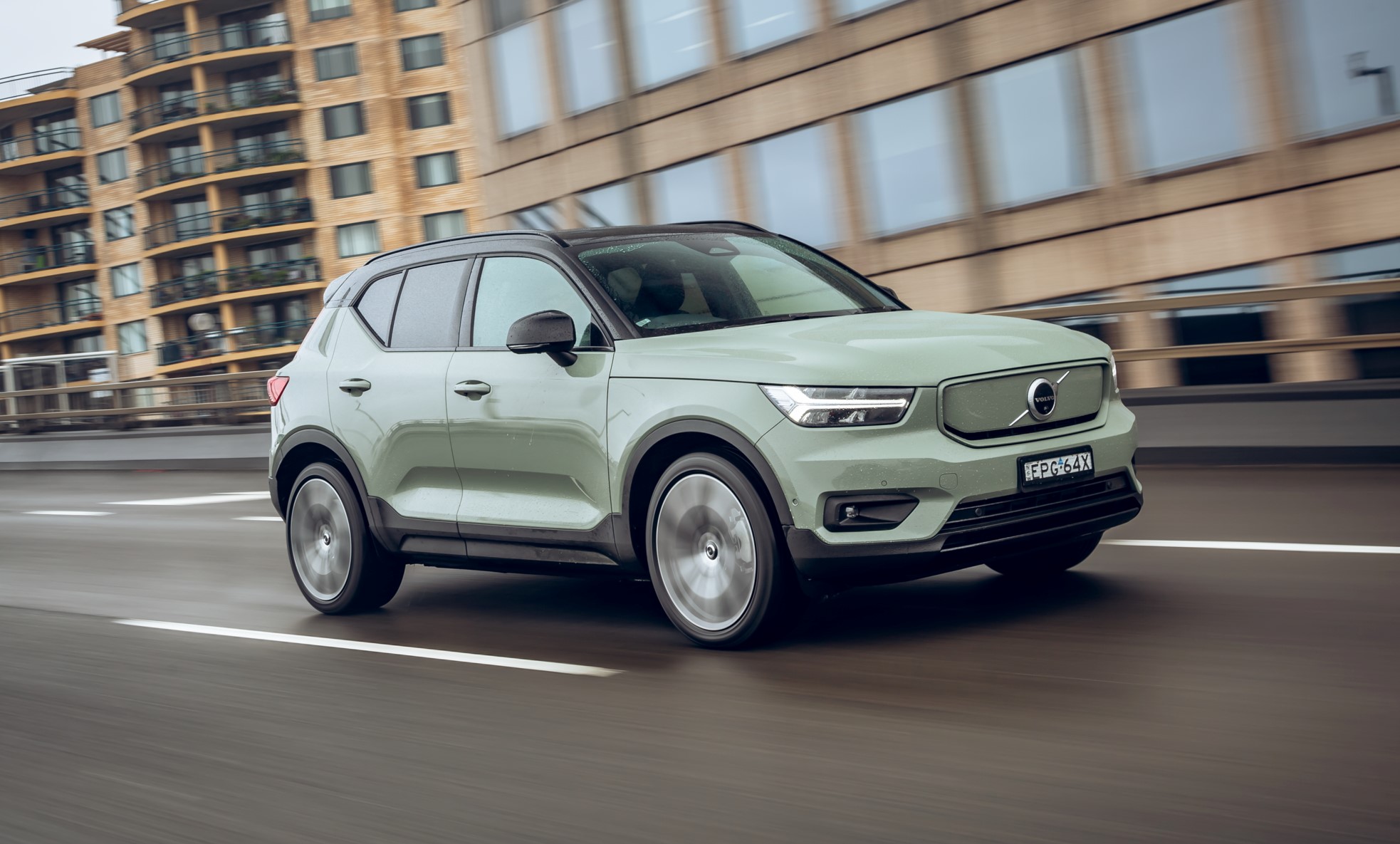 Of course, not every customer will want to pin the accelerator to the floor and experience the EV party trick of instant torque and accompanying near-instant acceleration. And the Recharge Pure Electric has plenty of other tricks to keep owners happy. One of those recently added party tricks is a second variant to the Pure Electric range. Starting at $72,990 before on-road costs, the Pure Electric Single Motor variant uses a 170kW/330Nm electric motor on the front axle, mated to a 69kWh lithium-ion battery pack. The Single Motor XC40 accelerates to 100km/h in 7.4 seconds and claims a range of 424km – up 6km on the dual-motor model. Both variants of the XC40 Recharge Pure Electric feature 150kW DC fast charging capability. Wearing our Automotive Daily hat, the extra $7000 for the dual-motor, AWD Twin tested here seems like money well spent. We're yet to get behind the wheel of the Single Motor model but we'll bring you our thoughts as soon as we do.
If extreme acceleration from a standstill is one EV party piece, surely the other is calm and serene commuting? Here the Pure Electric excels. In the weeks after we tested the Volvo, we also had seat time in a Rolls-Royce Ghost – a car so quiet that noise had to be re-introduced as some development engineers were suffering motion sickness from the eerie quietness. The Volvo certainly doesn't make you ill, instead its silence is golden.
The interior of the Recharge variants will be familiar to anyone who has spent time in an XC40. The layout of the dash is simple and architectural, and thoughtful design touches and storage spaces abound. Unlike some EVs, Volvo's Recharge doesn't try to overwhelm with virtue signalling futurism either on the exterior or interior. Instead, for example, the digital display for the driver presents information with clarity and simplicity. It's a small but rapidly expanding sample size, but we believe that the Volvo's one-pedal driving mode is the best we've experienced. As a dedicated left-foot braker even in mundane commuting, this is the one aspect of EV driving that has taken some adjustment for me, but the smooth and intuitive nature of the Volvo's system makes it easy to make that transition.
The urban ride initially feels taut, but it quickly reveals itself to be well controlled both in terms of how vertical movements of the body are dealt with and the control of individual wheels. After months and months of torrential rain, Sydney's roads are in the worst shape I've seen them in my 25 years living in the city. Wheel-breaking potholes abound, along with deep rivers of subsided tarmac and sunken sections of concrete. It is a chassis engineer's worst nightmare. Given those conditions, it's testimony to the depth of engineering within the XC40 Recharge Pure Electric that it doesn't crash and clatter into the worst of the road damage. Instead, the Volvo settles quickly over undulations while also displaying enough pliancy to dilute the biggest of the sharper-edged impacts into aural events rather than physical hits.
Volvo's EV and sustainability plans are bold, arguably bolder than any other premium automotive brand. And the timeframe in which to deliver each step of the plan is tight – 2030 is just eight years away, by which time Volvo wants its entire offering to be electric powered. A decade later, Volvo is aiming for company-wide climate neutrality. But as we know, paradigm shifts have to begin somewhere and for Volvo, what better place than the XC40 Recharge Pure Electric?