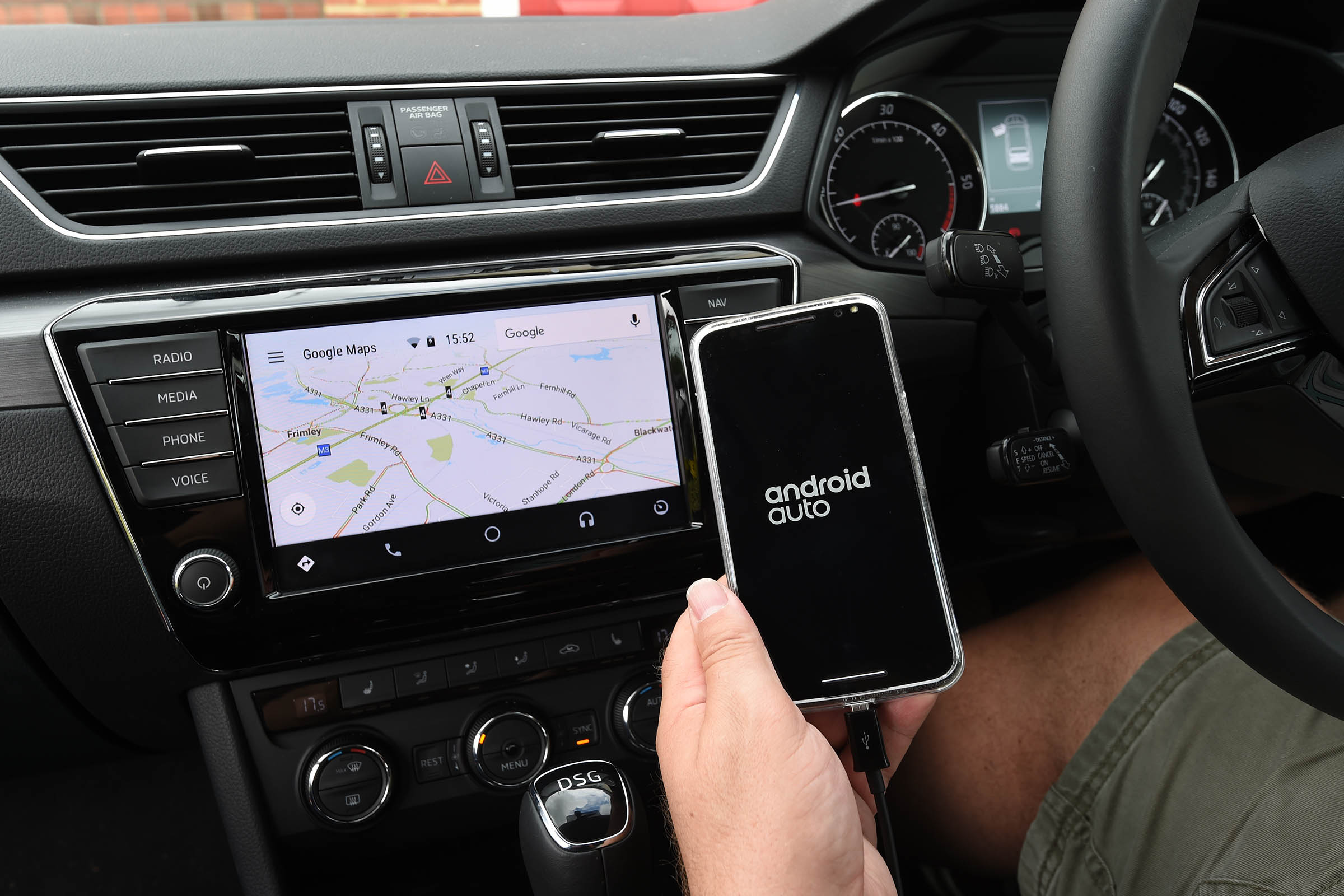 Complete Guide to using Android Auto in a car.
Car makers often find it difficult to keep up with the relentless progress of smartphones and apps. It means that as soon as a car's launched, features like the navigation and entertainment systems are already obsolete and drivers just end up using their phones instead.
The way around this is to incorporate an interface which means the car's infotainment system harnesses the power of your phone, mirroring the phone's apps on the car's infotainment screen and allowing you to control its functions using the car's buttons and microphones.
For Apple users, the system is called CarPlay, while Google's interpretation of in-car infotainment is Android Auto. It's a piece of tech which connects your phone to the head unit in your car, so you will see a simplified version of your phone screen on the infotainment display. You don't have use of all of the functions to make it easier and safer to operate while driving a car, but it still allows quick access to some apps and features such as navigation, music streaming, messages and phone calls.
Android Auto is not available on all new cars and some makers have made it a pricey option or are asking for a subscription fee – it's the same with Apple CarPlay. But the number of cars that have it is growing all the time as customers are insisting on it. Some makers, such as Mitsubishi, are relying on the tech and have actually deleted the built-in navigation on some models knowing that customers prefer to use their connected smartphones instead.
The biggest advantage of Android Auto is that the apps (and navigation maps) are updated regularly to embrace new developments and data. Even brand new roads are included in mapping and apps such as Waze can even warn of speed traps and potholes. The sat-nav systems also benefit from more accurate real time traffic updates.
As car manufacturers work on much slower product timelines than the personal electronics world, using your phone to power maps or music should mean drivers spend less time becoming infuriated with out-of-date infotainment systems.
Android Auto itself has also had an update, with a simplified layout featuring a navigation bar for turn-by-turn directions and a notification centre.
To use Android Auto, you need a smartphone which is running the Android operating system upgraded to Lollipop or above, which if you do, you will be able to use the streamlined user interface and collection of compatible apps.
Here's how the system works…
How is it different from just using my phone?
The biggest difference is that the system has been developed with car use in mind, and as a result it is easier to use Android Auto while driving than faffing about with a phone that is in a cradle or stuck to the dash.
Also, to help reduce frustration with missing buttons, Google's speech recognition software allows you to take command of the majority of Android Auto features, again helping drivers use the software on the move. You can also use the car's buttons to access features such as voice activation and track selection.
How much does Android Auto cost?
For the basic connection, nothing; it's a free download from the Google Play store. But you need to remember that Android Auto is a data-heavy service; pretty much everything it does relies on some form of data connection, so it can be affected by dropouts in signal and will eat into the data allowance on your mobile phone contract.
In addition, while there are several excellent free apps that support Android Auto, you may find that some other services, including music streaming, are better if you pay for a subscription.
Which manufacturers support Android Auto?
To date, Android Auto is built into selected systems from these manufacturers:
Abarth, Alfa Romeo, Aston Martin, Audi, Bentley, BMW, Chrysler, Citroen, Fiat, Ford, Honda, Hyundai, Jaguary, Jeep, Kia, Lamborghini, Land Rover, Maserati, Mazda, Mercedes-Benz, Mitsubishi, Nissan, Peugeot, Renault, Skoda, Subaru, Suzuki, Toyota, Volkswagen, Volvo.
This looks like a comprehensive list but it's worth remembering that Android Auto could well be optional or offered on only a handful of vehicles from lots of those manufacturers. You'll need to study the standard equipment list and the options section of the brochure pretty carefully to make sure you can get hooked up.
Android Auto is primarily designed for manufacturers' built-in infotainment systems, but aftermarket head units from various companies including Pioneer, Sony and Kenwood support the technology.
Android Auto – how to connect
Connecting your phone to Android Auto is a similar process to hooking up through Bluetooth. Firstly, you should do it with the car stationary and in an area of phone coverage; the Android Auto app blocks configuration if you're moving, and it needs to connect to Google to finalise the set-up.
That aside, it's pretty easy. You load up the Android Auto app on your phone (a free download from the Google Play Store); then, with it running, you plug in the phone via USB, and go to your car's Android Auto screen.
It'll offer you the chance to connect a new device – again, similar to how Bluetooth set-up works – and when you select your smartphone, you'll need to approve the 'handshake' in the Android Auto app on your device's screen.
If this sounds complex, don't worry; it's something you should only have to do once, because the connection can happen automatically thereafter.
If your device is running Android Auto but you get a blank screen on your car's infotainment system, it may need a software upgrade or not be compatible at all. Android Auto needs at least Android version 5.0 ('Lollipop') to run.
There's an ever-increasing range of approved apps for Android Auto – and some of the early offerings already work particularly well.
Perhaps the most impressive is Google Maps, which brings detailed navigation and real-time traffic information to your car. The display is quick to respond, it constantly looks for quicker route options and best of all, you can just click a microphone button and say, 'Navigate to' any given destination and it'll take you there. The recognition can be fooled by background tyre roar if you're travelling along a particularly noisy stretch of road – but that aside, it's uncannily accurate.
Because the system uses Google's own data, it's great at understanding commercial destinations instead of just streets and postcodes. And being Google, it also has access to your recent browsing and search history – so it's possible to look for a future destination at your office desk or home laptop, jump into the car, hook up your phone and find it suggested as a possible route to you without even asking for it.
The real-time traffic information is based on Google's other navigation users, so it's considerably more reliable than manufacturers' radio- and camera-based data. A two-hour route is usually accurate to within a couple of minutes, whereas a less connected nav system may predict as little as 45 minutes for the same journey.
The other main service of Android Auto is music streaming – including offerings by the three main subscription-based services: Google Play Music, Amazon Music and Spotify. We've tried Spotify with a premium account and it's reasonably slick, showing album art and using Google's cloud-based speech recognition to allow you to demand any track from the archive – regardless of whether it's in your collection or not.
One negative point is that Google has been quite restrictive on the amount of 'browsing' you're able to do – presumably for safety reasons. So even though your Spotify library may have 100 albums or artists, you're only ever able to scroll through eight or 10 of them before you get a pop-up telling you to stop the car before you continue to browse. Apple's CarPlay system – which offers many of Android Auto's features on iOS devices – isn't so strict.
Other apps are being launched on an almost weekly basis. WhatsApp and Skype are already compatible, allowing you to potentially use those services to make VOIP calls instead of Android Auto's conventional smartphone system. And there are already at least a dozen eBooks and Podcast apps on offer – although you may need to use trial and error to find one with the right mix of content and a user-friendly interface.
Bizarrely, phone access is one of Android Auto's weaker points. It's basically sound, and it will read out texts and Google Hangouts messages to you and allow you to dictate replies – but it's not much more comprehensive than a decent car-smartphone interface. At least the fact that it's contained within Android Auto's on-screen environment means that you don't have to hop back out to the car's own system to make a phone call; you do have to do this to switch radio stations or media if you're not listening to music through an Android Auto streaming app.
Steve Walker