Ford's infotainment system has been overhauled but what is the Ford SYNC 4 system and how does it work?
Manufacturers are racing to fit bigger and more impressive-looking touchscreens into their cars. A car's central screen is now relied on to control a wide range of functions – far more than just the radio station you're listening to. Ford SYNC 4 is the name of Ford's latest infotainment system and in this article we cover everything you need to know about it.
Ford SYNC 4 made its debut in the new Ford Mustang Mach-E, the brand's first electric SUV. The idea of putting the famous Mustang badge on an electric car caught many people's attention, as did the huge touchscreen mounted on the dashboard. Measuring 15.5 inches, it's nearly twice the size of the last iteration of the SYNC system and is clearly influenced by a similar-looking screen found in the Tesla Model X.
Ford's SYNC infotainment system was first introduced in 2007, when it was a basic, tiny screen flanked by lots of buttons. SYNC 2 added more functionality, with higher-spec versions including sat nav and a reversing camera – even if the screen was still miniscule by modern standards, at around four inches. SYNC 3 is used on all Ford's latest models including the Ford Ranger, Ford Everest, Ford Puma, Ford Fiesta and Ford Escape.
The SYNC 4 system will eventually be rolled out across the Ford range and it doesn't have to be on a screen as big as the one fitted in the Mustang Mach-E. It can be adapted for eight-inch screens, which is the size currently fitted in most of Ford's lineup, and we would expect such a system in the upcoming new Ranger ute.
How does Ford SYNC 4 work?
Ford SYNC 4 migrates a lot of the car's features onto a central touchscreen but there are still some physical buttons so you won't be relying on the screen quite as much as you would in a Tesla Model 3. There's also a digital instrument cluster that still provides a glut of useful driving information right in front of the driver.
The SYNC 4 system is connected to the cloud, so a lot of settings, preferences and media are saved online. Ford says it also means that the system offers more advanced route planning and 'conversational' voice recognition. Rather than having to take your car to a dealership to benefit from software updates, they happen over-the-air, like they do on a smartphone.
The system learns your frequent routes and preferences, so can automatically suggest the route for your commute home or can bring up a prompt to call a contact if that's what you do on a regular basis.
Features of Ford SYNC 4
SYNC 4 is a hub for lots of in-car technology, so it includes a large selection of features and connectivity options. For example, the 3D sat nav offers real-time traffic information and because it made its debut on an electric car, the availability of nearby charge points. As you'd expect, it'll also tell you how much battery charge is left and the remaining range available.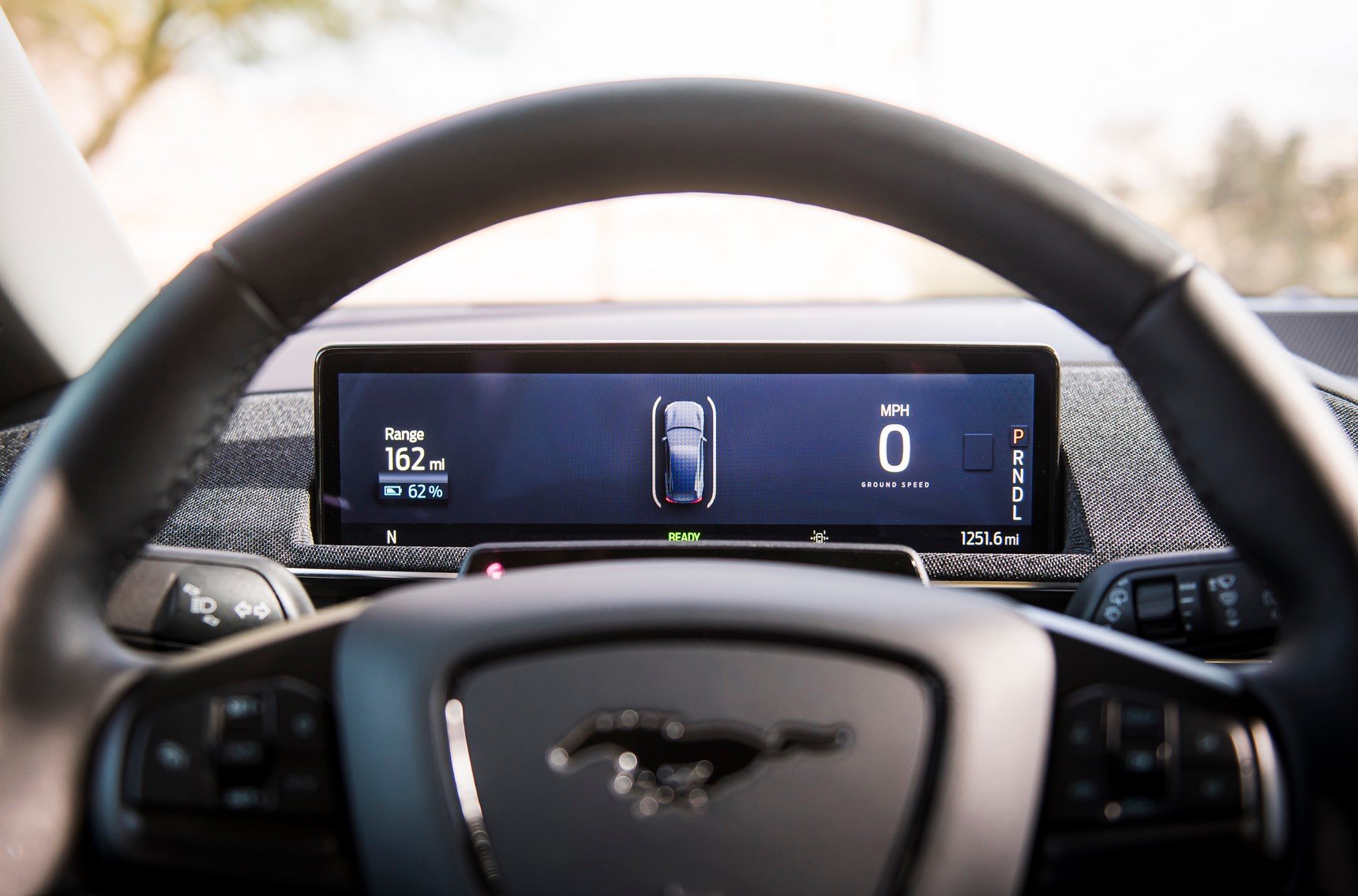 You can also access the driving mode settings and learn all about the car by using the digital owner's manual. But the Ford SYNC 4 also includes wireless Apple CarPlay and Android Auto, so you can use your phone's apps on the screen, including Waze and Spotify, if you prefer.
Ford SYNC 3 vs SYNC 4
The mega screen in the Mustang Mach-E makes the jump from the current SYNC 3 to the new SYNC 4 system look vast but on a smaller screen the difference is likely to feel less dramatic. The newer system looks to have more modern graphics, which are welcome and will help keep Ford interiors looking modern and upmarket.
Ford SYNC 3 uses tiles to lay apps and features out in a grid and introduced pinch-and-swipe functionality that mimics a smartphone. Depending on the specification of the car, it's available with or without sat nav, but all versions come with phone mirroring so you can use the navigation apps on your phone to get to your destination.
SYNC 4 is said to feature twice the processing power of its predecessor. One of the biggest changes is that it 'learns' your frequently travelled routes and the playlists you often listen to in order to come up with tailored prompts. A new split-screen function has been added too, giving the user the option to look at two things at once. Meanwhile, any advice or information you need should be covered by the digital owner's manual, which features a host of videos and pages on your car and how it works.
Ford SYNC 4 review
There are a few differences between the Ford SYNC 4 infotainment system and the Tesla portrait screen that it looks to have been influenced by. For one thing, Ford has also included a digital dial cluster ahead of the steering wheel, so the central screen isn't your one screen. You don't have to take your eyes off the road for so long, as important information such as your speed and the navigation instructions are displayed right in front of you.
What isn't quite so good is that the touchscreen features quite a few sub-menus, so you might find yourself hunting around for the drive mode selection, for example. But all in all, Ford SYNC 4 is an upgrade on SYNC 3.