Nine races to go in just 13 weeks. Working for a Formula 1 team always requires deep wells of resilience, but this season will push grand prix racing's hardy band of brothers and sisters to new extremes.
The late start in July following four months of pandemic-induced inactivity was always going to concertina what amounts to a salvage operation on the 2020 schedule, as eight initial races were announced up to the Italian Grand Prix at Monza last weekend. The plan was always to add more as F1 bosses scrambled to find suitable venues and strike late-braking deals, and they've succeeded in confirming a further nine, starting this weekend at Mugello and finishing just 12 days before Christmas in Abu Dhabi on 13 December. F1 people will have earned an extra mince pie or two this coming Yuletide season.
It may be relentless, but the 17-race schedule also happens to be one of the most refreshing in years. The complications created by the global health crisis has ruled out usual annual highlights such as Monaco, the Singapore night race, Austin in Texas, wonderful Suzuka in Japan and the cauldron of intensity that is always the Brazilian GP at Interlagos. But in their place a smorgasbord of tracks are served, some of which have never held an F1 grand prix before, some of which used to but haven't for years and one that will hold back-to-back races but on differing layouts. It's going to be a genuine adventure.
Majesty of Mugello
This Sunday's Tuscan GP begins the string of unfamiliar races at a circuit best known for its MotoGP rounds and being owned by Ferrari. The vast majority of drivers will only be familiar with this fast, undulating 5.23-kilometre track via simulations, and they can be forgiven if they feel a little daunted. Opened in 1974, it's properly old-school and will punish mistakes. It's also set in a stunning part of Italy rich in motor racing heritage. The old Mugello public road circuit that dates back to the 1920s hosted international sports car races through the 1960s, included both the Futa and Giogo mountain passes and was faster than the Targa Florio. It's about time Mugello hosted an F1 race.
Rain? It might even snow
The Russian GP on the uninspiring Sochi track has survived the coronavirus cull – sadly. But after Putin's GP on 27 September, F1 returns to familiar old ground at the Nürburgring, the first time the German track has hosted a round since 2013. The 'modern' circuit, opened in 1984, is clearly not a patch on the Nordschleife (how could it be?), but an F1 race in the Eifel mountains as late as 11 October is playing with… well, water. It will surely rain buckets – at least.
From the German forests, F1 then heads to the Algarve, hopefully for some autumn sun, to another track that's new to grand prix racing. Built in 2008, Portimão was partly intended for use as a winter F1 test facility.
That never really caught on in an era when testing is so heavily restricted, but those who travel out for the annual historic racing festival rave about it as a lovely place to go motor racing. Portugal hasn't held a grand prix since Jacques Villeneuve won at Estoril for Williams in 1996, so Portimão, on 25 October, is another refreshing addition.
Next stop, Imola and Istanbul
For many, the return to Imola on 1 November – yes, a third race in Italy – will be the highlight of the autumn marathon. For most of three decades, this stunning circuit – I'd argue one of the finest in the world – opened the European F1 season each spring, but it dropped off the schedule after 2006. Okay, it's the track where Ayrton Senna died, but Imola should never be defined by such tragedy. It's a return that should be made permanent.
Then, on 15 November, F1 travels to Turkey for the first time since 2011 for a proper Lazarus moment. It's not that Istanbul Park was unpopular. Quite the contrary: by new-circuit standards, F1 track designer Hermann Tilke produced one of his finest on the Asian side of the Bosphorous.
But given Turkey's lack of obvious motorsport connections, no one in F1 ever expected to go back when the place hit financial strife. The fabled multi-apex Turn 8 and the long drag up to Turn 12, where Sebastian Vettel and Mark Webber famously collided in 2010, will offer a pleasing spectacle in this hybrid era.
Arabian promise
A triple-header in the desert is hardly a shock, considering the climate advantages – not to mention how the region is awash with oil money. Two rounds at Bahrain's Sakhir circuit, on 29 November and 6 December, doesn't sound special; the place is hardly Silverstone. But Ross Brawn and his team have come up with a great idea to enliven the prospect.
The second race will be held on an alternative layout, Sakhir's so-called 'outer track', that promises a spectacle as close to American oval racing as F1 has experienced since Monza's ancient banking was still in use. At just 2.2 miles in length and featuring barely a left-hand bend of any significance, sub-60sec lap times should make this race a classic slip-streamer, over 87 laps of a circuit that's longer than only Monaco.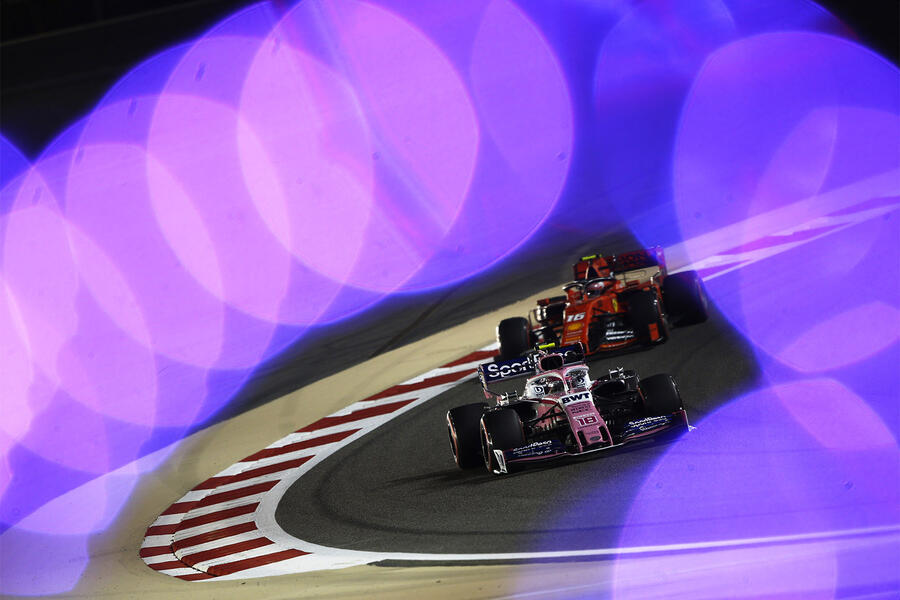 The season will end as usual at the anodyne Yas Marina circuit for the Abu Dhabi GP on 13 December, which too often has provided a glossy, synthetic anticlimax to F1 campaigns over the past decade. But the clever thinking for Bahrain and an autumn schedule full of intriguing surprises is welcome evidence that Brawn and Co have made the best of a difficult and intense set of global sporting challenges.
Damien Smith