Rhys Millen is a true motorsport all-rounder, competing successfully in rallycross, drifting, rallying and off-road Baja events – while also carving out a successful career as a Hollywood stunt driver.
The New Zealander is also a veteran competitor on the Pikes Peak International Hillclimb, an event his father Rod won five times. Millen Jr has two outright wins on the event and has also notched up a variety of class records in a diverse range of machinery.
Millen's first victory came in 2021 in a Time-Attack-class Hyundai Genesis Coupé, and in 2015 he scored the first overall win in an electric car, powering the Drive eO PP03 up the hill in 9min 7.222sec.
So when Bentley launched its ambitious three-phase Pikes Peak programme in 2018, Millen was a natural choice as a driver, bringing not just experience of the 156-turn mountain course but also a proven ability to adapt to differing machines.
Bentley's initial project was to set a new record for a production-spec SUV, which Millen did in the Bentayga with a 10min 49.902sec run. The following year, Millen set a new overall production car hill record in a Continental GT with a time of 10min 18.488sec.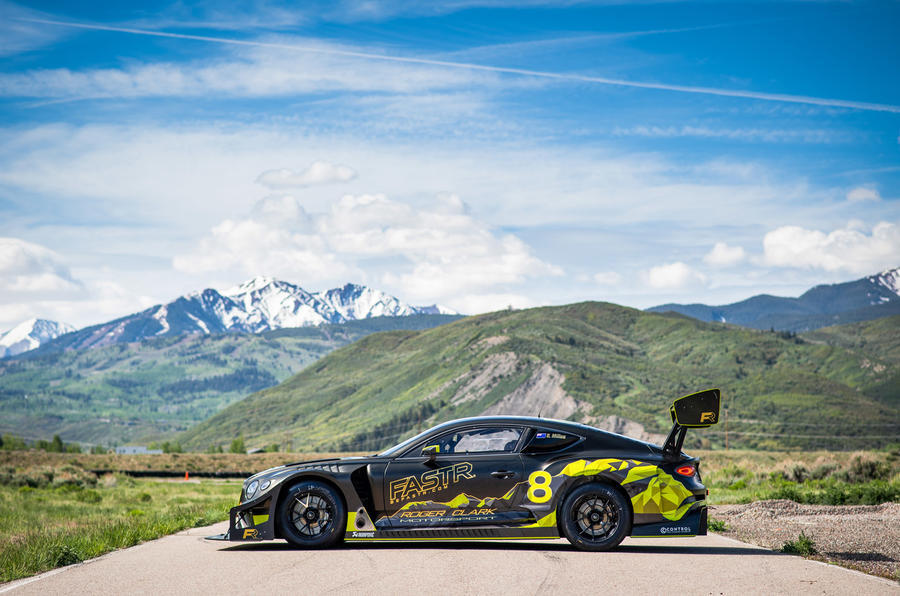 For Bentley's third effort, the stakes have been ramped up: Millen will drive a heavily modified Continental GT3 in the Time Attack 1 class, essentially the top division for production-based machines.
The Continental GT3 features a specially tuned version of Bentley's 4.0-litre turbocharged V8 with more than 560kW, and runs on renewable e-fuel. Millen is officially gunning for the 9min 23.721sec class record set in 2019 by Raphael Astier in a Porsche 911 GT3 Cup Turbo, but will also have a chance at an outright victory this weekend.
Automotive Daily caught up with Millen midway through his pre-event testing schedule on sections of the hillclimb to talk about tackling the daunting course in such a range of machinery.
How exciting was the offer to drive the Bentley Continental GT3?
"It was my personal goal to be on this case from day one of the project, so I accepted the SUV drive in the hope it would happen – even though it wasn't definitely on the calendar at that point. It's a personal dream to drive a manufacturer-built car at this level."
How does the Continental GT3 compare with other machines you've driven up the hill such as the Genesis Coupé or Drive eO?
"I've driven more powerful and faster cars, but nothing I've been so comfortable in, and never a car with so many driver aids. When you step into the realm of a vehicle like this with a manufacturer programme, you're starting with a platform that has a very high calibration of performance and expectations. I've never experienced things like traction control and ABS on the hill before, and they're wonderful to complement yourself as a driver."
Do you have to adapt your approach to different types of car?
"For sure. First, you have to adapt the specific car to the mountain, and then you have to adapt yourself to the car. Before you head to the mountain, it's important to be up to speed with the car, and thankfully we've had a test schedule that's allowed me to do that.
"You have to build a baseline of performance and then it's about applying that on the mountain. Every time you have a different platform, you have to adapt. A lot of the cars I've driven in the past have had a lot of mechanical grip, but with this car, there's a lot more downforce. You transition from mechanical grip to downforce quite quickly, and then it's all about trusting in the downforce. The car just keeps wanting more, and I haven't found the ceiling yet."
It must be very different from driving a production car, then?
"With a production car, you're ultimately limited by the amount of grip you can generate from the tyres. With the Bentayga, we had to run on the tyres it was delivered on. With the production Continental GT, we were allowed to change tyres, but we still had to run on a DOT road tyre. So you have to find the balance of chassis support to help reach the tyre ceiling: it's quite easy to go over and then you'll burn up the tyres before you reach the top of the course.
"With the Continual GT3, we have a full racing slick, and with the aero, the level is just amplified times 10. You are far more committed.
With the extra speed of the GT3, can you take any braking points or experience with you from the production cars?
"Not really. You're going seven seconds a mile faster: it's a totally different event. And now it's absolutely fun. The GT3 is just amazing to drive. In the lower section of the course, the first five or six miles, we're 30 seconds faster than in a production car."
What's the mindset of race day? How hard can you actually push on a single run?
"That's the uniqueness of the event. You need a diverse background in motorsport to really be confident, so you can trust the car and push right from the standing start. It's more like a Tarmac rally stage than anything else. In testing, we try to establish a baseline time and then my personal goal on subsequent test runs was to start bold and then match that. Once you learn to trust in the car from cold, that carries over to race day."
How much fun is driving a manufacturer-built car like the Continental GT3 up Pikes Peak?
"This car is an 11 out of 10 when it comes to fun. The road is borderline scary these days when you're running a car at these speeds on a slick tyre. You have mountain weather, rain run-off that washes debris over the road, the road surface heating and shrinking in the sun, and more. The risk factor is pretty high on race day. I'm not going to lie. But it's still an incredible opportunity."
James Attwood