Reflections on a great human being, one year on from his death.
One year ago today, motorsport lost one of its most beloved figures.
Niki Lauda's death at the age of 70 triggered an outpouring of genuine grief, even from those who had never met him. He was so much more than a three-time Formula 1 world champion who carried the physical scars of a sport that had almost killed him 43 years earlier.
For a man known as The Computer during his driving career, it was his humanity that really made him special, with all the imperfections that implies. Famously blunt and honest to a brutal fault, he never shied away from his own flaws, which somehow only enhanced his aura as the most remarkable of men.
The anniversary of his passing will trigger a wave of further tributes, and it's also marked by the publication of an excellent new biography written by one of motorsport's finest writers, Maurice Hamilton, who first encountered him in 1971 when he was a near-unknown struggling to make his way in Formula 2.
Of course, the book covers in detail Lauda's sporting rise in defiance of his autocratic grandfather; the world titles with Ferrari; 1976 and the horror of his blazing crash at the Nürburgring; his brave return to racing just 42 days later; his subsequent disillusionment with F1; and then on to his change-of-heart comeback in 1982 and unlikely third world crown in a McLaren. But perhaps it's familiarity with a story that's seared into the fabric of racing lore that makes the account of his post-racing driver life more riveting.
Lauda's second and third careers, as the owner of an airline and then a return to F1 in team management, further reveal the best of his humanity.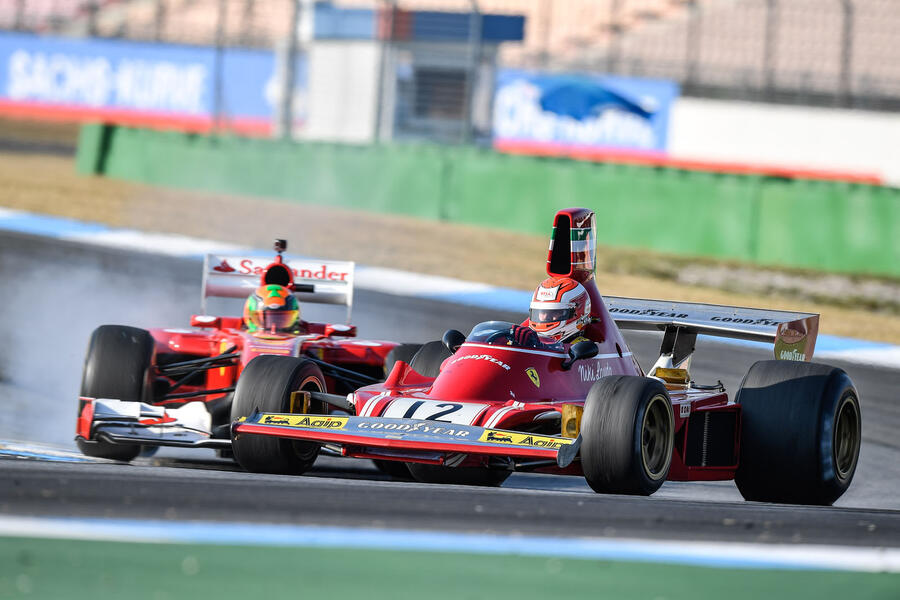 HIS WORST SCARS
On 26 May 1991, Lauda Air Flight 004 plunged into the jungles of Thailand, with the loss of all 223 souls on board. Profoundly shaken, Lauda's only priority was to the bereaved families.
Having first taken in the horrors of the crash site, he met them, grieved with them, attended funerals and promised an answer: why had this happened?
The dogged characteristics that had made him so formidable in a racing car kicked in as he pursued Boeing to come clean on why its 767 passenger jet had malfunctioned so catastrophically, not simply to clear his own name and to save his company but to keep his promise to those families.
His direct confrontation forced Boeing to publicly admit a flaw in its thrust reverser design and ensured the specifics of this disaster could never be repeated. You could argue it was Lauda's finest achievement.
"The whole thing was the worst experience of my life," said Lauda. "My [Nürburgring] accident was nothing compared to this. The crash in the Ferrari was a different issue, because I decided to take a chance of maybe killing myself: this was my decision. If I kill myself, this is my own problem and nobody else's. But to run an airline and 223 people want to go from A to B and they don't arrive, that's a different responsibility."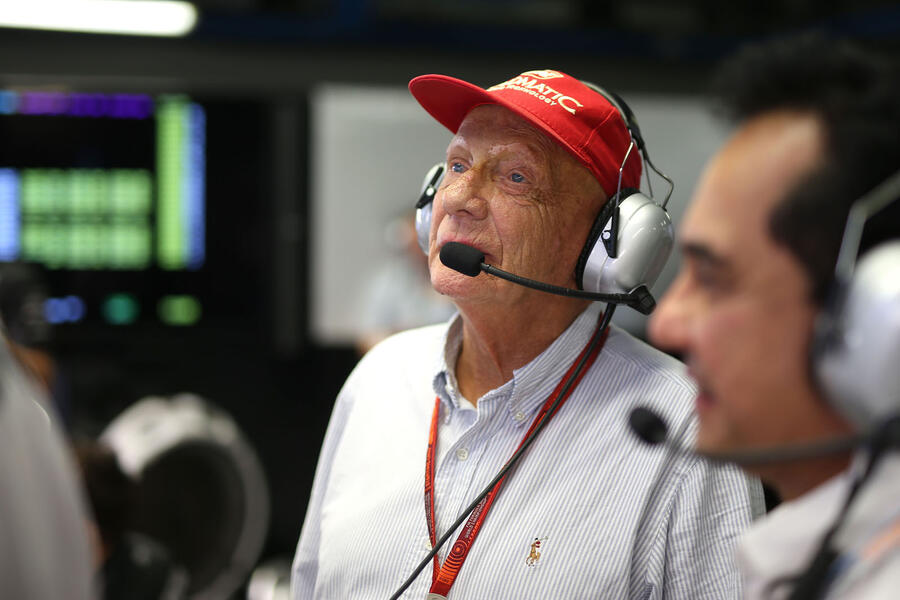 TOO HONEST FOR F1
Had Lauda not played a significant part in Mercedes' astonishing current run of success in F1, his track record in team management would have been considered a failure. At Ferrari in the 1990s, his role as a consultant reporting to old friend Luca di Montezemolo ended without the intended team revival.
But as the biography points out, it was Lauda who anointed Jean Todt as the most likely saviour, in a move that ultimately cost him his own job. Once Todt's position of power was established, Lauda was manoeuvred out – but his instincts were to prove spot on: he had picked the right man to deliver an era of sustained glory that even surpassed his own in the mid-1970s.
Lauda's part in the debacle that was Ford's Jaguar Racing campaign at the turn of the century blotted his reputation too, but such a man known for his "no bullsh*t" approach to life and ability to voice the most unvarnished opinions was clearly miscast within an uptight, corporate entity that had an astonishing lack of understanding and feel for F1.
No-one emerged from Jaguar in F1 with credit but, as the book again explains, Lauda's instincts were on the mark: he attempted to introduce Dietrich Mateschitz and Red Bull as a team sponsor, only to be rebuffed by Ford's Richard Parry-Jones. Some vulgar energy drink was beneath such a premium car brand, apparently – but we know who had the last laugh when Red Bull eventually bought the team and showed Ford how F1 should be done.
The contrasting success of his non-executive role with Mercedes-AMG F1 does credit as much to Toto Wolff as Lauda himself. The team principal speaks the corporate language Lauda always chose to ignore, but he was savvy enough to recognise the crucial human touch that his fellow Austrian brought to the team – again, against the stereotype.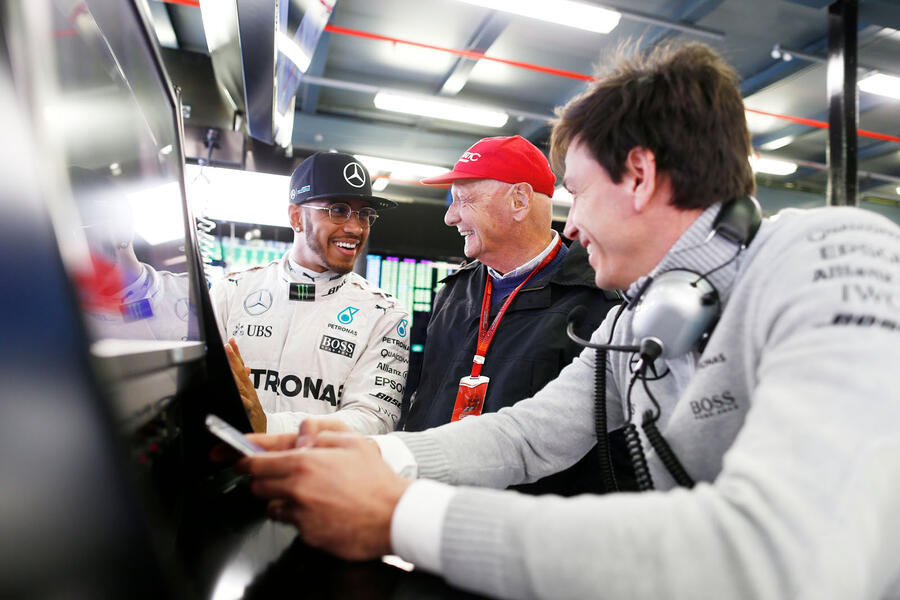 Budget spreadsheets and HR protocol? Not likely. But it was Lauda who convinced Lewis Hamilton to quit McLaren for Mercedes in 2012, when it was far from obvious how good the team could be. From an unlikely foundation, Wolff and Lauda became close – even if Lauda always harshly claimed he never really had any friends.
Wolff adds an enlightening anecdote about inviting Lauda to a high-stakes dinner in Shanghai in which a potential sponsor was to be entertained. Niki was under strict instruction to not mention money. So, what was the first thing he said? "So are we doing the sponsorship or not? Ten million is our offer." Wolff and his fellow executives were mortified. But after a silence, the sponsor stuck out his hand and agreed a three-year deal.
Niki Lauda: the loose cannon who could be devastatingly effective if aimed in the right direction. He just voiced the things the rest of us think but don't have the balls to say. No wonder we all miss him so much.
Damien Smith