We see how Kia's rival for the Toyota Rav4 Hybrid stacks up.
The Kia Sportage is available with a range of petrol, petrol turbo and diesel turbo engines in Australia, although it might be this hybrid drivetrain that could really ruffle feathers with the top-selling Toyota Rav4.
While yet to be confirmed for Australia, the Kia Sportage Hybrid is now available in right-hand drive (as we've tested here in the UK), and also as a Sportage plug-in hybrid. However, it is the normal hybrid that could be priced on par with the Toyota Rav4 Hybrid. And if the Sorento range is anything to go by, it is likely that Kia will bring it in. So what is it like?
Like the Sportage on sale in Australia with conventional drivetrains, the Sportage features bold boomerang-shaped LED running lights either side of a super-slim version of Kia's 'Tiger Nose' grille. Of note, we're driving the short wheelbase version in the UK while Australia gets the long-wheelbase body, however, this hybrid drivetrain will be available in both bodies.
The main headlights blend neatly into a larger, lower grille – so much so that you'll struggle to see them unless they're on – while in profile the car looks slightly more compact than the Tucson (it's actually marginally longer) with cleaner surfacing along the sides, too.
At the back, the car takes a clear lead from Kia's all-electric EV6 with high set tail-lights and the now popular full-width light strip. The boot door opening stretches down nice and low for easy access to a 587-litre boot. The Toyota Rav4 Hybrid measures 580L.
Underneath, the Kia Sportage Hybrid blends a 1.6-litre petrol engine with a small 1.49kWh battery to enable the car to go for a short while on electric power. In fact, it will do its best to run on electricity whenever possible, with the engine cutting in smoothly unless you're being too violent with the throttle.
With 169kW and 350Nm of torque the car will get from 0-100km/h in a decent 7.7 seconds – slightly quicker than the equivalent Hyundai Tucson Hybrid (also yet to be sold in Australia). The Hyundai claws things back with an ever-so-slightly better fuel economy figure and lower CO2, but there's not much in it; we reckon you'd easily get an average of around 5.8L/100km.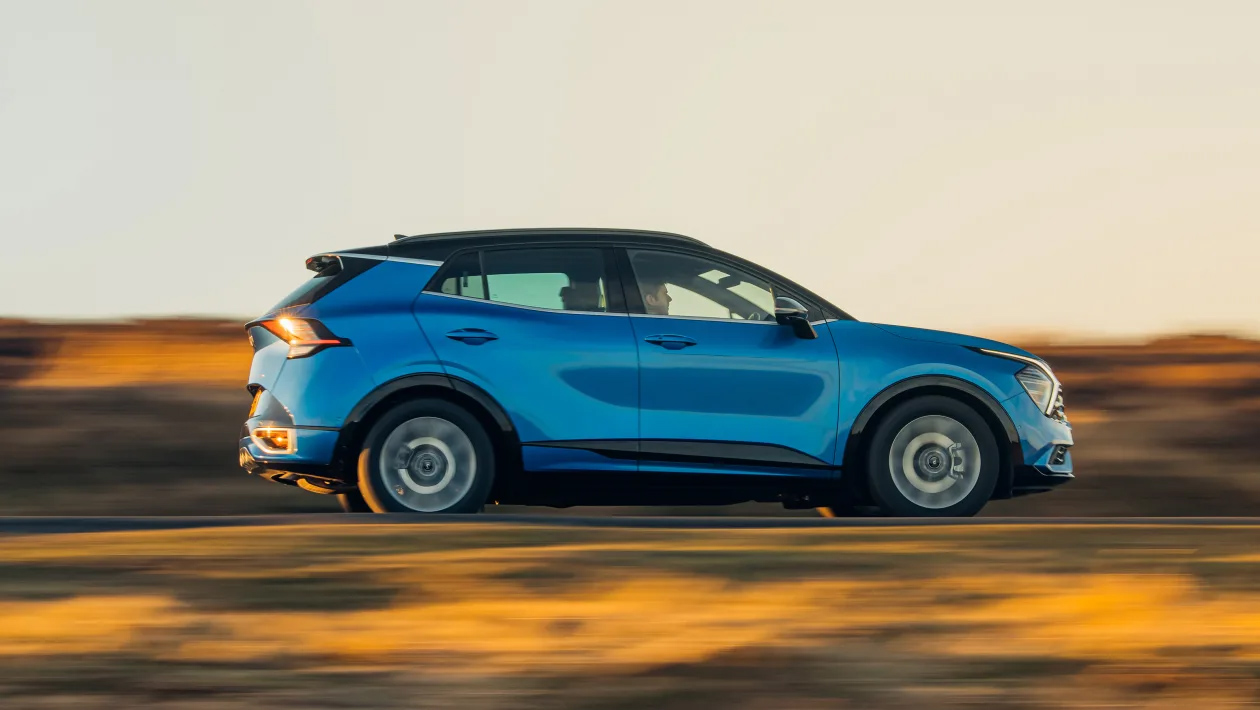 The hybrid system (familiar from the equivalent version of the Kia Sorento) is particularly refined and smooth, and makes plenty of torque for easy roll-on responsiveness – but it's much better when working at a relaxed cruise than when driven more keenly.
Leave the Sportage in Eco mode and it juggles electric and combustion-powered running very unobtrusively. It will pick up from low speed with an assured level of performance, and work its way to a mixed, in-and-out-of-town, real-world five-point-something per 100km consumption.
But use Sport driving mode instead and you'll find the car's accelerator a little over-responsive to upper-pedal inputs; the engine noisier at high revs than you might like it to be; and the workings of the automatic transmission slow and slightly blunt on occasion.
Our front-wheel drive hybrid car's rotary automatic transmission selector sits behind a wireless phone charger, with cup-holders (featuring clever swing out parts for smaller cups or bottles) to the side.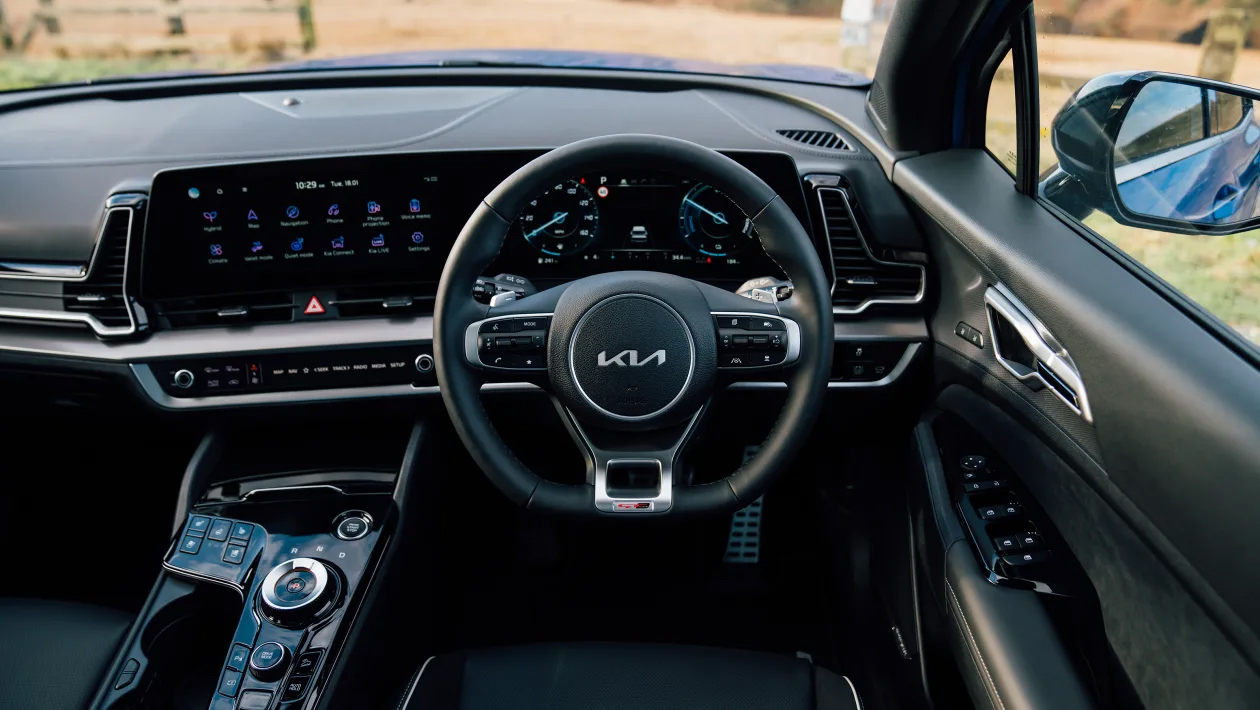 Inside there's even more inspiration from the EV6, with twin 12.3- inch screens; one in front of the driver with clear, easy-to-use graphics plus a responsive touchscreen in the centre for the infotainment. Both screens appear to join in one, smart panoramic sweep.
Beneath the central touchscreen are touch sensitive controls for the climate control, or if you push the button to switch modes, they turn into fast keys for access to infotainment settings. It makes the interior look great but is a bit of a faff to use.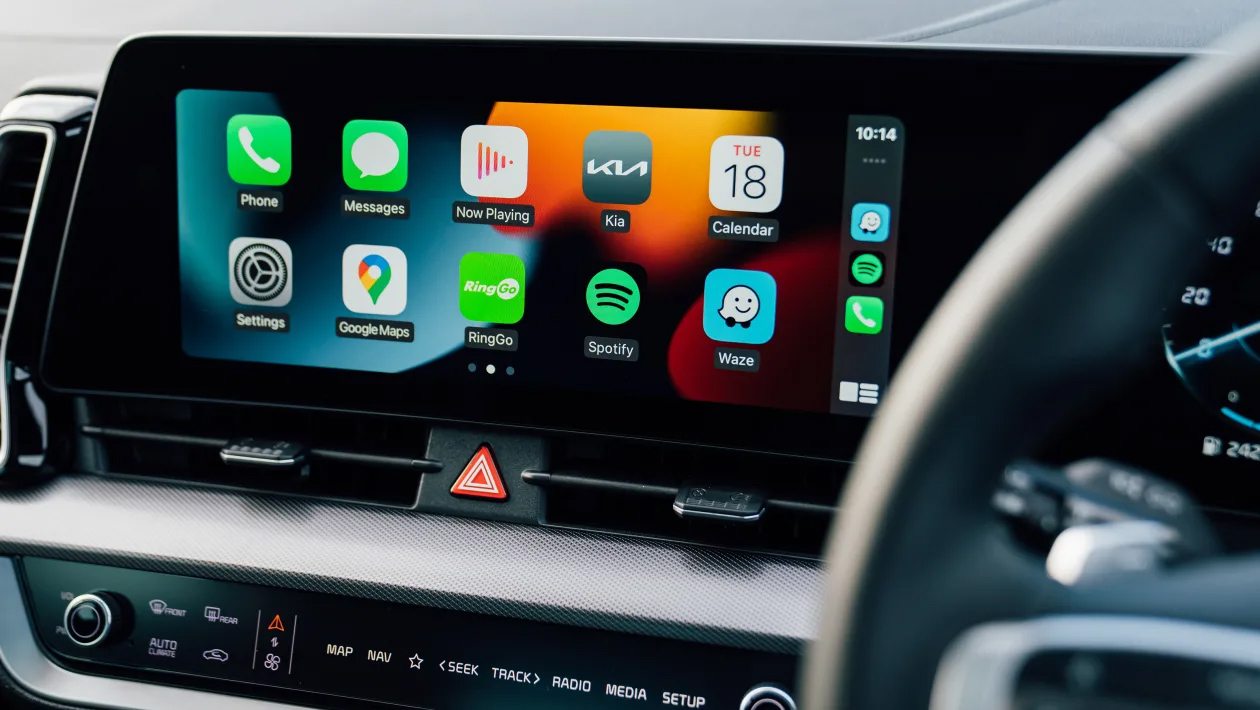 There are plenty of other clever features inside, including USB sockets on the back of the front seats alongside a handy hook, while the headrests can be used as coat or bag hangers. Quality is top notch, too.
Overall, the Sportage Hybrid brings a considerably improved economy to the Sportage that puts it on par with the best rivals. That, and the fact that it is a well-implemented and whisper-quiet hybrid system makes the Sportage Hybrid a great idea for Australia – and one that will sit alongside other Kia hybrid models already available here.
| | |
| --- | --- |
| Model: | Kia Sportage Hybrid |
| Price: | N/A |
| Engine: | 1.6-litre four-cylinder petrol plus 1.49kWh battery |
| Power/torque: | 169kW/350Nm |
| Transmission: | Six-speed automatic, front-wheel drive |
| 0-100km/h: | 7.7 seconds |
| Fuel consumption: | 5.8L/100km |
| On sale: | TBC |
Sean Carson