Porsche Taycan rival's design signed off; will be obviously different to related Polestar 5.
The design of the highly anticipated Lotus Type 133 electric sedan has been signed off ahead of its launch in 2023, and details have emerged about how radically different it will be from any of the brand's previous or existing cars.
It will be the first Lotus saloon car since the legendary Carlton – a Vauxhall-based BMW M5 rival – bowed out in 1992. In its positioning, it will provide the brand with a rival to the Porsche Taycan, BMW i4 and Mercedes-Benz EQE.
It will also be similar in its conception to sibling brand Polestar's 5 grand tourer, due on sale around a year later, in 2024. But, suggested Lotus managing director Matt Windle, the two cars will be tangibly differentiated, despite their shared Geely Group origins.
Asked if Lotus could benefit from the UK-based development programme for the Polestar 5, Windle told Automotive Daily Network partner Autocar: "Yes and no. The importance is keeping that individuality – and we are different companies."
It is not yet clear whether the two cars will share a modular EV platform from the Geely stable (the Eletre platform is said to be a bespoke architecture), nor whether the Type 133 will be available with the Polestar's range-topping 640kW all-wheel-drive powertrain, but Windle said: "It will be the Lotus ethos in that car. It's a bit more refined, further towards the luxury end of what we're trying to do with our performance luxury brand."
Global Lotus dealers have been shown the final design for the Type 133, he confirmed, "so they know what's coming next – and excitement was very high".
Elaborating on how Lotus and Polestar could collaborate in the future, Windle explained: "Geely is flexible and comfortable with us working with our sister companies, or third parties or other suppliers, OEMs, or anything. There's no direct purchasing or design strategy that they imply on us.
"With Lotus being a smaller company, and with us growing up, it makes sense to take technologies from our sister companies.
"If you go to an OEM for their parts, you have to pay for the privilege of going in the shop to see if you want the parts. With Geely and our sister companies, we can go and see if we want the parts, and if we do we then pay for them.
"For a small company, that really helps. But it works the opposite way as well: our sister companies and Geely come to Lotus for powertrain development, EDU development, ride and handling development – it's a really flexible, organic organisation.
"We're stronger as a group, but we're individual enough in that group that you don't all become morphed together. It's a fine balancing act and I think they do it very well."
The Type 133, which will follow Lotus convention in getting a name beginning with 'E' in production guise, will provide the brand with a more direct rival to the hugely popular Porsche Taycan, which company bosses confirmed as one of the main benchmarking influences while developing the Eletre SUV, despite the two cars' different positionings.
Gavan Kershaw, Lotus's director of attributes and product integrity, said dynamic development of the Eletre was "really, benchmarking the platform", rather than the car itself, with a view to then rolling it out to the Type 133 and a future Type 134 crossover.
Kershaw referenced the suspension technologies – "active roll control, CDC [continuous damping control], air-sprung independent active rear steer and active aero" – as features that most obviously mark the aluminium Electric Premium Architecture out as the more dynamically oriented platform in the Geely Group stable. He also said they have been 'package-protected' for "everything we want to do" with future electric cars, suggesting the Type 133 will follow suit with a similar set-up.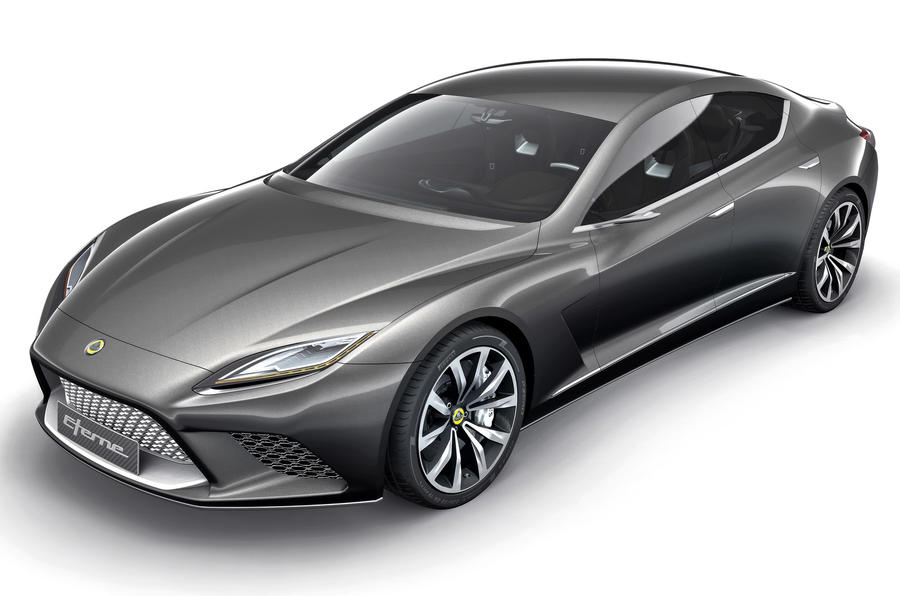 "Our type of car – that we want to drive as well as it looks – requires all that technology," he said, hinting that the 'lifestyle' positioning of EVs built by Lotus Technology in Wuhan, China, will not come at the expense of driver engagement.
Further details of the Type 133 remain under wraps, but using the 592bhp twin-motor drivetrain from the launch-spec Eletre would line the saloon neatly up against the Porsche Taycan GTS, leaving ample room above and below for both softer and more hardcore additions to the line-up.
Indeed, Lotus managing director Matt Windle confirmed that 435kW is "where we're starting at – there's more to come" from Lotus EVs.
Lotus senior vice-president of design Peter Horbury was keen to emphasise that while "there has to be some continuity and family identity" across the range of Lotus EVs, "families aren't made up entirely of triplets or quadruplets. Every member of a family can have their own character."
The Type 133, then, can be expected to borrow cues from the Eletre but adopt a distinct overall design, albeit one that is still heavily influenced by Lotus's preoccupation with aerodynamic efficiency.
Felix Page