The Audi Q4 e-tron has been upgraded with 135kW charging, a new 11.6-inch display and expanded online features.
Audi has announced a number of updates that will be implemented across the Q4 e-tron and Q4 e-tron Sportback range for the 2022 model year. These changes will upgrade the Q4 e-tron's infotainment system, and make improvements to both rapid-charging times and connectivity.
In Australia, Audi remains noncommittal for a launch date, with a focus on its flagship e-tron GT for now.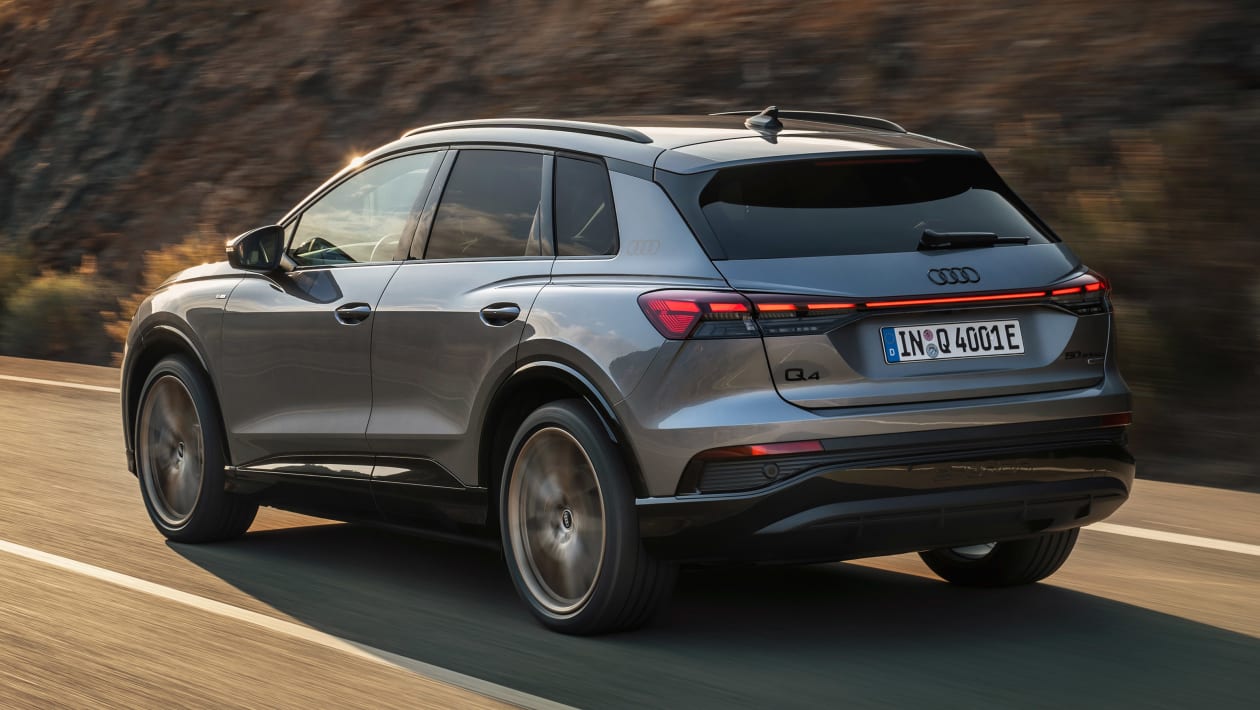 Every Q4 e-tron will be capable of 135kW charging, reducing the time it takes to top-up from five to 80 per cent by around 10 minutes; to 29 minutes for the Q4 40 e-tron and 36 minutes for the Q4 50 e-tron with its larger 76.6kWh battery, and models come with aerodynamically efficient alloy wheels which were designed to reduce the amount of turbulent air around the car's wheel arches and cut drag.
Meanwhile, Audi has now upgraded the Q4 e-tron's infotainment system to its latest MMI system. This is the largest-screened Audi infotainment system to date at 11.6-inches, and it will be fitted to all Q4 e-tron models.
The MMI Plus display introduces enhanced navigation with a route planner incorporating charging stops into any longer journeys and Google Earth overlay for maps. MMI Plus also introduces live traffic data and an on-board Wi-Fi hotspot for passengers.
Connectivity has also been improved across the entire range, too, with the integration of Amazon Alexa. This allows Q4 e-tron drivers to manage calendars and shopping lists, as well as interact with smart devices at home, all through voice commands.
The Q4 e-tron also features the Audi augmented reality head-up display. This new system uses clever technology to make it appear as if key driver information is not being shown on the windscreen itself, but is instead being projected into live space ten metres ahead of the car. Navigation prompts appear to float over the road ahead and guide the driver to the correct exit at a roundabout or the correct lane at a junction.
Inside, the Q4 e-tron S line gets a leather sports steering wheel, stainless steel pedals, a black headliner and illuminated S-branded treadplates. There's also a pair of sports seats, which are trimmed in an eco-friendly suede-like fabric made from recycled plastic bottles.
The Q4 e-tron Edition 1 is Audi's launch edition specification, which comes as standard with Matrix LED headlamps, a black exterior styling package and a unique hexagonal steering wheel with two shift paddles that are used to increase or decrease the car's level of regenerative braking.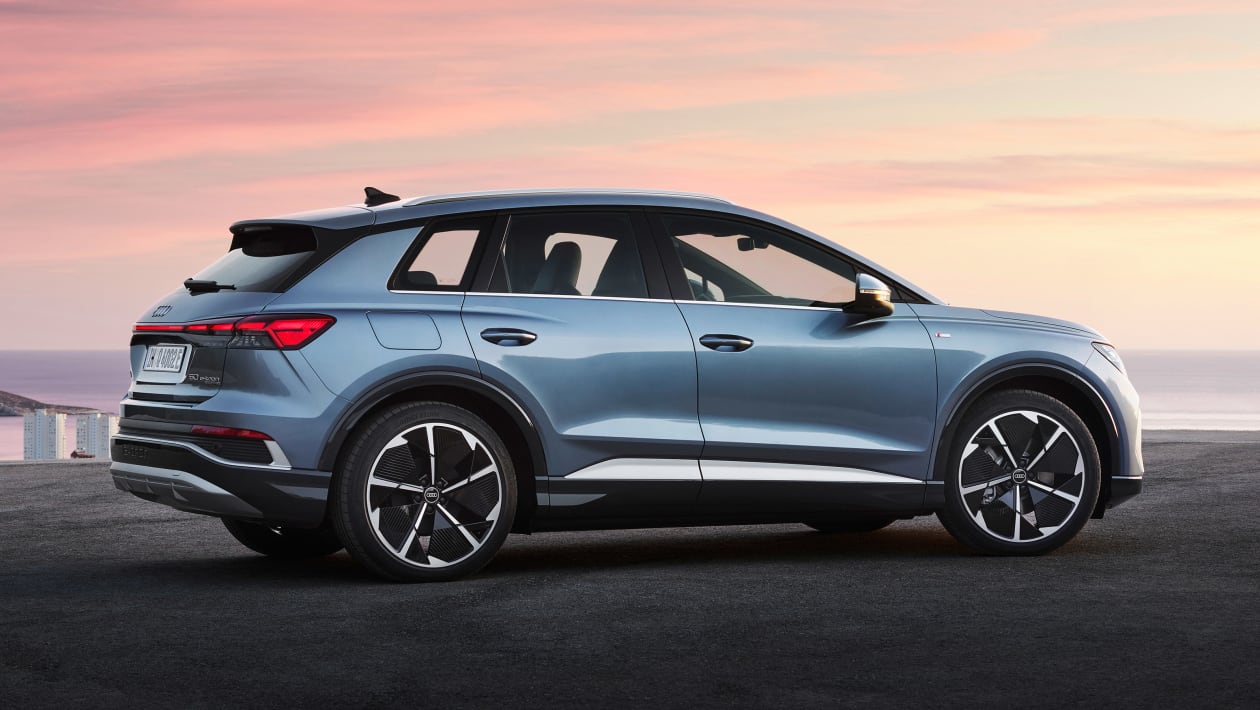 At the top of the range in European specification, there's 21-inch alloy wheels, a panoramic glass sunroof and safety equipment such as side assist, blind spot monitoring and rear cross-traffic assist. Adaptive dampers also come as standard, allowing drivers to adjust the chassis from a menu in the infotainment system.
The cabin gets Nappa leather upholstery, a premium Sonos stereo system and a wireless smartphone charger that also offers wireless Apple CarPlay and Android Auto connectivity. Audi's new augmented reality head-up display is another standard feature, which appears to project items like navigation instructions 10 metres ahead of the driver.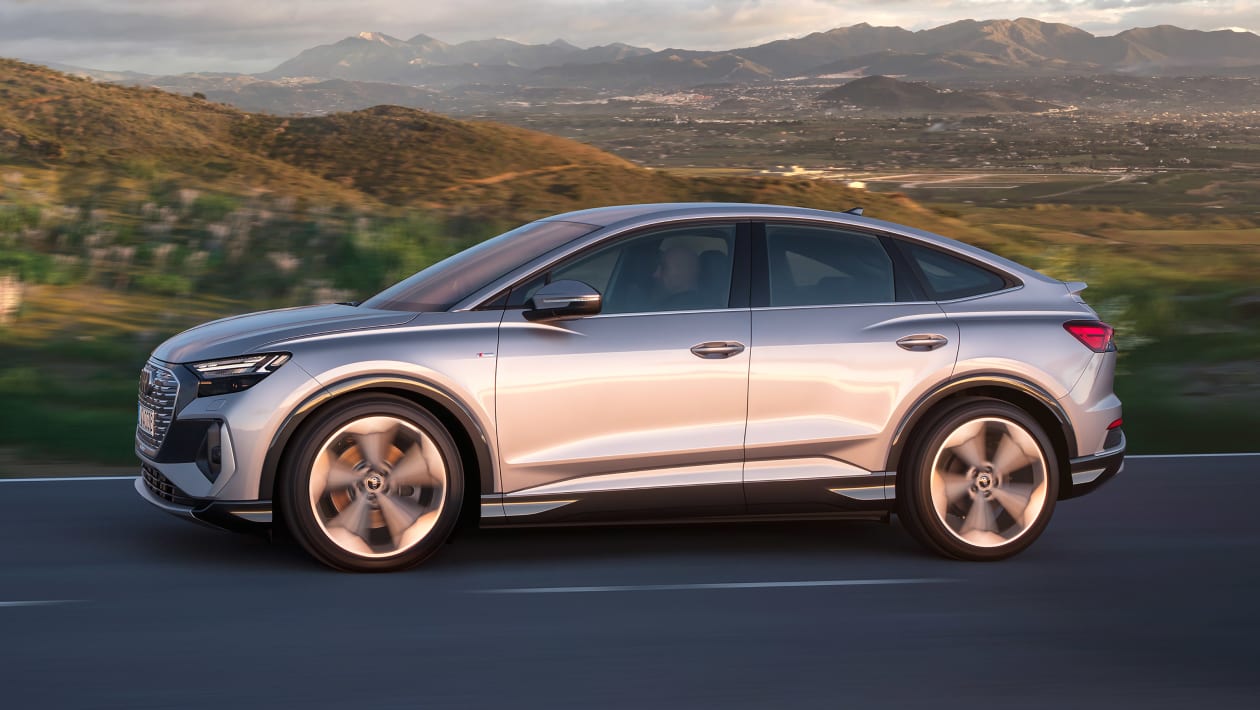 Q4 e-tron buyers have three powertrains to choose from. The entry-level Q4 35 e-tron is powered by a 52kWh battery pack and a single electric motor mounted on the rear axle, which has 125kW and 310Nm of torque.
Audi says the SUV variant will sprint from 0–100km/h in nine seconds before running into its electronic speed limiter at 160km/h. It'll also cover 335km on a single charge, while the battery can be topped-up using either a 7.4kW wallbox or a 100kW DC rapid charger. Specifications for Sportback models are yet to be confirmed.
The mid-range Q4 40 e-tron comes with a larger 77kWh battery pack and a more powerful electric motor, with 150kW and 310Nm of torque, which trims the SUV's 0–100km/h time to 8.5 seconds. However, top speed remains limited at 160km/h.
Thanks to the larger battery, range increases significantly to 509km on the SUV and, although the Sportback version of the 40 model hasn't yet been fully homologated, Audi expects it will improve further on that figure due to its slightly better aerodynamics.
The range-topping Q4 50 e-tron quattro uses the same 77kWh battery pack, but gets an extra electric motor on the front axle, which adds four-wheel drive and bumps performance up to 220kW and 460Nm of torque.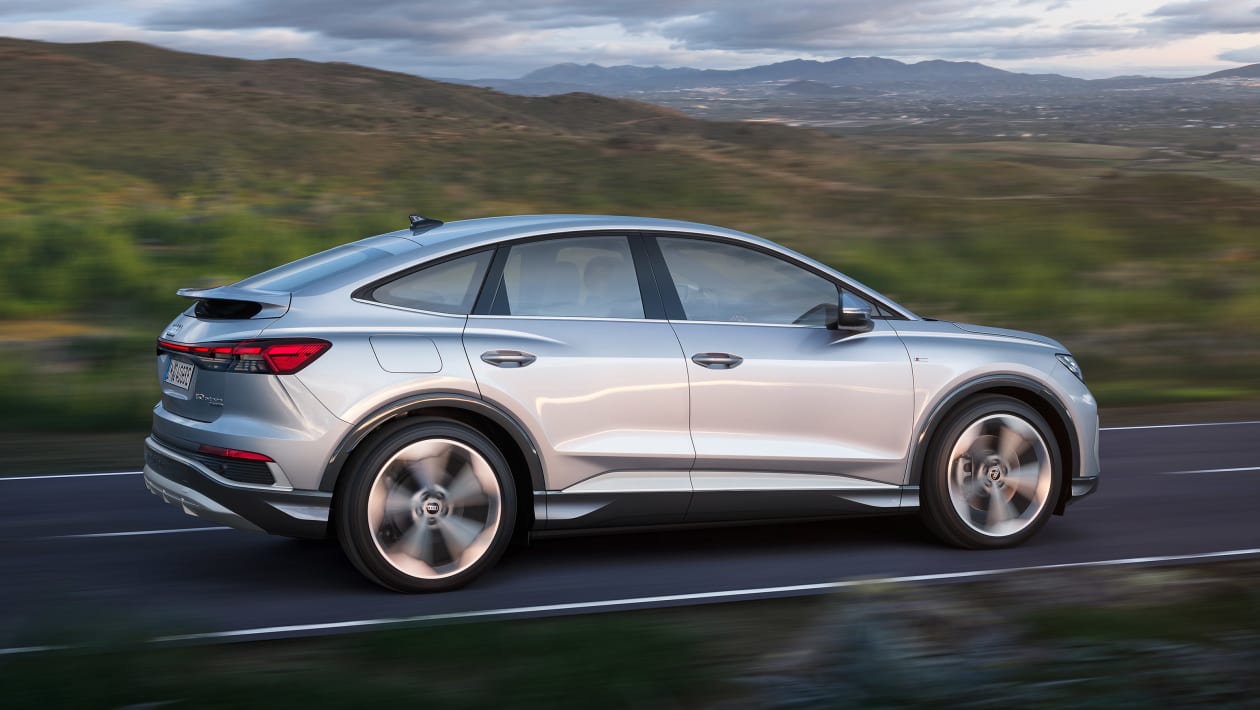 Audi says that's enough to cut the SUV's 0–100km/h time to 6.2 seconds and increase its top speed to 180km/h. Both the SUV and the Sportback are expected to have a maximum range of 475km, although the EVs are yet to pass through final WLTP homologation.
The 40 and 50 quattro versions also come with an 11kW AC charging standard, and they're both compatible with 125kW DC rapid chargers. Updates for the 2022 model year have included a number of optimisations to the software that manages the battery's thermal management and control systems. These have resulted in reductions to charging times. The five to eighty per cent charge time is reduced for the 40 e-tron models from 38 to 29 minutes, while the 50 e-tron quattro models see a smaller reduction from 38 to 36 minutes.
Model also get Audi's drive select system, which offers a choice of five configurable drive modes that alter the throttle and steering characteristics. Options include a sporty Dynamic mode, an Individual mode that allows custom settings and a Range mode, which ekes the most efficiency out of the EV's battery pack.
As well as being Audi's MEB platform debut, the Q4 e-tron is also the first premium brand car on the platform. As such, it comes with several key differences keeping it at an arm's length from its more mainstream Volkswagen ID 4 and Skoda Enyaq iV siblings. Better materials, more tech and more power are all on the agenda.
The regular Q4 e-tron is sized at 4588mm long, 1865mm wide, and 1632mm tall, so it lives up to its billing as an SUV positioned between the Q3 and the Q5 in terms of size – it's more or less perfectly positioned between the two.
It has a drag coefficient of 0.28cd (0.26cd for the Sportback) due to some aerodynamically minded design features. These include the little fins on the chin spoiler, the specially shaped mirrors, a completely flat underbody and an active front grille with a closing louver.
Lighting front and rear is an important element of the Q4 e-tron's design. The car is the first Audi to be offered with a new digital LED headlight technology with four different lighting signatures that the driver can change between. It's also the first of Audi's smaller models to feature a full-width LED taillight bar at the rear.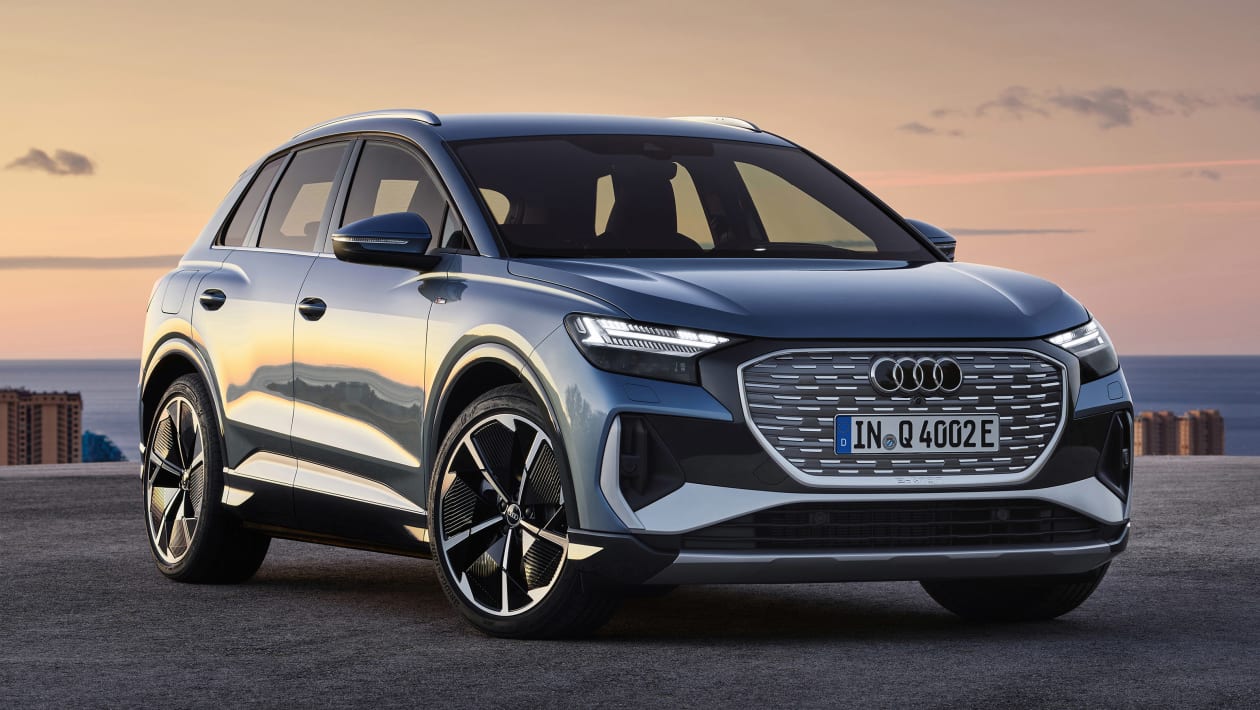 Inside lies what Audi suggests could be one of the Q4 e-tron's major selling points: an amount of space that comes close to that in its largest SUV, the Q7. The impressive carrying capacity is largely thanks to the less stringent packaging requirements that come with electric drivetrain.
Storage is another aspect of the Q4's innards that Audi is keen to highlight, with 25 litres of it hiding around the cabin in bins and cubbies. The interior has a large centre console with multiple functions and sockets, including an optional phone charging box, while all four doors have a large cubby suitable for carrying one litre water bottles.
The Q4 e-tron's boot stands at 520 litres measured to the windowline (535 litres in the Sportback, but the coupe profile means space above the windowline is less). While the rear bench doesn't quite fold flat, the amount of space when you do drop it down expands to 1490 litres (or 1460 litres for the Sportback).
Shane Wilkinson