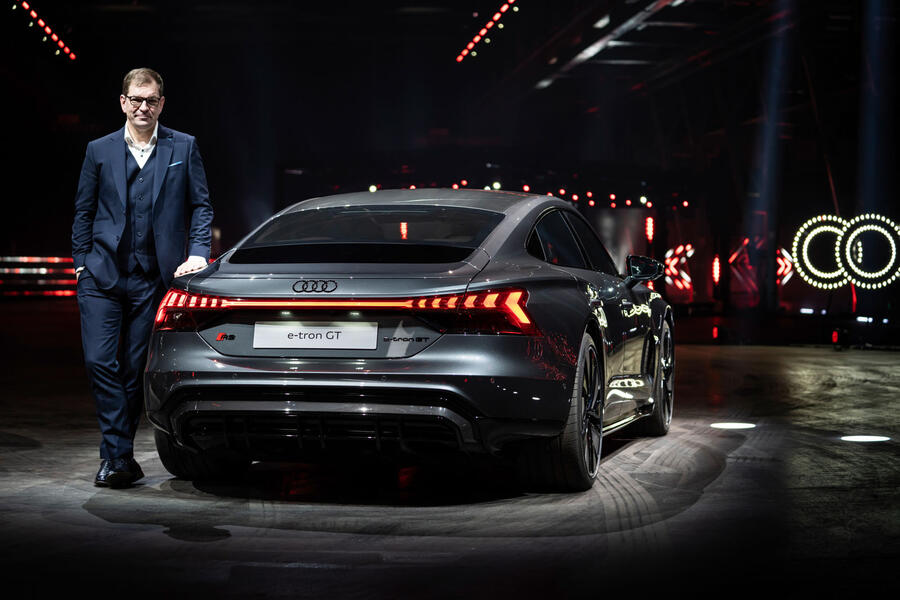 Q&A: Markus Duesmann, Audi CEO
Will the E-tron GT be as much of a success story for Audi as the Taycan has been for Porsche?
"We are happy with all cars we are able to sell. We can say the pre-order level is very high and our capacity is a bit less [at Böllinger Höfe] than we have on the Taycan side. That means we will sell more Taycans than E-tron GTs, but we are very positive on what's happening in the market and how big the interest is, so probably we will see higher numbers [of the Audi] than we expect."
Does building it on the same production line as the R8 open the door to electrifying the R8 in future?
"That wasn't the original idea. On the other hand, it could make sense because we have electrified production, so certainly we are flexible to do an electric R8 as well if we wanted."
"You know from our range of RS models that we usually use a different body, but the E-tron GT is so beautiful [and] even the normal quattro GT has so much performance that we decided not to do a rebodied version of the RS. But I see this as an exception."
How do you chase Tesla's tech without cutting quality standards?
"We don't really chase Tesla. We have our own competition and our own customers. In some areas, Tesla has set a new standard for technology and we do everything to learn from that, and in some areas we will have similar solutions and in many areas different… We will only offer new technologies when they meet our quality standards."
Lawrence Allan