Project Zeus could see a hydrogen-fuelled Range Rover make production later this decade.
Jaguar Land Rover (JLR) is embarking on a serious hydrogen power research project with the aim of developing fuel cell-powered versions of its larger vehicles.
Should the research effort – which is known as Project Zeus – prove successful, the fuel cell technology would most likely be ready for production use around the time of the next-generation Range Rover Evoque's arrival in the middle of the 2020s and then be used for zero-emissions versions of larger models in the future.
The British firm is currently working on several battery electric vehicles (BEVs) to join the existing Jaguar I-Pace, including a new Jaguar XJ. However, the hydrogen project could give it another powertrain option as the British government's plan to ban the sale of internal combustion-engined vehicles by 2035 or sooner approaches.
Project Zeus was described by JLR product engineering chief Nick Rogers in a recent online event as "really, really important". He added that the company will soon reveal a driveable hydrogen fuel cell concept car.
"We're looking for the right propulsion systems – ones that see minimum interference to the environment," said Rogers.
"With hydrogen, we believe there's a key place [for it in our line-up]. We're developing and investing in that, and we're getting great support to do that."
While it's still early days and the focus is on developing the hydrogen powertrain technology, the first concept developed as a result of Project Zeus is likely to be an Evoque-sized SUV.
The technology is being seriously considered for use in JLR's large vehicles in the future – particularly within the Land Rover range. The Range Rover, Range Rover Sport and Range Rover Velar would all be natural choices for hydrogen power, given their large size and need for a long range and flexible usage.
Hydrogen power could also be a strong option in regions and countries with limited BEV charging infrastructures where rugged off-roaders are popular.
While Jaguar could also use the technology for its future models, possibly including the next-generation F-Pace SUV, it's likely to focus on battery-electric propulsion, given its cars' generally smaller size and greater road bias than Land Rovers.
Notably, JLR's plans are similar to those of BMW, which is planning to put an X5-based i Hydrogen Next SUV (which would rival JLR's Evoque-sized hydrogen model) into limited production in 2022, with plans to follow it with larger hydrogen models based on the X6 and X7.
The timeframe for the start of the proposed UK ban on new ICE car sales, and similar plans in other countries, means JLR has no choice but to start now on a new zero-emissions strategy. This is particularly key for JLR, because most of its output is larger, heavier luxury vehicles, which are challenging to reinvent as battery-electric vehicles, given their weight and longer range requirements.
Rogers said: "Hydrogen is an ideal application for the bigger vehicles [in our line-up], because the bigger the car, you get diminishing returns [when using] battery packs. The amount of energy you can store in a battery for a given amount of weight means you're in a position where you're making the cars that are so heavy, they're using [a lot] of energy just to cart that heavy weight about."
Project Zeus was revealed earlier this year, when the government announced that it would invest £73 million (AUD$133 million) in 'seeding' various automotive projects to reduce CO2 emissions. JLR will work with Delta Motorsport, Marelli Automotive Systems and the UK Battery Industrialisation Centre on its hydrogen project.
According to the Advanced Propulsion Centre, which issued the funding, the JLR-led project "will deliver a zero-tailpipe-emissions premium fuel cell SUV concept with Jaguar Land Rover attributes, such as long range, quick refill, towing, off-road capabilities and low-temperature performance".
JLR hired Ralph Clague as its new hydrogen and fuel cells chief in March 2019. Clague had been director of fuel cell research and development at Chinese manufacturer Great Wall since 2016. Automotive Daily also understands that JLR was trying to recruit more hydrogen engineers early this year.
JLR's entry into hydrogen research comes as there's a huge resurgence of interest and investment in the fuel, with numerous projects to manufacture 'green' hydrogen being announced across Europe in the past few months.
Much of the world's hydrogen production is currently achieved by extracting it from natural gas, a process known as reforming. This can't be regarded as 'zero-carbon', because the hydrogen comes from fossil fuels.
However, hydrogen can also be created by using renewable electricity (from wind turbines, for example) to 'crack' seawater into hydrogen and oxygen through a process called electrolysis.
According to recent research by forecasting specialist IHS Markit, "costs for producing green hydrogen have fallen by 50 per cent since 2015 and could be reduced by an additional 30 per cent by 2025, due to the benefits of increased scale and more standardised manufacturing, among other factors".
IHS Markit also noted that investment in hydrogen cracking is set to expand massively over the next few years, saying: "Economies of scale are a primary driver for green hydrogen's growing cost competitiveness. The average size for 'power-to-x' projects scheduled for 2023 is 100MW – 10 times the capacity of the largest project in operation today."
Despite all the faith laid in the improvement in EV battery power and storage, there has been a rapid shift in thinking across European governments.
"In Europe, it's now widely agreed that electrification alone can't deliver the level of emissions reduction that many countries aspire to," said IHS Markit's Catherine Robinson.
The European Union (EU) has put out a very ambitious plan for the roll-out of green hydrogen. It wants hydrogen production decarbonised by 2024 and wants to hit at least 40GW of renewably powered hydrogen production by 2030.
"Analysts estimate clean hydrogen could meet 24 per cent of world energy demand by 2050, with annual sales in the range of €630 billion [$1.04bn]," the EU report says.
It adds: "In regions where renewable electricity is cheap, electrolysers are expected to be able to compete with fossil-based hydrogen in 2030."
With a typical hydrogen fuel cell vehicle carrying around 5kg of gas, that would suggest a production cost of around €7.50 [$12.43] to fill today's Toyota Mirai. Even factoring in tax, transportation and producer profits, that makes renewably sourced hydrogen power look cost-competitive during the next decade.
There are a number of other reasons why hydrogen is now receiving massive interest as a zero-carbon fuel.
First, authorities have realised that CO2-free heavy goods transport, including trains and shipping, can't be achieved with battery-electric technology. Providing a hydrogen refuelling network for commercial vehicles would, of course, enable hydrogen passenger cars to flourish too.
A major sticking point for hydrogen has also been the economies of scale of production, reflected in the high cost of the few hydrogen fuel cell EVs available, such as the Mirai and Hyundai Nexo. Greater commercial vehicle use could help to reduce that cost.
Second, hydrogen could transform the geopolitics of energy. A likely future stand-off between China and the West could potentially cause the supply of batteries and the necessary rare-earth minerals to be restricted, so hydrogen made renewably would provide a significant and stable supply of green energy for Europe.
Crucially, the issue of hydrogen storage in vehicles is also close to being solved. Currently, hydrogen has to be stored expensively at great pressure, and that requires relatively costly filament-wound tanks that are very hard to package inside a car.
A team of researchers and scientists at Northwestern University in the US have developed a new material, described as a 'metallic organic framework', that will allow much greater volumes of hydrogen gas to be stored in a given space and, importantly, at a much lower pressure. The material is described as working like a sponge, able to soak up the gas and then release it under pressure.
This technology could lead to hydrogen tanks fitting in the same space as today's underfloor battery packs, making the technology an ideal retrofit into JLR's upcoming MLA multi-fuel car platform.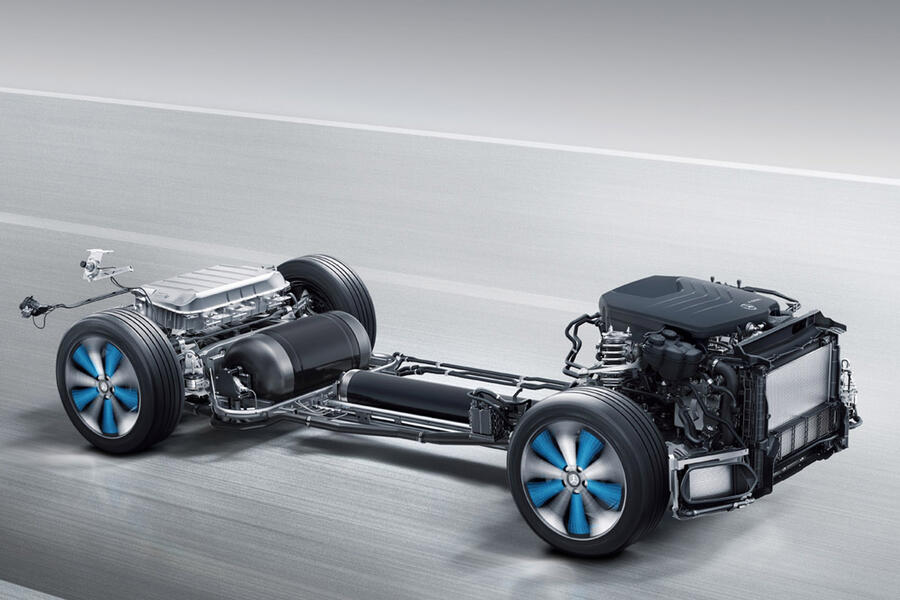 Compact hydrogen tanks are also being developed in Germany, while French parts supplier Faurecia is working on new thermoplastic hydrogen storage tanks that should have a factory cost of €400 [$660] per kilogram of gas stored.
There are also significant engineering reasons of weight and cost that might mean hydrogen fuel cell technology will win out over battery-electric powertrains, certainly for larger vehicles at least.
The three hydrogen tanks in today's Mirai weigh 87kg and offer a range of 500km from 5kg of gas. In stark contrast, the battery-electric Tesla Model S Long Range offers a best-conditions range of 515km from a 95kWh battery that weighs around 540kg.
This disparity demonstrates the huge weight advantage that hydrogen fuel cell electric vehicles could have over BEVs, even with the addition of a fuel cell stack and small battery.
With current EV battery production costs at around $215 per kWh, a 95kWh battery pack is likely to have a factory cost in the region of $20,000.
Even Faurecia's limited-production-run (circa 30,000 per year) thermoplastic hydrogen tanks would cost just $3,300 for a similar range.
Once seen as a dead end, hydrogen fuel cell technology could actually be the winner of the race to decarbonise the automotive industry, especially with the potential geopolitical and ethical trouble ahead for EV battery supply.
Hilton Holloway