You might wonder what, in this relatively new world of high-performance motoring, enthusiasts with bottomless pockets should set their sights on.
Wonder no more, because here are our 10 favourite ultra-EVs, ranging from historic conversions to cutting-edge hypercars to simply very well-sorted driver's cars that don't actually break the bank. There's even the odd off-roader in this list, too.
Of course, the scenery in this portion of the car world is constantly shifting. Some of these cars you can drive today, while others are only currently available to order. One or two might be even a little further away than that, but they've all got potential – realised or otherwise – and give us something to get excited about.
Top 10 Best Electric Sports cars
1. Porsche Taycan
Porsche has hit the electric car market with exactly the sort of impact you'd hope that an industry powerhouse of its stature might make.
The Taycan is a four-door fast grand tourer that's slightly smaller than the company's existing Panamera model but is certainly not the lesser car of the two. In fact, it's no stretch to say that Porsche has infused its first electric car with all the hallmarks of its best mid-engined efforts, and the Taycan possesses fine body control, rare balance, superbly calibrated operating controls and palpable steering precision. That the car rides extremely well on its air suspension only adds to its appeal and was a key factor in our decision to award the Taycan the full five stars after an exhaustive road test.
There are now several models in the range, although the best elements of the package are evident even in the 397kW 4S, which despite its entry-level status is still supercar-grade accelerative. The top-ranking Turbo S musters 560kW and is surely one of the quickest real-world cars on the planet.
2. Audi RS E-tron GT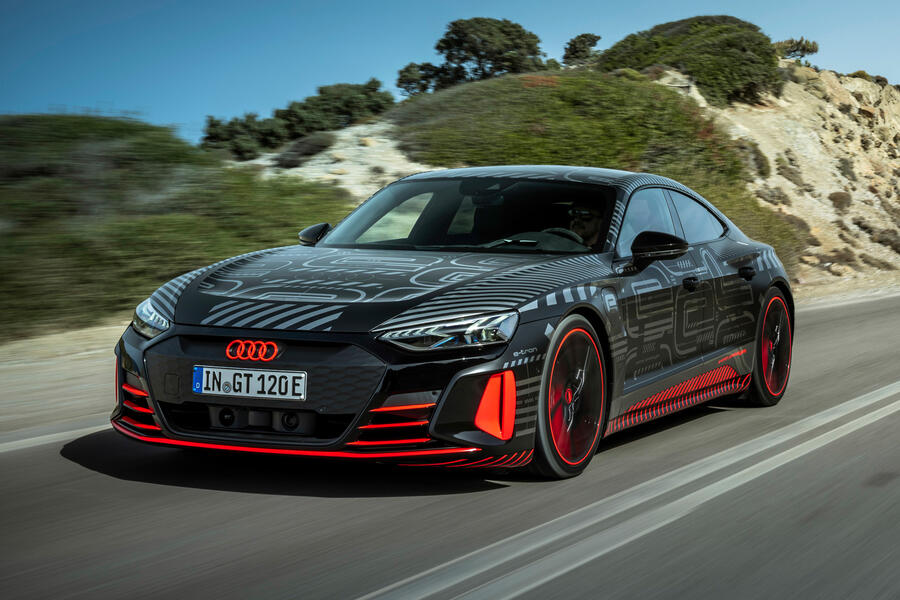 The first electric car to wear Audi's RS initials is, deep down, the Porsche Taycan in a different suit. It uses the same powerful electric motors – one per axle – and the same three-chamber air suspension and, of course, the underlying architecture is shared. As such, the battery pack is also carried over, so when the car's WLTP range is confirmed, expect 400 kilometres with the potential for 350kW ultra-rapid charging.
What this all means is that, firstly, the RS E-tron is enormously quick. When it goes on sale in 2021, the flagship version will develop 830Nm and 475kW and will accelerate to 100km/h in comfortably less than 3.5sec.
Having driven prototypes, we also know the RS E-tron handles well, albeit not with quite the same level of panache and engagement as its cousin, particularly in terms of steering. You can also expect the car to have a more relaxed gait than the Taycan, and be slightly better suited to longer drives.
3. Lotus Evija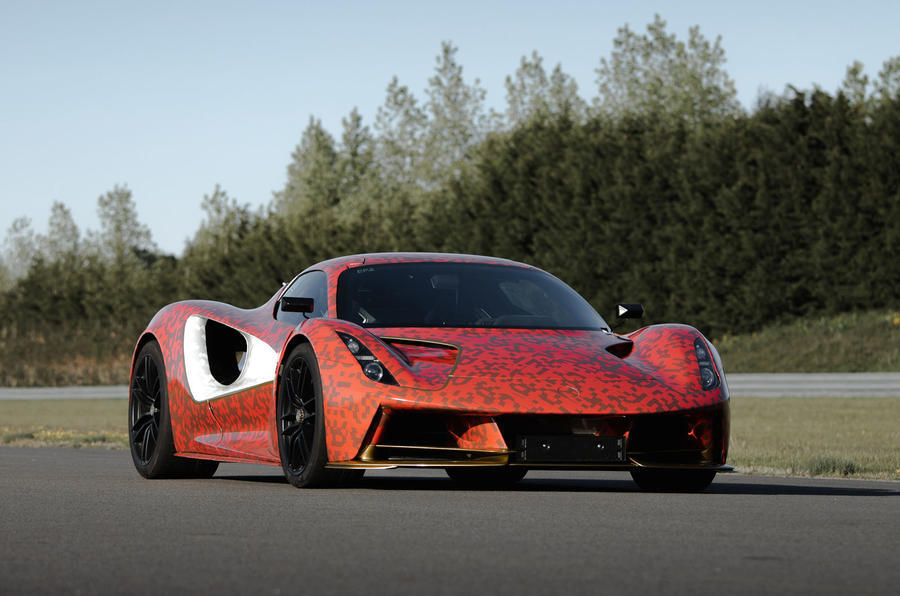 Now this is where it gets interesting. The cars from this point on are ones we're yet to drive, but they do exist on something more than a theoretical level – sometimes much more.
The AUD$3.55 million Evija is now expected to be officially launched during the summer of 2021. The bald statistics are somewhat mind-numbing. Lotus itself was recently surprised to find that the car's four motors together deliver more than 1490kW, rather than the 1470Kw previously quoted. That will act against 1680kg, which is relatively light in EV terms, and so performance will feel like freefall, we imagine.
However, Lotus is tuning the car for handling and dynamism more than raw statistics, and so the power delivery is said to crescendo, rather like any naturally aspirated engine would. Just how much the Evija bottles traditional Lotus traits remains to be seen, but if any of the upcoming electric hypercars can truly appeal as a driver's car, the Evija is probably our best bet.
4. Rimac C_Two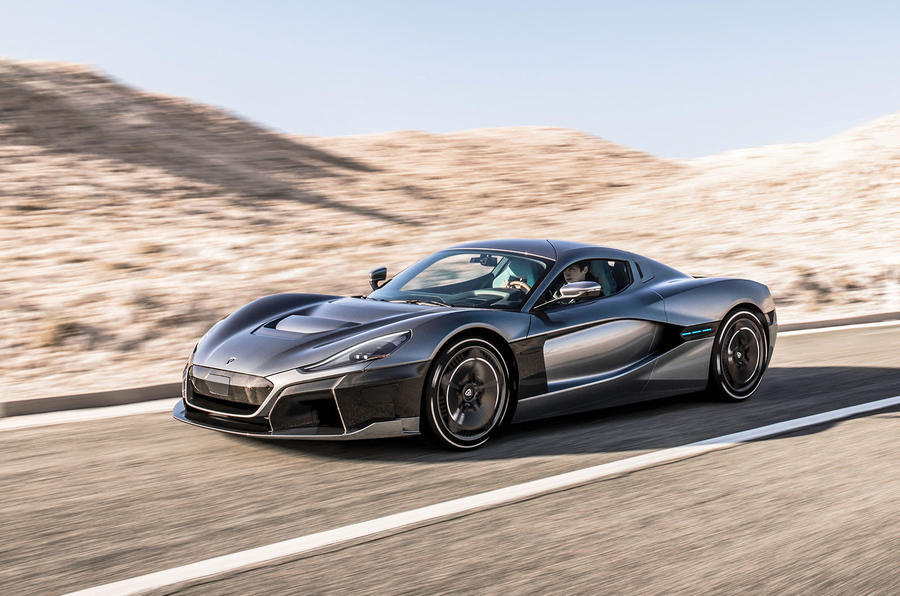 You may not have heard of Rimac (equally, if not, how?), but if you want to understand the stature this young and innovative company has already gained in the automotive industry, consider the following: Porsche took a 10% stake in the Croatian business in 2018, then increased that to 16% in 2019, and now, in 2021, it looks likely Rimac will shortly acquire Bugatti.
The C_Two is the follow-up to the Concept One, which in 2017 was arguably the first machine to kick-start the electric hypercar trend, with its 800kW output, 355km/h top speed and AUD$1.2 million asking price. Just 150 examples will be made – almost all of which are apparently spoken for – and deliveries are planned for 2021.
The hardware is compelling, if somewhat eye-watering. The car is built around a composite tub, and there's an electric motor for each wheel, with independent single-speed gearboxes at the front and two two-speed dual-clutch 'boxes for the back axle. The aim is to ensure the C_Two can make the most of its 1400kW and, more important, its mountainous 2300Nm ft.
With double-wishbone suspension, torque vectoring, and the potential for level four autonomous driving, the car has the works. Just don't expect it to be cheap.
5. Pinifarina Battista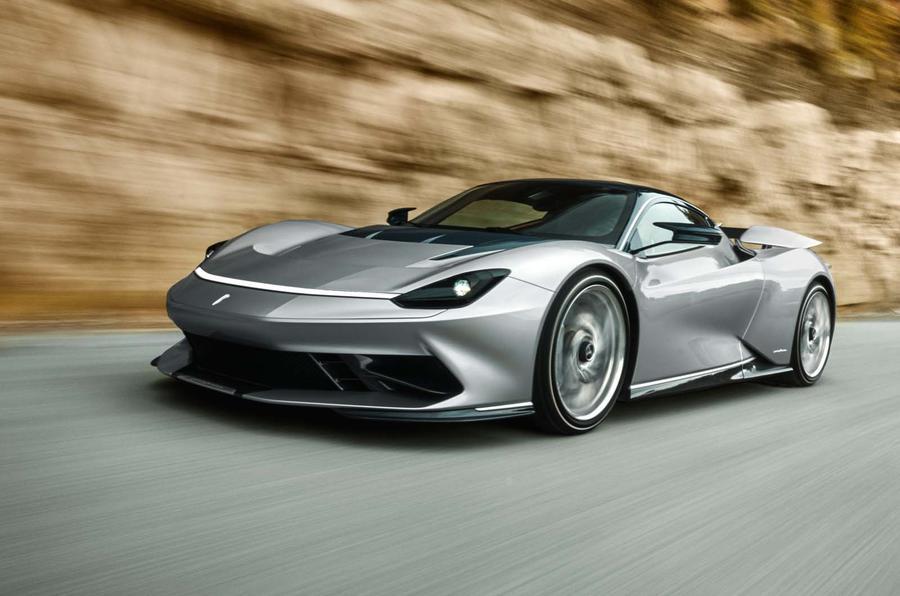 Much like the relationship between the Porsche Taycan and the Audi RS E-tron GT, the Pininfarina Battista shares much hardware (and software) with the Rimac C_Two but will present as the more outwardly luxurious, more GT-oriented machine of the pair.
It's therefore unsurprising that full-scale models seen by Automotive Daily's exclusive partner Autocar appear beautifully wrought, both inside and out, and largely Italianate, despite the fact that the company is now based in Munich and the parent company – Mahindra Group – is Indian. The engineers and trimmers themselves, however, include alumni from Pagani and the Mercedes-AMG Project One hypercar.
With deliveries set for 2021, the Battista has vital statistics that will fit right in with its contemporaries. Think 1430kW, 2300Nm, 0-300km/h in less than 12sec, 350km/h all out and an asking price of around AUD$3.5 million. Interestingly, the next step for Pininfarina will be an electric answer to the Lamborghini Urus, as well as smaller SUVs to up against Porsche.
6. Rivian R1T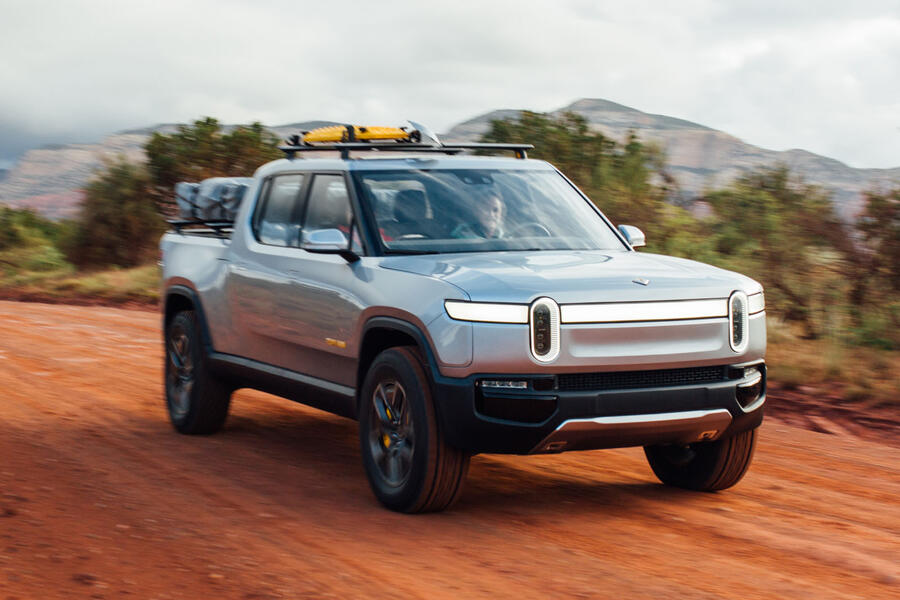 Rivian's R1T might not have a seven-figure price or Formula 1-beating straight-line performance, and that's because it's a pick-up truck. However, this doesn't make it any less desirable than plenty of other entrants on this list of ultimate electric cars, at least to our eyes.
Deliveries begin in the US mid-2021, with the R1T sized between big trucks, such as the Ford Ranger, and enormous ones, such as the Ram 1500. All-wheel drive comes courtesy of an electric motor on each axle, and the most powerful model will make around 560kW. Adjustable air suspension will feature, and the 180kWh model has a projected range of more than 650 kilometres – handy if you're off the beaten track for a day or three.
Arguably the most successful element of the package is Rivian's design language, which is sleek and neat outside and mirrored within the cabin. However, the specification suggests it will still meet the demanding needs of owners, with generous figures for payload and lockable storage.
7. Lunaz Phantom V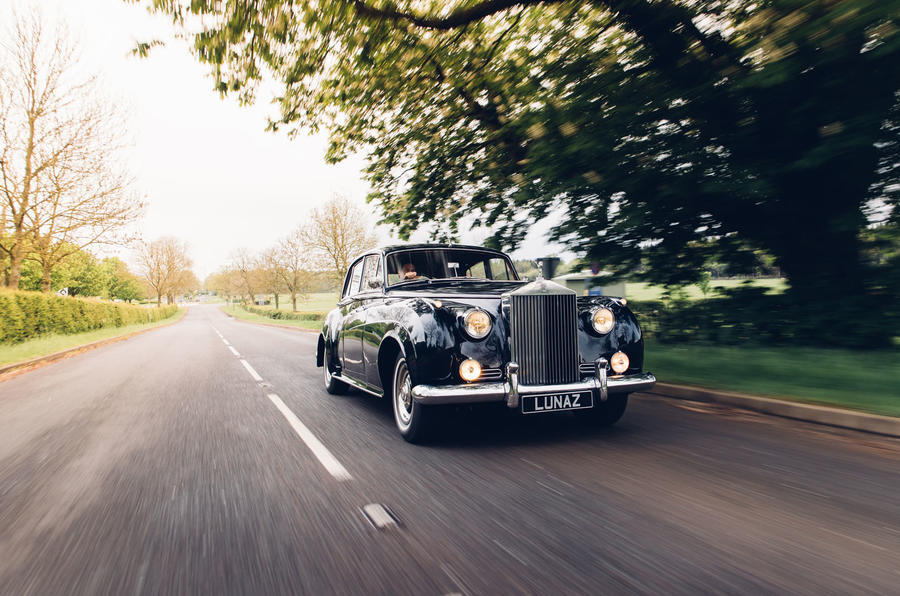 UK-based Lunaz updates historic vehicles with modern electric powertrain, and its take on the Rolls-Royce Phantom V is arguably the most appealing of them all.
The asking price is high – AUD$885,000, to be precise – but numbers will be small, and as well as the new powertrain, each car undergoes a ground-up coachbuilt restoration process. And when all is said and done, the result is a truly silent Phantom with 280kW, 700Nm and a range of more than 400 kilometres from the 80kWh battery pack. Four-wheeled transport arguably doesn't get any more sophisticated than this.
The process is high-fidelity, too. Each car converted by Lunaz is 3D scanned prior to any work being carried out so that engineers can create CAD renders to "ensure technical perfection". The car is then stripped down ahead of the full restoration, with all coachbuilding and trimming work carried out by the firm's own engineers. Interiors are subtly modernised with upgraded sound systems, infotainment systems and wi-fi functionality.
8. Faraday Future FF91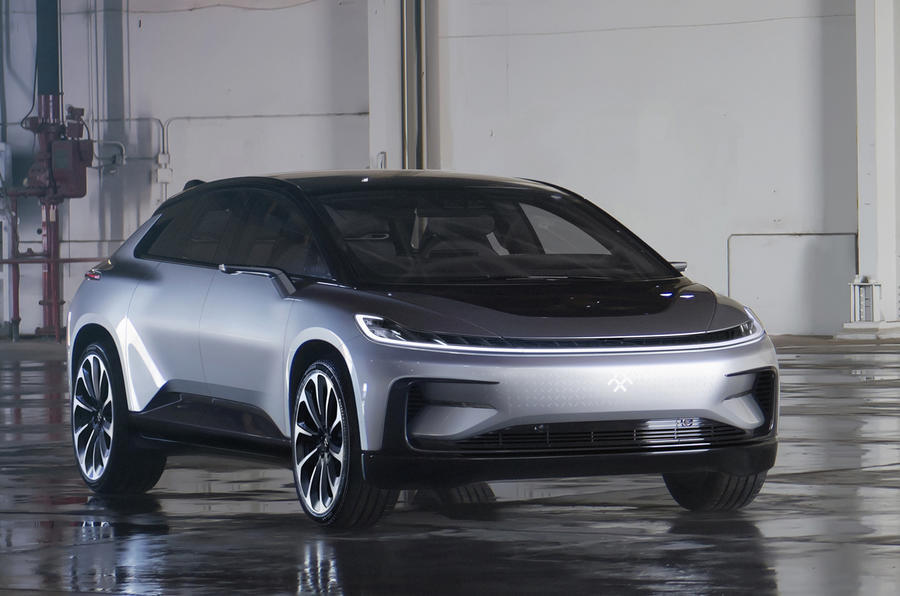 Chinese start-up Faraday claims to be taking a different approach to car making, one that mirrors tech giants such as Apple.
It sees its large and luxurious FF91 saloon as a platform to sell digital services, and no doubt access data, as much as a car. Even so, it's certainly a quick online platform. Its trio of motors develops 770kW and the 0-100km/h dash is reckoned to be all over in just 2.2sec.
There are currently no plans to bring it to Australia, but in the US, it'll cost from the equivalent of $160,000.
9. AC Cobra Series 4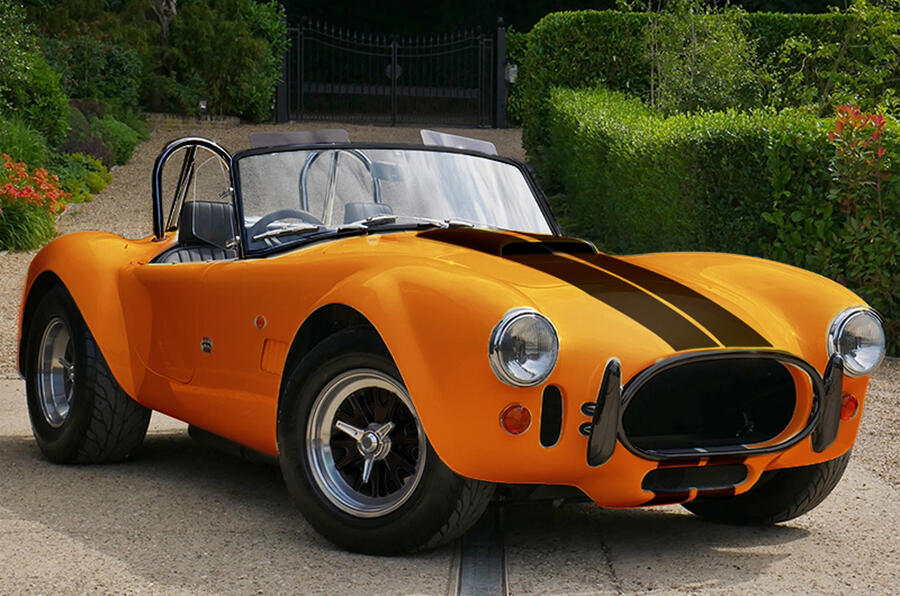 Another electric throwback, although this time from an exceptionally well-known name. Revived British sports car brand AC Cars is losing the big-displacement V8 for its range-topping model and replacing it with a 460kW, 1000Nm electric powertrain. In light of this, perhaps the most eye-watering figure is that the thing will weigh just 1190kg, which isn't just light by the standards of the electric performance cars but also implies a power-to-weight ratio that is stratospherically high. In fact, when it arrives in summer 2021, the Series 4 might just be the most unhinged Cobra to date. That is, since 1962.
The caveat is that the battery pack is just 54kWh, which won't last long if you've got the bit between your teeth but should provide up to 320 kilometres of range if you're being sensible. The asking price, meanwhile, will be AUD$300,000 +.
10. Aspark Owl
You know the drill. The Aspark Owl costs AUD$4.5 million, accelerates to 100km/h in 1.7sec and generates just under 1500kW from four electric motors. Assuming you don't ask for that level of performance on the exit of every corner, range is also said to be around 450 kilometres.
As for provenance, the slipper-esque Owl is Japanese in principle but is being built at Manifattura Automobili Torino in Turin. Deliveries are scheduled for early in 2021, after which point owners won't merely have one of the fastest street-legal cars in the world in their possession but also one that will never have to pay multi-storey car park fees. From the tread blocks of its tyres to the top of its composite roof, the Owl is just 99cm tall.