Covid-19 dominated the headlines last year and, unsurprisingly, wreaked havoc with global new car markets in 2020, preliminary figures from analysis firm Jato Dynamics reveal. The top 11 global markets sold 7.71 million fewer cars in 2020 (taking into account the output of 30 factories of typical 250,000 units-per-year size) than in 2019 for an unprecedented 12.6% year-on-year drop. Just one of those countries – South Korea – recorded an increase, while the UK's 28% decline positioned it as the worst performer globally.
Of course, there were bright spots for some amid the carnage: Toyota regained its crown as the biggest global car maker, electric cars continued to sell in ever-bigger numbers and premium cars remained in significant demand in China – a hugely important metric for Europe's car industry.
In fact, the 28% increase in global battery-electric car sales highlights the investment, technology and political push behind them.
Another significant trend is the continuing slide in luxury saloon demand, as buyers move to SUVs. Cadillac and Lincoln, for example, pulled three saloons from the market, while the big BMW X7 made an instant impact in its first full year on sale.
Elsewhere, Mercedes-Benz sold more cars than BMW, as in 2019, but when all brands are included, the BMW Group was again bigger than Daimler.
Meanwhile, Porsche's evergreen 911 is showing no sign of losing its global crown, while the new mid-engined Chevrolet Corvette was also a rip-roaring success in a buoyant supercar market.
Significant sales declines across top 10 markets
China was the first country to report Covid-19, so its market was hit earlier than others, but its recovery has also been faster: the market finished 2020 with sales down just 2%. Given its drop a year earlier was 8%, that's a solid result.
"The virus, the lockdown and the initial panic explain most of the drop everywhere in the world," says Jato Dynamics analyst Felipe Munoz. "However, we must remember that the global market was already posting declines in the months before Covid-19 arrived."
The US (-15%), Japan (-12%) and Germany (-19%) experienced double-digit market drops but still suffered less than France and Brazil.
Significantly for the UK, its even steeper decline allowed Brazil to climb into seventh spot – the first time it has done so since 2014.
At least there is evidence of sales recovering into 2021. "Fortunately, we have seen some strong signs of recovery in markets like China and South Korea and some tiny signs in the US, Latin America and India," says Munoz.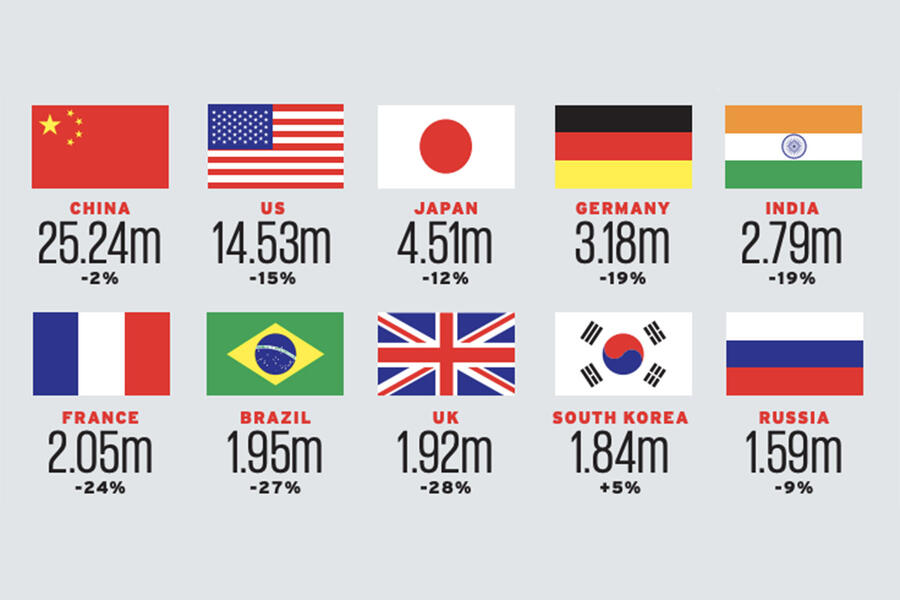 Electric cars' meteoric rise shows no sign of stopping
Two years ago, the big news was electric cars bursting through the one million annual sales barrier. Last year, the headline figure was 1.8 million, a healthy growth of 28%, putting the next major milestone of two million units well within grasp – probably in the second half of 2021.
Europe was the significant driver of growth in 2020 outpacing China, where incentives were pulled in some months, slowing sales. "The market could have been bigger, if it wasn't because of China," says Munoz.
In Europe, the updated Renault Zoe grabbed the number-one spot from the Tesla Model 3 – a significant achievement for the supermini, with its new longer-range battery.
Overall, the Model 3 looks to have nudged over 300,000 units in its three main markets, although Jato cautions that Tesla's sales figures might take a couple more months to finalise.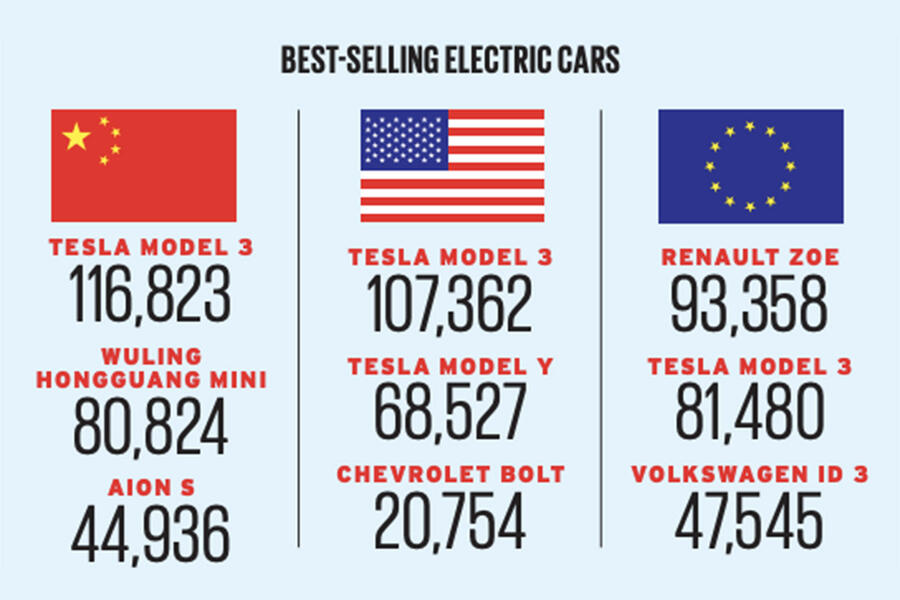 Hints of recovery in China
The last few months of 2020 suggest that 2021 might herald a return to the growth that has eluded the world's biggest car market for the past two years.
Part of China's growth will come from EV sales, while Tesla, Toyota, the German premium brands and home-grown manufacturers Changan and Hongqi will hope to continue their winning streaks.
On the other hand, Volkswagen, Geely, Hyundai and General Motors will be aiming for significantly better performances.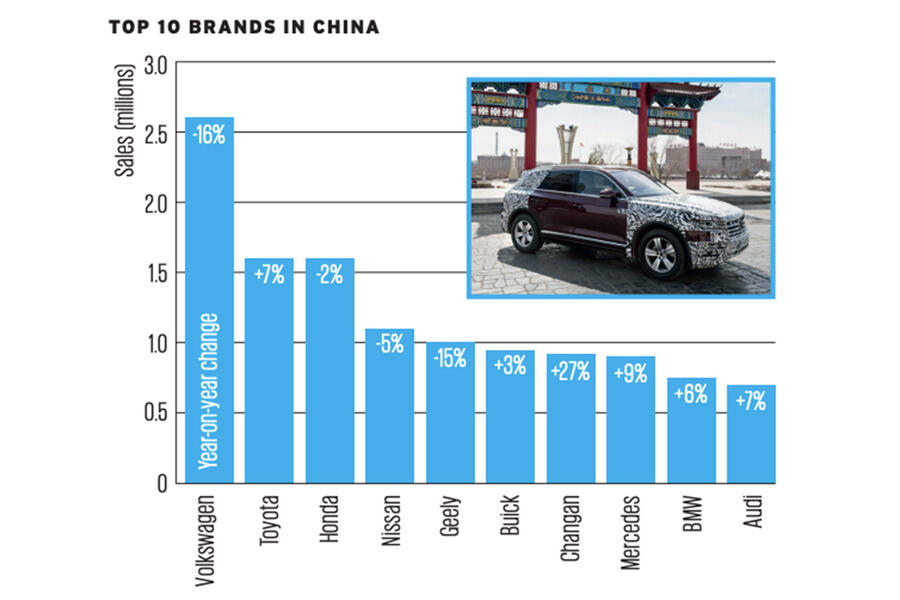 Luxury cars are down but definitely not out
Although global luxury car sales fell 6% in 2020 to just under 10 million, this decrease was considerably better than the total market slide. Counterintuitively, Chinese luxury car sales were actually up in 2020, by 13% – a remarkable result, considering the damage wrought on global economies by the pandemic.
"Actually, the big boost in China allowed this country to outsell Europe and become the largest market for premium cars in the world," says Munoz. One in every three luxury cars is now sold in China.
The biggest winners in global terms were Tesla; Chinese manufacturers Hongqi and Nio; and Hyundai's posh sibling, Genesis. The biggest losers, meanwhile, were Land Rover, Acura (Honda's luxury arm), Infiniti, Jaguar and Alfa Romeo.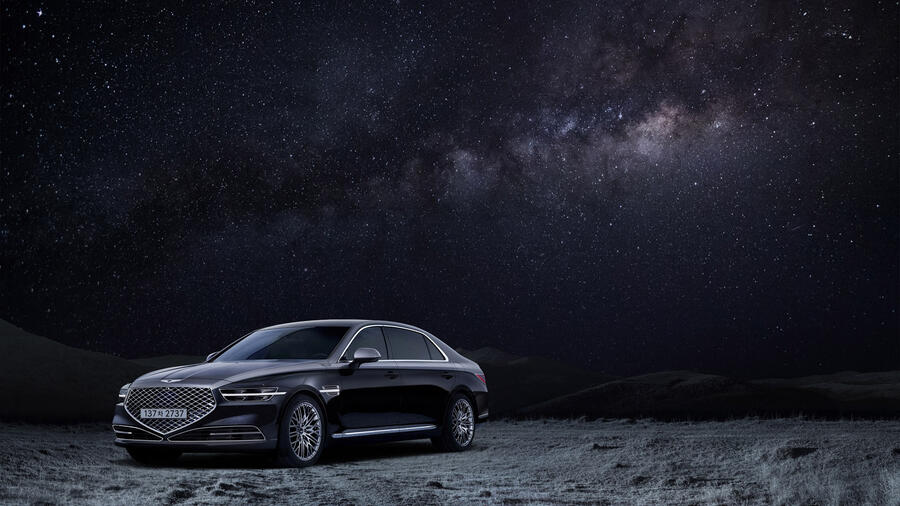 Electric SUVs continue to climb, with Audi now leading the way
In 2019, electric SUVs was the hot segment as, after five years of research and development, premium brands filled out the segment initiated by the Tesla Model X.
Last year, the Audi E-tron made the best going, outselling all of its biggest rivals, including those from BMW and Mercedes-Benz, to reverse positions in the mainstream premium market.
"The E-tron's volume doubled the EQC's," says Munoz, "which is remarkable, considering that Mercedes has a stronger presence almost everywhere else."
"Nio's ES6 and EC6 also posted very interesting numbers," adds Munoz. "We have to remember that these cars aren't cheap and could soon gain traction outside [their native] China."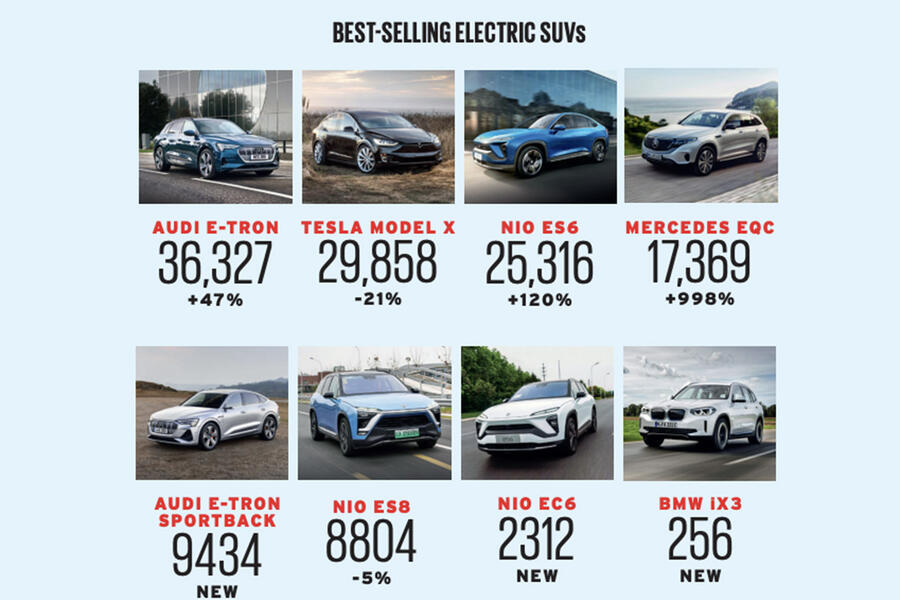 Toyota back ahead of Volkswagen, while Hyundai and Kia stay strong
Toyota regained its global title in 2020, thanks to its expertise in hybrid powertrains and strong market positions in Japan and the US. The winning margin looks pretty decisive, too, with Toyota having ended the year on 7.27 million sales – a significant 1.86 million ahead of German rival Volkswagen.
"VW was more exposed because of its strong position in China and Europe, where Covid-19 hit hardest in the first six months of the year," says Munoz. However, Volkswagen's recent expansion into multiple SUV and crossover segments has insulated it from further decline.
The global switch to EVs rewarded the investment efforts of BMW, Kia, Hyundai and Mercedes, which strengthened their positions relative to rivals.
In previous years, we have classified General Motors in this table, but for 2020 we've split groups into their specific brands, showing Chevrolet to be the significant dominant force in the American giant's portfolio.
Tough times for JLR
Jaguar Land Rover sales fell in 2020, as both of its brands suffered bigger declines than the overall global luxury market slide of 6%.
Land Rover slipped to 311,000 (-18%), while Jaguar suffered an unpleasant 35% reverse to 104,000 – perilously close to the landmark threshold of 100,000 where it was a decade ago, before billions were pumped in by Tata.
"JLR keeps dealing with the same problem: Jaguar can't find its place after focusing for many years on saloons, while Land Rover faces cannibalisation issues," says Munoz.
The bright spot was a 3% increase in Jaguar I-Pace EV sales to nearly 17,000, but bestsellers such as the F-Pace and E-Pace SUVs suffered in the turmoil of Covid-19 and Brexit.
Reflecting the temporary closure of the Castle Bromwich plant, due to the pandemic, the Jaguar XE and XF saloons struggled to hit 30,000 units combined – equal to about three months' production of the BMW 3 Series.
The changeover to the new Range Rover Evoque provided a sales cushion for Land Rover, while combined sales of nearly 100,000 Range Rover and Range Rover Sport models – close to Jaguar's total volume – was clearly good business. Even so, the firm sold about 20,000 more than that in 2019.
Supercar sales fall, but there are successes
Discretionary spending on a high-image supercar during an economic crisis might be expected to take a knock, and so it proved in 2020.
There are also more models than ever – at least 20 – battling for attention, so a market down by 5% to 82,097 units makes life difficult for all. Except the Porsche 911, which leads the segment imperiously.
The new mid-engined Chevrolet Corvette made a strong debut, increasing sales over its predecessor and, so far, allaying fears that the dramatic change in layout might alienate its traditional buyer base. Also a new model, the Bentley Continental GT proved resilient, while the Lexus LC made strong gains, overtaking more established models after a convertible version was introduced.
Aston Martin's troubles were well documented through the year, but it's perhaps unexpected that the Ferrari Portofino suffered a similarly significant sales drop.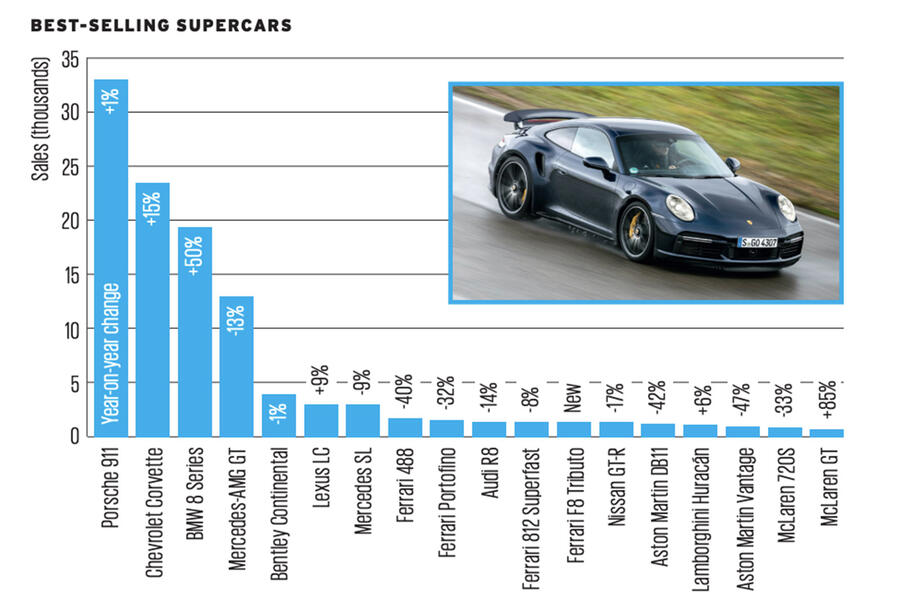 German premium brands slug it out
Mercedes led the German giants as a global brand, although the BMW Group was the biggest overall after Mini and Rolls-Royce were added in.
BMW was helped by a new 3 Series, while Audi was held back by an old A4 and the switchover to a new A3.
New Defender arrives with a bang
A significant sales highlight for Jaguar Land Rover was the new Land Rover Defender. With 26,500 examples sold, it is shaping up as very good business given the much higher price point compared with its predecessor. Land Rover will be delighted that it looks as though the US – the world's biggest SUV market – has taken to the new model.
Jato's preliminary figures show the five-door Defender 110 selling in the American market at a rate of two to one over the UK – a spectacular success. A note of caution, however: Discovery sales fell by nearly 12,000 (-34%), so there must be questions over cannibalisation by the family-friendly Defender.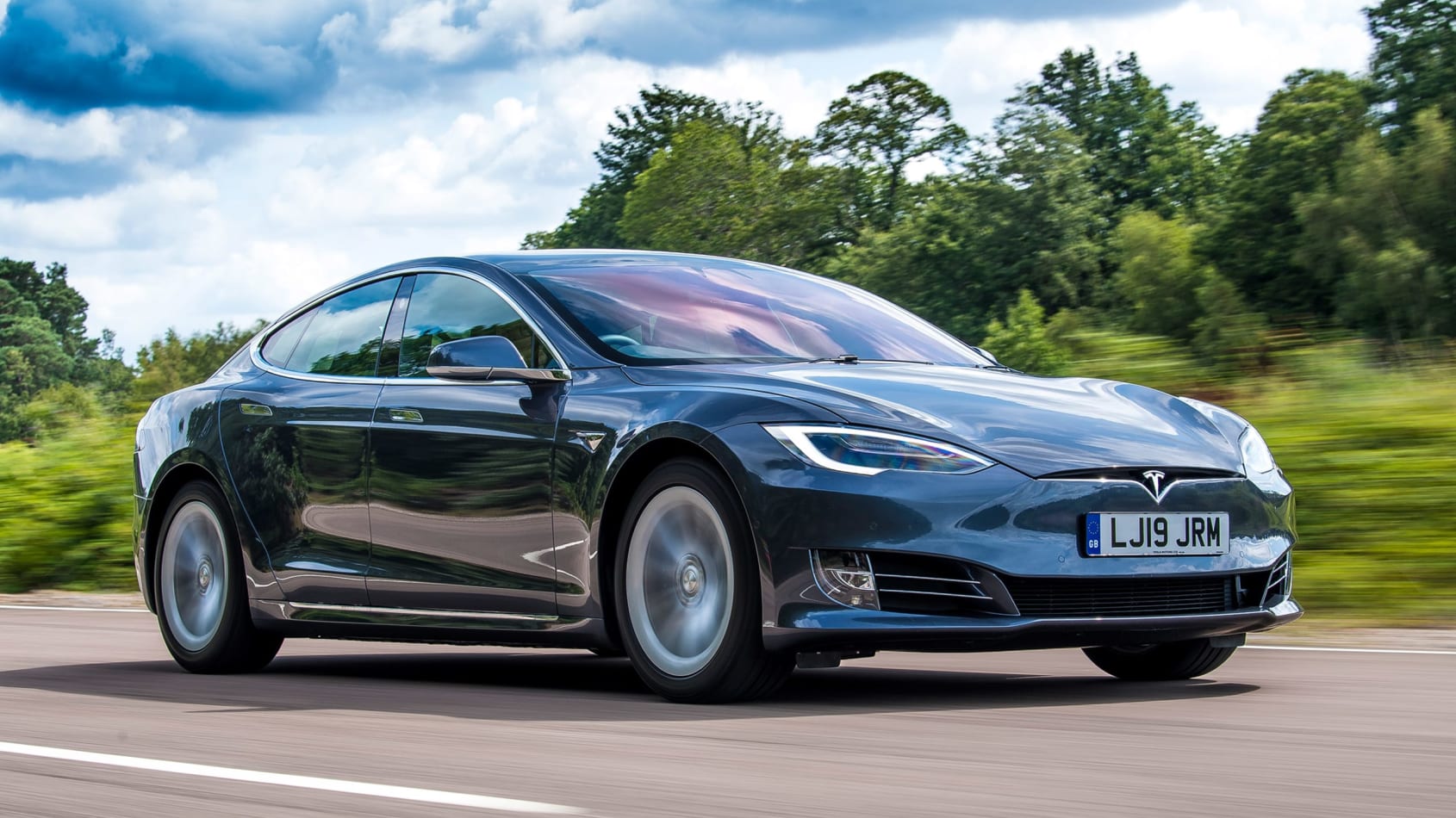 Booming sales and a first profit for Tesla
Tesla finally turned its rampant sales expansion into a profit in 2020, making it a key milestone in the US company's 12-year car-making history.
Sales in China, for example, grew spectacularly by 226% as local production began and the Model 3 broke through the 300,000 barrier.
"Most importantly, Tesla was able to get profitable in the middle of a strong sales expansion process," says Munoz.
Jato also cautions that its Tesla figures are likely to change as firmer data is finalised in place of November and December estimates.
Nevertheless, last year proved to be also challenging for Tesla. The older and pricier Model S saloon and Model X SUV both lost sales in a growing segment; the Model 3 lost leadership of the European market to the Renault Zoe; and the brand's European market share actually started to fall slightly.
Looking ahead, competition will only get tougher for Tesla as more brands electrify – a process that stepped up a gear in 2020 with the PSA Group and the Volkswagen Group starting their EV offensives, plus the Mini Electric and Fiat 500e being launched.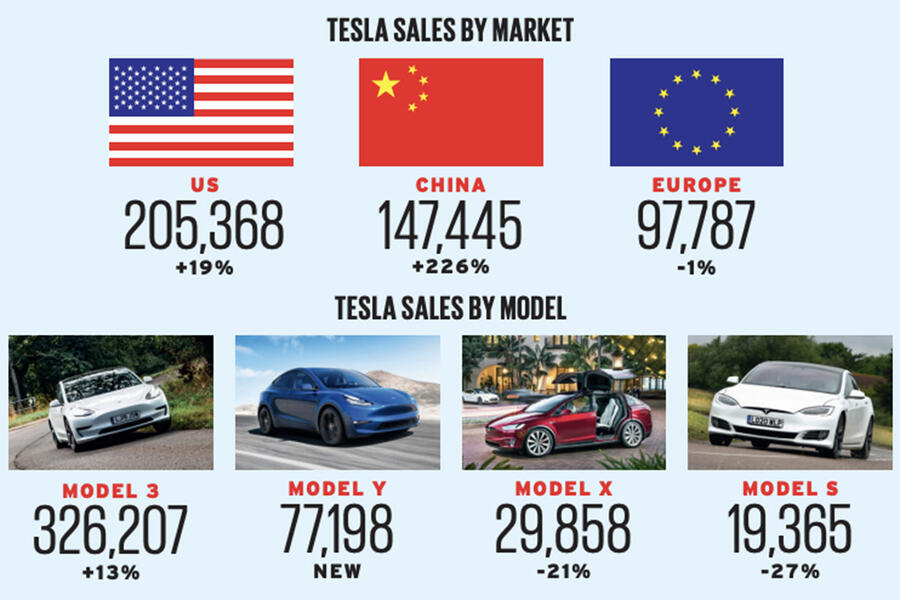 Luxury saloons in turmoil as SUVs and EVs steal buyers
The significant drop in luxury saloon sales stemmed from some dramatic decisions. Among them, Cadillac dropped the XTS and CT6, Lincoln killed the Continental and Porsche introduced a rival to its own Panamera in the shape of the electric Taycan.
"The XTS sold well in China and the Continental was a victim of Ford's strategic decision to axe four-door models in favour of SUVs," says Munoz.
Sales of the Lexus LS – just three years old – have dwindled, too. "Lexus has almost disappeared from the segment with its LS, which isn't appealing to Europeans," adds Munoz.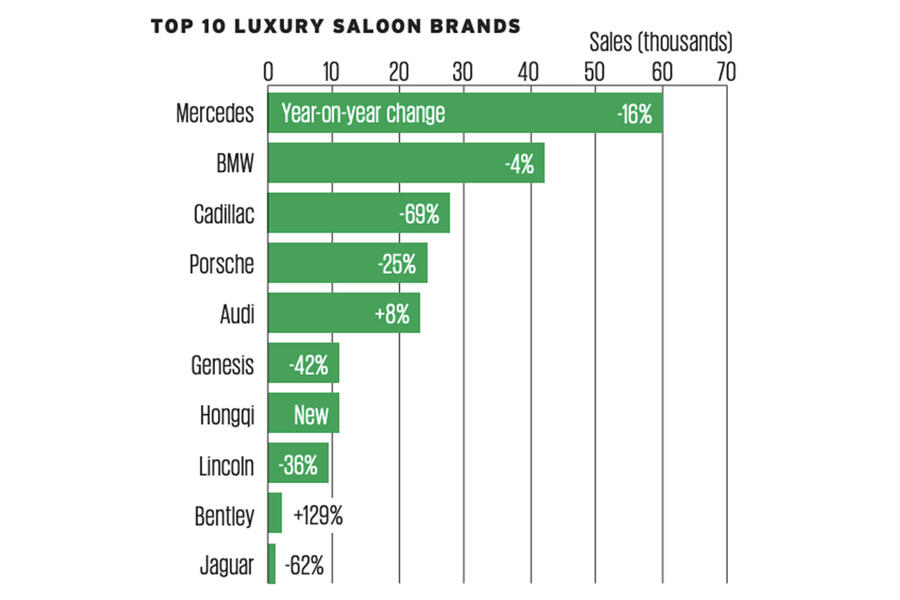 City and luxury models sell best among SUVs
Jato has yet to gather full-year data from around the globe in the burgeoning SUV segment, but early indications suggest that city and luxury models enjoyed sales growth here.
"These are the last two segments that were unexplored by the SUV trend," says Munoz.
In its first full year of sales, the BMW X7 was as successful as it was physically large, reaching nearly 48,000 units. The Range Rover, which has made this segment its own for more than 50 years, fell back to 49,000. That's some result for the BMW.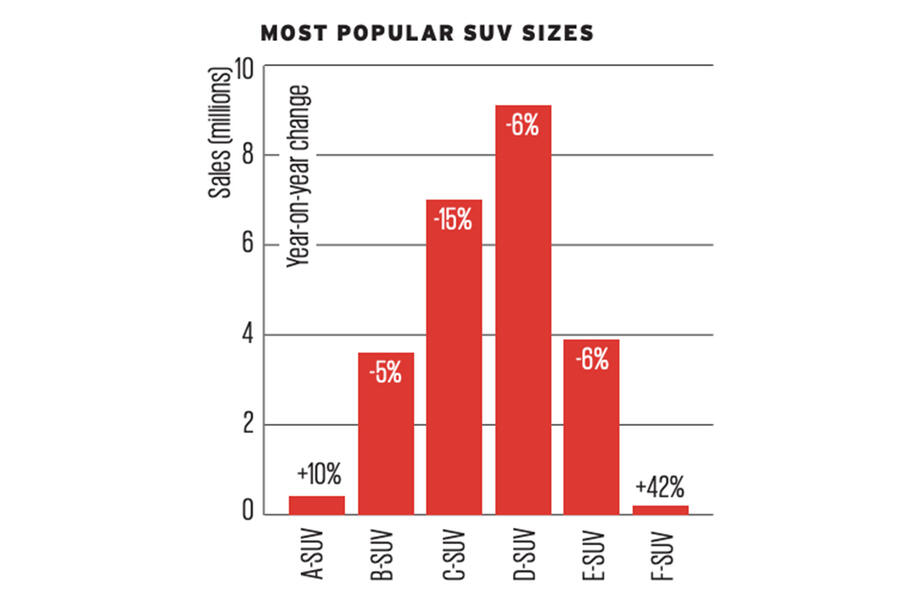 Sports cars and coupés are led by the Ford Mustang, but there are some worrying falls
Sports cars and coupés are two separate segments, really, but both suffered significant sales drops as discretionary spending took a hit as a result of the Covid-19 outbreak.
Market conditions were tough for the new BMW Z4, while the hero car in the segment, the Mazda MX-5, worryingly fell back to fewer than 17,000 sales.
Meanwhile, the fabulous Alpine A110 continues to struggle, last year achieving just 1529 sales – a 68% drop on 2019 – while its Porsche 718 Boxster/Cayman rival leapt up by 57%.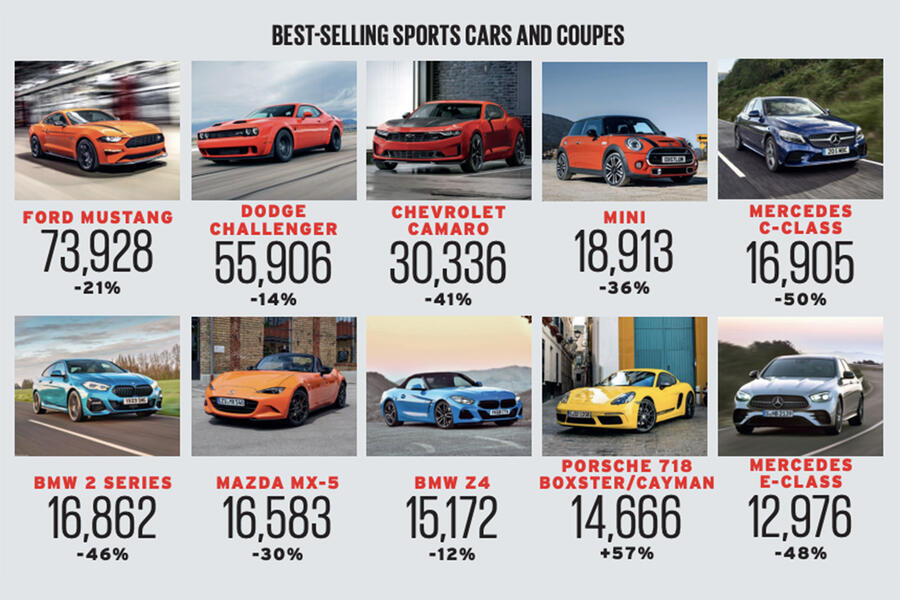 Julien Rendell