Electric Car News and Reviews
The latest news and reviews on electric cars, including expert advice on how to buy, own and live with an EV to get the best out of it.
Sales of electric cars are growing in Australia and saw a particular boost in 2023, so it goes with reason that car buyers are putting them on their radar. However, in the greater scheme of things they make up less than 4 per cent of annual sales. That means general advice and information isn't common knowledge which is why we have compiled a quick guide below and you can find links to helpful articles, including the latest news, reviews and advice.
The choice of new models on sale continues to expand as more manufacturers get on board with the technology in preparation for tightening emissions regulations and the upcoming bans on the sale of new petrol and diesel cars in other parts of the world – which has an effect on what cars are made available here. At the same time, the charging infrastructure in Australia is improving, making electric cars more viable for more people – particularly with the different ways you can charge an EV.
What kind of electric vehicle do you need?
For many, the term electric car implies a vehicle that's propelled on electricity alone and without an engine's assistance. However, there are different types on sale and they can be wildly different to each other in terms of tailpipe (exhaust) emissions, battery size and charging requirements, fuel type (electricity vs hydrogen vs petrol), and driving range. The four main types commonly known as:
Hybrid
Plug-in Hybrid or PHEV
Fully Electric or BEV
Hydrogen or FCEV
Below is a quick look at the differences between them.
(Hybrid Electric Vehicle)
Fuel
Petrol
Typical EV Driving Range
<1km
Motor Technology
Internal Combustion Engine & Electric Motor
Exhaust Emissions
CO2 (Carbon dioxide)
Typical Driving Range
650km
(Plug-in Hybrid Electric Vehicle)
Fuel
Petrol
Typical EV Driving Range
60km
Motor Technology
Internal Combustion Engine & Electric Motor
Exhaust Emissions
CO2 (Carbon dioxide)
Typical Driving Range
500km
(Battery Electric Vehicle)
Fuel
Electricity
Typical EV Driving Range
400km
Motor Technology
One or more Electric Motors
Exhaust Emissions
None
Typical Driving Range
400km
(Fuel Cell Electric Vehicle)
Fuel
Hydrogen
Typical EV Driving Range
600km
Motor Technology
One or more Electric Motors
Exhaust Emissions
H20 (Water)
Typical Driving Range
750km
Hybrid cars use both a petrol engine and electric motor, while a fully electric or hydrogen vehicle uses only an electric motor. This is a key difference if you want to remove your tailpipe emissions while driving – with a hybrid or PHEV there will always be a petrol engine underneath. That said, there's hardly any hydrogen refilling stations in Australia, so they are not currently a feasible option for those who want zero harmful emissions from the tailpipe.
Pros and cons (charging, price, and range anxiety)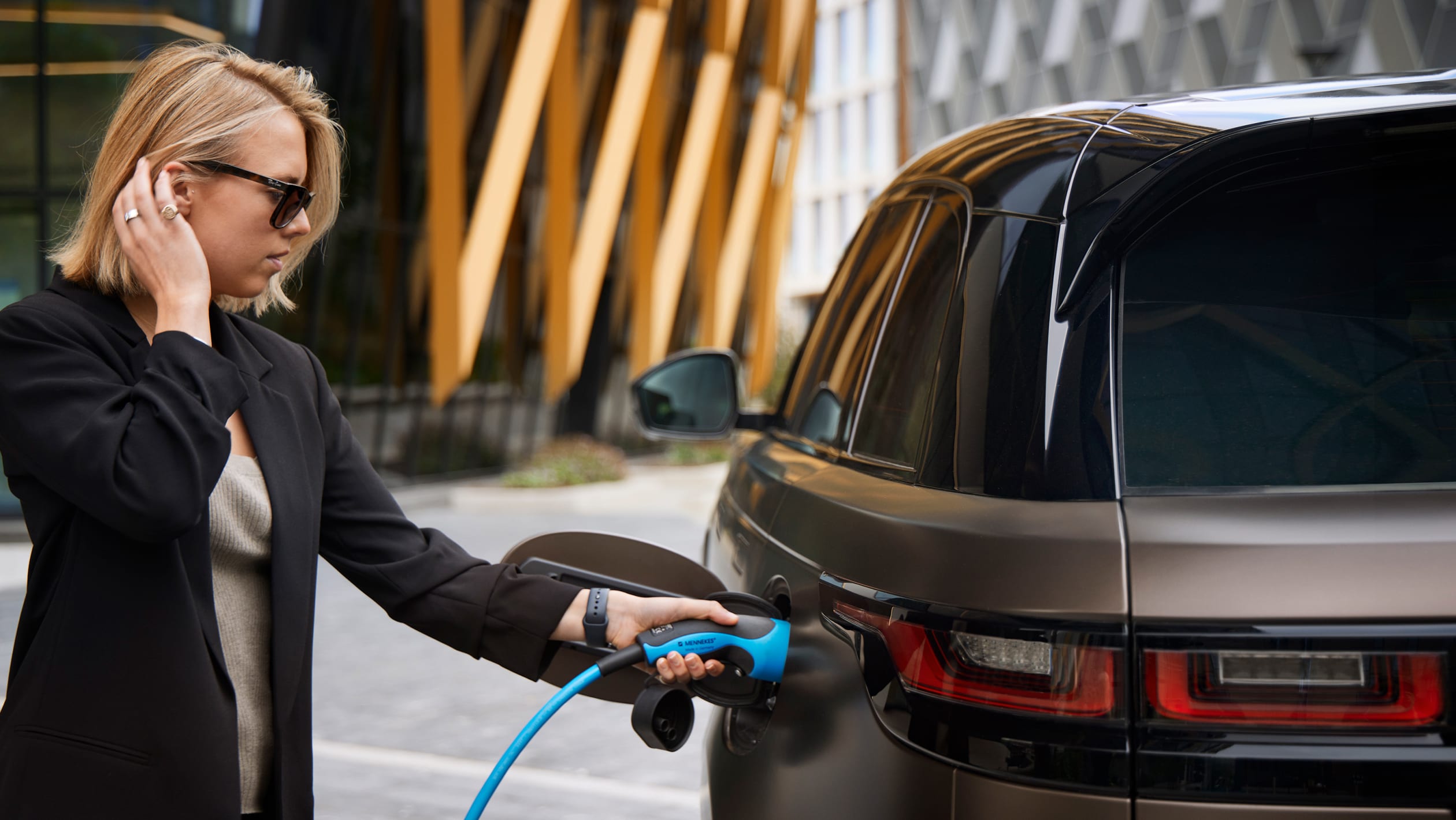 Compared to traditional models, EVs can look relatively pricey to buy but as an owner, you'll benefit from lower running costs, as well as the relaxing and near-silent drive.
A new habit will be putting a charging cable across your garage or driveway, or sometimes a path to keep it charged – this means making sure others in the family know to not damage the cables and that they are safe.
Range anxiety is also a thing, but with EV range from a single charge seemingly increasing with every new model, some EV drivers already only need to charge their car once or twice a week. If your car will drive almost 450km on a full charge and your daily commute is around 50km, why not?
On longer journeys, the issue of finding a charger can still make driving an EV stressful. There are 3669 public charging points at 2147 locations across Australia as at June 2022 according to the latest Electric Vehicle Council report. More are being installed every day, but charging still requires extra planning and more time spent plugged into chargers than you would refilling a car with petrol or diesel at a fuel station.
Popular electric cars in Australia
Without a doubt, Tesla is leading the charge for EV sales in 2022. Thanks to being the tech leader before anyone else, the American car brand has set itself up with a following of fans and owners alike – all leading to the strongest sales of any electrified model in Australia.
However, there are new models coming from many other car makers. Hyundai and Kia are making a charge, Mercedes-Benz, Audi, and BMW are bringing premium rivals, while MG offers the most competitive priced electric vehicles in Australia, the MG ZS EV. The main problem with any model being sold here is stock supply, and so while sales of vehicles such as the Hyundai Ioniq 5 or Kia EV6 might seem low, it's not to say they aren't popular – it's just that there are not many landing here that can be sold.
Below we list the top ten electric cars by sales this year in Australia but given the above conditions, it is not an indicator of 'the best' model, and that will depend on your own needs.