Big-selling SUV renews attack on the Volkswagen T-Rok with emissions-reducing technology and refreshed look
MINI has applied a series of design, technology and efficiency upgrades to the Countryman in an attempt to give it an edge over the fresher-faced Volkswagen T-Roc.
The small SUV, which has been on the market in second-generation form since 2017, already accounts for just under 30% of MIN's global sales.
External revisions are similar to those drafted in when MINI facelifted its three-door and five-door hatchbacks in 2018 and Clubman estate in 2019. These include a new radiator grille design with a one-piece chrome frame, standard LED headlights and foglights, LED tail-lights with the now-trademark Union Jack motif and new alloy wheel designs.
Also now available is a Piano Black Exterior pack that replaces the standard chrome detailing with gloss black. The Light White, Melting Silver and Chestnut paints have been removed but Sage Green and White Silver have been added.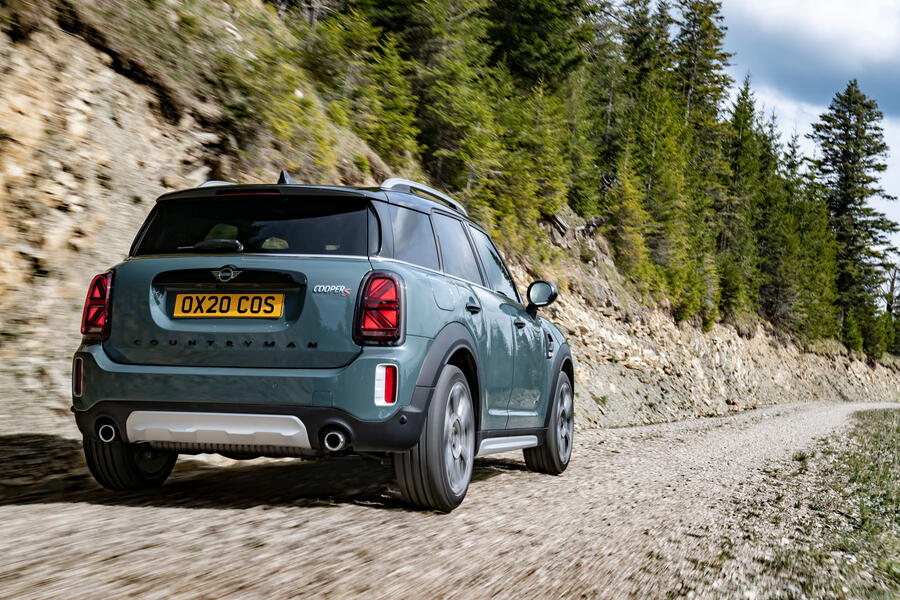 Inside are a number of detail changes, chief among which is the adoption of the digital instrument display that first appeared in the MINI Electric. In cars fitted with one of the Navigation packs, this 5.0in display combines with an 8.8in infotainment touchscreen that sits within a revised version of the central instrument circle featuring piano black surfacing.
The standard media system now features Bluetooth as standard, plus an Amazon Alexa voice assistant that works via a built-in SIM card.
Mini has also extended its range of personalisation options by adding two new leather upholstery choices and a new Mini Yours interior style package. The flagship Cooper S and plug-in hybrid S E All4 models feature additional piano black interior trim, too.
Mechanically, the changes to the Countryman aren't drastic. MINI claims an "extensively developed" engine range, but power isn't boosted. Instead, the changes are focused on improving efficiency, with lower CO2 emissions ratings across the range of three- and four-cylinder turbo petrol engines and four-cylinder diesels. Particulate filters are used on the petrols, while the diesels employ Selective Catalytic Reduction (SCR) technology.
The petrol engines in the Cooper and Cooper S now also feature an exhaust manifold integrated into the cylinder head, while a more efficient starter-generator system is standard across the range. MINI is yet to introduce full mild-hybrid technology, however.
Meanwhile, the Cooper D now benefits from the same two-stage turbocharging as the more powerful Cooper S D. MINI's All4 four-wheel drive system is optional across the range, while the eight-speed automatic gearbox is now standard on All4 versions of the Cooper and Cooper D. The plug-in hybrid goes unchanged.
The facelifted Countryman is available to order now, with a small price increase over the original across the board.
Q&A: Oliver Heilmer, head of design
Q. What was the design brief for updating the Countryman?
"When we started this project, it was pretty clear. We knew there were just a few parts to change. The headlights, tail-lights, wheels: let's focus on those details that mark out the age of the product. The first brief was to modernise the Countryman as it is. We also wanted it to appear more vertical in terms of its character, less horizontal."
Q. Mini's Union Jack tail-light design has proven controversial. Has it been well received elsewhere?
"You can imagine that this is a discussion within MINI, but with the new Countryman, as well as with the Clubman before, it's not directly the Union Jack any more. We said 'okay, let's keep this design, but not in that context as we did with the hatch'. That's something we weren't aware of when designing [for the hatch]. We know that it might be criticised, but in other countries we're getting a lot of positive feedback, saying 'it's so unique'. My hope is that sooner or later you understand it as a MINI sign and not the Union Jack as it was before."
Q. Are there any more updates to come, or are you moving to the next generation now?
"Now we're really focusing on the next generation of our MINI family. It's so much fun, I can promise you."
Q. The next-generation MINI hatchback has been delayed until 2022 or 2023. Will the design change as a result?
"Since we're talking about the hatch, I think it's always important to keep the character of the original MINI somehow; this is something that's kind of timeless. But time is changing, technology is changing and this is what we're happy to anticipate for our new generation. So it helps us that there's more time than we thought."
Lawrence Allen