New Targa arrives in 283kW and 331kW guises to join cabriolet and coupé 911s.
Porsche is continuing its five-decade love affair with the Targa roof design, revealing the eighth generation of the semi-convertible 911 variant.
The new 911 Targa takes up where the last generation model left-off – with a fully automatic system that stows the hard-top roof panel behind the rear seats. When operated, the entire rear deck and screen lift up to allow the roof section to fold into the space. This leaves the car's characteristic central roll-over bar in place of the B-pillar behind the door.
The mechanism is able to open and close the Targa roof in 19sec – 7sec slower than the fabric-roofed 911 Cabriolet, which was launched last year.
Porsche describes the Targa as offering "open-top driving in a cabriolet paired with the sleek convenience of a coupé". It retains the familiar silhouette and carries over the styling updates for the 992 generation of the 911, including an integrated LED rear light bar and variably extending rear spoiler. It also keeps the occasional rear seats of the standard coupé and cabriolet.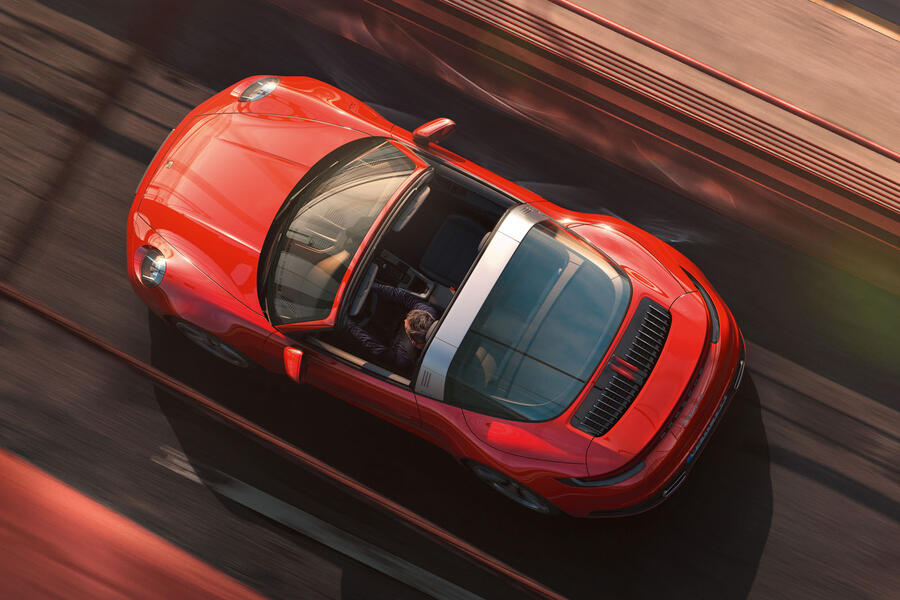 With its complex folding metal roof and standard-fit four-wheel drive, the Targa is the heaviest 992-gen 911 yet. With a kerb weight of 1640kg in 4S manual form, it's 60kg heavier than the equivalent 991-generation 911 Targa, but only 5kg heavier than the equivalent 992-gen cabriolet.
Using the same twin-turbocharged 3.0-litre flat six as its siblings, the base 911 Targa 4 puts out 283kW and 450Nm. Fitted with the optional Sport Chrono package, its 0-100km/h time is 4.2sec – one-tenth quicker than the outgoing Targa – and its top speed is 290km/h.
Also available at launch is the Targa 4S, which puts out 331kW for a 0-100km/h time of 3.6sec, four-tenths faster than its immediate predecessor. The top speed is 304km/h.
Both models have an eight-speed dual-clutch gearbox as standard. As a no-cost option, the 4S can be ordered with the seven-speed manual gearbox in combination with the Sport Chrono package.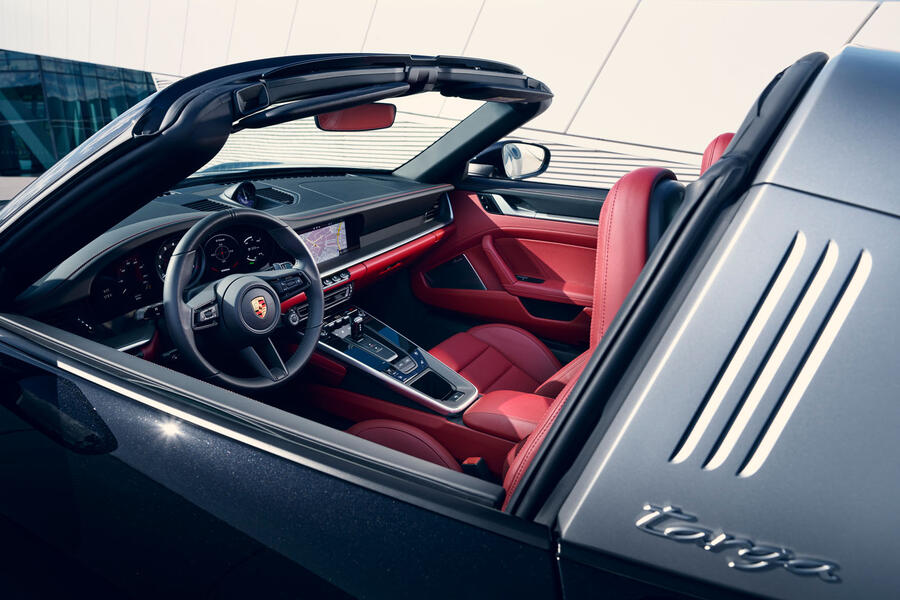 The braking system varies between models, with 330mm discs pared with four-piston calipers on the Targa 4 and a set-up (denoted by red-painted calipers) using 350mm discs and six-piston calipers on the front of the 4S. Optional ceramic-composite brakes also feature. PASM (Porsche Active Suspension Management) is standard on the Targa, too, bringing adaptive damping, and so is Torque Vectoring Plus.
Options include an enhanced 'Smartlift' function to raise the car's nose over obstacles.
Prices are identical to those of the equivalent Cabriolet models. However, Porsche will also offer a yet to be detailed special-edition Targa, promising "a combination of traditional style elements, timeless design and cutting-edge technology". That model will be revealed next month.
Q&A: Frank-Steffen Walliser, Sports car boss, Porsche
Q. With other VW Group brands reducing variants, do you really need to offer a Cabriolet and a Targa?
A. "Our colleagues are constantly asking this: 'Don't you think if we don't offer a Targa, people will go for the Cabriolet and we can save money?' But looking at the sales figures, there is a big percentage that just go for this shape and iconic design. And for me, it's part of the 911 story to offer something not going the way everyone follows."
Q. Is there a solid long-term business case for making convertibles?
A. "Fifty percent of our sports cars are open: this is very solid. If we consider only Carrera and Carrera S, 17-18% are Targa, which is a pretty big number."
Q. Are you going to bring back the Speedster format for the 992 generation of 911?
A. "Speedsters, they appear from time to time but not regularly. At the moment, we have no plan to offer a Speedster, as we didn't for the 996 and 997 generation."
Q. Your convertibles are nearly as stiff as your coupés. Does that mean you could offer hardcore variants without compromises?
A. "Everybody's asking for it. Will there be a Turbo Targa, or a two-wheel-drive Targa? We consider this, as the downside in weight and stiffness is not so big. I have a lot of cars on my list that are cool and are new variants, but the Turbo Targa is not in the top five."
Lawrence Allan