Our first drive review of the new Skoda Kamiq, in sporty Monte Carlo trim with the most powerful engine available.
Skoda launched its Kamiq small SUV last year and has just recently announced local pricing and specification, the three-tier range divided by the Monte Carlo, a more powerful (and pricier) 1.5-litre TSI petrol turbo unit than the 1.0-litre 85TSI entry-level.
The 1.5-litre is also available on the Limited Edition, but once that's sold out the range will settle to offer just the 85TSI and 110TSI Monte Carlo, the latter priced from $34,190 before on-roads. It comes only with a seven-speed auto.
That's quite a bit of cash – some $7200 more than a 1.0 85TSI manual model, and $6000 more than that car with a manual.
Still, Monte Carlo spec contains plenty of equipment. It's a sporty trim, and the gloss black exterior detailing looks good, along with the standard 18-inch alloy wheels. There are also LED headlights, a panoramic roof, a digital dash and some sports seats.
There' also parking sensors, cruise control, dual-zone climate control and a touchscreen infotainment with nav, Android Auto and wireless Apple CarPlay. Plus safety such as autonomous braking and blind-spot detection, lane departure warning.
The new engine is sourced from the VW Group, Skoda's parent company, so it's a known quantity and performs just as we expected. There's a nice, linear power delivery with good torque (250Nm) that means you don't have to rev it out too much to get on the move, but it does respond to a bit more aggression with the accelerator, even if the motor is noisier at higher revs.
The DSG transmission is the weak point. It's fine when you drive gently at medium and higher speeds, but at low speed the shifts are a little laboured, while the clutch engagement is jerky when pulling away, which can make manoeuvring and parking not quite as smooth as it should be.
This is the only gripe with how the Skoda drives, because the steering is light, and the Kamiq handles with a good degree of precision for a small SUV.
Despite its higher ride height there's not too much roll, but there's also enough compliance in the suspension that, on 18-inch wheels, the ride is comfortable.
Boot capacity still stands at 400 litres, and even with those chunkier sports seats, there's still decent legroom in the rear. The tall, square roofline also means headroom is good, and the higher ride height will make it easier to place children in car seats than in a lower-riding family hatch.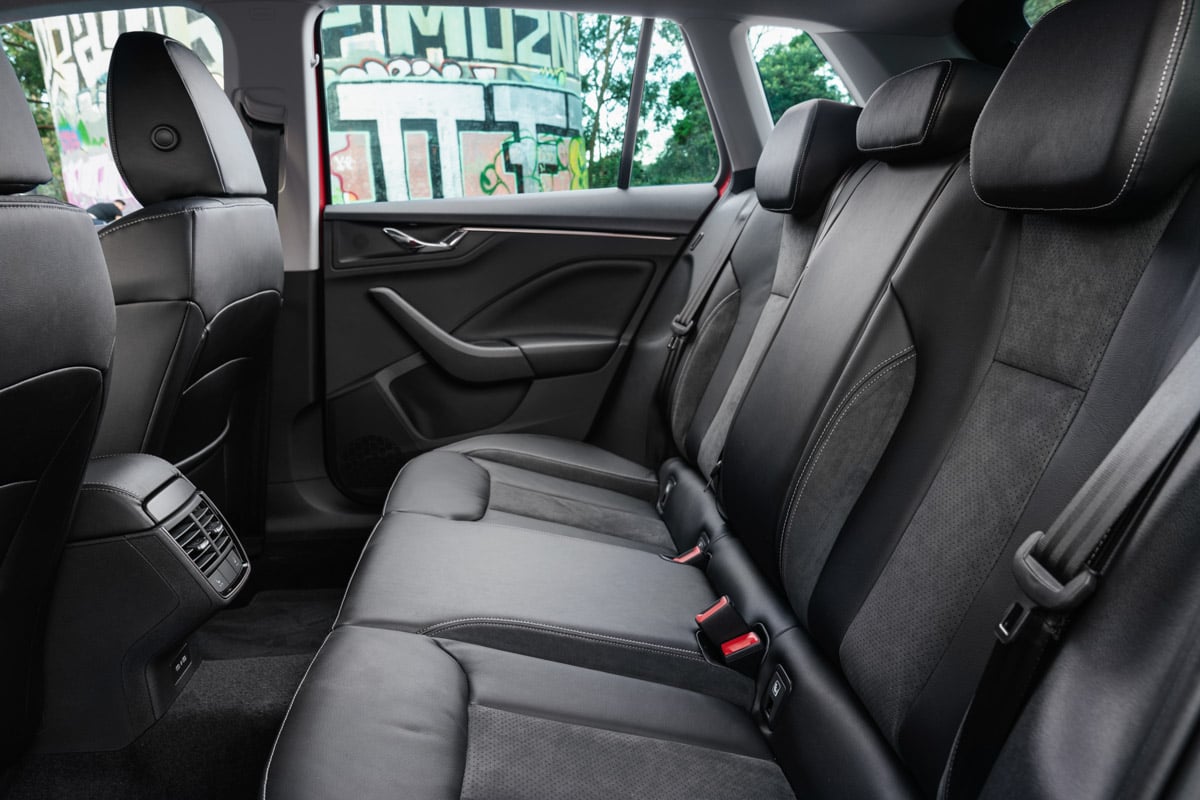 Skoda claims that the Kamiq, when equipped with the DSG gearbox, will do 5.6L/100km When you put that into context (a manual 1.0 TSI 115 model returns 5.0L/100km) it's not too much of a penalty for the extra performance and automatic gearbox.
We'll reserve our final judgement until the model is available to drive in Australia, but certainly, the Monte Carlo takes the Kamiq's good bits and adds extra power and equipment, even if it's pricier than lower-powered models.
2020 Skoda Kamiq Monte Carlo price and spec
Price $34,190 On sale now Engine 4cyls, 1499cc, turbo, petrol Power 110kW at 5000-5500rpm Torque 250Nm at 2000-3500rpm Gearbox 7-spd auto Top speed 210km/h 0-100km/h 8.4sec Fuel economy 5.6L/100km CO2 no WLTP data available Rivals Volkswagen T-Cross, Kia Seltos, Hyundai Kona
Sean Carson