Is there a disconnect between what BMW thinks an M car should be and what purists think an M car should be? Is there still a hangover from those early days, when the M badge stood for compactness, lightness and Group A homologation? Well, if so, give it up: it was 35 years ago.
Anyway, there's a new M3, and if you hadn't seen that coming, then look at this car when it's coming at you. It's quite, er, striking, isn't it? Behind that nose, which I'll gloss over, today M3 means a car based on the four-door 3 Series saloon, with the coupé called the M4 for the second generation running.
A growing 3 Series means a growing M3. This car is 4.79m long, 1.90m wide and weighs some 1730kg. At its launch in 2014, the previous M3 was a smidge narrower but 123mm shorter and a full 170kg lighter when equipped with a dual-clutch automatic gearbox (the six-speed manual weighed less again). Even the E60-generation M5, which went out of production in 2010, weighed only 50kg more than this M3, and that was longer and had a 5.0-litre V10. This is how much cars have grown in a decade, and it's about time they stopped. Enough protein already.
Hmm. This not-so-junior M5 has been at the whey powder too. You can buy a punier M3 than this in some markets, but only the full-fat M3 Competition will apparently do for the UK, which means its twin- turbocharged 3.0-litre straight-six engine boosts to 503bhp at 5600- 7200rpm and 479lb ft from just 2750rpm through to 5500rpm. That's a torque curve so deliciously phat and flat that, in order to keep tabs on it, four-wheel drive will become an M3 option for the first time this summer.
For the moment, though, the M3 is rear-wheel drive, which is why it has an M Drift Analyser, which will give you a star rating out of five for how well you've done your sliding – based on distance travelled sideways and the angle of your dangle, not including the number of lamp-posts you take out while failing to gather it up on the exit of a roundabout.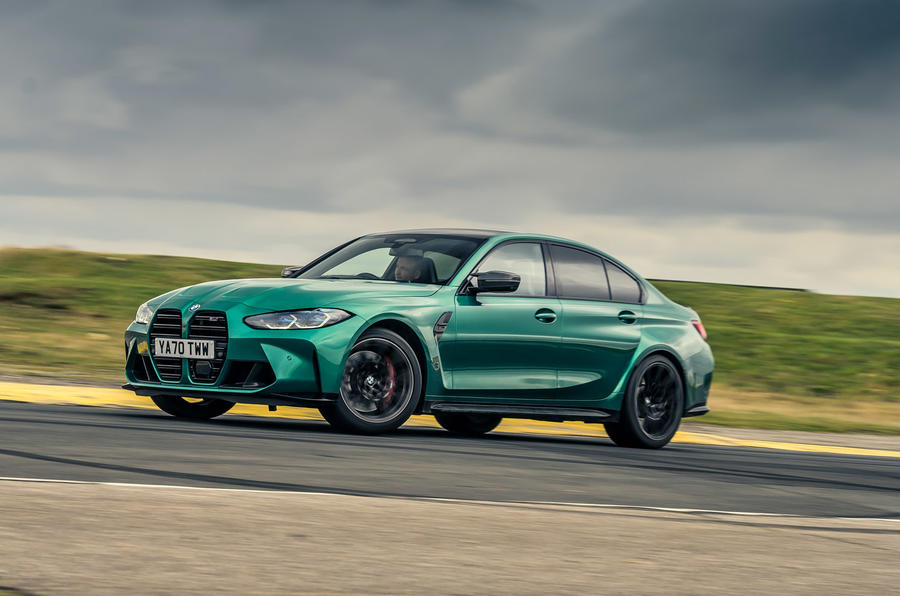 You don't have to be in a drifty setting, by the way. There are Road and Track driving modes and you can configure the engine, gearbox, steering, damper and even brake- pedal responses individually through the infotainment system to Comfort, Sport and, for some characteristics, Sport Plus levels – and store your two favourite combinations on steering- wheel-mounted shortcut levers.
Doing all this is much easier than with some rivals' systems, and the whole iDrive set-up is great – a mix of touchscreen and rotary dial, with supplementary buttons on the centre console and a whole load of other normal buttons on the dashboard, some of which are configurable. This might just be the best in the business.
The rest of the interior seems as swishly put together and is similarly functional, with a brilliantly adjustable driving position, a round (if overly thick) steering wheel and clear digital instruments.
Whatever you do, though, don't spec the optional M Carbon Bucket Seats with their curious raised insert between your thighs. In single-seat or very serious racing cars, seats shaped like this, even more exaggerated, make sense: they keep your legs in place under high cornering loads and prevent them from flailing in a crash. In a road car, what appears to be some kind of carbonfibre penis tray looks daft and is plain obstructive.
What's it like?
There's a slight error on BMW's online M3 configurator, too: a detail picture shows the car with a manual gearbox. Not on the Competition model, so not in the Australia, where the only gearbox is an eight-speed regular torque-converter automatic, rather than a dual-clutch (DCT) unit, driving via an electronically controlled limited-slip differential.
It suits the car. A DCT tends to be sharper in operation but harsher than a conventional automatic, although the latest 'boxes are so good that there's not a huge amount of difference, save for additional smoothness around town. BMW seems to have set this one up to feel as assertive as it can, and it combines with an engine that has a similar demeanour.
At low speeds, there's a tappety, gravelly noise that never quite emerges from angry into smooth as the engine revs rise, and even if you choose Comfort mode for your engine response and leave the gearbox in Drive at its meekest setting, step-off from rest is brisk. It's tricky to modulate the brakes, too, especially if you leave them in their Comfort mode (the Sport mode's firmer pedal feel is honestly the only one this car needs). Combine those things together and the M3's drivetrain feels particularly alert.
So too does its chassis. I recently spent some time with Jaguar dynamics engineers, who told me that German roads – and the Nürburgring – are no use for chassis development, bar some autobahn stability tuning, because they're too smooth compared with Britain's network. I would bet reasonable money that the new M3 had never seen a British road until production demonstrators arrived.
There are three firmness settings for the adaptive dampers, but while good roads suit the M3 nicely, plenty of B-roads are too much even for Comfort mode, over which it jiggles all apiece.
I don't think the Alfa Romeo Giulia Quadrifoglio does this.
On the plus side, the M3's body control is really well restrained. Its body rigidity feels outstanding and you would swear that, bar the give in the dampers and springs, there was precious little slack in the suspension.
The steering is light and consistent and accurate, if giving little road feel, although that doesn't seem to matter. Because it feels like there's so little give or squidge anywhere, you know precisely what's going on.
It feels (and I know this might be controversial, given how many people hated it, but I mean it as a compliment) like the previous- generation M4 GTS in its control. The nose is easy to place accurately and the shove from the engine is so linear that it helps you to trust how much traction is available and when it's running out. The differential hooks up quickly and the M3 has an indulgent streak that's easily controlled. Unlike with the old M4, the moment at which traction finishes doesn't leap out of a wardrobe shouting: 'Surprise!'
Given its kerb weight, overtly agile the M3 is not, but its handling comes together with the predictability and rigidity of clicking Lego Technic parts together. Bar some additional suppleness in the springs and/or dampers, it's everything you could want from an M5.
Should I buy one?
No, that's not a typo. In a comment piece when this M3 made its public debut last September, road tester Richard Lane concluded that what we don't want or need was for the M3 to be an M5-lite. Well, it isn't one, although it is more like one than it is an older M3, if you follow.
What it gets from the M5 is the excess of performance and quite a lot of the weight. What it doesn't get is all of the comfort and some of the girth. This is in no way a luxury car trying to be a sports car like an M5 tries (and, in my opinion, fails) to be these days. It's too brittle, too bouncy, too lairy.
Yet it's not an outright sports car, either. It's blood and thunder and hot-rod. If anything, it's more like an older Mercedes-AMG. And actually, that's fine by me. It has matured into a fine tub-thumping saloon. And if you want the deftness of a traditional M3? I think BMW still has some M2 Competition Coupés to sell you.
Technical specs
Model tested: BMW M3 Competition Price: $154,900 Engine: 6 cyls in line, 2996cc, twin-turbocharged, petrol Transmission: 8-speed automatic Power: 375kW at 5600-7200rpm Torque: 650Nm at 2750-5500rpm Driveline layout: Front-engine, rear-wheel drive 0-100km/h: 4.2sec Top speed: 290km/h Kerb weight (DIN): 1730kg
Matt Prior