An armchair with afterburners? The updated 2021 BMW M5 Competition is much more than a point and shoot super sedan.
German uber sedans used to be pretty simple things. Here's a car that's cheaper, faster and more powerful than a contemporary Porsche 911, sir – and about twice as useful. These days, though, BMW, Mercedes-AMG and Audi Sport seem increasingly to prefer pitching their extra-fast four-doors and wagons to people who also have sports cars, track cars, supercars and classics in their collection – but who probably don't use any one car within it that much – than to people who can only justify spending big on something by genuinely being able to use it every day. People who therefore need their daily driver to be practical, fast and engaging – but also just a little bit realistic – seem to have been forgotten about.
New bumper, headlight and taillight designs, a new (and only slightly different) radiator grille and some slightly slimmer quad exhaust pipes are how you might spot this car from a pre-facelift model. Most easily by the blue-coloured highlights of the new 'Laserlight' front lamps, actually (although they're optional-fit). The seventh-generation 5-Series always has been a handsome saloon, and this latest performance treatment adds just enough darkly purposeful menace to whet your appetite very effectively, at least to these eyes.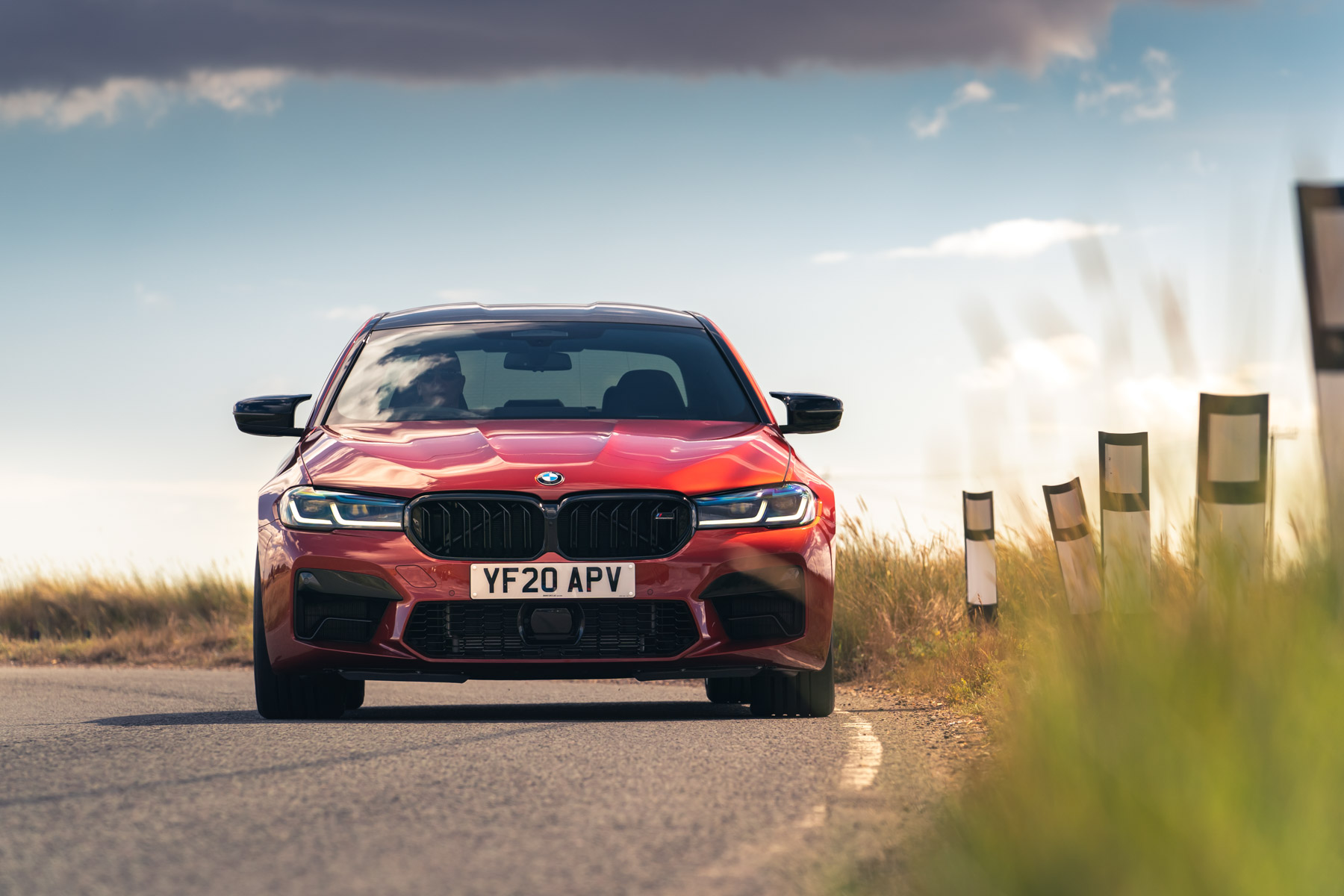 On the inside, the general ambience is one of a pervasive and convincing blend of material richness and understated performance piquancy. BMW has dialed up the car's technological hand with a larger infotainment display running its very latest 'Operating System 7.0' software. The car's head-up display is large, too, and now standard-fit; it works to compliment the digital instrument screen well, although some of the display modes of the latter seem a bit contrived and could be simpler and easier to read.
As for controls, the car's primary ones are located as well as its driver is – which is to say, very well indeed – while some of the secondary ones have been usefully rethought. Just adjacent to the gear lever, instead of the column of toggle buttons for steering, powertrain and suspension calibration settings that BMW M Division regulars may expect, there is now just a button labeled 'setup' and another marked 'M Mode'.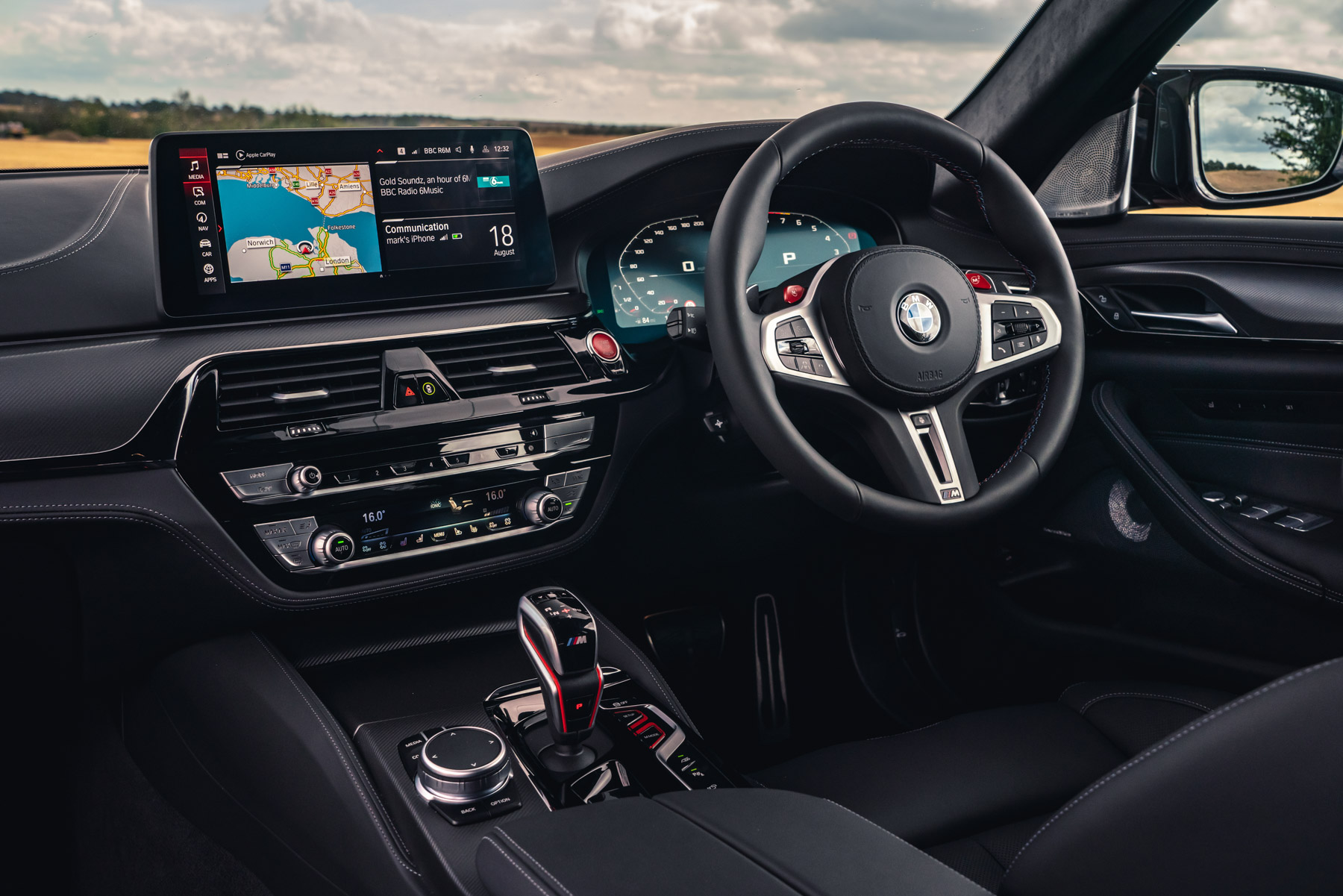 Rather than cycling through each menu in turn to find the calibration you're after for the car's steering weight, damper tune and throttle response, for example, now you just hit 'setup' and can configure each individual system at once using the car's central touchscreen display. It's a bit like you're defining your own 'individual' driver mode. It's simpler and quicker than old system, and seems to present the driver with slightly less top-layer complexity. Where usability is concerned, that feels like progress to me.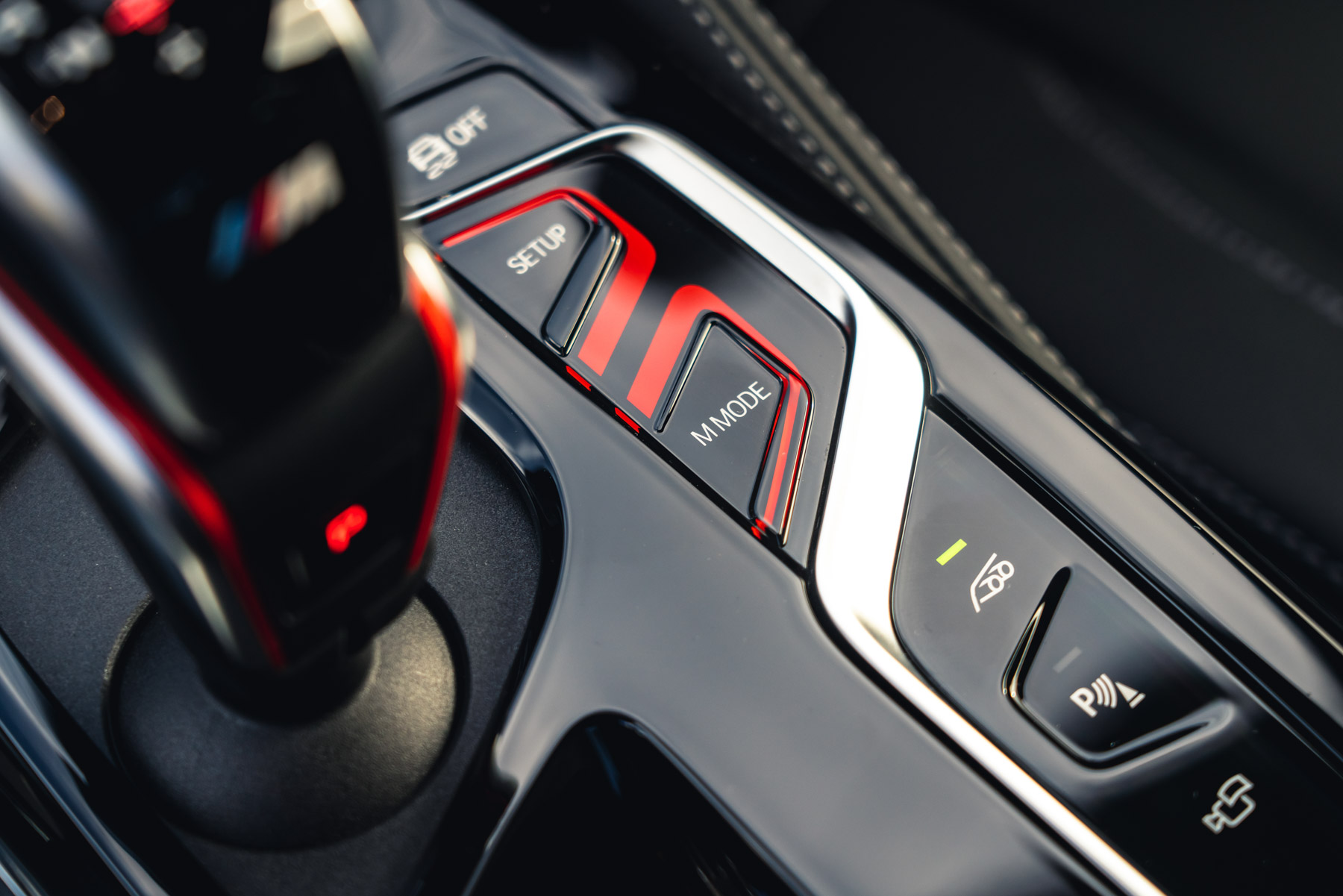 Meanwhile, that 'M Mode' button we mentioned before is a new attempt to corral the car's driver assistance systems into themes. Press it and you can choose between 'road' mode (in which all of the various lane keeping, automatic emergency braking and advance warning systems are active); 'sport' mode (which disables most of them, particularly those than intervene on the car's steering, while dialing back others); and 'track' mode (which switches off all of them).
It's a lot to take in, I realise. But the significant thing here may be that BMW's never before sought to filter out, wrap up or conceal any of that complication. It has often come in for criticism as a result. Might they finally be getting it, though? Be making life just a little bit simpler for the driver, and configuring the car at least a little bit on his behalf? These are certainly only the most embryonic of signs if so – but they're good ones.
Most of the car's driving experience is as it was. The M5 remains one of the most dynamically ambitious performance cars of its kind. Even though driver-configurable four-wheel drive systems are now pretty common in the super saloon niche, few cars like this attempt such versatility. The M5 tries to be as taut, agile and playful as a one-tonne sports car in one moment and as fast as a supercar the next, while offering everything against that backdrop of high-speed stability and real-world touring comfort on which the lumpiest German autobahn specials have been trading for decades. And judged strictly objectively, it succeeds really well at much of that stuff. I'm not sure an Alfa Romeo Giulia Quadrifoglio, probably still the most sports-car-like of all performance sedans, attempts to cover so much ground.
The M5's engine and drivetrain are unchanged, and they make for an enormously fast and potent saloon. Technically a Mercedes E63 S will give you more torque, but I'd be deeply suspicious of anyone who said they could use any more of it on public roads. The V8 has huge, elasticky-feeling mid-range reserves and responds keenly even to smaller changes in pedal position. It also covers the last 2000rpm of its crankspeed up to the 7200rpm redline really freely for turbocharged engine.
The car's automatic gearbox can be quite aggressive with its engagement in the sportier driving modes, surprising you sometimes when it's shifting by itself. It'll almost always deliver a downshift in manual mode when you ask for it, though – and you can almost always choose a comfier operating setting if it' s getting spiky or unsettling. There are rather a lot of those operating settings, after all.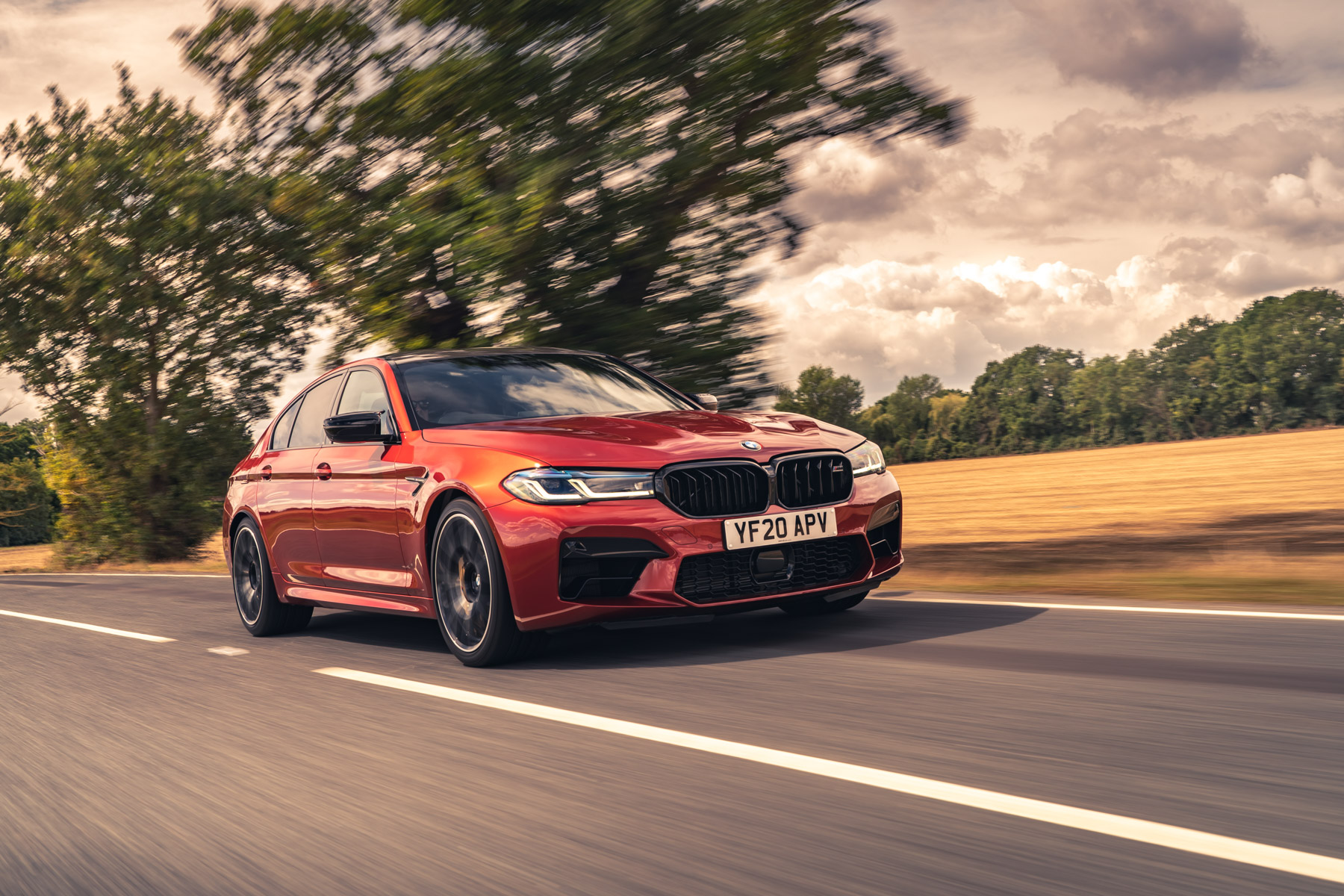 My only lingering disappointment was with the way that engine sounds. It's got a digitally synthesized audible character that's still too smooth and anodyne to trick your ear. It doesn't seem detailed enough, and doesn't adapt nearly enough to changes in throttle load, to sound like authentic V8 rumble.
But, while the M5's powertrain has been carried over pretty much unchanged, its suspension specification certainly hasn't. New adaptive dampers feature as standard, with a set of manually adjustable coilovers available through the BMW M Performance catalogue that drop your car between 5- and 20mm closer to the tarmac than the adaptive setup. The M Division's 'compound' lightweight brakes feature as standard and its carbon-ceramics are optional, the latter being set off by those eye-catching gold calipers and worth a combined 23kg of unsprung mass across all four corners of the car.
The new adaptive suspension setup, as fitted to our test car, seems to have calmed down the car's formerly grabby, hardcore ride a little bit. BMW claims a worthwhile improvement to the way the car deals with small and medium-sized inputs, and reasonably so. I don't think I'd have chosen to drive the last version of this car with the dampers set to anything other than 'comfort' anywhere but on a circuit; and it would have needed to be a pretty smooth circuit at that.
This new one might actually have a better, more level and settled cross-country ride with its suspension set to 'sport', although there's certainly still a time and a place for 'comfort' around town. Although the secondary ride is still quite abrupt and percussive, the suspension deals with the majority of inputs that a typical B-road might pose without much jiggling or bristling. It works as well as ever on wide, smooth motorway lanes at high speed.
The car retains a decidedly highly-strung, frisky handling feel, though, in light of the way the negative camber on its front axle makes it seek out and react slightly to bumps and cambers on the road. Also because, even before you've wound the four-wheel drive system all the way into its naughtiest rear-driven mode or the stability control all the way off, this M5 will begin to rotate around its rear axle under power as you turn.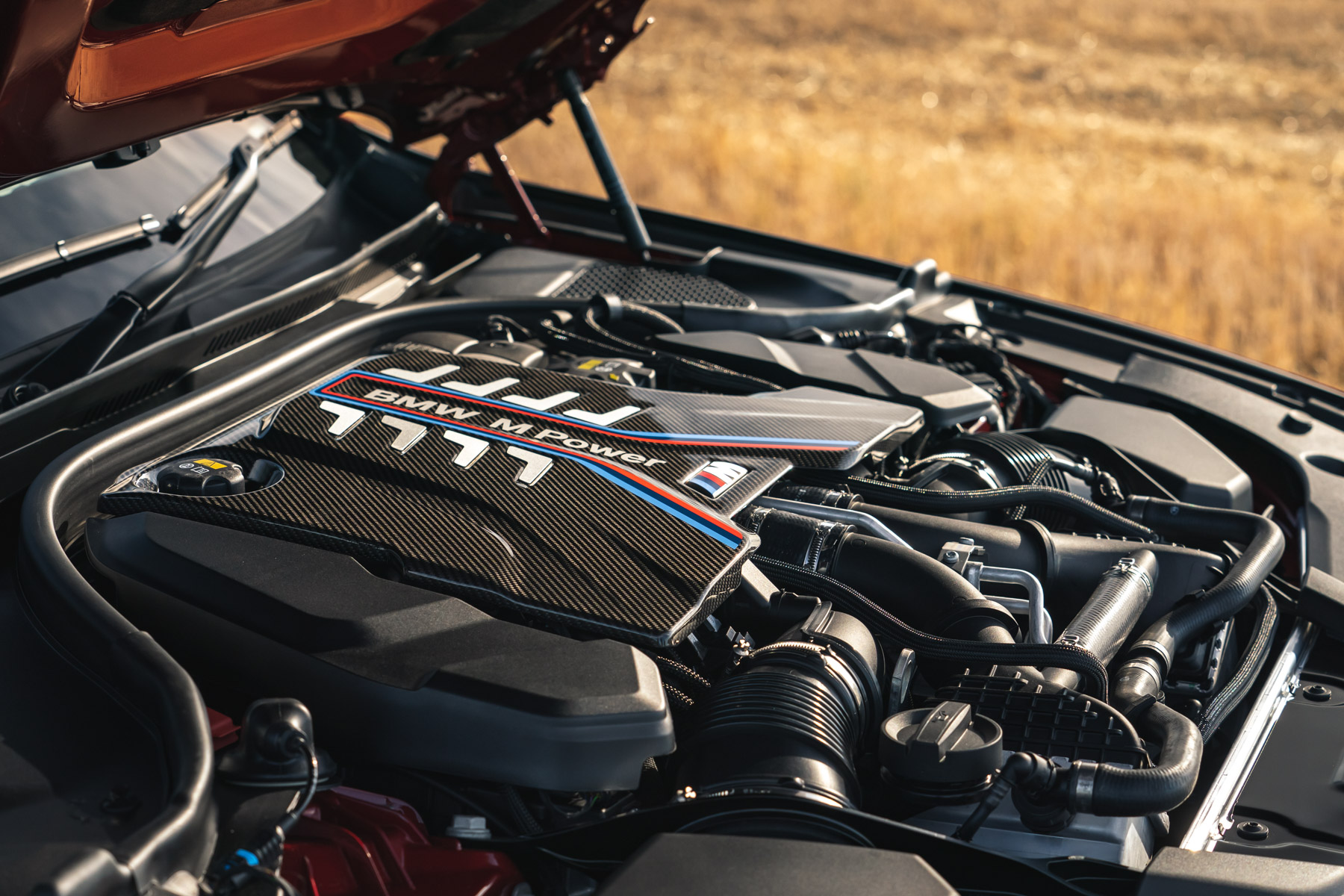 Make no mistake, and four-wheel drive or not, this is a livewire of a car. If you don't get on with it, it'll most likely be because it doesn't match your more traditional idea of what a super sedan ought to be. An armchair with afterburners this most certainly isn't.
I'm not sure there's another car quite like it, with such a broad and variously convincing range of abilities. There are certainly simpler and more honest-feeling options. Also, one or two that offer a bit more tactile feel and genuine, burbling hotrod charm. If the M5's driving experience is missing something, amiability may be it; that ability to reward and entertain you while simply tickling along in daily use.
But what the car is missing most clearly in a broader sense may well be a pricetag that makes it relevant; one that might put it at least nearly within reach of people of remotely ordinary means. For the performance sedan, we might well wonder if developing beyond that kind of affordability is entirely healthy.
The thing is, sedans with performance like this probably isn't the most healthy, viable part of the car business to be in anymore, is it? What we may now be witnessing folks, sad as it may seem, are the final throws of a vehicle type that is staring oblivion square in the face. Can BMW either sell enough electric cars, or buy enough carbon credits from elsewhere, in order to allow the M5 to continue to exist? You wouldn't bet on it; not for long, at any rate.
It's not a very cheery note on which to end, and you'll have to forgive me for thinking it. But if the M5's going out any time soon – and the V8-powered Mercedes-AMG C63 is about to, let's not forget – well, it might as well do it with a bang.
Matt Saunders