BMW's first electrified X3 SUV is heading to Australia, but does the hybrid drivetrain hinder or bolster the model's appeal?
Here's another review on a plug-in hybrid option from a German premium brand, I'm afraid. Apparently, everybody wants one. It must be true, otherwise why would there suddenly be so many?
For now at least, the BMW X3 xDrive30e may be one of the more significant examples of this new efficient band of cars, however.
Rivals include the equivalent Volvo XC60, Audi Q5, Mercedes-Benz GLC and Land Rover Discovery Sport P300e plug-ins.
For interested buyers in Australia, local pricing is yet to be announced. However, it will certainly be more expensive than any other four-cylinder X3 and likely level on price with the six-cylinder 30d diesel. Like most other X3s, it can be had in SE, xLine or M Sport trim, and in all versions it gets four-wheel drive and an eight-speed automatic transmission.
There are one or two technical distinctions and stipulations associated with the car, though, of which canny customers ought to be aware. It uses the same combination of a 135kW four-cylinder turbocharged petrol engine and an 80kW electric motor for power as BMW's other 30e derivatives, plus the same 12kWh lithium-ion drive battery, which in this case sits under the back seats.
Unlike in Volvo and PSA Group PHEVs, the motor is housed within the transmission and so drives through all four wheels, just as the piston engine does. But the X3's drive battery does displace the fuel tank, which is carried above the rear axle instead of in its usual berth, and that difference does adversely affect loadbay space just a little.
M Sport trim is likely to be the most popular choice in the Australian market, with its racier styling touches. We tested the car in M Sport trim but without the M Sport Plus pack and the suspension and steering upgrades associated. It had the impressive performance and drivability we've come to expect from BMW's plug-in hybrid options and most of the practicality, refinement and interior classiness of the wider X3 family, too. Perhaps not quite the ride and handling sophistication of other versions, however.
Offering seating for five, the cabin remains spacious by class standards. It's fitted out in a way that's appealing on the eye and solid to the touch. The compromise in boot space isn't a huge one; effectively, you lose the bottom three inches of load space across the boot floor. But for the initial lip, however, there's no awkward lump in the loading area midway along its length. Boot space falls from 550 to 450 litres up to the windowline but, when looking at what is left from the X3's boot opening, you would never guess the compromise was worth that much.
BMW includes the 10.3-inch 'Operating System 7.0' touchscreen infotainment set-up and 12.3-inch digital instruments in M Sport trim. Standard digital connectivity includes networked sat-nav services and Spotify music streaming (the latter, after a year, is by subscription only), as well as smartphone mirroring for both Apple and Android phones.
The infotainment can be mastered via the iDrive scroller, via fingertip touchscreen input or by voice command, and its usability is very good. Customisable homescreens, whose layout you can adapt so that the information you refer to most often is always displayed, help a lot once you've figured out how to configure them.
There's a familiar degree of complication about the driving experience, too, but only as much as comes with the modern premium car territory, and you will have negotiated it long before the end of your first lengthy drive. There's the usual choice of driving modes (Comfort, Sport, Eco Pro and Adaptive), and the hybrid system adds only one more button with which you will need to fiddle, marked eDrive. It allows you to switch the powertrain between all-electric, hybrid and battery-save running modes, with hybrid being the default choice and the one the majority will use most often.
In hybrid mode, the car has a generally slick, well-rehearsed way of managing its power sources. Most town running will be done electrically. While the size and weight of the X3 clearly demand more of the 80kW motor than the 30e versions of the 3 Series and 5 Series, it still copes quite well in urban environments, with enough pedal response and accessible power to make good progress through stop-start traffic.
As you leave the city, you will rouse the piston engine if you want the car to accelerate briskly, which it will certainly do. But it's still easy enough to get up to 110km/h without burning any hydrocarbons – and you won't be holding anybody up while doing so.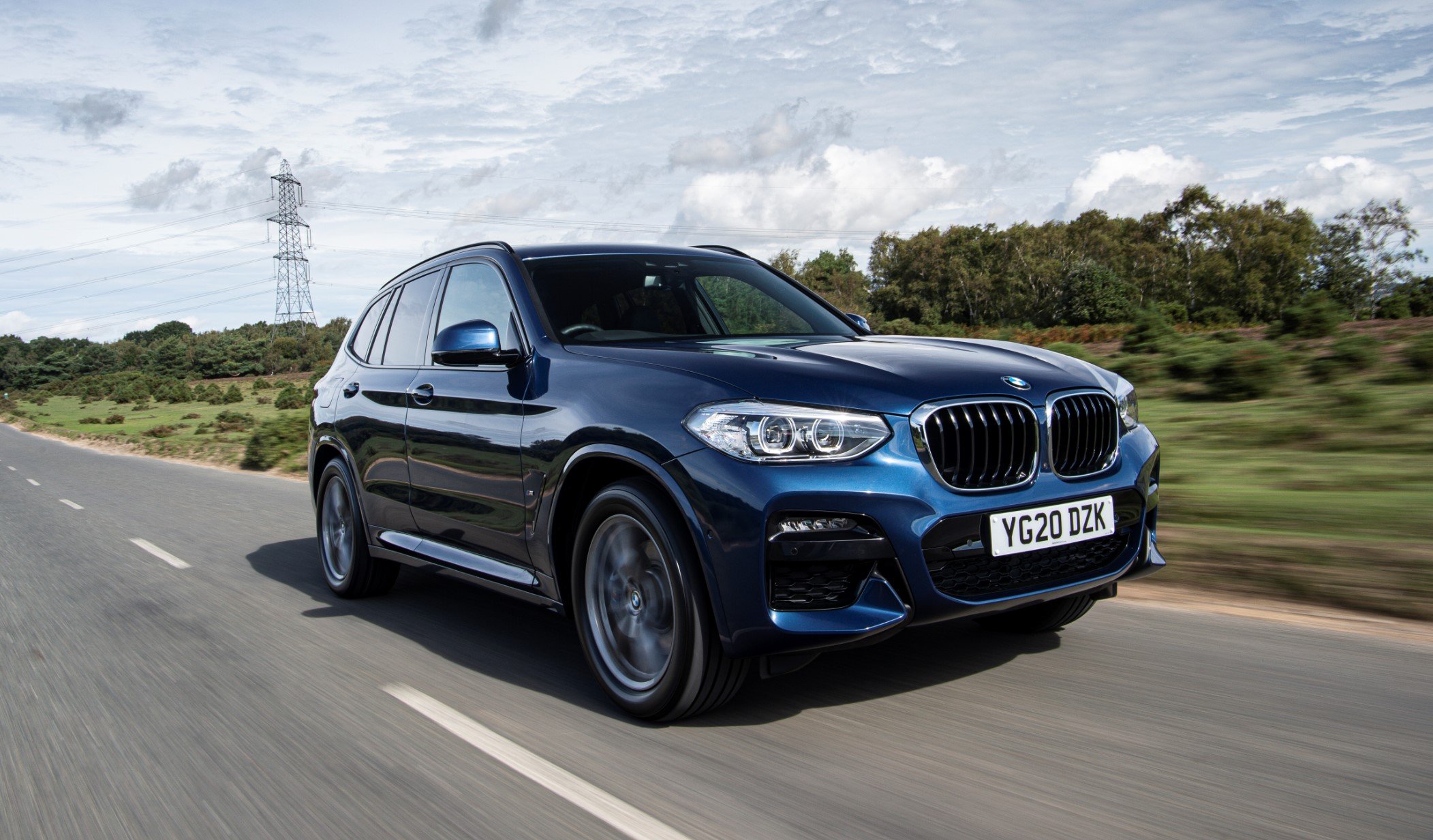 Out of town, electric-only range isn't quite worth the 50km in practice that the WLTP lab tests promise (although it might well be in exclusively urban running). On a typical commute, you would probably see something between 30-40km of electric range on a full charge. Charging the battery back up to 80 per cent from a 16-amp post or wallbox connection then takes just over two-and-a-half hours at a maximum charging rate of 3.7kW.
Even when the drive battery is depleted, the powertrain still runs and performs very satisfactorily. Our testing suggested that a 'range-extended' fuel economy return in the low 7L/100km range should be easy to achieve. Moreover, the engine starts and runs smoothly even at high loads and revs, which isn't something you can say about many PHEVs.
Because the car is clever enough to take data from the sat-nav and to decide for itself when to use its engine and when to shut it down, you can find that overall fuel economy is surprisingly good, even on longer journeys, only part of which can be powered electrically. Our test route was a 90km loop embarked on with 80 per cent charge in the battery and concluded with just under 5 per cent, which the trip computer recorded for fuel economy at just over 4L/100km.
You can, of course, easily find fault with the logic of presenting information like this. It would be a lot more honest and informative if the car's petrol efficiency counter simply stopped running when the engine was shut down and there were a counterpart for electric running displayed just as prominently, wouldn't it? For the time being, though, (and for as long as the prevailing thinking is that electricity is free and petrol efficiency is all that matters) this is what we will likely continue to get. And not only from BMW, I should add.
If there's a real disappointment here, it concerns the X3 30e's ride and handling; which, ironically enough, is what often attracts people to BMW SUVs in the first place. Because as well as making this plug-in hybrid just a bit less fleet of foot than its sedan and wagon relatives when running electrically, this car's two-tonne kerb weight undoubtedly penalises it for close body control on uneven roads.
BMW's standard passive suspension certainly keeps tabs on lateral body control well enough and makes the car's handling pleasingly agile and precise for a car of this size when its operating on smoother roads. Over a typical commute, you would likely seldom be anything other than very pleased with the car's grippy tautness.
But introduce it to a few sunken, testing B-roads and the chassis can come up notably short on ride fluency, suppleness and finesse. The body fusses laterally when one side of its axles are made to work harder than the other, and plenty of bouncy, underdamped movement can be allowed to unsettle the cabin at times.
Bigger, pricier SUVs tend to have adaptive suspension to help deal with the inherent problem that this X3 has: that it has quite a lot of extra weight to carry and is carrying it at greater altitude than the average sedan or hatchback, so it's likely to be felt all the more keenly. It's not a huge problem for the car but, if you're a keener driver, I reckon you would notice it.
For drivers in need of a good-sized family car, who like SUVs but also enjoy a good drive, this is a very commendable option.
BMW's plug-in hybrid technology has, for the most part, now done for the X3 what it did for the 3 Series, 5 Series and elsewhere: preserved the dynamic selling point of buying a BMW while making the car efficient with refinement and polished drivability. If you charge it, it will reward you with excellent running efficiency, too.
While other mid-sized SUV have less challenging dynamic briefs, happy to just be comfy and plush-feeling or roomy and capable, the X3 is expected to offer something on driver appeal. And, compared with other PHEVs, the X3 xDrive30e does that pretty well in most respects.
Matt Saunders