Dial M for Modificata, the letter that Ferrari uses, now and again, to indicate significant enhancements to a model.
This time, it's the Portofino, the entry point to Ferrari's range, which has a front-mounted V8 but not a fixed roof like the Roma – nor the Roma's looks, which still make Automotive Daily's photographer swoon uncontrollably.
The modifications here, though, are seemingly meant to make the Portofino a little more Roman. Ferrari says the car is more sporting: there's more power, more dynamism to its outward appearance, sharper shift times from a new gearboxand an extra position, Race, on the driving mode selector, which also brings new chassis control software.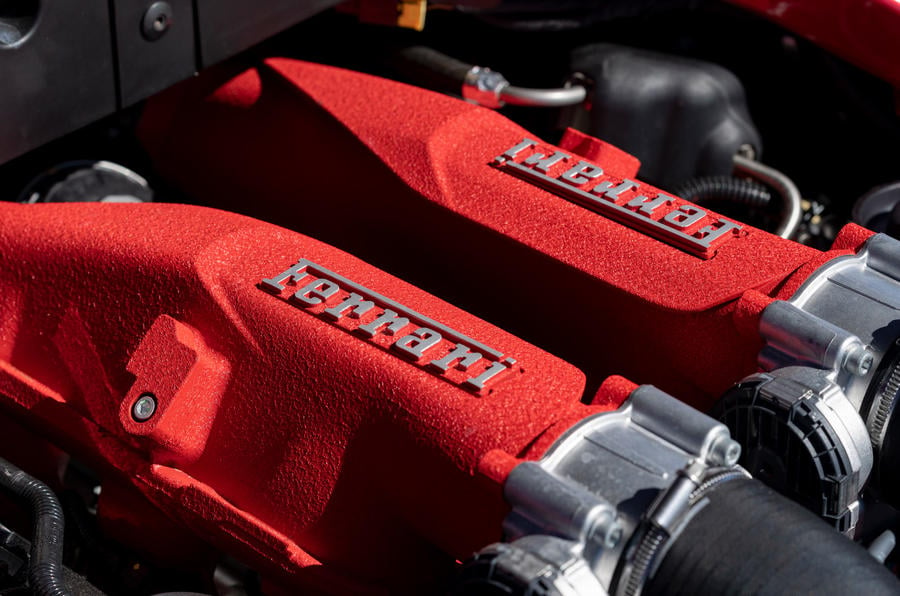 In detail, then, the 3.9-litre flat-plane crank, twin-turbocharged V8 now needs a petrol particulate filter to meet emissions regulations. That costs it around 15kW but, as Porsche found with the previous 911 GT3 RS, the muffling effects negate the need for a rear set of silencers.
And because the Portofino's engine is at the front and the filter needs to be close to it, the exhausts can run down each side of the propshaft, around the transaxle transmission and then exit without any huge interruption, so the diffuser canbe more sculpted and racy-looking, giving some space over to fresh air.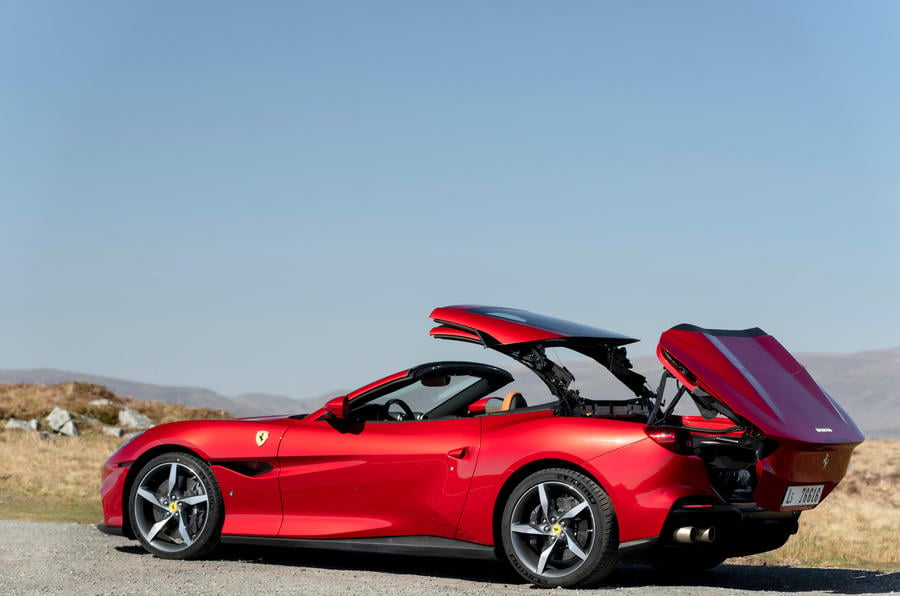 Then the valve openings are increased by around 1mm on both intake and exhaust valve sets, adding 30kW or so, making for a net gain of 15kW (from 441kW to 456kW).
The rear wheels are driven via an eight-speed (rather than seven- speed) dual-clutch gearbox (with 4%-shorter ratios through to seventh, then a longer eight for better cruising economy), through an electronically controlled limited-slip differential.
The driving modes range from Wet through Comfort, Sport and Race (which is new) to ESC Off. The aforementioned new software map in Race is called Ferrari Dynamic Enhancer, and it's aimed at making the Portofino more controllable at the limit. It sounds like Ferrari's Side Slip Control but with a less heroic name.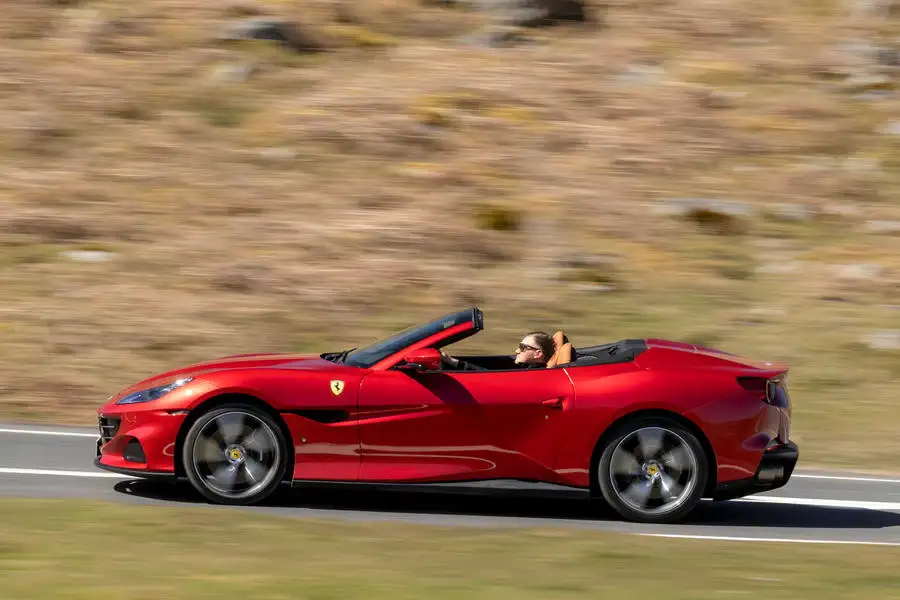 Inside, there's still a big analogue rev counter front and central, which I consider a welcome retention after trying the Roma's fully digital layout. But there's also a new touchscreen in the dashboard's centre and one for the passenger, while the wheel keeps physical (rather than haptic) buttons and is no worse for it. There are still rear seats, too, but mainly for bags.
I came into this with very little exposure to the original Portofino but quite a lot to the Roma. Its character isn't entirely Roma cabriolet, but you can feel the inherent Ferrari characteristics that put it at the sharp end among its convertible peers.
The steering is very quick and, compared with that in comfier posh convertibles (Bentley's Continental GT, say), hyper-responsive, bringing about really rapid direction changes with little build-up in weight or feel.
That would be unsettling in some cars, but the ride is flat and composed and the front wings being visible means that, even in left-hand drive on tight British roads, the Portofino M is easy to place and easy to enjoy.
With the roof up, you don't get even an inkling of body flex, either. It's just an alert, capable machine, albeit with a little tramlining on bad surfaces.
Marketing videos will show it cruising on sunlit Italian lakesides; but unlike, say, the Mercedes-Benz SL, it feels rather at home when being threaded at speed along good driving roads. Its engine is lively, its gearbox more so and its brakes, with their revised feel, are really responsive.
Like the Roma, then, the Portofino M is at the pointy end on the sport- versus-relaxation scale. And, like the Roma, it's none the worse for it.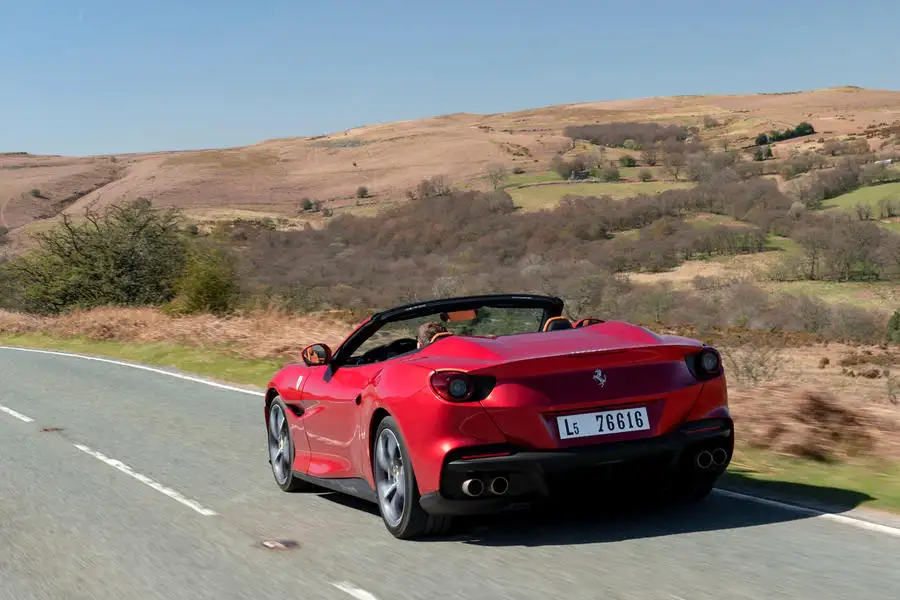 Portofino M Technical Specs
Price: $399,888 plus on-road costs
Engine: V8, 3855cc, twin- turbocharged, petrol
Transmission: 8-speed dual-clutch automatic
Driveline layout: Front-engine, rear-wheel drive
Power: 456kW at 5750-7500rpm
Torque: 760Nm at 3000-5750rpm
Kerb weight (DIN): 1664kg
Rivals: Aston Martin DB11 Volante, Porsche 911 Turbo S Cabriolet
Matt Prior