Intriguing electric super-coupe offers style and effortless performance – but at a huge price.
Long-dead marques have been revived before, but few that have been dormant for as long as Hispano Suiza.
The Spanish manufacturer produced 12,000 cars in the first half of the 20th century but hasn't made one since 1946. That's changing with the arrival of the Carmen, an electric luxury EV offering the otherworldly combination of a four-figure power output and a seven-figure price tag.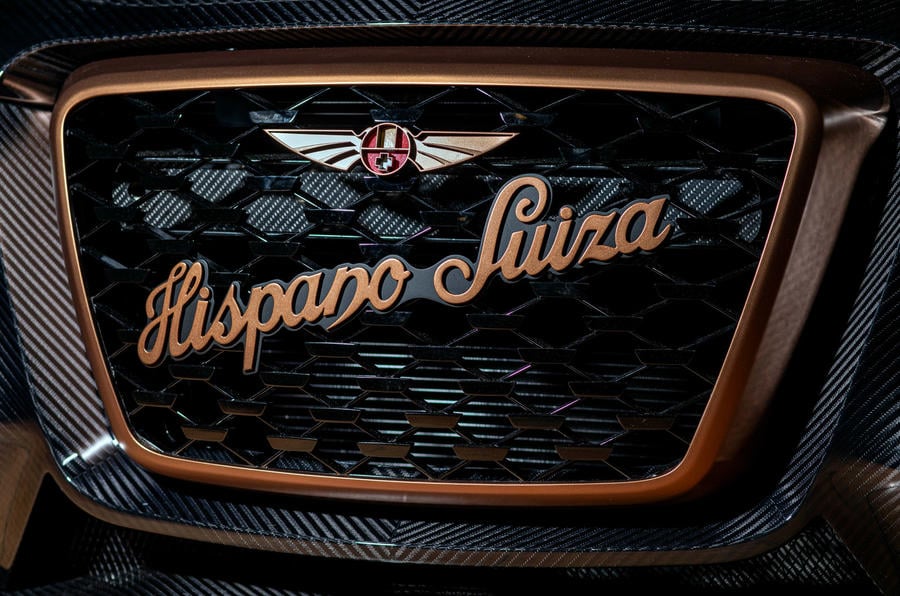 This new car has been created by Barcelona-based QEV Technologies, but there is a genuine family connection to Hispano Suiza's original incarnation, company president Miguel Suqué Mateu being the great-grandson of co-founder Damián Mateu.
The plan is to make 19 examples of the regular Carmen, which can boast 739kW and a €1.5 million (AUD$2.3m) price, plus five examples of the Carmen Boulogne, which has 808kW, more dynamic focus and will cost $2.54m.
The Carmen is about as carbon-intensive as it's possible for a car to be, with its bodywork, its central monocoque structure and the subframes mounted to this front and rear all made from woven composite; and suspension components for the all-round double wishbones made from an aircraft-grade aluminium alloy.
Unusually for a high-output EV, the Carmen is rear-driven only, with power supplied by four lightweight permanent-magnet synchronous electric motors. A pair drives each rear wheel through a single-speed reduction gearbox. Although both sides are mechanically separate, they're linked by what's described as a "virtual differential" traction management programme that affords torque vectoring.
Power comes from a substantial 80kWh T-shaped battery that sits both behind the passenger compartment and in a central tunnel between the seats. The 700-cell, 700V lithium ion pack has been designed to allow the very high discharge rates necessary to allow the car's peak power rating. It also supports DC fast-charging at speeds of up to 80kW, this allowing it to be replenished from 30-80 per cent in just 30 minutes.
Hispano Suiza says it's targeting a 400km range under the WLTP test protocol. The battery weighs 800kg, making the Carmen's kerb weight of 1690kg look very impressive.
The first thing to say is that the Hispano Suiza is one of those cars that looks better in the flesh than it does in most photographs, looking lower and more muscular in three dimensions than two.
The design was, loosely, inspired by that of the 1938 H6C Dubonnet Xenia, and although it's more reverential than retro, the rear three quarter view over the heavily faired rear end bears a clear resemblance. (The regular Carmen will also be available with the option of drag-reducing rear-wheel covers like those of the Xenia, but the Boulogne doesn't get them.) And while EVs are often criticized for fake grilles, the Carmen does actually have radiators behind its sizeable front aperture, for cooling the motors and the battery.
The interior is accessed through power-operated butterfly doors. These don't open especially wide, so it's something of a scramble to get through them. But once you're installed, the cabin feels reasonably spacious and, although the prototype's bronze-heavy finish won't be to all tastes, it's trimmed to an impressively high standard.
Idiosyncratic details include a triangular push-button gear selector, with Park in the centre and Drive, Neutral and Reverse all set at 120deg angles.
The Carmen is claimed to be a luxurious grand tourer, while the Boulogne I drove in near-finished form is pitched as a more track-suited version.
My drive was limited to the track at the Circuit de Barcelona-Catalunya in Spain, an experience that proved the Boulogne is capable of delivering at least brief doses of serious speed, overall velocities being limited by a pace-setting Tesla.
Starting out in the power restricting Eco mode denied full acceleration, but it did confirm that the Carmen's cabin is quiet and well-insulated at a cruising speed. Turning to Normal and then Sport mode brought more power, although I was allowed to experience the unrestricted peak output only for the length of one straight.
As with the prototype Lotus Evija that I drove earlier in the year, there's a disconcerting disconnect between the seriousness of the g-forces the Carmen creates and the lack of combustion sound and fury to accompany them.
The size and position of the battery means that 60% of the car's static weight sits over its rear wheels. This felt obvious in the circuit's tighter turns, where the front end needed to be shepherded to apexes and optimistically early power application resulted in understeer. Yet this could be neutralised by easing the power, and it proved possible to easily adjust the cornering attitude through weight transfer.
The flipside of the conservative chassis settings is a high level of dynamic stability, with impressive traction given the huge effort being channelled through just two wheels. Torque-biasing and traction intervention both happened subtly, the Boulogne never feeling wayward even when pushed hard. The finished car will have adjustable levels of regenerative braking selected by steering wheel-mounted paddles, but the prototype I drove didn't have these. It did feel stable under higher levels of retardation.
There are some impressive details, too, Hispano Suiza having paid attention to the sort of touches rarely considered by those making ultra-limited cars. The digital dashboard and central touchscreen both carry nicely rendered custom graphics; and there's a collision warning system that, in addition to sounding an alarm if you're carrying too great a speed differential to the car in front, gives a visual read-out of the gap in seconds.
The Carmen will always have exclusivity on its side, even if Hispano Suiza manages to sell the full planned run of cars.
This first experience suggests that the finished car won't be in the same performance league as the Evija or the Rimac Nevera, but with an emphasis on design and luxury that should distinguish it from either of those more expensive alternatives.
But driving the Boulogne on a track didn't feel like an especially natural thing to do. I suspect the near-silent powertrain and impressive refinement will deal with real roads far better.
Mike Duff