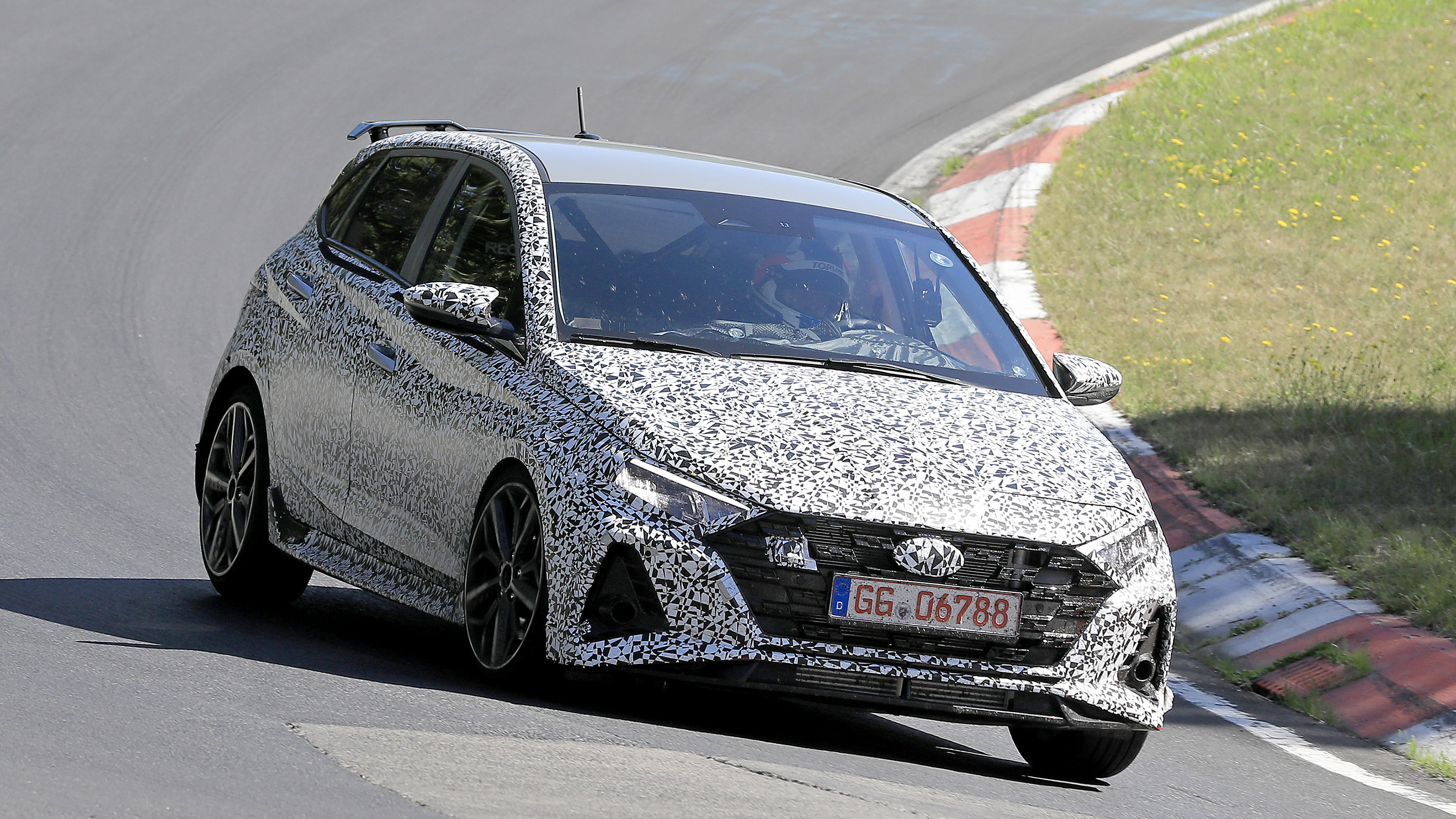 Hyundai's i20 N hot hatchback will make its debut next year, offering new competition for the Ford Fiesta ST and Toyota GR Yaris in Australia.
Our spy photographers have spotted the upcoming Hyundai i20 N hot hatchback undergoing development testing on the Nurburgring ahead of its launch. The Korean brand's all-new B-segment hot hatch will reach Australia in 2021, providing fresh competition for the Ford Fiesta ST and upcoming Toyota GR Yaris.
These latest spy shots reveal several new details about the Hyundai i20 N's styling; this mule wears the same sporty body kit and large rear spoiler as previously spotted test cars – but Hyundai has fitted a new oval exhaust system, which could find its way onto the finished car.
Our exclusive images offer an indication of how the finished i20 N could look when it reaches Australia showrooms next year. It'll share its body-in-white with the new, third-generation i20 hatchback which won't be available in Australia, with Hyundai's local arm electing to only bring us the hottest i20 available. Features include a host of cosmetic and performance upgrades, including a wider track, larger alloys, improved brakes and lower suspension.
The i20 N's cabin will receive a similar range of sporty trappings – all of which will be carefully selected to keep the hot hatchback competitive with the Fiesta ST on price. As such, the major interior revisions will be new sports seats, a sports steering wheel and an N-branded gear stick.

Despite the design similarities to the standard i20, Hyundai remains adamant that the i20 N will drive differently to the entry-level car, thanks to its unique steering and suspension systems. Both have been honed at the Nurburgring, which is something Hyundai's R&D boss, Albert Biermann (who was formerly at the helm of BMW's M division), believes is essential to the N brand's chances of long-term success.
Hyundai's most recent teaser video all but confirmed the company's plans to use a four-cylinder engine larger than the current lineup's 1.0-litre three-pot. It should give its hot supermini enough clout to compete with the Fiesta ST and Polo GTI – both of which produce 147kW.
As it's expensive to develop an all-new engine, we expect Hyundai will use a detuned version of the i30 N's existing turbocharged 2.0-litre four-cylinder petrol engine, with an expected output of around 150kW. The prototype in the company's recent teaser video also had an exhaust note which was eerily similar to that of the larger i30 N.
The engine should be mated to a six-speed manual gearbox as standard and, due to the i20's relatively light kerb-weight, a 0–100km/h time of around seven seconds should be attainable, along with a top speed of over 225km/h. Buyers should also get a range of drive modes and a reasonably sophisticated traction control system.
We're expecting a starting price of around $30,000 for the i20 N, which should give Hyundai's founding sporty supermini tough competition to the Fiesta ST.
James Brodie