The head-turning and hi-tech Hyundai Tucson SUV is set to challenge its premium rivals.
This year is already shaping up to be another big 12 months for Hyundai. Its latest supermini, the i20, has recently proven that it's right up there with the best in the class. And now the Korean brand hopes to nudge its family SUV, the Tucson, right to the top of its segment and even a little beyond it.
That's because this Tucson really is a big step forward for the brand. Hyundai is aiming to be included on the shortlists of not only mainstream customers but also some premium buyers – quite a leap from the company's budget image of old.
That means that this Tucson – the fourth model to carry that name – has to deliver better practicality than ever, coupled with the sort of tech and interior quality that might just merit a higher price tag if this overseas model is any indication of what to expect.
Choices include a pure petrol Tucson – indeed, the 110kW 1.6-litre turbocharged petrol is the entry point in the line-up – and also a 48-volt mild hybrid (available with 110kW or 133kW, and either a six-speed manual or a seven-speed dual-clutch automatic) and a full hybrid, as tested here. It uses the same 1.6 petrol engine but has a 1.49kWh battery and a 44kW electric motor that sits between the engine and the six-speed automatic gearbox, boosting the total output to 169kW.
The cynics amongst you may have already concluded that with just 1.49kWh of battery to call upon, the Tucson will be all too eager to draw on the engine's reserves as you pull away from rest. And sure enough, it is; you'll do well to get more than a few yards before the little 'EV' indicator on the dashboard goes out to show that combustion is now involved.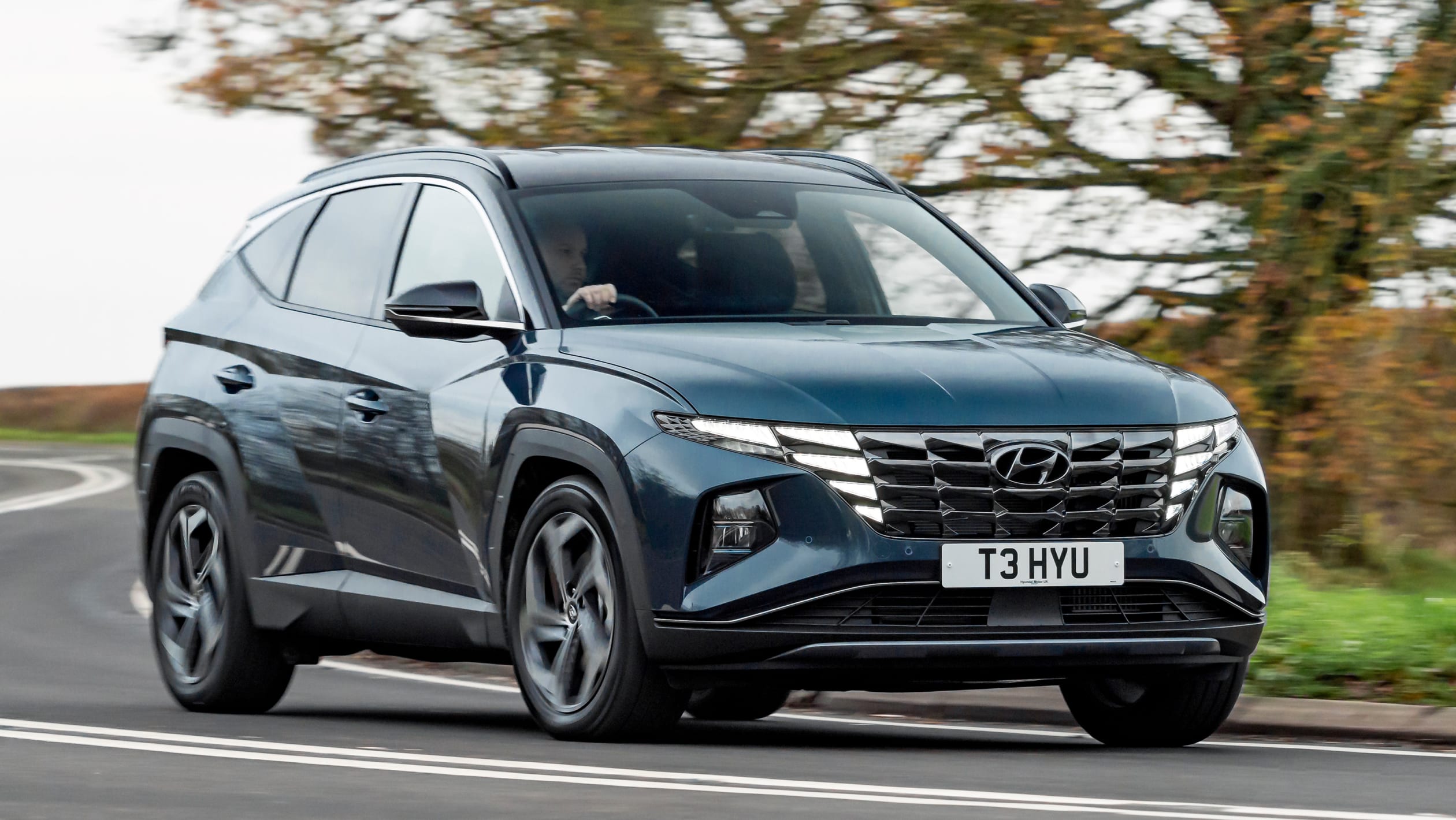 But there are a couple of caveats you should be aware of. The first is that the transition is incredibly smooth. The second is that once you're up to speed – say, 50km/h around town – you'll find that the EV light comes back on as the system realises it has achieved a sensible cruise and starts to save fuel.
It's not a small car, the Tucson. At 4.5 metres, it's longer than a VW Tiguan and only just shy of Toyota's RAV4, an obvious rival also offered with hybrid power. But around town, you should find north of 6L/100km quite achievable. And in truth, this figure is only likely to take a really major hit if you go beyond fast freeway running and actually start mashing the right-hand pedal for every bit of acceleration.
The smooth character of the powertrain continues out of town too, for the Tucson's set-up feels more conventional to drive than the likes of the RAV4, with its complex CVT configuration. You'll soon learn how to encourage kickdown in the Hyundai when required, and how to avoid it when you're happy to maintain a steady speed (and save fuel). It's keen to shift up early, perhaps using the electric motor's assistance to help mask the fact that the engine does get a bit thrashy when it reaches higher revs.
There are just two driving modes, flicked to via a small switch at the base of the centre console. The car defaults to Eco, which is probably the best everyday set-up. Moving into Sport flashes red graphics onto the digital instrument panel and increases the amount of assistance the electric motor can give to performance. Throttle response improves, but as the focus sharpens, so does the frequency with which you'll hear the engine's slightly metallic tones.
Beneath it all, the increasing influence of ex-BMW M-Division boss Albert Biermann over Hyundai's chassis tuning is evident again. While the newly launched i20 has a firm edge to its ride as a trade-off for unusual agility, the scope of what was achievable with the larger Tucson has clearly been wider. That is to say that this feels like a well-resolved compromise, capable of soaking up broken surfaces and sharper jolts around town and at higher speeds, while still maintaining control through corners.
The steering has heft, consistency and directness, so the end result is a car that is perhaps not quite as involving as a Ford Kuga but which is every bit as composed as a RAV4, and slightly more direct and agile. It would be a push to describe it as fun, but the Tucson would be an admirable companion for a long cross-country jaunt.
The cabin would play its part in that, for the step gain in quality inside is every bit as significant as the dynamics – perhaps more so. It's all a bit dark and grey in the front, but there's a small strip of fabric across the top of the fascia to inject at least a little colour. And the layout itself is clean and uncluttered, with very few physical clickable switches and most major functions controlled by touch-sensitive buttons.
Stuff you'd want ready access to, such as the heating and ventilation, is given its own area, as it should be. And above it sits Hyundai's latest 10.25-inch widescreen infotainment system, blessed with excellent screen resolution, deep blacks and rich colours. It's paired with a similarly sized digital instrument panel, that sits within a cleaner dashboard arrangement that lacks the traditional overhanging cowl.
This tech feels neatly integrated into its environment, and the experience is enhanced further by a neatly judged blend of premium finishes – solid piano-black surrounds near the gear selector, strips of chrome, the aforementioned fabric and high-grade, squishy, textured plastic. There's nothing in here that would look out of place in a VW Tiguan – and plenty that could also serve in an Audi Q3.
The new Tucson's wheelbase is just one centimetre longer than before, but the packaging mix has delivered a cabin that can swallow four six-footers with ease, thanks to generous rear knee, leg and headroom. Only the raised central floor mars the car's abilities as a proper five-seater.
The boot capacity is a generous 616 litres – around 30 litres more than you'll find in a RAV4. We'd like a few more hooks or luggage storage aids in there, but in general the space and flat floor should be able to cope with most everyday needs.
The Tucson really does feel like a watershed vehicle for Hyundai – the model that realises the company's ambition of being not a value-led budget brand but rather a proper mainstream player like VW, whose products can steal customers from the premium market. The Tucson is that impressive – solid dynamically, properly practical, usefully efficient in hybrid form, and with a well-finished cabin that oozes tech in all the right places.
John McIlroy