The Jaguar I-Pace SUV is still one of the very best electric cars on sale.
The most important Jaguar since the E-Type – that's how company bosses described the Jaguar I-Pace SUV when it was launched. For what seemed like an age it was difficult to avoid the hubbub surrounding the electric Jaguar; billions of pounds were poured into its development and over 1.5 million miles were driven in prototypes across the globe to ensure Jaguar got it right first time. More pure-electric Jaguars are set to come, and on this evidence they'll be worth the wait.
It's a real departure from classic Jaguars in terms of styling. With no large petrol or diesel engine to fit in, the bonnet can be much shorter and stubbier than the company's saloon and SUV range. Jaguar may call it an SUV, but the I-Pace sits little higher than a conventional hatchback, which pays dividends for efficiency; the I-Pace should go further on a charge than its main rivals.
The Jaguar I-Pace pretty much defined a new segment of luxury electric SUVs, one that's now also populated by the Audi e-tron and Mercedes EQC; the Tesla Model X came before all of these but is much larger and more akin to an MPV by traditional standards. The I-Pace may have been one of the first, but now there are a lot of cheaper electric SUVs including the Volvo XC40 Recharge P8 and Ford Mustang Mach-E – so can the Jaguar still stand out?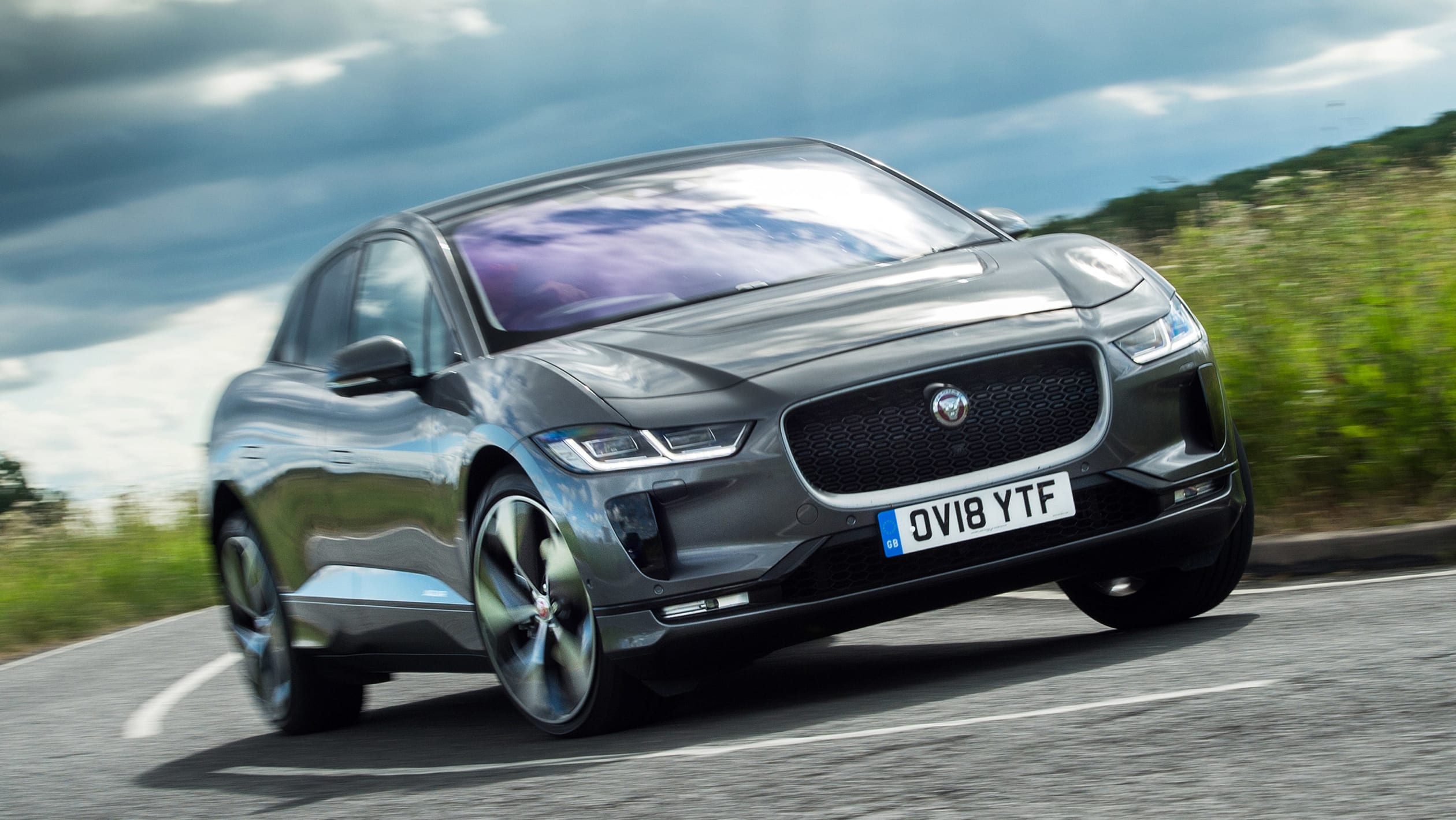 If you've somehow managed to avoid the noise Jaguar has been making about the I-Pace, here's a quick recap. The SUV is the first car to be based on the firm's new 'skateboard' architecture, one that is for fully electric cars only and will go on to underpin a whole family of future Jag EVs.
The I-Pace is powered by a 90kWh battery that drives two electric motors to give four-wheel drive. The system develops 295kW and 696Nm of torque, which is enough for 0-100kmh in 4.8 seconds and a range of up to 470km of 'real world driving'.
Is it faster than a Tesla? No, is the simple answer. But the I-Pace is about so much more than acceleration. It has a sense of poise, agility and precision that you won't find in any other mainstream electric car – and for this reason the I-Pace isn't just a revolution for Jaguar, but for electric cars and the automotive industry in general.
The Jaguar I-Pace is one of the very best electric cars on sale. It offers a highly useable combination of performance, range and luxury, all the while offering the practicality and versatility of a mid-sized SUV. It looks great, is brimming with technology and should boast decent residuals for an EV.
The I-Pace still sits at the top of the class it created when it arrived in 2018; the Audi e-tron and Mercedes EQC are both accomplished rivals but neither can beat the Jaguar's range, driving experience or feelgood factor.
The starter button located to the left of the centre console brings the I-Pace to life – hit D on the drive select and you're off. Like every electric car it whirrs off without raising a whisper and is quickly up to 30mph in near silence. There's an evident firmness to the ride at low speed but the I-Pace is not what you'd call uncomfortable.
The I-Pace's 2.2-tonne weight and 20-inch alloys (22-inch wheels are available) make for a mighty thud if you hit a pothole or particularly rutted stretch of road, however. The ride settles at speed with the air suspension on higher spec cars (regular steel springs are fitted on the rest of the range) doing a reasonable job of smoothing out the jiggles.
But what marks the I-Pace out against the rest of the EV pack are its steering and rock solid body control. This may be a 2.2-tonne SUV, but in truth it feels more like a sports car with the way it twists and slaloms down tight and technical roads.
Initially the steering is a little vague just off centre but it weighs up beautifully and instils the I-Pace with a sense of precision you don't get in a Tesla Model X. Turn into a corner at speed and the car remains remarkably flat while it works out which axle can make best use of all the available torque.
Mid-corner you can feel the motors shuffling power between the wheels to help slingshot you round as fast and as smoothly as possible – the result is seemingly unbreakable traction. The I-Pace changes direction with real athleticism and a nimbleness, which is partly down to a suspension setup shared with the F-Type. The bulk of the car's mass – of which the battery pack contributes a considerable amount – is also located as low down as possible to help reduce the car's centre of gravity.
Of course the I-Pace doesn't entirely defy physics; if you barrel into a corner a whiff of understeer scrubs off some speed before the traction control is able to nibble away at the front axle. If there is a weak spot it's the brakes – but that's not uncommon for an electric car. The pedal feel is soft and mushy for the first half of its travel before eventually firming up, albeit artificially.
Being electric, the Jaguar I-Pace doesn't have an engine as such; a 90kWh lithium-ion battery (although there's only 85kWh of usable energy), which drives two electric motors, powers it. Currently it is the only size battery available in the SUV.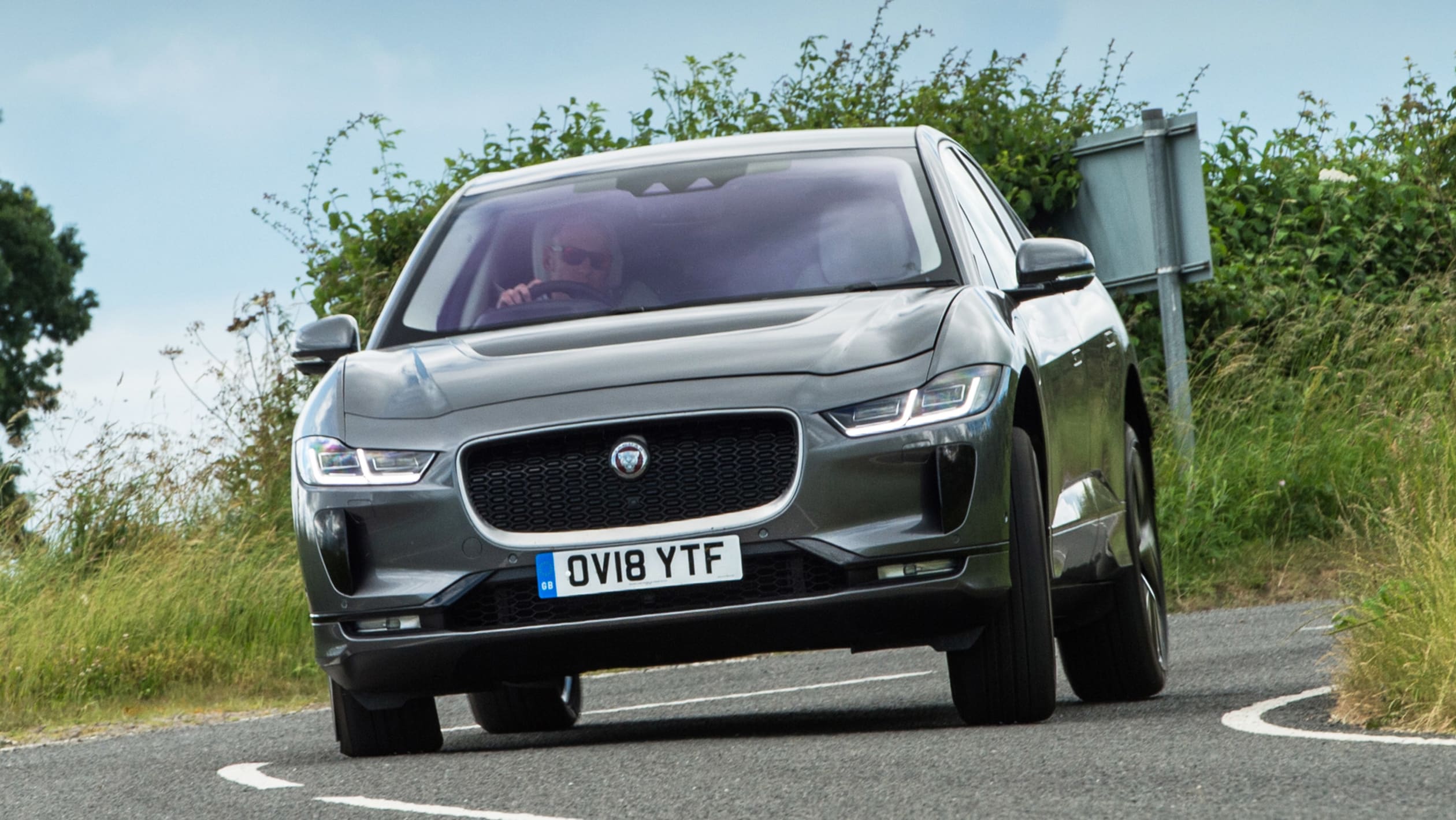 Of course with 295kW and 696Nm of torque available from a standstill the I-Pace feels exceedingly quick – quicker than the 4.8 seconds Jaguar says it takes to get from 0-100kmh. To replace the absence of engine noise Jag has fitted a synthetic soundtrack, which you can adjust from 'calm' to 'dynamic' – it's a neat feature and adds to the sense of speed, but it's a bit of a gimmick and we quickly left it alone.
In our back-to-back test with the Tesla Model S Long Range, the I-Pace lagged behind its rival slightly in pure performance terms. According to our figures the Jaguar sprinted from 0-100kmh in 4.4 seconds, which is just 0.1 seconds shy of the Model S. It trailed further behind when accelerating from 50-110kmh, however, taking 3.7 seconds compared with the Tesla's time of 3.1 seconds.
The I-Pace will take a full 12 hours to fully recharge from a 7kw charger
Draining the Jaguar I-Pace battery is a lot of fun, but topping it up takes longer than Jaguar will have you believe. The I-Pace will take a full 12 hours to fully recharge from a 7kW charger. A 40-minute blast from a 100kW charger will give you almost 390km miles of range, while a 50kW charger takes almost an hour and a half to achieve the same amount. Rapid chargers (25kW-99kW) and ultra-rapid chargers (100kW+) have become more readily available, but the majority of buyers will top up at home or the office from a smaller 7kW charger or wallbox, which takes over 12 hours for a 100 per cent recharge. You will only want to charge the I-Pace from a three-pin domestic plug socket as a last resort – doing so will take no less than 27 hours to fully replenish the battery.
Another neat trick the I-Pace features to help keep the battery topped up is regenerative braking. As soon as you lift off the throttle, the I-Pace begins to slow until it comes to a complete and natural stop. It's a wonderful feature and immediately makes you more aware of when and where to apply the throttle, nudging you into a more efficient and relaxed driving style.
As Jaguar has never built a car like the I-Pace before, it was difficult to predict how strong the I-Pace's resale values would be. However, it's likely that the I-Pace should hold onto around 55 to 60 per cent of its value over a three-year period.
In the metal and away from the bright lights of a motor show stand the I-Pace looks fantastic – the proportions are superb. Its squat, muscular stance and short overhangs mean there's little else like it on the road. That may cause a problem for Jaguar, however, as it ages everything else the brand has in its showrooms by 10 years.
Climb inside and things look more familiar. In top-spec HSE models the cabin is a sea of leather, polished wood finishes and aluminium. Despite the mountain of battery cells beneath the floor the driving position is excellent; lots of adjustment in the seat and steering wheel mean you can make it feel more like an F-Type behind the wheel, with the steering wheel up high and close to your chest.
Every I-Pace comes with Jag's new Pivi Pro infotainment system comprising a 10-inch touchscreen on the dash and, for SE and HSE, a smaller display on the centre console. It looks incredibly slick and for the most part, simple to use. It's a definite improvement on the old Touch Pro Duo system, although you can get lost in the layers of menus and sub menus when trying to adjust some of the car's settings.
The lack of haptic feedback can make the screen tricky to operate on the move, especially when trying to select some of the shortcut buttons along the bottom of the display as they are quite small. And at long last, Jaguar has made Apple CarPlay and Android Auto phone pairing standard on the I-Pace, so owners can bypass Jag's infotainment system entirely if they wish.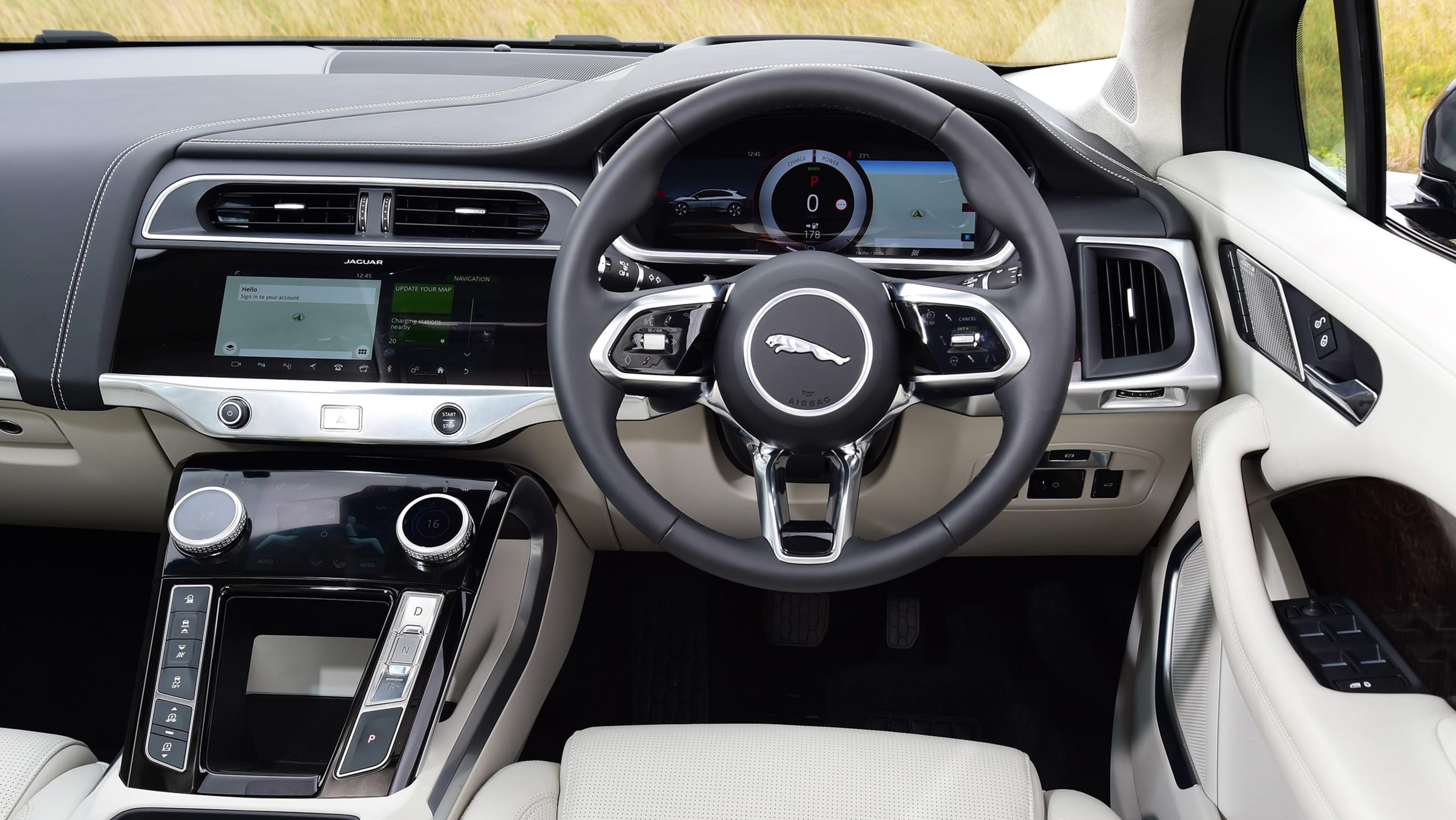 First seen in the new Land Rover Defender, the new media system allows you to connect two phones over Bluetooth at the same time, and the sat nav shows not only where the nearest charging stations are, but how much you can expect to pay for a charge as well. High-tech features like 3D surround-view cameras and the ClearSight digital rear-view mirror are available.
The flat floor and lack of engine means the Jaguar I-Pace is surprisingly practical and crammed with handy storage solutions. The central armrest hides a 10-litre cubby, the centre console has been hollowed out and features two USB charging ports for mobile phones, while pull out trays beneath the rear seats can swallow a laptop or iPad each.
The I-Pace is quite a large car and shares a very similar footprint to an Audi Q5 in terms of size. It measures in at 4,682mm long, 1,895mm wide and 1,565mm tall, which makes it slightly smaller than its nearest rival the Tesla Model X. However, the I-Pace does have a slightly longer wheelbase of 2,990mm, which means more space for passengers inside.
There's also a decent amount of space in the back. Your feet slide neatly under the seat in front and because there's no transmission tunnel and plenty of headroom you could seat three adults in the rear – shoulder room may be a little tight though.
The boot is flat and can swallow 505 litres of luggage, while dropping the rear bench frees up 1,163 litres in total – a little smaller than something like an Audi Q5 but still a generous size. There's also a 27-litre 'froot' under the bonnet.
The Jaguar I-Pace is still fairly new and so its reliability is unproven. However, Jaguar finished in 12th place overall out of 30 manufacturers in our 2020 Driver Power owner satisfaction survey – owners were impressed with their cars' engines, driving experience and safety features, but reliability was not a strong point, with over a quarter of owners reporting having experienced a fault with their car. It remains to be seen how the I-Pace will fare over the course of a typical three-year ownership cycle.