Kia Rio hatch gets mild-hybrid powertrain plus clever manual transmission as part of 2021 refresh.
Electrification is so important these days that even small, affordable cars are being supplemented with a battery-derived boost to help improve efficiency and save the planet (not to mention avoid fines for manufacturers).
And so it is with this facelifted 2021 Kia Rio supermini, because the Korean compact five-door features a new mild-hybrid 1.0-litre turbocharged three-cylinder engine.
That's as good a place to start as any, because the fresh unit is supported by a small lithium-ion battery that feeds a belt-starter generator. This can add a short boost of torque when pulling away or accelerating at low speed to help take the load off the petrol engine and improve efficiency, with claims of 4.5L/100km and CO2 emissions of 122g/km, according to Kia.
It's a strong unit, too, pulling well from low down and offering plenty of flexibility. The only notification you'll get of the electrical assistance is a little graphic that shows energy flow in the 4.2-inch central display between the analogue dials.
While such efficiencies are not pressing to be introduced into Australia, the inevitability of streamlining global drivetrains is seeing them introduced Down Under.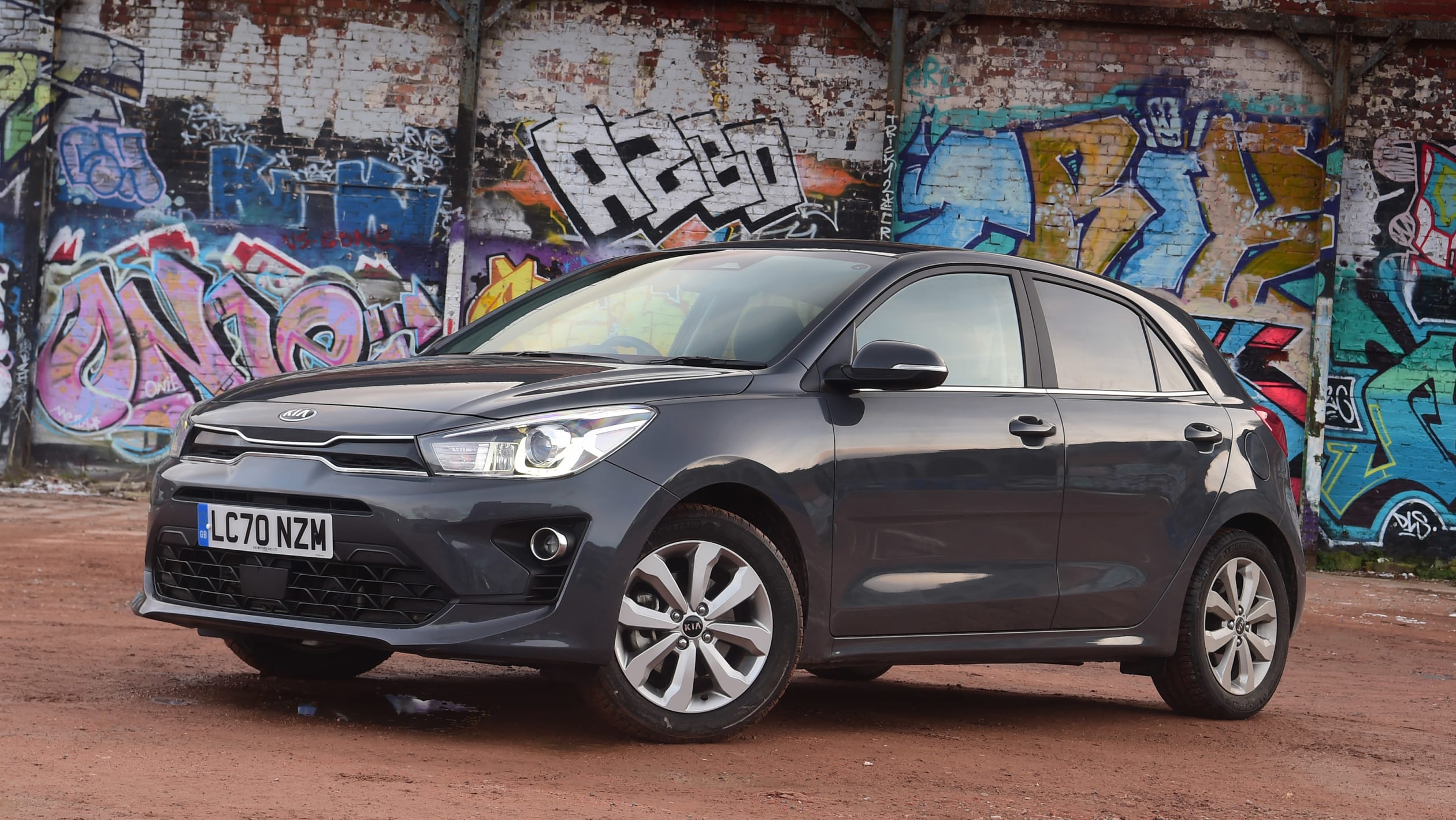 Along with the new engine, the Rio receives Kia's new six-speed intelligent manual transmission. It's a manual, but not as we know it, because you still move the lever yourself, but the clutch pedal doesn't have a physical link to the clutch disc in between the engine and gearbox.
Instead, the movement of your left leg is relayed electronically. The real benefit is that, along with the belt-starter generator and the 48V electric system's battery to power ancillaries, this set-up can switch the engine off on the move and send the Rio into 'sailing' mode to improve efficiency when you lift off. It's quick and smooth to engage, and just as quick to fire the engine back up again.
You don't notice the lack of a mechanical link between the clutch pedal and the clutch because the Rio's left pedal is as easy to modulate as any regular set-up.
True, the engine is a little grumbly and not as quiet as in its sibling, the Hyundai i20, which uses the same motor detuned to 74kW, but it's far from raucous.
This trait of hitting the middle ground rather defines the new Rio. The ride is so-so, offering enough comfort but not the same level of ride quality as the Renault Clio; it just gets a little upset and ruffled by bumps in town and on weathered B-roads, but at least on the motorway it's settled. The light steering means it's best suited to built-up areas, because there's not the same level of enjoyment to be had as in rivals such as the Ford Fiesta, but its handling is safe and secure, and fits the brief.
A disappointment is that it lacks kit like a digital dashboard. Given that this tech (and very good it is, too) exists within the Hyundai-Kia stable, it would have been nice to see it feature on the facelifted Rio.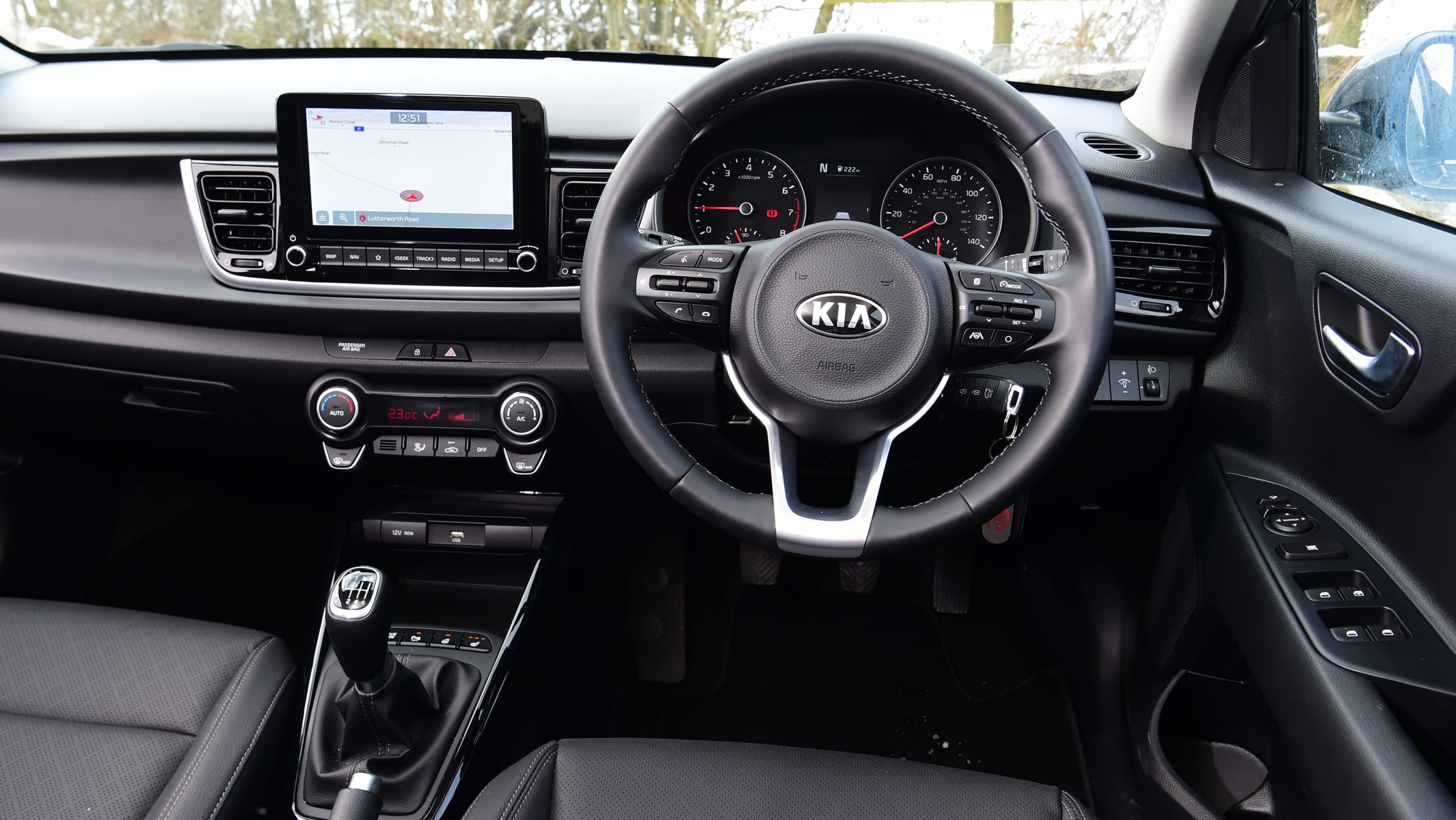 Otherwise, the revised infotainment set-up is strong, featuring an eight-inch touchscreen with sat-nav, Apple CarPlay and Android Auto, plus great graphics. It works with the slick speed all of Kia's tech does, which means it's simple and intuitive.
The cabin design has been tweaked and works around that central screen, which is placed well, while the exterior has had a subtle makeover as well.
Given this facelifted model is based on the same platform as the fourth-generation car, practicality is similar, which means access to the back of this five-door-only model is easy, while there's a fair level of space in the rear and a 325-litre boot.
Kia's new 48V mild-hybrid tech has boosted the Rio's appeal in what is an incredibly crowded class, but it still doesn't give it an all-important USP. That means Kia is still behind the best on offer, despite this model serving up enough practicality, respectable efficiency and a fair level of kit.
Sean Carson