Second-generation MBUX system features fewer buttons, augmented reality and sensor-activated functions
Mercedes-Benz claims the new S-Class, which is set to make its debut later this year, will feature a "revolutionary" interior design that will offer new technology and design features aimed at enabling unprecedented levels of comfort.
The German firm has previously confirmed the seventh generation of flagship saloon will be the first to feature a new version of its Mercedes-Benz User Experience (MBUX) infotainment. Mercedes has now released a series of new official teaser images of the interior, and given further details of some of the new 'luxury and well-being' design features.
Mercedes says the interior of the new S-Class has been designed to offer "a feel-good ambience with lounge character", with the firm saying its has taken design cues from both interior architecture and yacht design. It claims the interior offers "a third place" that serves as a "refuge between home and workplace."
There is an entirely new dashboard design, featuring an ergonomic display arrangement. The interior includes large trim elements built into the dash and offered in the car's rear as part of the 'First Class rear suite'. They are made from open-pore wood veneer with aluminium inlays.
Mercedes will also introduce new versions of the 'Energizing Comfort' features in the car. They include a new air filtering system, which will filter out fine dust, pollen and odours, and in certain markets will show the exterior air quality.
There are also a series of additional programmes that alter various interior settings such as the massaging seats. The new 'coach' function can sync with fitness and wellness trackers to suggest comfort settings for planned trips by analysing data about an owner's sleep quality or stress level.
Mercedes notes that in the S-Class's primary markets – the US and China – the car's owner customarily sits in the back, so it has "systematically designed the new edition of its flagship model with the rear in mind". As such, rear passengers have access to the same infotainment functions as those in the front, controlled via up to three touchscreens – each of which can be specified with OLED technology and haptic touch feedback.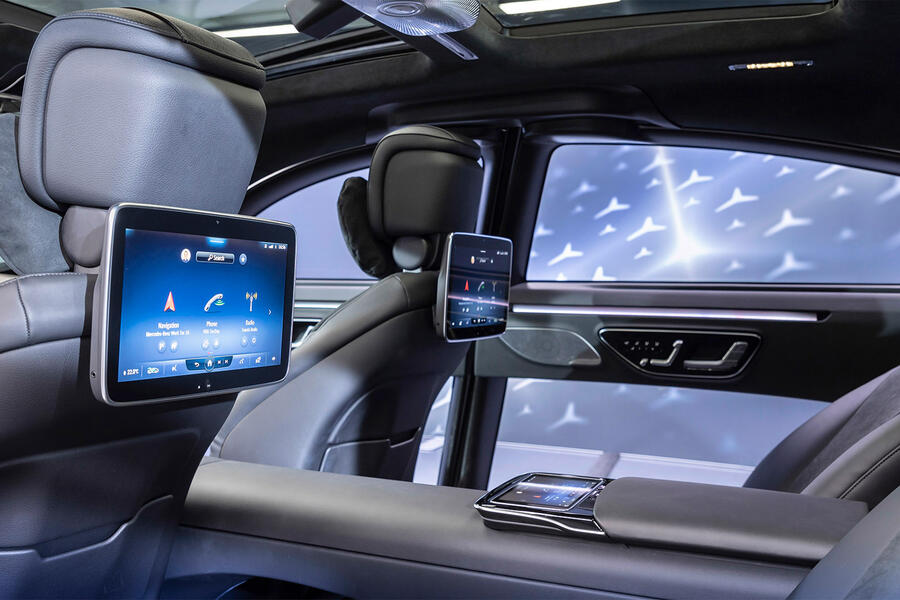 Increased use of sensors plays a big part in the system's update. The exit warning function can detect when an occupant wants to leave the car, the interior's ambient lights flash red when another vehicle approaches a blindspot and the front passenger seat can detect whether a child seat is correctly secured.
The S-Class can also automatically automatically adjust the seats and mirrors according to suit the driver, raise and lower the rear roller blind when the driver looks over their shoulder and operate the sliding sunroof according to hand gestures.
There are 27 fewer traditional buttons and switches in the new S-Class compared than in today's model, with a heightened emphasis on swiping, voice control and hand gestures. Some functions, however, such as the headlights and windscreen wipers, can be operated using familiar physical controls.
The MBUX system's trademark "Hey, Mercedes" voice recognition function has been upgraded as well. It can now be used to explain where the car's first aid kit is located and connect to a smartphone via Bluetooth, as well as traditional functions such as accepting a phone call or displaying the sat-nav map. If a driver says "I'm tired", the system will activate an 'energising' programme, or if a rear passenger says the same phrase, a 'wellbeing' programme.
As part of the upgrades, Mercedes has also tightened the security of its infotainment. As well as requiring a PIN to enable certain functions, it will use a combination of fingerprint, face and voice recognition to give access to individualised settings or verification of digital payment processes.
MBUX can be connected to the Mercedes smartphone app to allow for owners to set up to seven different profiles – with preferred automatic seat, radio and lighting settings – and activate them by scanning a QR code on entry. These can then be transferred via the cloud to other Mercedes models equipped with the same system. The cloud software also allows for Smart Home-equipped appliances and domestic systems to be controlled from within the car.
Augmented reality features, too, projecting three-dimension directional arrows onto the road ahead to reduce the need for the driver to take his or her eyes off the road.
Felix Page