We take a ride in Mercedes' reinvented, driver-focused flagship to see if it has the potential to top the limo class.
Mercedes-Benz says it will revolutionise luxury car dynamics with its seventh-generation S-Class, which will offer two different rear-wheel steering set-ups within a host of new chassis functions intended to make it the most agile, driver-focused luxury limousine.
Planned to be unveiled in early September, prior to deliveries starting in 2021, the new S-Class will be the first non-AMG Mercedes to offer four-wheel steering – a function already available on its Audi A8 and BMW 7 Series competitors. Of the trio, the BMW has always been notably the most driver-focused.
While rival systems offer only a few degrees of rear-wheel steering angle, one of the set-ups developed for the new S-Class achieves up to 10deg – a figure usually seen only on large commercial vehicles. The move provides the new standard-wheelbase S-Class with a considerable 2.0-metre reduction in turning circle from the current model's 10.2 metres, according to S-Class chief engineer Jürgen Weissinger. This compares with a 11.4-metre turning circle for the A8 when it's fitted with its Dynamic All-Wheel Steering.
Weissinger says the new system brings added agility in urban conditions as well as vital improvements in handling and stability at higher speeds. Automotive Daily's exclusive partner Autocar took a brief ride in the rear of a near-production prototype, and this confirmed the first claim, as the S-Class tackled tight spaces with all the ease and manoeuvrability of a much smaller car.
The impression is of a much wieldier car than the current S-Class, having the ability to turn in to parking spaces and gaps in traffic without the need for any steering correction. "It's a whole new world," said Weissinger. "The turning circle is better than that of the A-Class. It really is a game-changer."
To steer its rear wheels, the S-Class uses electroactuated arms incorporated within a newly developed five-link rear suspension. As is usual with these systems, it steers in the opposite direction to the front wheels at low speeds and the same way (at up to about 1.7deg) at higher speeds. A second set-up, reserved for S-Class models with rear wheels a different size to the fronts, can achieve a more conventional angle of 5deg. Also new is a the latest development of Mercedes' 4Matic four-wheel drive system, which features fully variable apportioning of drive, and a new active suspension system, E-ABC, which includes a curve function to counteract body roll through turns and better control pitch and dive under acceleration and braking.
These advanced underpinnings will be offered alongside a newly developed Airmatic air suspension as standard. Now based on the second-generation version of Mercedes' MRA platform, the S-Class will again offer three different wheelbases: standard, long and extended. Also like its predecessor, it will be sold in Benz, AMG, Maybach and Pullman forms. However, both the S-Class Coupe and S-Class Cabriolet won't be replaced, victims of a range of cost-cutting measures initiated by new Mercedes chairman Ola Källenius.
We can confirm the standard-wheelbase S-Class has been extended by 71mm to 3106mm, while the long-wheelbase car has grown by 51mm to 3216mm, giving the new saloons larger cabins with greater accommodation. Weissinger (who also heads development of the upcoming electric EQS) claims a "near to 60 per cent aluminium content" in the body of the new S-Class makes it "considerably lighter" than the model it will replace.
Also contributing to greater fuel efficiency is a series of aerodynamic developments, including the adoption of flush door handles, that are said to give the S-Class a class-leading drag coefficient of just 0.22Cd.
Weissinger said: "When you develop a car that has traditionally been described as the best car in the world, you have to work on every small detail. There are improvements in every area of its design."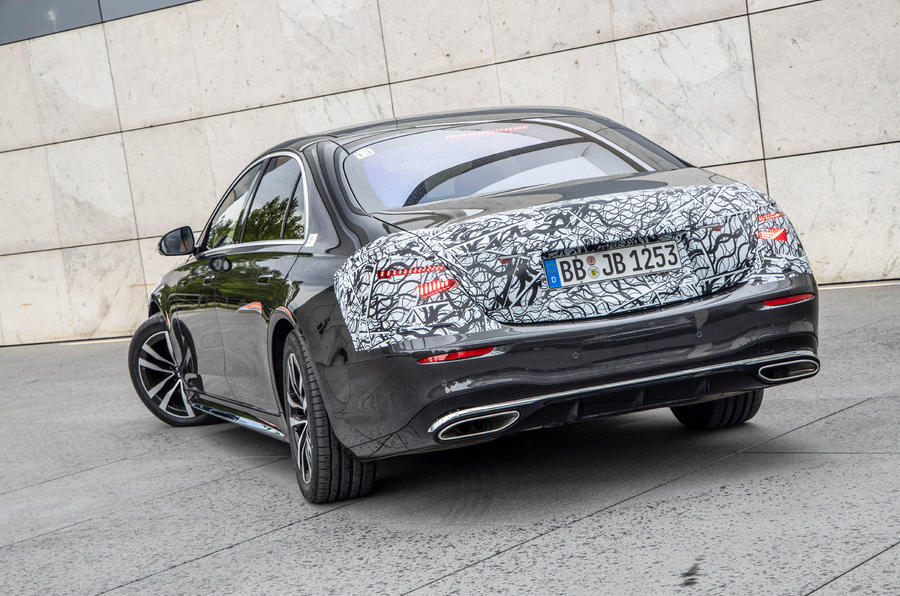 Mercedes is yet to announce the engines for the S-Class, but Automotive Daily's partner Autocar can confirm that it will receive both turbocharged 3.0-litre straight-six and twin-turbo 4.0-litre V8 petrol units in mild-hybrid form with a 48V integrated starter-motor. Also available in some markets will be a 2.9-litre in-line six-cylinder diesel engine.
Weissinger revealed that new S-Class will continue to offer the 6.0-litre twin-turbo petrol V12 as well, albeit only in Maybach-badged models.
The sole plug-in hybrid at first will be the S580e. This uses a turbocharged 3.0-litre straight-six petrol engine in combination with a gearbox-mounted electric motor and the 31.2Wh lithium ion battery from the GLE 350de, giving it a claimed electric-only range of more than 100 kilometres.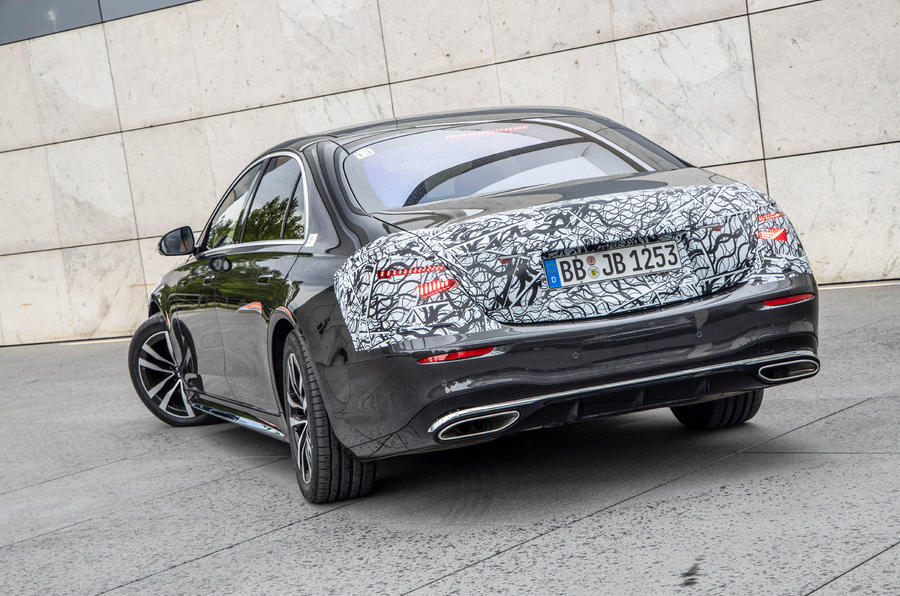 The exterior represents an evolution of today's car, with new detailing, a bolder looking grille and horizontal tail-lights that, in a first for the S-Class, extend into the bootlid.
The interior, meanwhile, has been heavily reworked, with an emphasis on a reduction of switchgear. The button count alone has been reduced by 27. Their functions have been moved to digital screens, of which there can be up to five: an instrument display and a portrait-orientated 12.8-inch touchscreen within the centre console are standard, while buyers can specify up to three touchscreens in the rear.
Our first ride confirmed that Mercedes has once again set the standard in terms of technology. Of particular note is the new digital instrument display, which provides a full 3D experience without the driver needing to wear 3D glasses.
Another key development is the new augmented-reality head-up display, which projects important information into the driver's eyeline at a virtual distance of 10 metres ahead.
Greg Kable