Meet the most advanced production car yet to wear the three-pointed star.
Not since the very first Mercedes-Benz models started rolling off the production line in 1926 to set the brand on course for global luxury car prominence has Stuttgart attempted to produce something approaching the engineering complexity and sheer technical ambition of the new S-Class sedan.
"In investment terms, no other Mercedes model comes close," says Jürgen Weissinger, the man charged with the development of the seventh-generation S-Class and its upcoming new sister model, the electric EQS.
The Mk7 S-Class isn't just new; it also represents an entirely different engineering and technical philosophy to the car it replaces. It's one centred on electrification, digitisation and connectivity, albeit within the flagship model's traditional values of comfort, refinement and performance.
It's the first Mercedes developed to drive fully autonomously without a driver, if only within the confines of a suitably networked parking garage, where it will search for empty bays and park itself fully remotely. This is part of a newly developed Park Pilot system that draws on level-four autonomous driving technology not yet offered by any competitor.
Furthermore, the S-Class now supports level-three driving at an EU-prescribed top speed of 60km/h (at first only on selected sections of German autobahn) as a function of a new Drive Pilot system that uses lidar, short- and long-range radar, ultrasonic sensors, cameras and, it's claimed, the most advanced GPS yet to feature in a production car.
Another first is over-the-air capability, which allows remote software updates to be made for more than 50 different components via an embedded SIM card.
It's a bold leap in technical terms even by S-Class standards, driven by recent advances made by rivals such as the latest Audi A8, BMW 7 Series, Lexus LS and Tesla Model S, no less, and Mercedes knows it. We could sense the nervousness of its normally self-assured engineers during the car's launch in Germany last week.
Although the new S-Class heralds many new developments, it will rely on some tried-and-trusted powertrains as it enters the market.
Included is a turbocharged 2.9-litre diesel developing 210kW in the S350d (available in standard rear-wheel-drive and optional 4Matic four-wheel-drive guises) and 250kW in the S400d 4Matic. It's joined by a turbocharged 3.0-litre mild-hybrid petrol making 325kW in the S500 4Matic, which we're driving here.
Further options are planned to follow, including a new twin-turbocharged 4.0-litre mild-hybrid petrol V8 in the new S580, as well as a newly developed plug-in hybrid powertrain that's claimed to provide the new S580e with an electric-only range of up to 100 kilometres – more than double that of its predecessor, the S560e.
And that's not all: the upcoming Maybach S650 will maintain an S-Class tradition started in 1992 by continuing with a twin-turbocharged 6.0-litre petrol V12.
There will certainly be no lack of choice, then. But what of the looks, which are always a key S-Class identifier? The evolutionary styling changes brought to the exterior should go down well within the conservative realm of luxury car buyers. It's a predictable update that brings a much bolder grille, more angular headlights (which offer as an option Mercedes' outstanding Digital Light technology), traditionally smooth and unadorned flanks and new LED tail-lights that extend into the rear of a sloping bootlid to set up a rear-end appearance similar to that of the CLS.
Nearly every S-Class will get the sporty AMG styling pack as standard. For the first time on any Mercedes, customers can choose between two different types of door handles. Conventional grip handles similar to those used by the current generation of Mercedes models come as standard, while new flush-fitting electrically operated handles that pop out when you approach the car with the key fob are an option.
These optional handles are part of a wide range of aerodynamic developments made to the S-Class, including an almost flat underbody, that combine to provide the car with a class-leading drag coefficient of 0.22Cd, down from 0.24Cd.
This improvement in efficiency comes despite a moderate increase in dimensions: the S-Class is 34mm longer, 55mm wider and 12mm taller than before overall. It also receives a wheelbase extended by 51mm over its predecessor, up to 3216mm, in long-wheelbase guise.
The basis for the new S-Class is a heavily re-engineered version of Mercedes' MRA (Modular Rear Architecture) platform. A key development is the new Rear Wheel Steering system, which buyers can specify with two different levels of steering assistance to the rear wheels: one bringing a steering angle of up to 4.5deg, as fitted to our test car, and another, more advanced arrangement, an angle of up to 10deg.
As a result, the turning circle of the long-wheelbase S-Class 4Matic is reduced by 0.9m to 11.9m or by 1.9m to an impressive 10.9m. The standard suspension mates Mercedes' AirMatic set-up with the latest generation of its ADS+ adaptive damping control. This is offered alongside an advanced new E-Active Body Control set-up from the latest GLE and GLS.
Inevitably, the S-Class's larger dimensions lead to an increase in kerb weight. Despite the greater use of aluminium within its body (it now makes up around 60% of the complete structure at the expense of steel), the S500 4Matic tips the scales at 1990kg. Without a direct predecessor, it's difficult to identify an exact increase, although Mercedes puts it at around 55kg.
Open a door and the apparent conservatism evident with the exterior is instantly wiped aside by a brilliant interior. It represents an entirely different approach in terms of not only design but ergonomics, comfort and accommodation, too.
The dashboard, trimmed with a large panel of wood that extends into the front door trims and topped by a quartet of small rectangular air vents, has distinctive maritime overtones. It's the two separate digital displays on which you initially focus your attention from the broad and softly cushioned driver's seat, though. Included is a 12.3-inch screen (with an optional 3D function) for the instruments alongside a separate 11.9-inch portrait-oriented central touchscreen that incorporates controls for the air conditioning and myriad other functions.
Ahead of the driver is a newly developed double-spoke steering wheel that features a dual-zone sensor within its leather-lined rim to detect when the driver is properly gripping the wheel, as well as new touch control buttons that function capacitively and shift paddles for the automatic gearbox.
It's an appealingly uncluttered driving environment with a fitting richness to the materials – and it all proves relatively straightforward to operate right from the moment you hit the start button. Overall, there are 27 fewer analogue controls than before, with the emphasis shifted to swipe, conversational voice and gesture controls via Mercedes' MBUX operating system, which is said to have 50 per cent more computing power than the Comand system used by the previous S-Class.
Accessing the various functions via the main menu within the central touchscreen is easy, although it takes more time to familiarise yourself with the deeply stacked submenus. There's no rotary controller any more, and the fiddly touchpad incorporated into recent Mercedes has thankfully been consigned to history, too. Supplementing the two high-definition displays is a terrific new head-up display featuring augmented reality functions for the first time within a much larger display area than before.
Another noteworthy option is the new flagship Burmester 4D sound system, which has 31 speakers and subwoofers integrated within the backrests of each of the front seats. The rear, meanwhile, can be specified with two high-definition 11.6-inch touchscreens mounted on the back of the front seats, also using the MBUX operating system, in combination with a portable tablet through which occupants can access various functions both inside and within close proximity of the car when the ignition is triggered.
While accommodation up front is virtually unchanged, the rear benefits from an additional 16mm of head room, 24mm of leg room and 11mm of elbow room compared with the old S-Class in long-wheelbase guise. Boot capacity has also been increased, by 20 litres to 550 litres.
Overall, there are 10 airbags as standard, all situated up front. A further eight airbags can be added to the rear as an option, including newly developed ones that deploy from the backs of the front seats. In addition, Mercedes has provided the new S-Class with more than 20 standard driver assistance systems.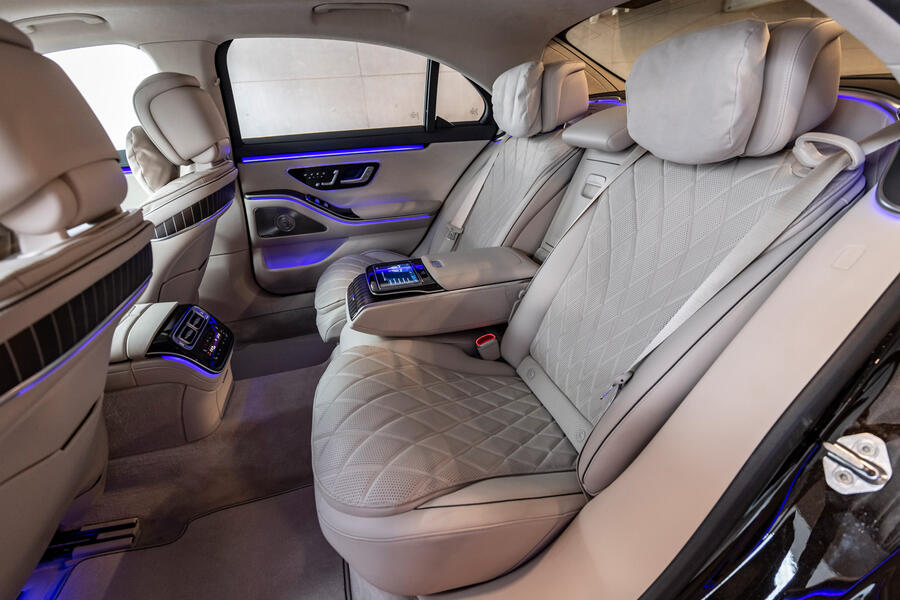 Although it doesn't improve on the power and torque of its predecessor, the S500 4Matic's carried-over six-cylinder engine delivers its power fluently and smoothly, if not quite with the silken qualities of some rivals. With great low-end urgency thanks to the combination of both combustion engine and electric motor propulsion, a highly flexible mid-range and an eager top end, it also provides the initial range-topping S-Class variant with the sort of performance to allow it to challenge V8-powered rivals for outright drivability and speed.
The S500 4Matic adopts the latest in Mercedes' EQ Boost mild-hybrid technology, including a gearbox-mounted integrated starter-motor that provides an additional 16kW and 250Nm under acceleration, taking the car's overall torque loading to 770Nm – rather generous by six-cylinder standards.
As before, drive is channelled through an in-house-produced nine-speed automatic gearbox and the 4Matic system, which uses a central differential to apportion drive between the front and rear wheels.
All up, there are four different preset driving modes: Eco, Comfort, Sport and Sport Plus. An additional Individual mode allows you to tailor the characteristics of the steering, throttle and damping to your liking.
It's in Comfort mode where the new S-Class is at its compelling best. Here, the electromechanical steering (in combination with the milder of the optional rear-axle steering systems) is light but encouragingly accurate; the engine is suitably subdued in stop-start traffic and at constant cruising speeds; and the ride, at least on the optional air suspension of our test car, is superbly supple in its actions, almost as if it's gliding, totally isolated from its surroundings.
On smooth German roads, it filters out small bumps with outstanding shock absorption and great isolation from the road surface. Its overall refinement is truly exceptional, making it a very cosseting car to travel in over extended distances. There may be a distant hint of exhaust roar as engine revs rise before the gearbox quickly chooses a higher ratio but, like the lick of wind around the door-mirror housings and road noise, it always remains distanced from the serene surroundings of the leather-lined cabin.
Switching into Sport mode is a quick and simple process, either via one of the few remaining analogue switches or via the Drive Select menu on the central touchscreen. So configured, the S-Class takes on a distinctly keener, more responsive and terrifically agile feel. The first hint of this is through the steering, which weights up accordingly. The throttle gains added sensitivity while the exhaust note also becomes more present, although not exactly melodious. Additionally, there's a firming up of the suspension to rein in body movements.
Outside the confines of city driving, the added weighting within the steering adds confidence, the S500 4Matic turning fluently into corners with new-found levels of agility. There's added sharpness to its turn-in and its steering is quicker to return to the straight-ahead than before, too. It's wonderfully easy to drive quickly down winding roads, the only limiting factor being its added width on narrow sections.
You get the sense that the S-Class flows more keenly from apex to apex than before, with its substantial weight hidden beneath a new layer of dynamic excellence. The quick reactions of the air suspension's three-chamber air springs quickly quell pitch and dive while providing outstanding body control in tighter bends. Meanwhile, the fast-acting 4Matic system ensures that there's always plentiful grip and excellent levels of traction as well.
The S500 is quick, too, sprinting effortlessly to three-figure speeds and continuing to gather pace. Extend the accelerator pedal towards the end of its travel and the engine's substantial shove dispatches the car down the road with an energy that defies its relatively modest engine capacity.
The S-Class isn't perfect, though. Its gearbox, while inherently smooth at lower revs in automatic mode, is sometimes caught out when you shift manually near the engine's 6200rpm redline, resulting in a thud as the heady torque loads are deployed via the 4Matic system to each axle. The brake pedal on our test car also felt unusually spongy and undefined, lacking the firmness and clarity of modulation that you would otherwise expect in a low-mileage new car.
Nevertheless, you invariably step out of the S-Class more relaxed than when you entered it. This is a luxury limo that enhances your wellbeing as competently as, if not better than, any contemporary on any given journey.
And there's more to it than pure comfort and serenity of progress: the S-Class also delivers on the driving front. The variant tested here has greater performance potential and handles with far greater precision than the previous S500, despite the fact that had a 335kW twin-turbocharged 4.7-litre V8.
More's the pity for those who will only ever experience it from the rear seats.
S-Class S500 4Matic specs

Engine: 6 cyls in line, 2999cc, turbo, petrol, plus 48V ISG  Transmission: 9-speed automatic  Power  320kW at 6100rpm, plus 16kW  Torque:
520Nm at 1800-5800rpm, plus 250kW  Driveline layout: front-engine, all-wheel drive  0-100km/h: 4.9sec  Top speed: 250km/h  Kerb weight: 1990kg  Rivals BMW 7 Series, Audi A8, Bentley Flying Spur