The newly revealed S-Class is described as the most technically advanced car that Mercedes-Benz has ever placed into series production.
The luxurious four-door has been comprehensively re-engineered around a new body structure that's claimed to be 60kg lighter than the old S-Class's despite added levels of rigidity and, it's claimed, even greater refinement.
Key among the revisions to the Audi A8 and BMW 7 Series rival is a newly developed plug-in petrol-electric hybrid drivetrain. The new S580e model promises an electric range of up to 100 kilometres on the WLTP test cycle. That's more than double the zero-emission range of its predecessor, the S560e.
Despite a renewed focus on electrification, though, Mercedes has confirmed to Automotive Daily's exclusive partner Autocar that it will hold true to a tradition started in 1992 by continuing to offer the S-Class with a twin-turbocharged 6.0-litre V12 petrol engine. It will be used by a new, yet to be revealed replacement for the Maybach S650.
Bringing it in line with its key rivals, the Mercedes-Benz flagship also offers buyers the choice of two optional rear-wheel steering systems, the most extreme of which provides the rear wheels with up to 10deg of steering angle and a turning circle that's 1.9m tighter than the old car's, at 10.9m, less than the A-Class hatchback's. The system also boosts high-speed stability as well as low-speed manoeuvrability.
In a significant move, the new S-Class, codenamed W223, will be the first Mercedes model to offer level three autonomous driving capability at speeds of up to 60km/h. Although not planned from the beginning of deliveries, the new Drive Pilot system, which uses lidar among a range of different sensors, will be introduced during the second half of 2021. It allows the driver to go hands-off for extended periods in high traffic density and "suitable sections of motorway", Mercedes says, although LED lights integrated into the steering wheel prompt the driver to take control when necessary.
The Drive Pilot system can be bundled with a new function called Intelligent Park Pilot. Offered in countries where legislation permits its use, it employs level four autonomous tech to allow the driver to remotely park the new S-Class from outside the car in garages with the necessary infrastructure via a smartphone app. The system can seek out usable spaces by itself and park of its own accord.
The S-Class's reputation for cutting-edge headlight technology is boosted by an optional Digital Light function. Made up of three main LEDs that, through refraction, achieve a resolution of more than 1.3 million pixels per headlight, it allows the projection of warning symbols on to the road for added safety.
A further first for the S-Class is over-the-air update capability to reduce dealer visits. Many of the developments in the new S-Class will also appear on Mercedes' new pure-electric EQ S, aimed at competing with the Tesla Model S and forthcoming BMW i7.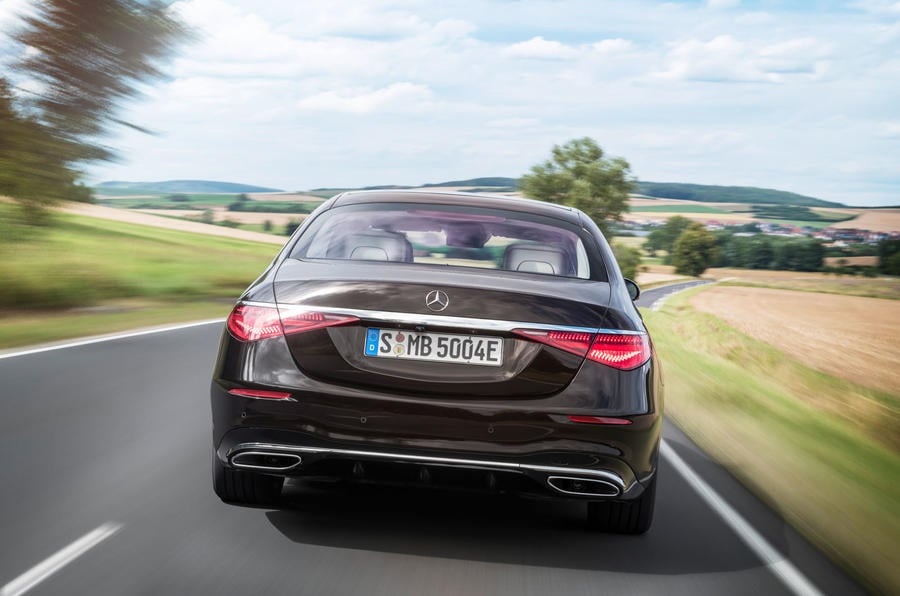 The existing S-Class Coupé and Cabriolet are not due to be replaced, leaving the sedan, in both short and long-wheelbase guises, as the only S-Class bodystyle. As with the outgoing model, it will sire various AMG, Maybach and Pullman derivatives.
The S-Class has undergone a thorough redesign for 2021. While the smooth surfacing, understated sculpting and flowing C-pillar treatment remain familiar from its predecessor, the new model sports a bolder-looking grille, slimmer headlights and new horizontally mounted tail-lights that extend into a bootlid that is not so different from the current CLS's.
For the first time on the S-Class, Mercedes is giving buyers a choice of door handles: conventional grip handles come as standard and new flush-fitting electric pop-out handles are among a long list of optional equipment.
The new S-Class is bigger than the car it replaces but not significantly so. The long-wheelbase version is 34mm longer than before, at 5255mm, with a 51mm increase in the wheelbase, at 3216mm. Width is also up by 55mm, at 1954mm, and the new car is 12mm taller, at 1503mm.
Rear leg room is claimed to have risen by 24mm in the long-wheelbase model, although rear shoulder room has actually decreased by 32mm. Boot capacity is up by 20 litres to 550 litres.
Despite a larger frontal area, Mercedes says, the drag co-efficient has been reduced from a previous 0.24 to a class-leading 0.22, making it one of the most aerodynamically efficient cars to enter series production.
In contrast to the evolved exterior, the interior has been comprehensively redesigned with developments that will be mirrored on future Mercedes models, including the upcoming fifth-generation C-Class due in December.
Up front, there's a new-look dashboard with substantial trim elements, including open-pore wood veneer with aluminium inlays, and four centrally mounted rectangular air vents in the upper fascia. Key features include a 12.3-inch digital instrument display with an optional 3D function as well as an 11.9-inch portrait-format central touchscreen dominating the centre console. Climate functions are incorporated into this screen.
There are 27 fewer analogue controls than before, with the emphasis shifted to swipe, voice and gesture controls via a further developed MBUX operating system. An advanced new head-up display featuring augmented reality and a display area claimed to be equivalent to a 77-inch monitor comes as an option, as does a new 30-speaker, 1750W Burmester 4D sound system that has subwoofers in the backrests of the front seats.
The rear, meanwhile, receives two optional 11.6-inch touchscreen displays sited in the back of the front seats, also using MBUX software, in combination with a control tablet that can be used both in and outside the car. Other key developments include a rear-seat airbag that deploys from the back of the front seats.
At launch, the new S-class will be offered with two in-line six-cylinder engines – both carried over from the outgoing sixth-generation car – in an initial four-model line-up.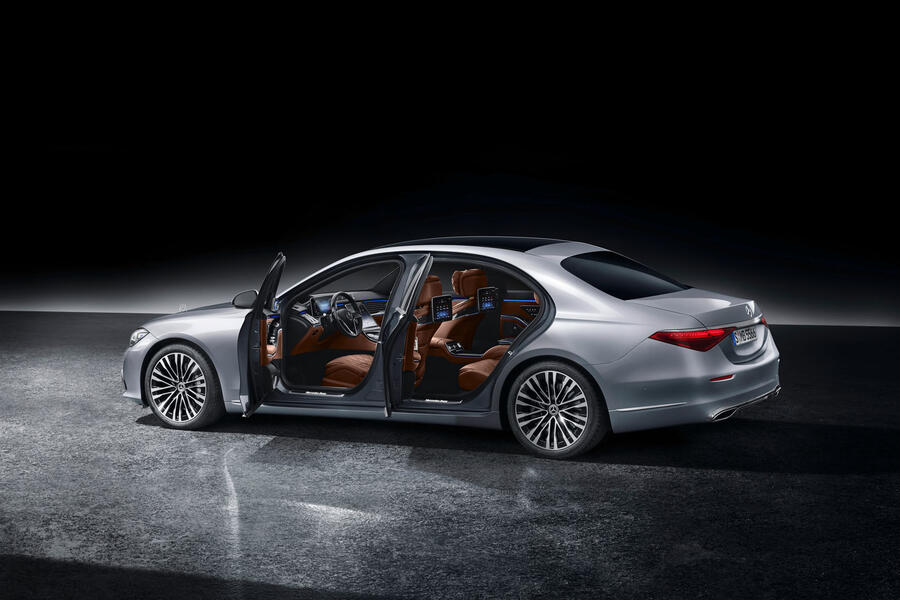 A turbocharged 3.0-litre mild-hybrid petrol unit develops 270kW in the S450 and 320kW in the S500. There is also a turbocharged 2.9-litre diesel with 210kW in the S350d and 242kW (7kW less than the model it replaces) in the S400d.
The six-cylinder petrol engine benefits from electric boosting, with an extra 16kW provided under acceleration by an integrated starter motor, together with brake energy recuperation and off-throttle coasting. The launch engines are mated to a nine-speed automatic gearbox.
The S350d offers the choice of either rear-wheel drive or optional 4Matic four-wheel drive. All of the other launch models are four-wheel drive as standard. Further drivetrains will follow, including a 48V mild-hybrid version of Mercedes' turbocharged 4.0-litre V8 372kW in the S580. That model will be joined in 2021 by the S580e, which uses a turbocharged 3.0-litre in-line six-cylinder petrol engine and gearbox-mounted electric motor with a combined output of 380kW and its electric range of more than 100km is made possible by a 28kWh lithium ion battery.
The V12-powered Maybach flagship will be unveiled at the Guangzhou motor show in November, although it is rumoured to develop a similar 463kW to the model it replaces.
Two new AMG-badged models – the S63e 4Matic+ and S73e 4Matic+ – are also under final development. Official details are still under wraps, but Automotive Daily can confirm both are set to run Mercedes-AMG's twin-turbocharged 4.0-litre V8 petrol engine in combination with an electric motor mounted within the rear axle operating on a 400V system and a lithium ion battery with a capacity around 20kWh.
In the S63e, the electric motor is said to develop 100kW, giving the car a combined system output that AMG insiders put at "close to 520kW".
The S73e, meanwhile, is set to get a 150kW electric motor for a combined 600kW, making it the most powerful S-Class model yet.
The new S-Class is underpinned by the second-generation MRA (modular rear architecture) platform and a chassis with tracks that are lengthened by 36mm at the front and 51mm at the rear.
An Air Matic air suspension with adjustable damping control comes as standard, with an E-Active Body Control suspension featuring a new Impulse Side function. It raises the vehicle body by up to 80mm when radar sensors detect an impending side impact for improved crash energy absorption in the floorpan.
The new S-Class will be produced on a new line at Mercedes' Factory 56 facility in Sindelfingen, Germany.
Q&A with Markus Schäfer, board member for Group Research and Development, Procurement and Supplier Quality.
You describe the S-Class as the most advanced car you've yet created. But there is loads of technology even in small cars these days. How do you differentiate and keep the S-Class relevant even with the luxury sedan market shrinking?
"The outgoing S-Class was extraordinarily strong even right up to the end of its life – remember it had no MBUX, stuff we have on our smaller cars. But we have a very loyal customer base for S-Class – extremely loyal base
"We are extremely confident – it's an abundance of innovation there. If you talk about S-Class it defines for me the benchmark in intelligent luxury cars.
"We work at every angle to make it intuitive to use. We want to make it so the car really recognises you and adjusts to you so you don't have to adjust to the car. You walk to the car, the door handles pop out – it knows its you because you've logged in before – it has a three-step authentication that even enables you to do payment with your car. The gesture sensors and cameras in the car can anticipate what you intend to do before the action. The car is also OTA capable, not only for the UI and the screens but also car functions. There's plenty of computing capacity in the car so it is ready for further updates.
"It's cutting-edge, to be fairly honest we are working hand in hand with regulators. We are so advanced here that in some instances there is no regulation to certify the car in certain countries. Take the digital lights – so the lights can perform 2.6m pixels. You can play a movie in your garage with the resolution the you have.
"So we are still working with authorities in a couple of countries to get it working and on the road. Germany has a really progressive approach so we have it legal there, but it's different in other countries. Same with Level 3 autonomous driving, second half of next year it will be live in Germany. There are so many features – some manufacturers have some in one car but this is has everything in one place, that's what makes it unique. "
We know that your petrol plug-in S-Class will offer a class-leading range. Is there a diesel plug-in planned?
"There is no diesel plug-in planned for the S-class. It's available for example for the GLE, E-Class. Key markets for the S-Class is China, Korea and the US, it's not predominantly a European car. Diesel is not the first choice for these countries.
"As we have already announced there is an S-Class coming [EQS]- that's the next drivetrain we are going to see, on the same production line [as S-Class] So I have to keep complexity somewhat in control, and we have to make choices. "
We know the S-Class Coupe and Cabriolet will not return with this model. Can you detail what the reason is for this?
"If you go back in our history maybe 15 years back and look at the number of variants we were creating, we had an expansion strategy, we wanted to make three million units annually, we wanted to conquer different markets such as China.
"Then we came face-to-face with transformation – in our powertrains – so we were adding plug-ins, now we are adding EV powertrains, so at some point we have to cut back on our complexity. So we are going to 'weed out' a little bit. They are great cars, the coupe and cabriolet, but I can tell you there is in one or the other fashion something coming that will replace it. If you look at the new SL coming, I think we will have many customers of the S-Class cabriolet looking at this car…
"Cabriolets are not something for China, they are not that strong anymore in the US, so we have to make some choices. So we will have S-Class: short, long [wheelbase], Maybach, which will be very differentiated from the long versions, but we have other icons that we have not paid attention to for a while such as SL. "
Greg Kable