Hybrid-only seventh-gen S-Class takes evolutionary design step, according to latest spy shots, with its debut due later this year.
Mercedes-Benz will move its S-Class flagship saloon to a new generation next year and new spy shots show prototypes are continuing to drop their disguise.
Latest images show more of the BMW 7 Series rival's overall profile and it's apparent that the brand is retaining the curvy surfacing of the outgoing model. However, the new S-Class will have a redesigned front end, with lights inspired by the latest-generation CLS.
A spy photographer has previously managed to point their lens inside a prototype, revealing Mercedes has totally redesigned the cabin around a large, portrait-oriented central touchscreen.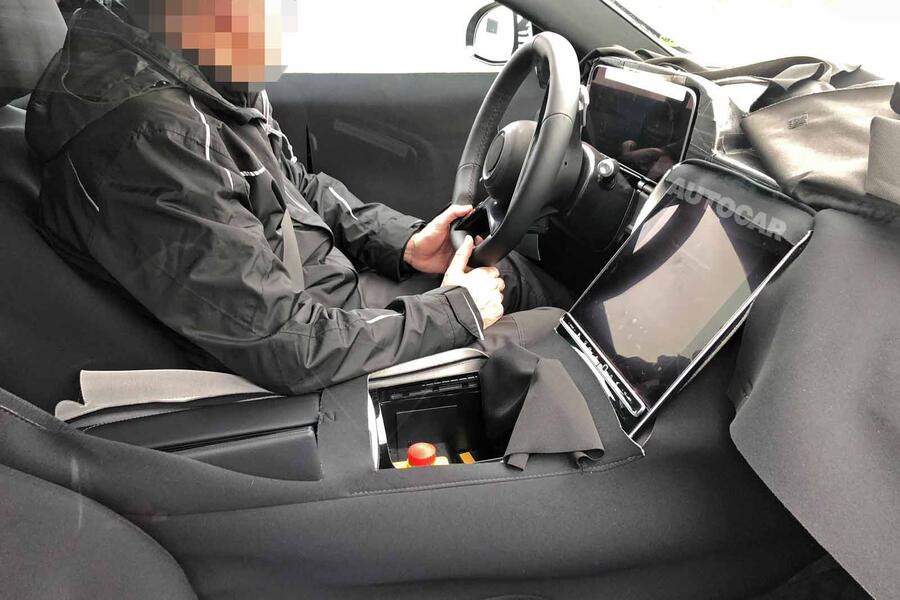 The Tesla-style display is significantly larger than any screen Mercedes has offered in previous models and detail shots show the bottom half of it is dedicated to the limo's climate control functions, with touch-capacitive shortcut buttons below.
It's likely further updates to the company's already new MBUX user interface will boost features and usability, while the brand's trademark digital dials are also visible.
The seventh-generation S-Class looks set to regain its place at the forefront of the brand's technical know-how, with a range of new electrified powertrains and advanced driver assist features. Comfort and technology levels will take a boost, with the target of lifting it beyond rivals such as the Audi A8 and BMW 7 Series.
The new Mercedes flagship, which is due in UK showrooms next year, has been developed to support two distinctly different saloon models for the first time. While standard versions are set to receive a range of plug-in hybrid drivetrains, the German car maker also plans to introduce an aerodynamically optimised pure-electric version that, insiders say, will serve as the flagship model for its new EQ electric vehicle sub-brand.
Badged EQ S, the new model will offer a claimed range in excess of 500km on the latest WLTP test cycle when it goes on sale in 2022. Plug-in hybrid versions of the S-Class will feature part-time zero-emission capability for distances of up to 100km, together with the option of a newly developed 4Matic all-wheel drive system with fully variable apportioning of drive between the front and rear axles.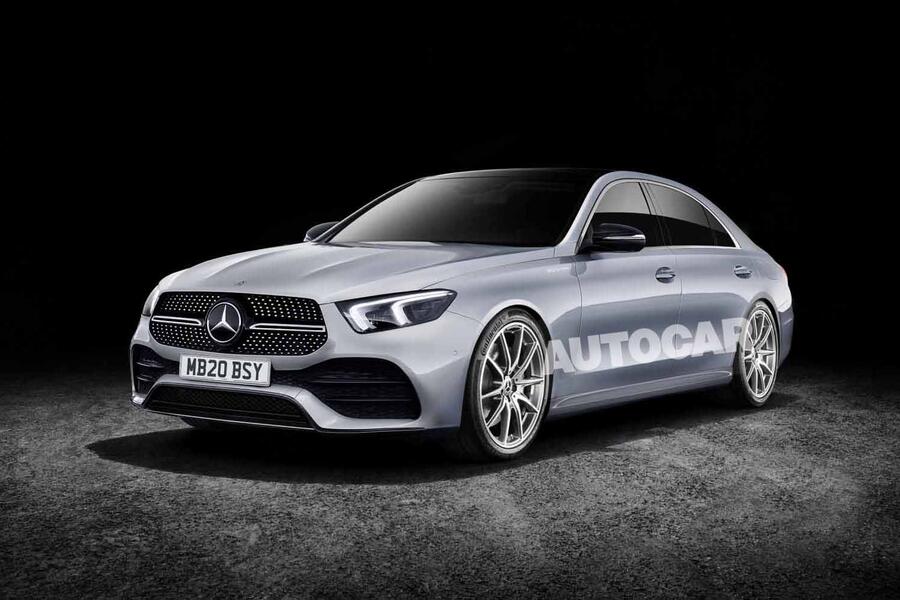 The EQ S forms part of Mercedes' £9 billion (AUD$17.5 billion) programme to introduce more than 10 dedicated electric vehicles to the UK market within the next six years.
In a further change, it is believed that Mercedes-Benz has decided to do away with its long tradition of offering the standard S-Class, which goes under the internal codename W223, with two different wheelbases. Nothing is official at this stage, but it is understood that the growth of the E-Class to a length of 4920mm is behind a decision to produce the new S-Class exclusively in long-wheelbase guise, with the car measuring around 5280mm in length.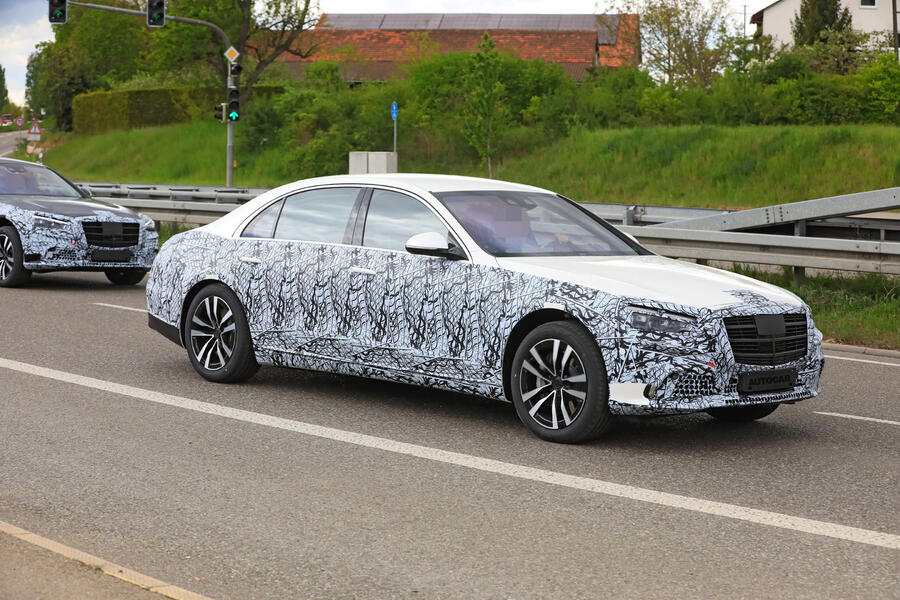 However, while the standard S-Class sits on the MRA platform, the more technically advanced all-wheel-drive EQ S will be the first Mercedes-Benz model to be based on the new Modular Electric Architecture (MEA) platform. Unlike the structures being developed to underpin smaller EQ models, it is not based on an existing platform but has been developed as dedicated EV architecture with a flat floor to house batteries.
The drivelines set to power hybrid versions of the new S-Class are based around Mercedes' latest 3.0-litre and 2.9-litre in-line six-cylinder petrol and diesel engines and the AMG-developed 4.0-litre V8, all of which operate in combination with a disc-shaped electric motor housed within the automatic gearbox and a lithium ion battery located in the boot floor.
The pure-electric EQ S is set to receive two electric motors – one acting on the front axle and the other driving the rear – providing permanent four-wheel drive in all variants. In the upcoming EQ C, this set-up delivers more than 300kW and some 700Nm, although engineers involved on the development of the EQ S suggest it will offer even greater levels of power and torque, with a planned AMG performance model earmarked to produce more than 447kW.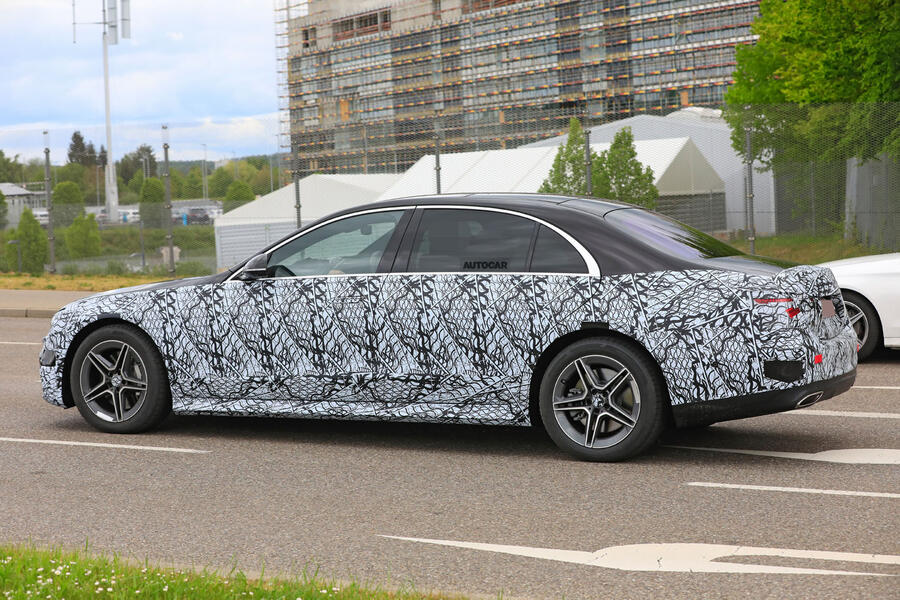 Despite the differing platforms, both the standard S-Class and the EQ S are set to share the same active suspension system. A development of the existing S-Class's AirMatic+ system, it works in combination with a 48V electrical architecture and a stereo camera that scans the road ahead to adjust the spring and damper action on each wheel, allowing it to not only counteract body lean in corners but also to better control pitch.
Stylistically, the new S-Class is claimed to break new ground with a lineage that Mercedes-Benz design studio sources say will influence a whole new generation of models. Recent prototype spy shots preview a design that will feature distinctive tri-band LED multibeam headlights, a new interpretation of the classic Mercedes-Benz grille and door handles that retract back into the bodywork to help improve aerodynamic properties.
It is understood that the EQ S will adopt its own distinct styling. Reflecting the packaging advantages inherent in electric vehicles, the EQ S will receive a shorter bonnet and more heavily raked windscreen than the standard version of the new S-Class, similar to that of the Mercedes-Benz CLS.
Greg Kable