The new 2021 petrol-powered Skoda Octavia RS is affordable, practical and fun to drive.
This is the purist's Skoda Octavia RS: the 2.0-litre TSI 245 petrol hatch model with a six-speed manual gearbox. We'll have to temper that by remembering the fact that this is a Skoda – the Volkswagen Group's more pragmatic brand – and this Octavia fits well in with that safe, sensible positioning.
It doesn't offer the thrills to compete with the likes of VW's hottest Golf GTI, the Clubsport, but then the Golf can't compete with the Skoda's all-round versatility.
The generational evolution to this fourth iteration of Skoda's hot hatchback hasn't redefined its offering then. Instead, it enhances what's always been good about the Octavia vRS models in every area.
Let's start with performance. With 180kW and 370Nm from its four-cylinder turbocharged motor, the Skoda has a relatively strong output given its 1489kg kerbweight – itself respectable considering the car's size.
It's enough for a 0-100km/h time of 6.8 seconds, which is just one tenth of a second shy of the DSG-equipped car. But the manual is all the better for the extra layer of involvement the transmission brings.
You see, the RS isn't the most overtly sporty and in-your-face hot hatch there is. Is that why Skoda has chosen to add a frustratingly artificial engine sound when you start the car up, to project a fraction more personality? It's annoying, so we chose either Comfort or Individual and opted to remove the enhanced soundtrack.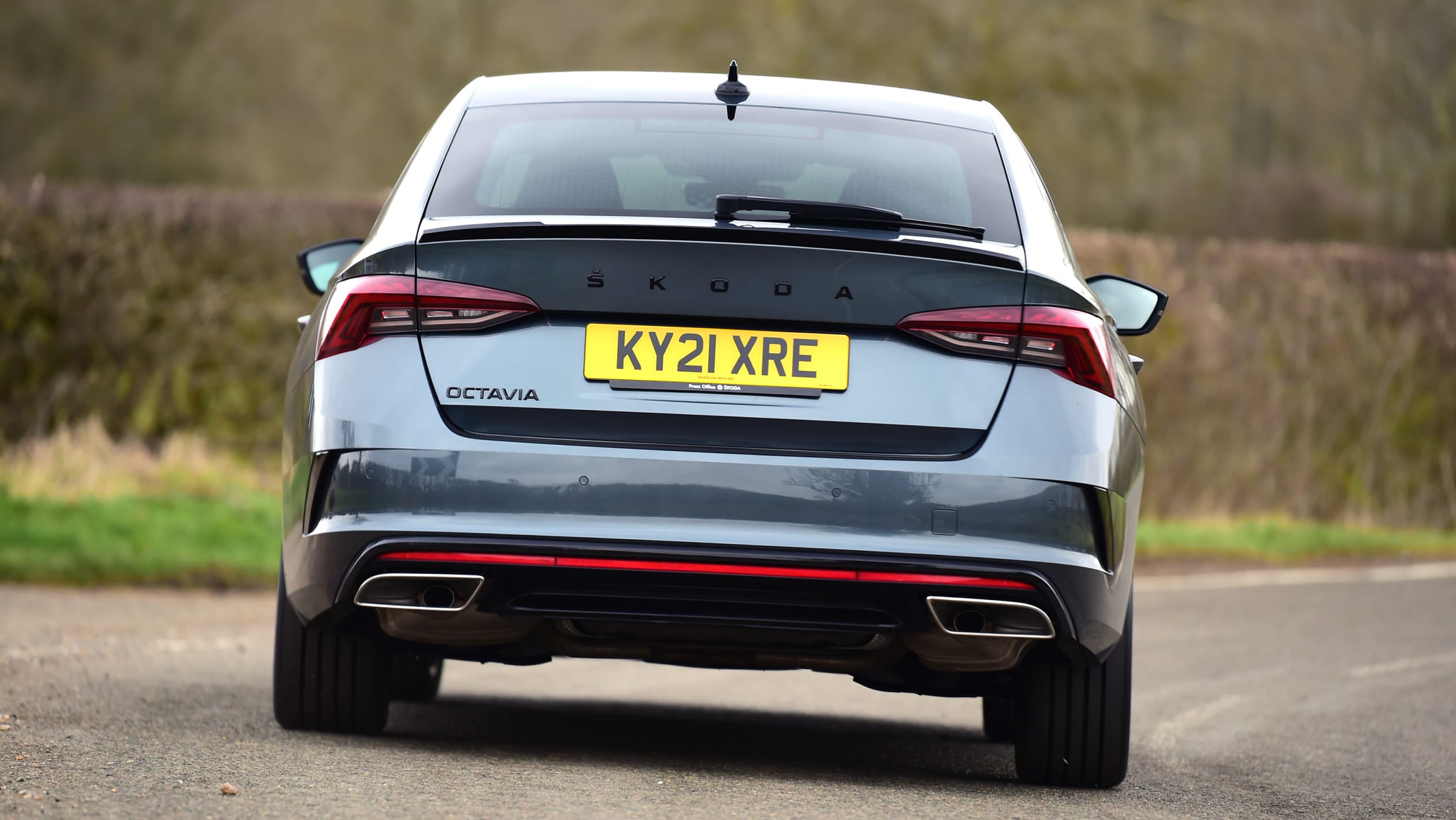 The engine revs with the kind of welcome linearity we've come to expect from the VW Group-sourced 2.0-litre unit, no matter its state of tune. There's a whiff of lag, but the boost builds predictably and is managed in such a way that it doesn't arrive in a huge dollop before the motor tails off higher up like with, say, a Ford Focus ST.
Instead, you can push the RS and enjoy its smooth top end, as well as the performance it brings. There is a point to extending the engine beyond 4,500-5,000rpm, which can't be said for all turbo cars.
The six-speed manual gearbox on test here in Europe isn't the sweetest, but it is slick enough and does offer drivers that extra tactile interaction that the DSG car can't match. You have to think more about your shifts, and it's precise enough to enjoy. When new cars powered purely by petrol are set to be extinct in less than a decade, we should savour them while we can.
The Octavia's steering is precise, but it has the age-old issue associated with a lot of fast cars on the MQB platform in that it's not at all communicative. You can still drive the Octavia accurately and despite its size, it's still agile.
It's worth mentioning here that the VAQ electronically controlled limited-slip differential does sometimes struggle to put the engine's power down from low speed or coming out of tight turns, but in medium-speed bends it helps to hook the car through turns when you get on the power.
The agility stems in part from the Dynamic Chassis Control adaptive suspension dampers fitted to our car (which already sits 15mm lower than a standard Octavia). There are three pre-set modes (Comfort, Normal and Sport) while you slide between 15 different damper settings, going further at each end of the scale if you want to, making the RS extra comfy or extra firm.
We wouldn't recommend the latter really. On 19-inch wheels Sport is enough, because the body control is taut enough so the car delivers handling that's relatively direct.
Going beyond that system's Comfort setting to fully soften the dampers does help the ride, and on the motorway at a cruise the RS is refined – there's a bit of tyre roar from the larger wheels and low-profile rubber, but it's not severe. This is a positive, because a car like the Octavia RS has to cover many bases.
It does so convincingly at the practicality end of the scale as well. Behind the big, powered boot lid boot space stands at 600 litres, rising to 1555 litres if you fold the rear seats down.
The extra length in the Octavia's wheelbase compared with a Golf (which uses the same underpinnings) means there's plenty of room in the rear. Passengers won't be cramped at all.
In the front, the Octavia's more premium-feeling cabin is just as impressive as other versions we've tried, only here there's a sportier treatment. You get contrasting red stitching for the two-piece bucket seats, a sports steering wheel and some other racier materials – including plenty of Alcantara – to reinforce this car's halo status.
Equipment specification is good, with matrix LED headlights, dual-zone climate control, adaptive cruise with AEB and lane assist, heated sports seats, all-round parking sensors, keyless operation, a 10.25-inch digital dash panel with a special RS skin and a 10-inch touchscreen infotainment system with Android Auto and wireless Apple CarPlay connectivity.
The navigation system is as slick and full featured as ever and the connectivity tech is just as strong if you'd prefer to use your own device. One niggle is that the volume and climate control adjusters use a touch-sensitive slider – there's somewhere to anchor your hand to make adjustments but in the firmer suspension modes the jittery ride can make this movement difficult, so it can take a few attempts.
Otherwise, the RS's credentials as a solid all-rounder are bolstered by claimed fuel economy of 6.9L/100km and 157g/km CO2 emissions, which are relatively strong.
This petrol-powered Octavia RS Hatch is the pick of the bunch. It's affordable, offers practicality and pace, and is the most fun RS to drive, with its revvy petrol engine. It's not the fastest or even the best-handling hot hatch, but the Skoda's strengths lie in how it combines genuinely strong performance in so many areas with a price tag and finance deals that make it hard to ignore.
Sean Carson