Badge-engineered hybrid wagon holds plenty of pragmatic appeal.
I'm not trying to be cryptic here, but when is a Suzuki not a Suzuki?
Answer: when it's a Toyota. The new Suzuki Swace feels familiar because behind the badges sits the Corolla Touring Sports.
Bodywork, 89kW hybrid powertrain, shiny new TNGA platform, surprisingly elegant interior fixings; everything. All is supplied by the world's second-largest car company (rather than its 20th) – the result of an industrial partnership formed between the two makes in 2019 and whose initial badge-engineered progeny was the RAV4-based Suzuki Across.
But like the Suzuki Across, Suzuki Australia is yet to confirm either model landing down under. Still, with a building lineup and the need to electrify, it seems only a matter of time until they will be here.
To that end, you might well wonder why these cross-brand models exist in the first place. In this case, Suzuki benefits crucially from reducing its average CO2 output in Europe – even this top-spec SZ5 Swace ducks beneath 99g/km – while Toyota grows its sphere of influence.
We'll witness a similar arrangement in 2023, when the Mazda 2 is replaced with a rebadged (but, unlike the Swace, also lightly restyled) Toyota Yaris Hybrid.
Toyota, of course, also has its long-standing partnership with Subaru, and we should expect this kind of collaboration to become more common industry-wide as emissions targets and rising development costs erode profit margins.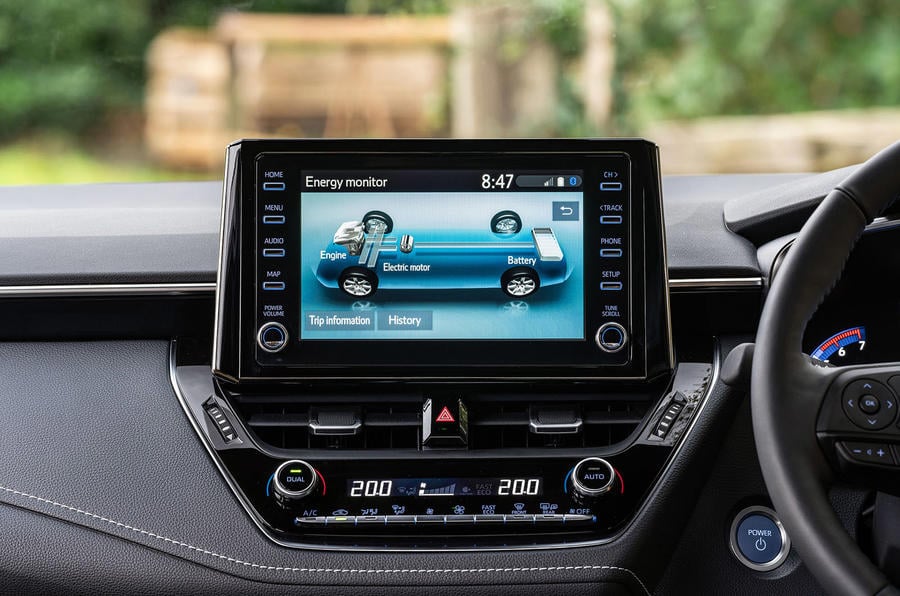 Naturally, there are no surprises when it comes to driving the Swace, except perhaps for the fact that the car looks handsome on its meek 16-inch wheels and without any of the chintzy exterior addenda the more expensive Corolla gets. In an increasingly ostentacious motoring world, it is heroically unobstrusive.
The range-topping SZ5 is also generously equipped. A heated steering wheel and wireless phone charging are both standard, as is the reversing camera and electric tailgate. This is also a smart and comfortable cabin, although fabric is your only option for the seat upholstery and this Suzota's infotainment array falls short of most European rivals. At least smartphone mirroring is standard, because you'll need it for navigation apps.
As for driving, set your expectations low and you'll be pleasantly surprised. For one thing, whichever brand tuned the suspension clearly understands the meaning of 'ride quality'. Yes, the Swace can wallow and float, but for no-nonsense A-to-B driving, its gait is sweetly judged. Equally, the chassis is well balanced – something we've noticed in almost every car underpinned by the TNGA platform – so it'll tolerate being hustled, although only for so long as you can stand the insipid steering and the engine's CVT-strained efforts.
Yes, that engine. Toyota's latest generation of hybrid powertrain is an unambiguous improvement over the previous edition in terms of tractability but, alas, there is still no getting away from the feeling that the CVT gearbox is master of ceremonies rather than the crankshaft.
If you never ask for more than, say, 30 per cent of what the system can give, you'll find it nicely responsive and, particularly when it slips into electric-only operation, very refined.
However, ask for anything more and it remains arguably the most dissatisfying motor in this class. Were it more powerful, you might forgive the lack of manners, but unfortunately Suzuki's take on the Corolla is allowed only the lesser tune for this engine, with no option for having the 133kW version.
As for fuel economy, the Swace is happiest on shorter, variable-speed routes where the electric portion of its powertrain can muck in to greatest effect. On the motorway, it's less successful, managing only around an indicated 4.5L/100km in our hands. For reference, we'd expect the latest diesel-engined options in this class to break the 4.3L/100km mark in similar circumstances.
So, overall: spacious, gracious (if you're gentle with the throttle and conserve speed), but certainly not pacious, and not overwhelmingly economical given the sacrifices made to facilitate that unlovable powertrain.
Those in need of an understated and comfortable workhorse should consider the Swace.
It's an endearing tool-type car: economical day to day, undemanding in the extreme, reasonably refined, well equipped and not as dull as you might imagine when you really want to move.
However, Toyota's powertrain is a drag, and hopelessly uninvolving. Those seeking something more than maximum utility would be better served elsewhere, not least by Ford's peppy Ecoboost-engined, three-pedal Focus.
Richard Lane