VW's big impressive Arteon wagon with rakish looks and fine dynamics is easy to recommend, though as much as Australians love fast wagons there is one big but…
If not from the blue paint then by the rakish looks you will be able to tell that this is a fast Volkswagen. An Arteon wagon, or Shooting Brake, as they prefer to call it, which is a big thing that steals all the thunder of the Passat and, in its standard form, is a car I have a rather lot of time for.
The new Arteon lineup will be going on sale in Australia soon too, however, while both sedan and wagon Arteons will receive the R-Line trim as standard, the performance-oriented R will not be joining them. So what do we miss out on?
The Arteon R Shooting Brake is a big fast VW wagon with a 2.0-litre four-cylinder turbocharged EA888 engine like the one in the Golf R, mated to a dual clutch gearbox and driving all four wheels. It's basically the same drivetrain, with 236kW and a seven speed 'box and, although no more than 50 per cent of the torque ever goes to the rear, up to 100 per cent of that rearward torque can be diverted to an individual rear wheel, to tighten the car's line particularly on the way out of a corner, to make it turn better and be more dynamically engaging. To an extent, anyway, but we'll come to that.
Inside, the Arteon R gets a few highlights to suggest that it's sporty, such as mock carbon inserts, blue stitching, grippy seat trim and, on the overburdened infotainment, if you personalise your own drive mode you can pick from 15 different states for your dampers. Yes, that is too many.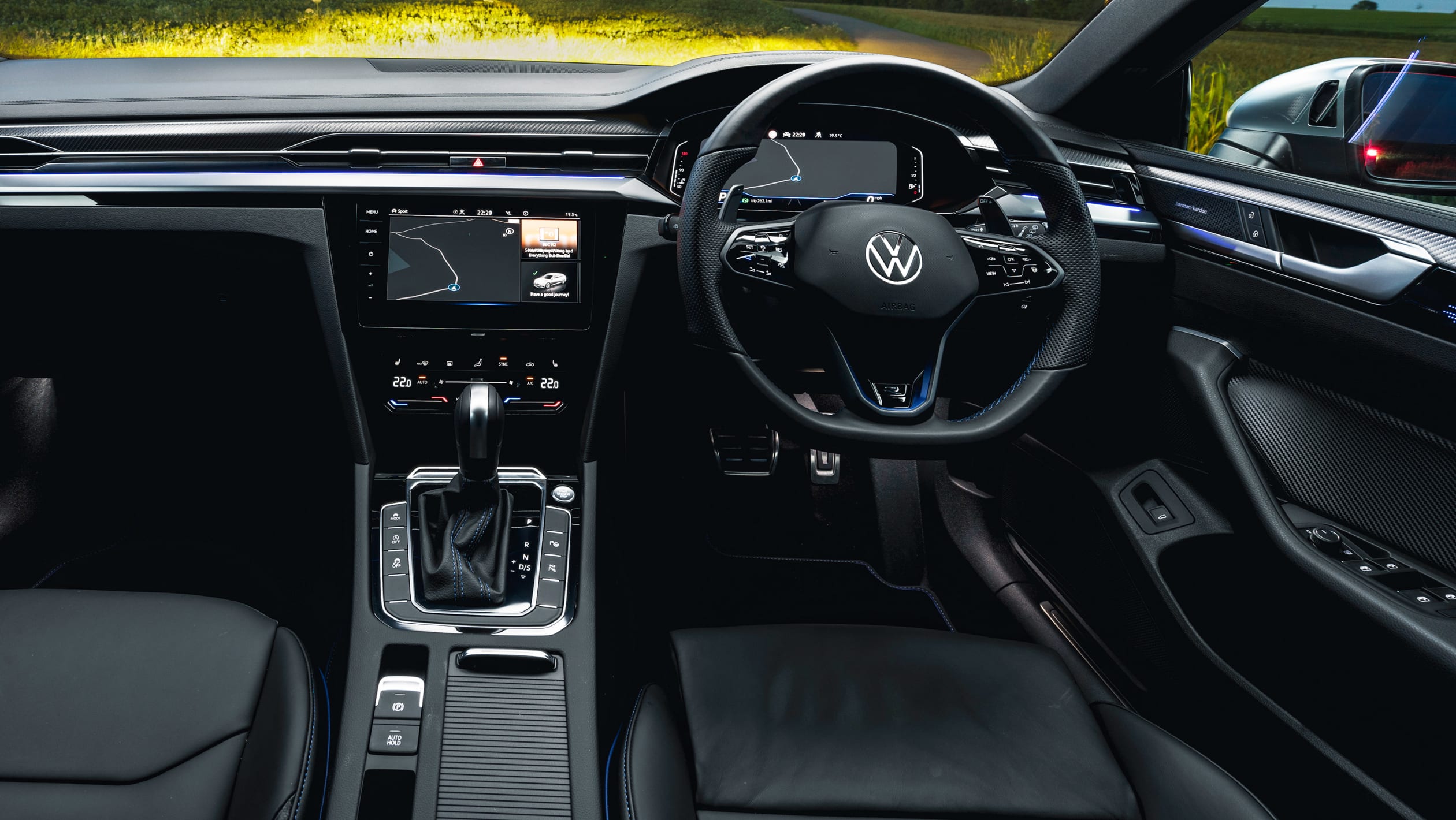 It remains, though, an extremely practical car. The driving position is brilliantly true and widely adjustable, and the ergonomics while good, not as bad as a Golf 8, are not quite as brill as a VW should be.
And it's large. There's 565 litres of boot space with the that rises to 1600 litres with the rear seats folded, which is less than a Passat (650-1780), but that doesn't look like this.
On the road the Arteon R is agreeably habitable, although I suspect it would be more so again on the 18-inch alloys that are available. But if you had to spend all day at the wheel, and I pretty much did, the odd thunk aside it's quiet, comfortable and easy, with moderately weighted and responsive controls.
That chilled demeanour extends to the handling. Volkswagens, even fast ones, tend to have a safe, approachable, friendly dynamics that sets them apart from the sportiest Fords or Renaults, which tuck-in on the way into a corner and feel extremely mobile.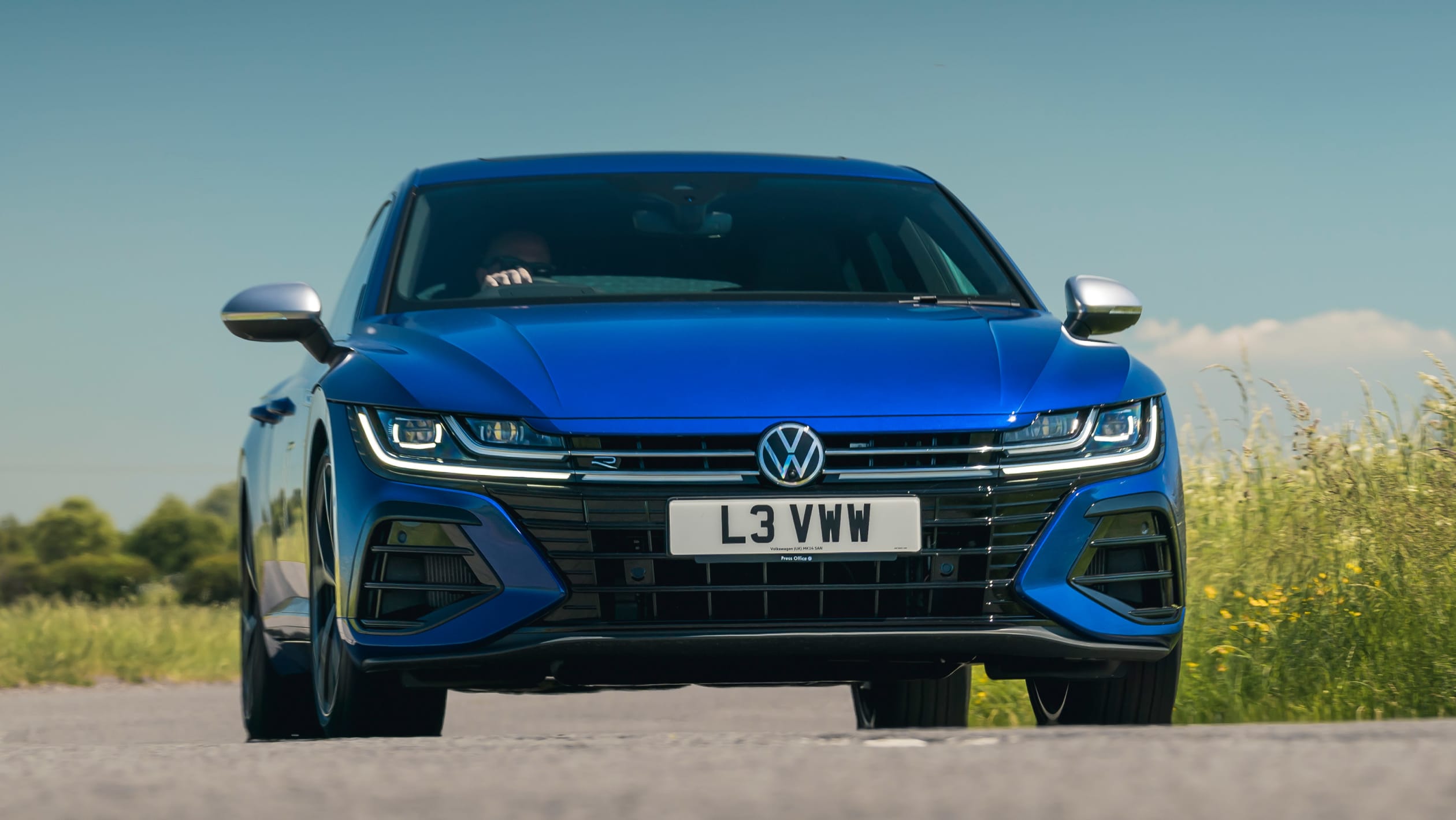 VWs don't tend to do that, even in their most extreme form when its engineers are removing the rear seats from a Golf and haring it around the Nurburgring.
So you can imagine that they definitely don't in a 4.9 metre long estate car, which is fine. It steers accurately and keenly, there's just enough in the way of body movements to remind you of the kind of car you're driving, and it has grip and traction to spare; the 4wd is at its most noticeable if, say, turning onto a faster road in a hurry. No slip, no scrabble. Just fast, drama-free, impressive progress, and quite enjoyable too. Which rather sums up the whole experience.
And I rather like that. This has the vibe of being a lovely car to live with. For those that needn't the performance the R brings though, the Arteon Shooting Brake R-Line should be just fine, and for those that want added thrills I suppose you could have a Golf R wagon (which has a bigger boot) but this is more accommodating in the back seats and, to me, better looking.
Matt Prior