The new Volkswagen Golf Wagon is more practical than ever, but it still can't match up to some of its rivals.
For years, the VW Golf has been the go-to choice (and recommendation) for anyone buying a conventional family hatchback. Yet the Golf Wagon has struggled to define its class in the same way – hindered, perhaps, by the increased focus on practicality that comes with the territory, a factor that plays into the hands of its Group stablemate, the Skoda Octavia Wagon.
The Mk8 Golf Estate is designed to redress the balance, at least slightly. But this being a Golf, it's trying to do it through subtle evolution, not revolution.
Let's start by looking at some of the key figures. The latest wagon is 66mm longer than before, and its wheelbase is now 2,686mm – a full 67mm longer than in a conventional five-door Golf. That translates, VW claims, into 38mm more rear legroom than before.
The increase in overall length also helps the Golf's load-lugging capacity. Its boot capacity stretches to 611 litres with the rear seats in place – a modest gain of six litres over the Mk7.5 model. But lower the second row and you'll now have 1,642 litres to play with, an increase of 22 litres.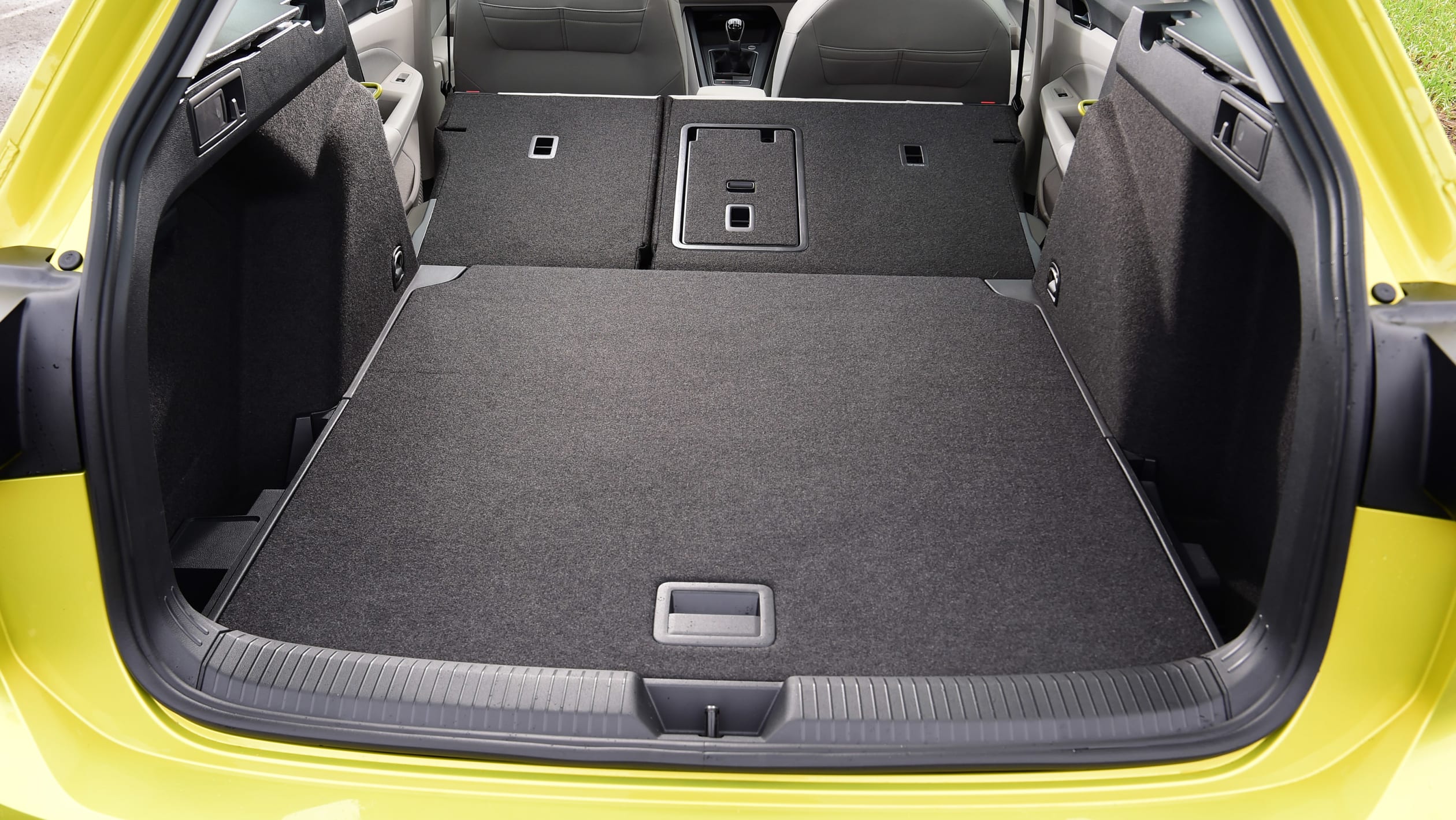 To put these numbers into greater context, the Octavia is still 30 litres clear in five-seat form and 68 litres ahead if you go into full van-with-windows mode. Ford's measurement method, meanwhile, makes it hard to bring the Focus Wagon into this comparison with the rear seats in place. But that car's ultimate capacity is 22 litres shy of the Golf's. There are useful handles at either side of the boot to lower the 60/40 split rear seats, and with them folded forward the VW's boot floor is commendably flat.
Like the Mk8 Golf hatch, the Wagon gets a wide range of petrol engines, including plenty boasting 48-volt mild-hybrid technology. But you'd also like to think that with the extra potential for larger, heavier loads, the diesel variants could yet be the best options.
But just as in the Octavia, the 2.0-litre TDI makes a great case for itself here. It's a world away from the old 1.6-litre motor that used to cater for this power output, with helpful slugs of torque from around 1,600rpm and mid-range punch all the way through to around 3,000rpm.
By that point it will be getting a little vocal (it's never as loud as the old 1.6 TDI), but being a diesel, you never really have to work it that hard. You can do all of your driving between 1,750rpm and 2,500rpm, helped by a six-speed manual gearbox that has a clean, positive shift action.
You can add efficiency to its list of strengths, as in a relatively low state of tune this 2.0 TDI is far from stressed. That's partly possible because when you're cruising along at 70mph the engine will be pulling less than 2,000rpm and behaving itself nicely, out of earshot beyond wind and road noise. It's even more refined here than in the Skoda, perhaps – especially at cold start-up, where there are but a few seconds of noise to remind you of your fuel choice, before idle becomes a more distant rumble. It's a deeply impressive reminder of how great diesel power can be – a perfect choice for this size of car, with this potential for load carrying.
The rest of the Golf dynamics are present: assured comfort over most surfaces, solid body control in all but the most extreme situations, and faithful and consistently weighted steering. It's a behemoth of competency – with the sole caveat, perhaps, that the ride has a slightly firmer edge to it than we've been used to. The slightly longer wheelbase helps to rein that trait back a little in the Estate, mind.
It also brings big benefits in the rear of the cabin, which feels just that little bit more spacious. The rest of the interior is stock Mk8 Golf, which means a less convincing mix of materials than you might expect, plenty of hard-finished surfaces and an infotainment system that delights in its screen clarity but can infuriate with its interface layout.
In some ways, the Golf Estate is the most convincing incarnation of the Mk8 Golf that we've experienced yet. It's more practical than ever and in this diesel model, it has the potential to cover huge kays in real refinement, while carrying heavy loads and offering decent efficiency. Yet as you'd expect, some other frustrations carry over from the regular hatch – notably the placement of some key controls on the screen, and the occasionally brittle ride. And when all's said and done, the Golf Wagon still can't match the Skoda Octavia for sheer loadspace, which is key in a car like this.
John McIlroy