Greg Kable hops in to drive the all-new VW ID 4 before it is officially revealed.
"Never before has an electric vehicle been conceived with such a global outlook." That's how Ralf Brandstätter, Volkswagen's new CEO, introduced the ID 4 before our first drive of a near-to-production-ready prototype – and he is nothing but bullish about its mainstream market ambitions.
The second model from VW's electric-only ID sub-brand sits in the world's fastest-growing segment and will be built in five factories on three continents, starting at its Zwickau plant in Germany, from which right-hand-drive versions will begin rolling later this year. "The ID 4 will have a big impact in each of our three most important markets – Europe, China and North America," said Brandstätter. "We see the potential for significant volumes."
As well as being key to VW's aim to sell up to 1.5 million EVs annually by 2025, the ID 4 also forms the basis for upcoming siblings such as the Q4 and Skoda Enyaq.
Like the smaller ID 3, it's based the MEB electric car platform and will be sold with a range of power outputs in rear- and four-wheel-drive guises and two battery sizes. There are four initial rear-wheel-drive models, with a 109kW, 125kW, 129kW or 150kW motor. The lower-powered two have a 52kWh battery, the other two a 77kWh battery.
A pair of four-wheel drive models will arrive in 2021. They'll use the 77kWh battery and two electric motors – a smaller one up front and a main unit at the rear, developing a combined 195kW or, in a yet to be confirmed GTX-badged ranger-topper, 225kW.
Volkswagen says the 77kWh battery gives a WLTP range of up to 520 kilometres in mid-range 129kW rear-wheel-drive guise. This compares with 485 kilometres for the 64kWh Hyundai Kona Electric and 540 kilometres for the 62kWh Telsa Model Y.
Although our prototype carries light disguise, the ID 4 holds true to the look of the 2017 ID Crozz concept. It's contemporary looking, with heavy crossover tones and unmistakable electric vehicle proportions. With a 0.26 drag co-efficient, it's also among the most aerodynamic SUVs.
VW offers two charging options. The 52kWh battery can be charged at up to 100kW, the 77kWh battery at up to 125kW. As a guide, VW says 30min of charging provides up to 320 kilometres on the more powerful system. In most cases, you'll have to pay for the privilege, though. The base model supports 50kW charging as standard.
Enough figures. Time to drive. The driver's door opens wide and you step up into the ID 4 over a high body-coloured sill. The front seats are elevated but not excessively so and the floor is completely flat up front, without any defined footwells, because the battery is within the floorpan.
The multi-layer dashboard houses two displays: a 5.3-inch digital instrument panel and a 10.0-inch central infotainment screen as standard, although our prototype has an optional 12.0-inch unit and augmented reality head-up display.
The cabin is roomy, with the greater rear leg room than in a standard-wheelbase Tiguan and excellent versatility, thanks to typical features such as a 40:20:40-split folding rear seat. The boot, despite a high-ish loading lip, is also quite commodious.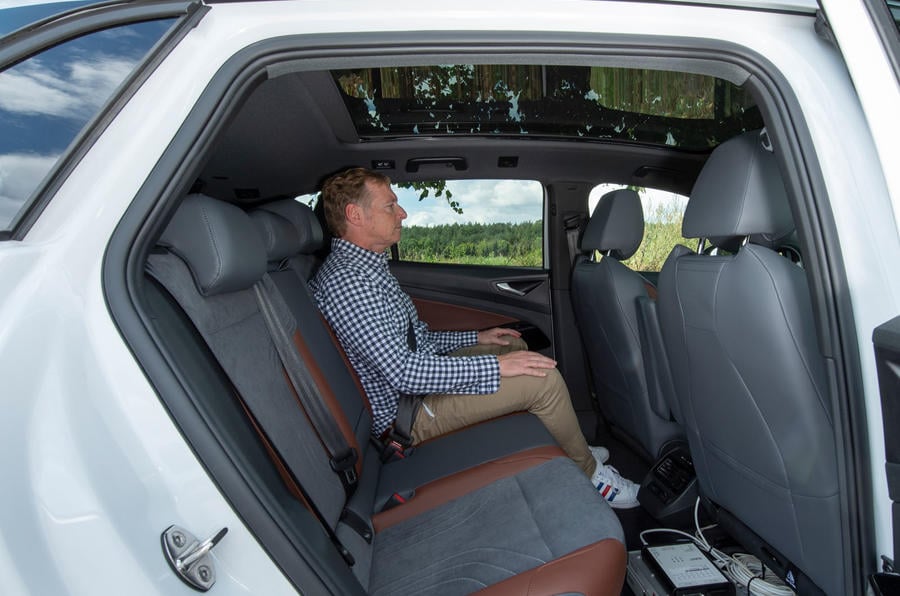 Hit the starter button and twist the gear selector. One notch forward gets you the standard drive mode and two notches Battery mode, which triggers the brake energy regeneration. It's the same controller used by the ID 3, proving straightforward from the outset. Further drive modes – Eco, Comfort, Sport and Individual – alter steering, throttle, powertrain and adaptive damping responses.
We're driving the most powerful rear-wheel-drive ID 4. With 310Nm on tap from the moment you nudge the throttle, it is brilliantly responsive. It has instant performance and excellent traction.
Once rolling along, it gathers speed in quite a determined fashion on an open throttle. To be honest, it's probably more spirited than it needs to be up to. At a cruise, it's quiet and relaxed, although performance begins to fade at motorway cruising speeds. VW is yet to reveal performance figures, although initial rear-wheel-drive models will be limited to 160km/h.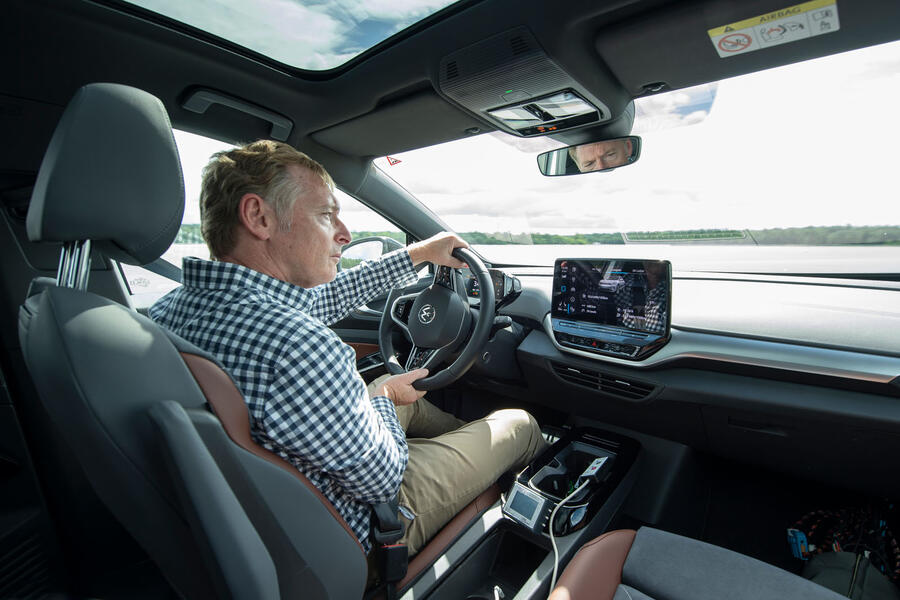 In standard drive mode, it coasts with a very faint hint of brake regeneration when you lift off the throttle. Battery mode's regen means you rarely need to touch the brake pedal.
Beyond the acoustic pedestrian warning, which switches off above 20km/h, the powertrain is virtually silent. More noticeable is some tyre roar from the optional 235/45 R21 and 255/40 R21 Bridgestone Turanzas and wind buffeting around the door mirrors at speed.
Dynamically, there's quite a lot to like. The well-geared steering is nicely weighted and delivers a surprising amount of road feel. There's also a 10.2m turning circle, so manoeuvrability and agility are outstanding.
The chassis features MacPherson struts up front and a multi-link arrangement at the rear and it comes with optional adaptive damping control. There's a measured rear-wheel-drive fluency to the handling, characterised by excellent lateral body control, strong grip and excellent traction in Sport mode. Despite the low-profile, large-diameter tyres of our prototype, the ride is very acceptable when you switch into Comfort, too.
If you're considering an EV for everyday use, the ID 4 should be on your shopping list. It's a car you adapt to quickly and it's engagingly responsive and agile. Further appeal comes through its clever interior, versatile nature, feeling of deep-seated engineering integrity and, with the 77kWh battery, ample range.
If Volkswagen prices it right the ID 4 promises to leave quite a mark, not only on its electric rivals but also the compact SUV class as a whole.
Greg Kable
Volkswagen ID 4 77kWh specification
Price $75,000 (est) On sale TBA Motor rear-mounted AC synchronous/induction Power 150kW Torque 310Nm Transmission single-speed, reduction gearing automatic Drive battery 77.0kWh Top speed 160km/h Range 520km Rivals Tesla Model Y, Skoda Enyaq, Hyundai Kona Electric