Two of our favourite all-weather hot hatches have spawned rapid high-rise crossovers, but only one of them truly convinces.
Can we pretend that neither the finest hot hatchback of the modern era, nor one of its more accomplished adversaries, ever existed? Just for the next 10 minutes? It's the only way we're going to get through this test while giving these crossovers a fair hearing, because the truth is that the new Volkswagen Tiguan R and Mercedes-AMG GLB 35 are deliberately and irreversibly compromised from the outset.
The hot hatches in question are the Golf R and the AMG A35. Both are great performance cars, but especially so the Golf, which has during the past decade gained a reputation for excellence based on its sublime mix of everyday usability and prolific speed. If you want unassuming yet exciting, the Volkswagen is where you start.
Excellence is a fragile thing, though. If you were to inject an extra 195kg into the latest Golf R, pull the axles 49mm farther apart and set the seats a Coke can higher, you'd expect to jeopardise the recipe. Which, not to put it too bluntly, is what the Tiguan R does. The GLB 35 takes a similar approach, only with the A35 as its base and with an even more significant accretion of flab. It weighs almost 1800kg all-in and is 99kg heavier than the VW. And all this even though neither car carries anything more wholesome than an inline four. Porkier, taller and wider than we'd like, they're both resolutely compromised.
But that's the last we'll say by way of comparison to the hatchbacks. Clearly these crossovers will be dynamically inferior to their progenitors, but they're worth exploring because in isolation they still seem to have an awful lot going for them –and, of course, the market demands them. Alongside the GLB, AMG now makes no fewer than 10 further SUV derivatives, which is more than any other bodystyle, and Volkswagen already has dedicated R-badged models for the T-Roc and Touareg, which straddle the Tiguan in terms of seniority.
So what exactly are these cars? Fast, for one thing. The Tiguan R is the marginally more potent and accelerative of the two, but each pairs more than 224kW from a 2.0-litre turbo engine with four-wheel drive and a dual-clutch automatic gearbox. Both will smash 100kmh in around five seconds, and both cabins are replete with the kind of heavily bolstered seats and perforated steering wheels and shiny pedals you'd expect to find only in something seriously quick. The duo's exterior design doesn't leave any room for interpretation, either. Radiator vanes are threateningly visible through open-worked bumpers and brakes glint from behind manhole-cover alloys that fit snug inside wheel arches beefed up with plastic cladding. If they were people, these two would be dedicated-to-their-family types but with lengthy criminal records.
Slide aboard easily and you'll find the Mercedes wears its asking price more confidently than the Volkswagen. Equipment includes the parallel 10.3in displays and more amenities than you could want. Beyond the slight chintz of metal-dipped plastics, this cabin simply feels more premium and plush in both its materials and layout. The seats are a bit ordinary, especially compared with the VW's Alcantara-trimmed semi-buckets, and they squeeze my thighs together too enthusiastically, but the enveloping GLB otherwise seems made for cosy big-distance drives. In ergonomic terms, it also has one seat-related trick up its exhaust: space for seven. It's an ungainly beast from almost every angle, but below that square roofline you can get two children in the folding third row.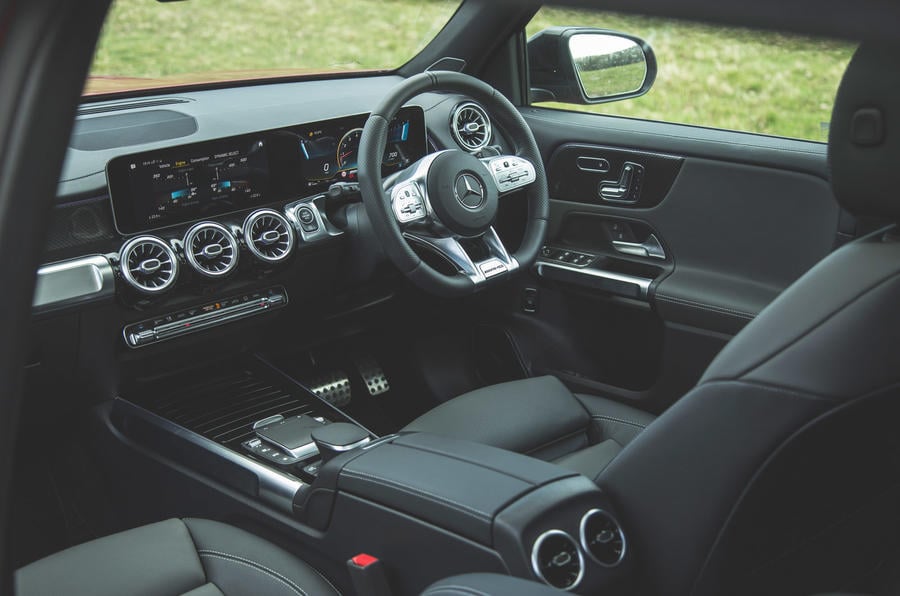 In contrast, the VW feels spacious and airy, which is confusing. A sense of loftiness is welcome in a straightforward SUV but it's not necessarily what you want in a performance car, and the Tiguan R wants to be both those things. Perhaps that's why it feels disjointed after sitting in the GLB 35, which is also spacious but whose seats are more low-slung in relation to the chunky scuttle and whose ambience is much more mature and car-like.
The driving position in the VW is awkwardly upright. It even feels a long way down to reach for the utility-grade gearlever. The go-faster elements, which include very prominent gearshift paddles, exist in conflict with this architecture – imagine having a white tablecloth and mahogany chairs in McDonald's. It'd be unconvincing and unsettling, and so it is with the slightly plasticky confines of Tiguan.
However, there's no denying the sheer second-row capaciousness of either car. If you're three- or four-up with any regularity, your passengers will thank you for having one of these crossovers instead of either the Golf R or AMG A35. And that's strike one.
Equally undeniable is the pace of the Volkswagen, which not only has that 99kg weight advantage over the Mercedes but with 420Nm also makes more torque, and makes it earlier on, from a scant 2100rpm.
To make the most of the drivetrain, you need to get the car into either Sport or Race mode, at which point the piped-in noise sounds, in the poetry of fellow road tester James Disdale, "like a Subaru flat four with a manifold leak that's been sampled through a ZX Spectrum". But boy is this thing quick. What becomes apparent is that rather than creating a unique character for the Tiguan R, Volkswagen has attempted to transplant into it the personality of the Golf R wholesale.
It means that as well as being relentlessly accelerative, this crossover is also more agile and direct than you're probably expecting, and the body control enabled by the standard-fit adaptive dampers is uncanny. What also helps is the new R Performance torque-vectoring set-up, which sandwiches the rear differential with electromechanical clutch packs that siphon drive from wheel to wheel – potentially all of what the driveline can make available to the rear, which at any given moment is half the engine's total output. This ability to bias the outside rear wheel works alongside the front axle's XDS 'differential lock' system, which is nothing of the sort but can if necessary use the ESP to brake the inside wheel during hard cornering.
And the result? The Tiguan doesn't corner with much in the way of flair, as the Golf R can (strike two – sorry) but it does stay doggedly neutral and on your chosen line, seemingly no matter what you throw at it. You simply point its bluff nose in the desired direction and there it goes, like a salivating bulldog chasing after its favourite fang-punctured toy.
For cross-country pace, the Volkswagen puts on an exhibition the Mercedes can't match. But partly in doing so, it also loses this head-to-head. Though resolute in its road-holding, the GLB 35 grips less ferociously, rolls more generously and takes bends with perfunctory precision rather than any zeal. It's less dynamically adept than the Tiguan R, too, but it has at least been permitted its own identity: a softer, more-rounded one better suited to its role as a higher-riding family car.
While you find yourself with a grudging respect for the Volkswagen, it's hard not to develop some genuine warmth for the Mercedes. AMG's Direct Steer is too, er, direct offcentre and there's almost nothing in the way of feedback, but if anything, the lower-feeling driving position makes the AMG easier to place than the VW. Both cars then ride with surprising fluency with the dampers in their most relaxed settings, but the AMG breathes more with the road. And while its 302bhp engine feels the less potent of the two and resorts to the same sonic fakery as the EA888 in the Tiguan R, the GLB 35 is still an unambiguously fast car and the flavour of made-up engine noise is sweeter. It's simply a more personable machine and more comfortable in its beefcake seven-seater skin.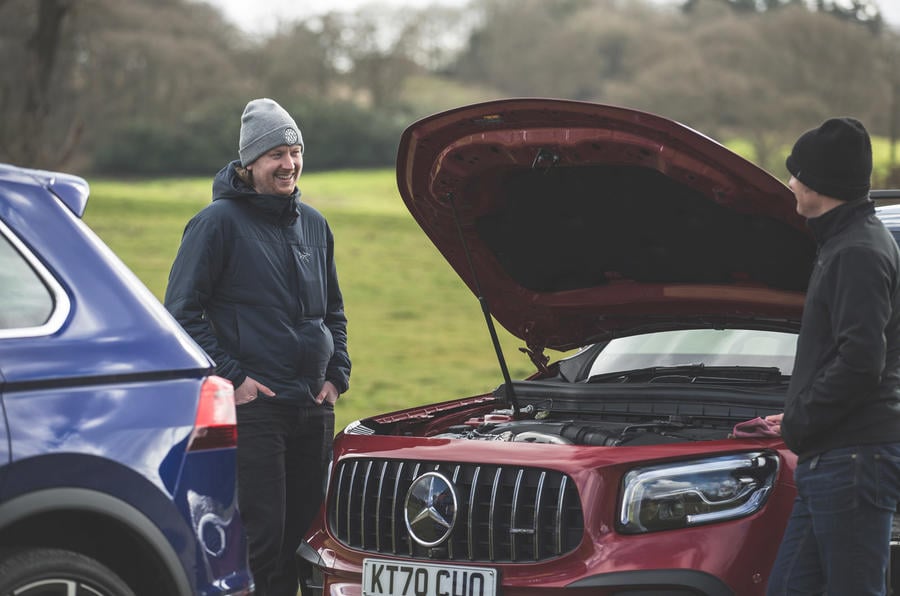 So the AMG wins. Its reason for being is clearer, while in the Tiguan R you'd always wonder if it needed to be so big, and how much better the Golf R would be doing things. But that's strike three, and we're out.
Richard Lane