It's time to say goodbye (for some).
The approaching end of the internal-combustion era is creating some strange juxtapositions in marketing messages.
The launch event for the new rear-driven Audi R8 V10 Performance took place on the Spanish island of Gran Canaria, closer to Western Africa than the rest of Europe, with the highlight a spectacular high-altitude campsite in the mountains. Audi's commitment to sustainability meant this featured all-vegan catering and power from repurposed E-tron battery packs. All of which was in stark contrast to the snarling V10 that carried me there.
See, Audi has in fact axed the current R8 from Australi due to emissions regulations that would require homologation….and with such small sales, it's simply not worth it. However, it will remain on sale in right-hand drive for New Zealand. So what do our friends over the ditch get to enjoy next year, and what do us Aussies miss out on?
The R8 was never going to die quietly, and although it's too early to pen an obituary, the arrival of the Performance RWD marks a thinning of the range that, special editions aside, will carry it through to retirement. The standard models have been quietly dropped, with the choice now set to be a pair of binary decisions between Performance variants: coupe or Spyder and all-wheel drive or rear-wheel drive.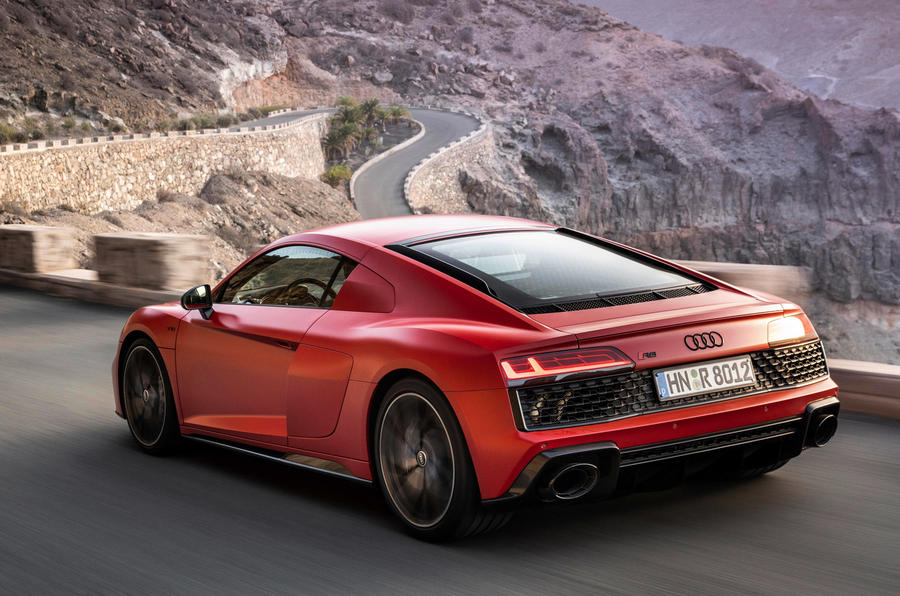 While the Performance RWD is an obvious model to make, it isn't just an R8 Quattro shorn of half its driven wheels. It gets a new version of the naturally aspirated 5.2-litre V10, one that now makes 419kW – 22kW more than the outgoing RWD R8 but still 30kW shy of the AWD version.The suspension settings are unchanged from the old RWD R8 but different to those of the Performance Quattro: the rear-driver gets slightly stiffer springs and more negative camber at the back to help sharpen responses.
The two variants are also distinguished by various other spec changes in keeping with the Performance RWD's status at the foot of the range: 19-inch wheels and steel brakes are standard, as is a body-coloured 'side blade' around the rear air intake, where the Performance Quattro gets carbonfibre trim.
Audi is also offering a posher Edition trim, which brings the rear-driver the carbonfibre furniture, 20-inch wheels and a Bang & Olufsen stereo.
Despite expectations, the reduction in driven wheels doesn't make the Performance RWD feel radically different from its Quattro sister, certainly not at road speeds.
Gran Canaria's sometimes dusty roads produced the occasional sense of gentle traction control intervention, which I probably wouldn't have experienced in the Performance Quattro. But once the Michelin Pilot Sport 4S tyres were on warm, clean asphalt, grip rose to a level that even spirited real-world progress rarely transgressed.
While Audi is predictably keen to portray the R8's mechanical simplicity as proof of a finely honed dynamic purpose, the reality is more due to how quickly the rest of the supercar segment has moved. The lack of adaptive dampers and the presence of a conventional limited-slip differential practically qualifies the Performance RWD as an analogue contender in an increasingly digital world.
You won't spit out your tea on learning that the V10 remains the starring feature. Audi's determination to give the R8 a different character from the closely related Lamborghini Huracán means that the mighty engine remains muted at lower speeds and with the switchable exhaust in its quieter mode. Yet its savage side is easily engendered, the engine turning louder and angrier as it gets towards its altitudinous redline, with a ripping, sharper-pitched exhaust note than that of a V8. By 6000rpm, it already sounds better than most junior supercars – Huracán excepted – with nearly another 3000rpm to go before the limiter calls time.
While fractionally slower than the Performance Quattro, it never feels lacking in urge. Audi quotes a 3.7sec 0-100km/h time, which is just a tenth of a second slower; and in the more aggressive dynamic modes, the dual-clutch automatic gearbox delivers upshifts with a satisfying savagery.
The V10 lacks low-down torque when compared with more modern turbocharged engines, but it also boasts a much crisper throttle response and the finesse to seemingly add urge one horsepower at a time.
The Spyder I drove on a route comprising mostly narrow mountain roads only felt obviously rear-driven in slower and tighter turns, especially when in the most permissive Performance Dry dynamic setting. This allows a liberal amount of rear-end slip before intervening hard, butthe R8 remains better at sports car finesse than muscle car hoonery, its cornering line more easily tweaked and tucked by gentle inputs and weight transfer than by trying to overwhelm the rear tyres.
The chance to drive a coupé on track – the tight and technical Maspalomas Circuit, where many of the run-offs seem to end in the Atlantic Ocean – proved that higher loadings (and more aggressive Michelin Cup 2 tyres) did deliver a more obviously rear-endy handling balance. This was huge fun in dry conditions, but a timely rain shower proved that damp surfaces brought the need for much greater throttle discipline.
I've never really gelled with the steering of any second-generation R8, and the Performance RWD didn't buck that trend, delivering accurate front-end responses but only muted and distant feedback.
The second-generation R8 has always been an outlier, a self-defined sports car that sits on what are very obviously supercar underpinnings and with a chassis that often seems much more sensible than the gloriously unlikely engine that powers it. Despite the reduction in driven wheels, the Performance RWD is still big on left-brain logic. It would be a very easy car to live with day to day.
The clock is ticking towards the R8's retirement in 2023. We're told that work on an eventual all-electric successor is already advanced. But we're definitely going to miss this one when it's gone.
Mike Duff