Audi's new RS3 hyper hatch finally gets the technology to take on AMG's range-topper.
You'll probably have a good idea how the new Audi RS3 drives. It will be as quick as you'd expect with a 294kW, five-cylinder engine. It will feel surefooted and safe, lack excitement but have a nicely put together interior; and you'd rather give your money for AMG's more focussed A45 S, or save a chunk and divert your monthly payment to another brand within the VW Group and have a Golf R. Don't do this, certainly not the latter anyway, because the new RS3 is a bit of a surprise. More than that, it now has what's required to go broad shoulder to broad shoulder against AMG's angriest hyper-hatch.
Prices are likely to start around $90,000 in Australia for the RS3 Sportback, but these are details Audi Australia will confirm closer to launch in the first half of 2022.
Sitting on the same MQB platform as its predecessors and today's current batch of VW Group hot hatches, the RS3 could so easily have been yet another so-so hot hatch, promising much but delivering only a small percentage of that hope. After all, the performance derivatives of the Mk8 Golf haven't exactly set the world alight, and form suggests that VW gets this stuff right as frequently as Audi Sport gets it wrong. But not this time.
There's the distinctive burble from the motor, a sound you're unlikely to tire of that marks the RS3 out from all of its rivals. Some work to the engine mapping has released an additional 20Nm, but power remains unchanged at 294kW, although it arrives earlier in the rev range and hangs around for longer. So even in a car weighing 5kg more than its predecessors (1570kg) it has plenty of go for a road car.
It's not the most responsive of engines, it never really has been, but once up and running it doesn't hang about as it chews through its short ratios to help produce the headline performance figures –3.8-second 0-100km/h, 280km/h if you tick the correct option box – but it does make you feel you're never far from pulling for another ratio via the pathetic sized VW Group paddles or waiting for the auto to do it for you.
On the subject of the gearbox, the seven-speed dual-clutch unit is the RS3's weakest link. If you're changing gear yourself the shifts, both up and down, are too slow – especially the latter when slowing from high speeds for a tight turn and you want to lose two or more ratios as quickly as possible. It's also easy to knick the limiter, and because it's aggressive, even if you've selected another gear the split second before the ignition cuts, you're left waiting before you're off again. On track, it's a long enough delay for the car ahead to pull a couple of car lengths on you.
The rest, well that's a very different story. There's a skunk work feel about this latest Audi Sport product, almost as if the engineers have been left alone to build an RS3 they've always wanted and they knew was possible. So out go the standard springs and dampers that have never managed to control the body, nor been able to deal with any kind of compression save for sending the car crashing from one side of the road to another. Instead there's a chassis tuned for the road, while still polished for the track.
There is nothing revolutionary going on at each corner when it comes to the car's chassis, but the small changes result in some pretty big results. Springs and anti-roll bars are stiffer and the dampers feature a new valve system to improve sensitivity, rebound and compression characteristics quicker than before. There's up to one degree of additional negative camber (half a degree on the rear) above a regular A3, requiring a stiffer subframe and bearings. The four-point multi-link rear suspension also includes stiffer wheel carriers. Opt for the optional RS Dynamic pack and the suspension can be tweaked further still in terms of more specific damper settings. And all RS3s sit 10mm lower than an S3, 25mm lower than an A3.
As a result of the chassis changes, the first time you see a big compression ahead and brace yourself for the inevitable thump into the bumpstops, you'll quickly realise it's already glided over it without interest. This is all after you have noticed the more compliant ride, that on good surfaces makes for an unexpected level of refinement, and on poor surfaces this is an Audi that no longer crashes and thumps across imperfections.
So you go harder, push more against its limits and go looking for its downsides. And you rarely find any. In its comfort setting the chassis is near silent and calm without being aloof. There's a good balance between body control and ride comfort, and on long runs where comfort takes priority over dynamics, the RS3 makes a Golf R feel like it's riding on bricks.
It must fall apart when you start to push? Sorry, no. Within the drive select modes you can switch between the preset modes or dive into the two RS Individual modes, one of which is called RS Performance that's been designed specifically for the track but works equally well on the road.
Here the RS3 remains calm and composed, but there are further layers of detail added. There's more precision in how the body moves under braking and during turn-in, and while it's stiffer, it is not Audi Sport of old 'throw you off the road' stiffer. You can find a balance as you turn in, let it settle, and as the load comes off as you exit the corner, it does so in a neat and linear fashion as the weight shuffles back to the centre point.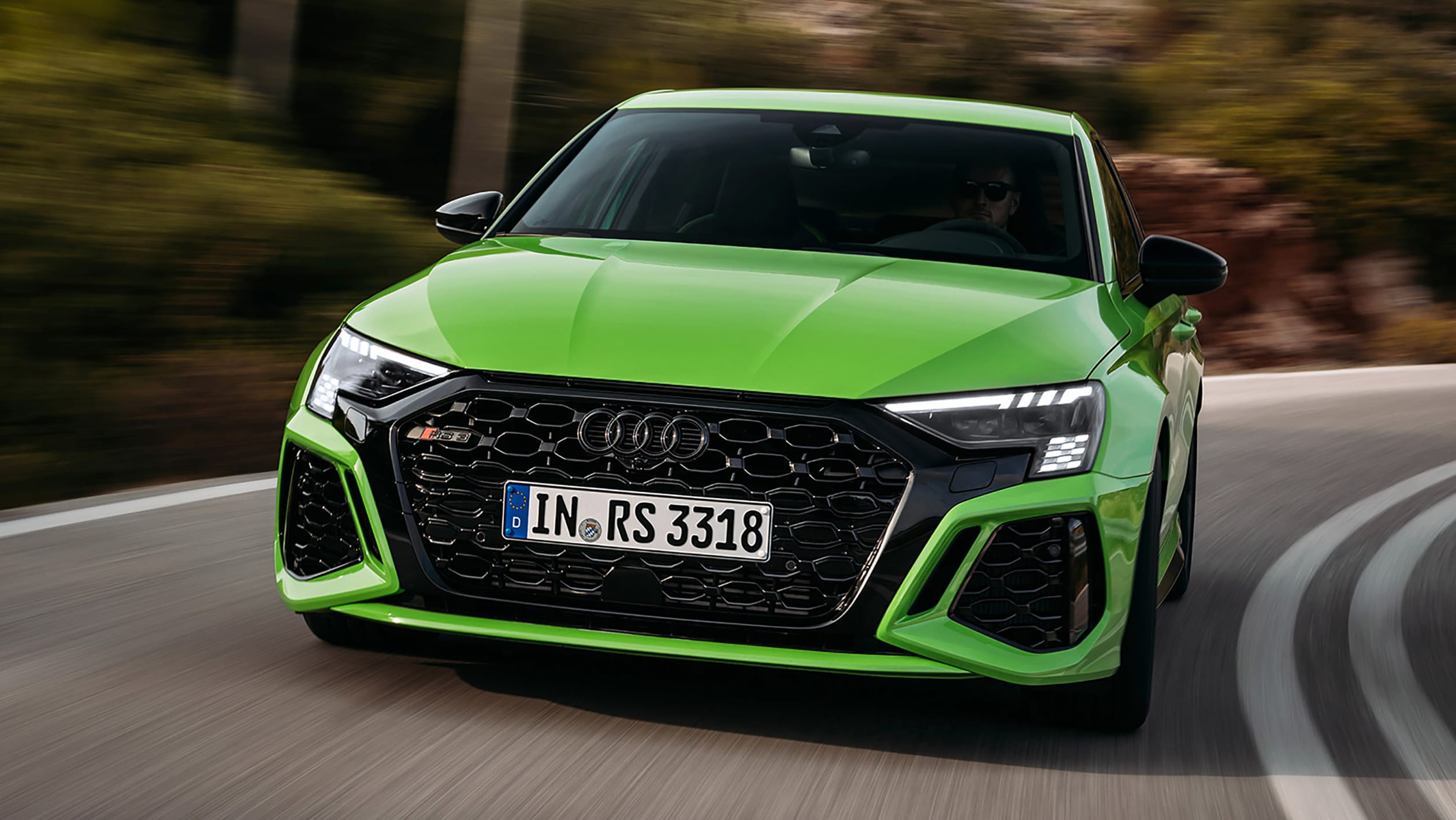 It means you ask more of it than any previous generation RS3. This also means you start to play with its party piece: RS Torque Rear, a torque splitter differential pack. Where the previous RS3 had a single clutch pack to manage torque distribution across the rear axle, this one provides one pack per driveshaft and allows 100 percent of the available torque to be sent to the rear axle then distributed to the outside wheel when it's under load. And it turns the RS3 into an unexpected bundle of fun.
It means for the first time on track the RS3 doesn't fall over itself, the numbness replaced with an impressive level of agility. Through quick corners you can feel the torque splitter managing the torque load, the rear finding grip to give the front tyres a rest. Talking of tyres, we tried the car on the road with Bridgestone's new Potenza Sport that's been developed specifically for the car and it proved to be a well balanced and suitable tyre. A heavy-handed approach will still overwhelm the front tread blocks resulting in a familiar Audi push, but play to the technology's strengths and the front tyres work well with the chassis.
On track our test car was fitted with the optional Pirelli Trofeo R, which as you can imagine provided more grip than you can shake a grippy stick at. But rather than mask the chassis' dynamics, the track-biased tyres provide the higher grip levels and confidence for you to lean on the dynamics harder still.
Pitch it into a corner – still mindful that a five-cylinder engine is sat over the front axle and requires some weight management – and the nose takes a sharp line to the apex as the centre point pivots around your hips and the rear rotates with unexpected agility. It feels very together, a fluid motion that inspires confidence. Keep the throttle balanced and the RS3 slices through any corner, in quicker stuff it feels remarkably planted as all four tyres paw at the surface pulling and pushing you with unexpected poise.
Find yourself in an empty car park or at a track day with a more lenient approach to you looking out of the side window, and with the traction aids turned off and RS Performance mode selected the RS3 goes a little feral in a fun way. It's not suddenly transformed into a rear-drive car with a traditional diff where you manage the angle of the rear axle as you play with throttle and steering angles, but once you have it set early in the corner it can be made to drive through it with an impressive angle of corrective lock applied while still maintaining some punchy forward motion.
In this regard it's similar to the Mk3 Focus RS, but with more precision to give you more options at the limit, where previous RS3 models would have thrown in the towel soon after the front tyres began to trip over their tread blocks. It's also a more intuitive and rewarding system than the Golf R's drift mode.
It's not perfect, though. If you're too abrupt with any inputs, such as a sudden lift out of the throttle or a larger input of lock and the fun quickly stops as the torque to the rear is cut straightening you up as quickly as possible. There are also times when the powertrain's age can't hide and its slow reactions make for some clumsy direction changes. Learn these traits, work with them and each mile impresses more and more.
It's more instinctive than the Golf R's drift mode and allows you to be more exuberant than you can in an A45 S, but you can't help but wish it had a better engine, gearbox and quicker reacting quattro drivetrain to demonstrate its chassis' new talents.
It's taken a while, too long we would argue, but finally, Audi has delivered an RS3 worthy of its badge. And with the chassis tech and torque splitter destined for future products further up the Audi Sport range, BMW M, AMG and Alfa Romeo will need to take a good look over their shoulder.
Stuart Gallagher