We experience the 2022 Audi RS3's newfound dynamic focus
Audi's RS3 has long been at a crossroads in the highest class of hot hatchbacks. Classically packing a ferocious five-cylinder engine under the bonnet, it's always been a leading figure in the power war against arch rivals, but has long felt as much a blunt instrument around corners as it does a battering ram along the straights.
This is something Audi's hoping to rectify with the new 2022 model, with more emphasis placed on the RS3's chassis and handling balance through a more focused setup and new hardware. To test this theory before our full drive in a few weeks time, we're at the top of a closed section of the iconic Col de Turini with Audi Sport's factory driver Frank Stippler at the wheel.
Before we get there though, what's immediately obvious is the hardware Audi Sport has fitted to the RS3's front axle. Our demo car is running optional Pirelli Trofeo R track day rubber, the kind of tyres you find fitted to McLaren's LT models, mounted on 19-inch forged wheels that look pleasingly compact, contrasted with huge (optional) carbon-ceramic brakes behind. Take a step back and you'll also then notice this thing has some serious negative camber, and where RS3s in the past have had a wider track and front arches compared to standard A3s, they were a subtle flare compared to the new model's ripping muscles.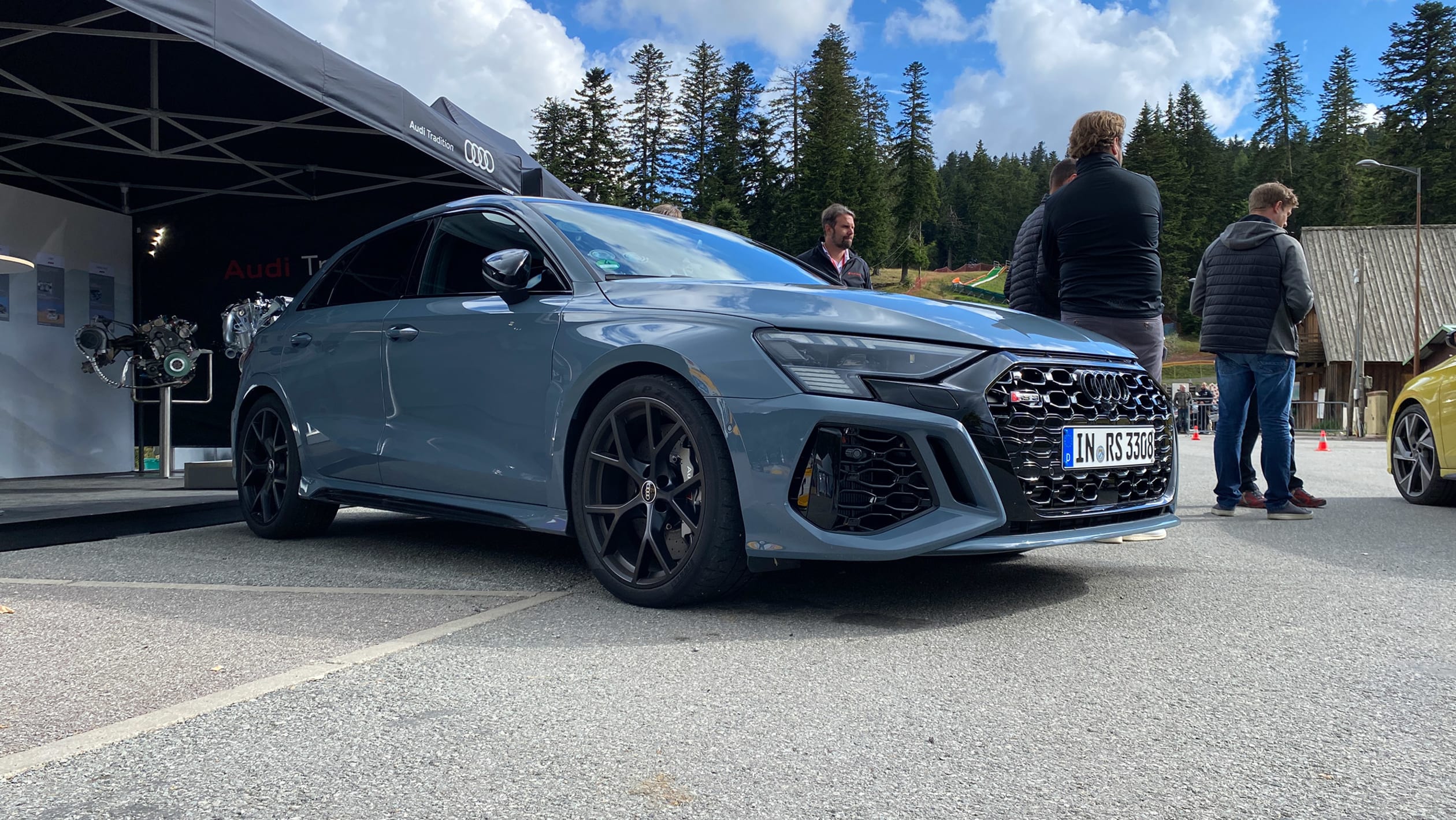 The rear axle has also been paid attention to, with the application of the same torque-vectoring rear differential fitted to the latest Golf R, and similar to that found in AMG's A45 S. The system in all three work the same way, augmenting drive to the outer rear wheel to promote an oversteer-led balance and improve acceleration out of corners. The limitation, typically, is that the rear axle will only ever receive a maximum 50 percent of total engine power. In contrast to all this new chassis hardware, the powertrain is essentially identical to the outgoing model, featuring the same turbocharged in-line five-cylinder engine and seven speed dual-clutch transmission. Peak power is rated at 294kW as before, with a subtle 19Nm rise in torque to 500Nm that's also available further down in the rev-range.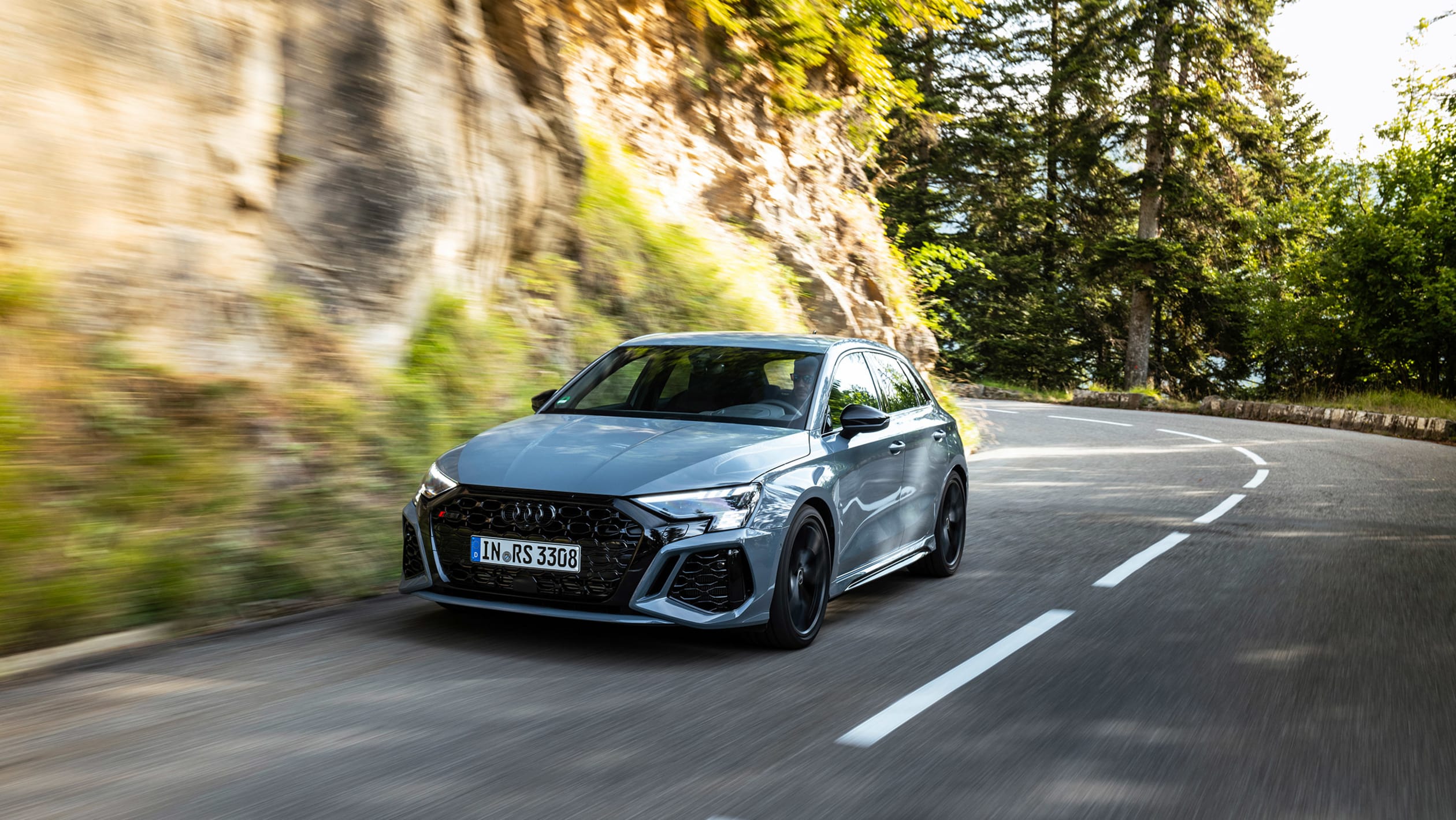 Now to business. With launch mode engaged, Stippler muses that the small spits of rain that have just hit the windscreen will make this an 'interesting' run after he spent the morning reacquainting himself with the narrow pebbled stretch of tarmac that makes up a section of the Col de Turini. He furrows through the on-screen RS Drive monitor to the tyre temp screen and winces. Then without warning we sprint away, yet without a noticeable improvement in straight-line speed compared to previous RS3s. But then after the first downhill right-hander things become clear.
The new RS3 has so much front end grip it's almost shocking, and this is despite less than ideal conditions and the Col's slippery surface. Yes I'm sat in the passenger seat, and yes Stippler is a former Porsche Supercup champion, but the forces at work are enough to have me gripping at the seat's side bolsters and bracing my feet against the firewall with what feels like all of my strength.
Has an Audi ever had as much front end bite as this? It doesn't feel like it from where I'm sat. We continue down the run, and the further down we go the warmer both tyres and tarmac get, and the more the car grips and grips. A few very early throttle applications around tighter hairpins has the rear axle moving, but Stippler's not interested in tail-out antics, he's on the power, nose firmly locked on-line. The whole experience is almost euphoric, and just a little nauseating.
I query Frank about its balance, asking whether any further geometry changes were needed to account for such a sticky tyre, but he replies with a stern 'no. Both this and the standard Pirelli tyre run on the same geometry, the difference being how aggressive the rear torque splitter hits. The RS3 on Trofeo Rs is not designed to do drifts, that's what the standard rubber is for.'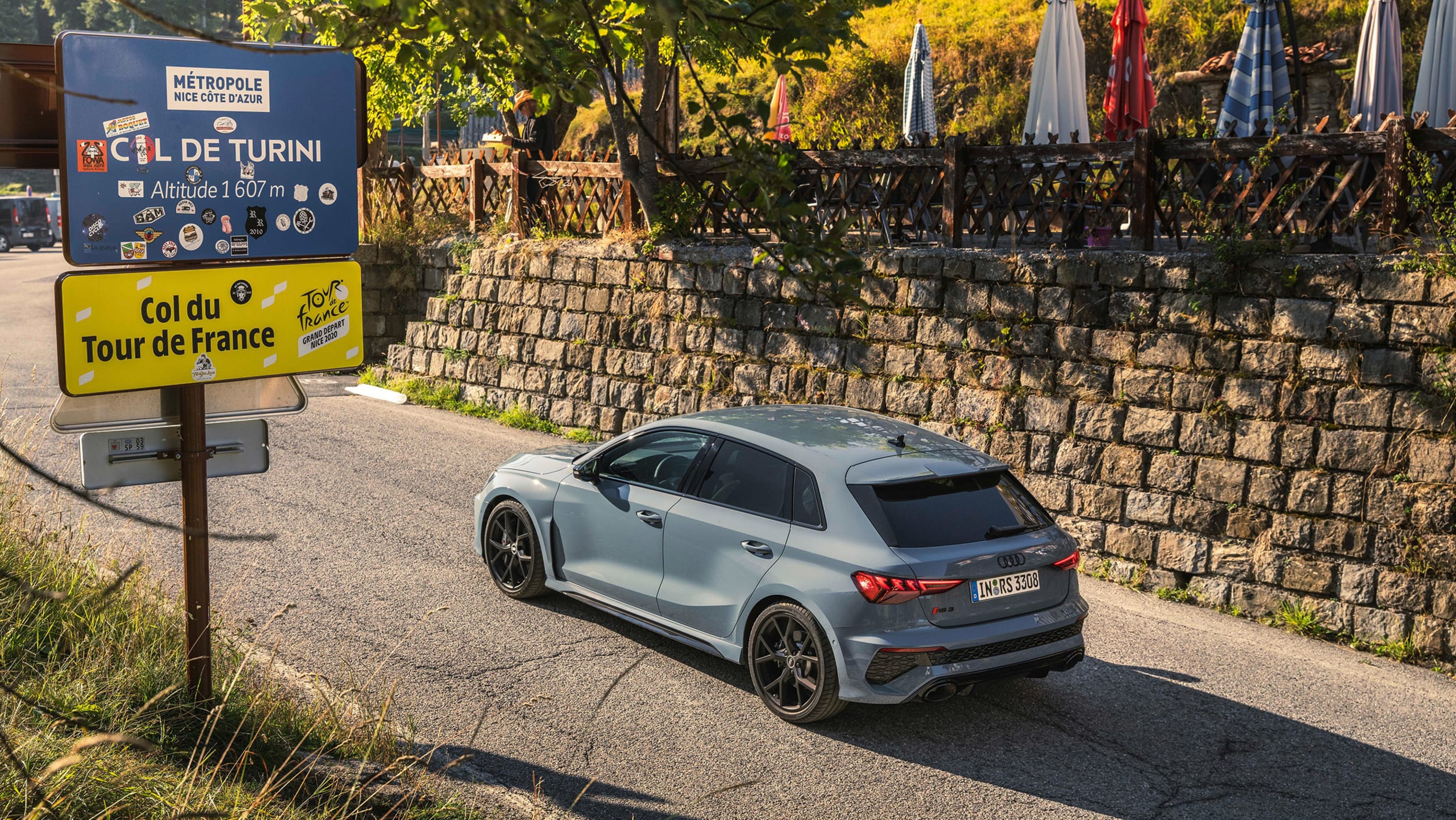 We'll have to wait for our assessment of the new RS3 on standard rubber to be certain, but we expect the compromise in front-end grip to be noticeable. On Trofeo rubber, however, it finally felt like the RS3 had a real chance of upsetting the hyper hatchback status quo, but now feels like it'll have one hand tied behind its back when it inevitably faces up to AMG's A45 S and Honda's unbeatable Civic Type R.
Jordan Katsianis