We get a first taste of the new all-electric BYD Atto 3, which can be ordered to buy now in Australia.
BYD might be an unknown brand in Australia right now but that is all soon to change with the arrival of its first model, the Atto 3.
It is offered via EVDirect, which is the official importer and retailer in Australia, using a fixed online sales model. Pricing starts at $44,381 plus on-road costs and if order today, delivery is expected around February 2023.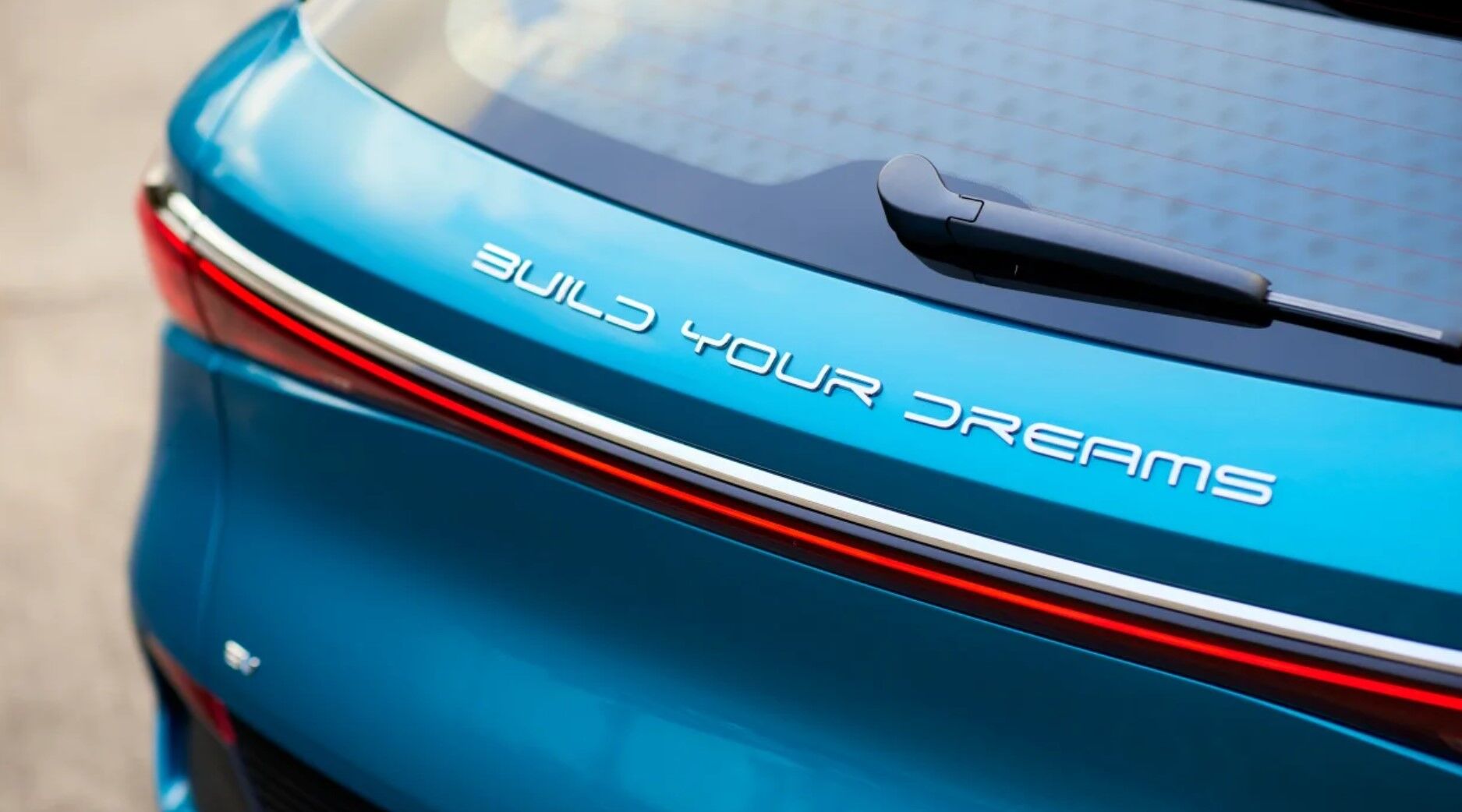 BYD itself stands for Build Your Dreams, and the Atto 3 is named after a measurement of time. It's a small family SUV measuring 4.45m long; in EV terms, that makes it more than 10cm longer than MG's ZS EV. If you're cross-shopping with a combustion-engined offering, then the BYD is a little bit longer than the current Nissan Qashqai. It has the slightly elevated driving position of an SUV, without ever approaching full off-roader status, and its styling is neat and inoffensive, albeit with some details, particularly along the flanks.
The new arrival uses BYD's latest bespoke EV underpinnings, called e-Platform 3.0. This set-up can support front, rear and four-wheel drive, along with up to 800V electrics for ultra-rapid charging. In the case of this car, though, you get more conventional recharge speeds and a single motor driving the front wheels only that produces 150kW and 310Nm of torque. There's enough shove there, BYD claims, for a 0-100km/h time of 7.3 seconds.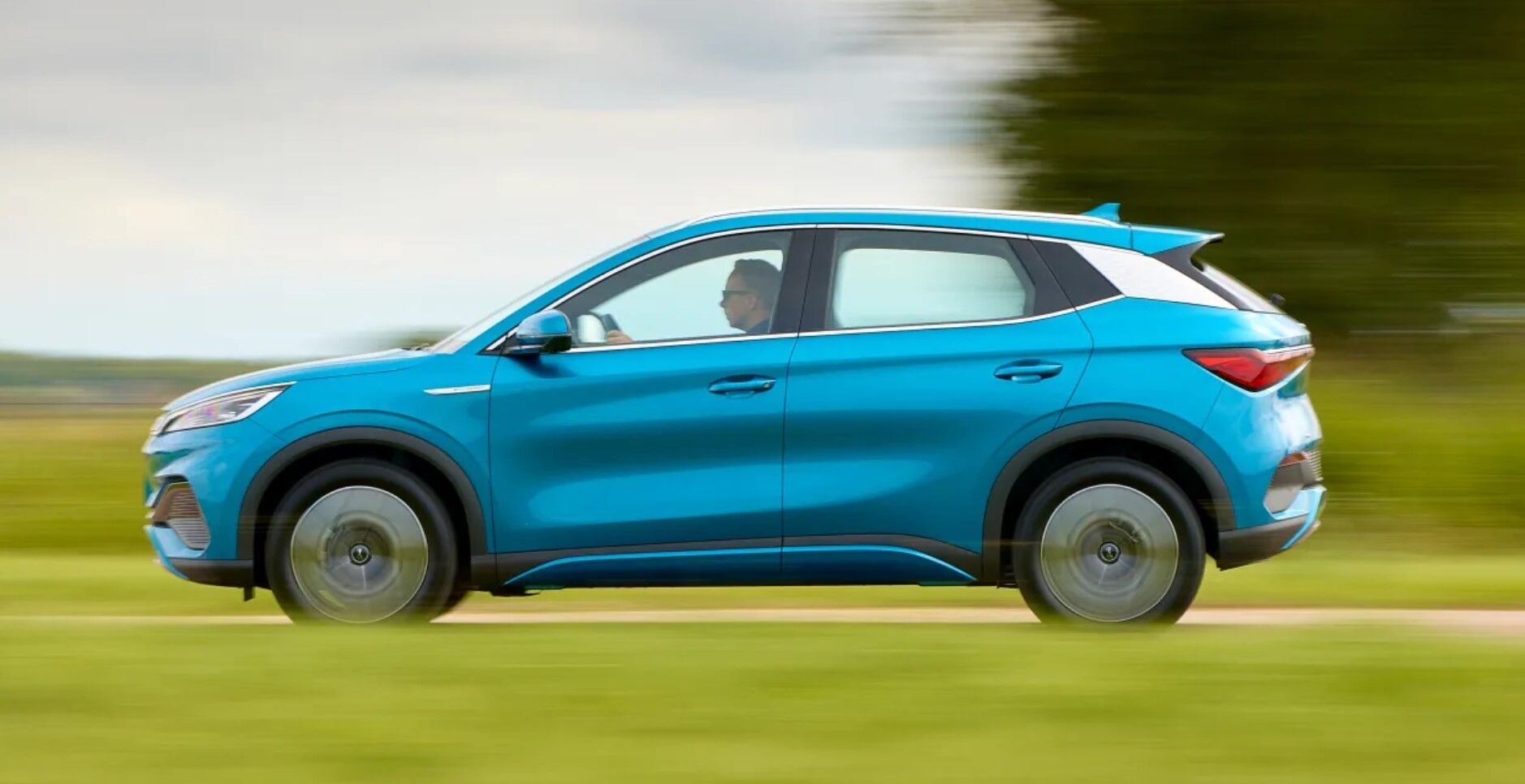 The battery uses BYD's latest 'blade' technology – in effect, long strips of cells that run from front to rear of the car, with none of the modules that feature on other vehicles (including VW's ID. offerings). This set-up is claimed to save weight and space, allowing BYD to deliver better range out of its lithium-iron-phosphate (LFP-technology) cells, which would otherwise be a bit less energy dense than the NCM (nickel-cobalt-manganese) tech that you'll find on many other cars. Atto 3 offers two battery capacities – 60kWh and 50kWh – delivering a claimed range of up to 420km (WLTP) for the extended battery, and 345km (WLTP) for the standard-size battery. A standard heat pump should help the car to retain more of this capability in cold weather, too.
Recharge speeds look respectable rather than genuinely rapid, at a maximum DC rate of 80kW for the 60kW battery and a lower 70kW on the 50kW battery. While BYD has not made a charging time claim in Australia, we've been told that the 60kW models overseas can take the battery from 30 to 80 per cent of its capacity in 29 minutes.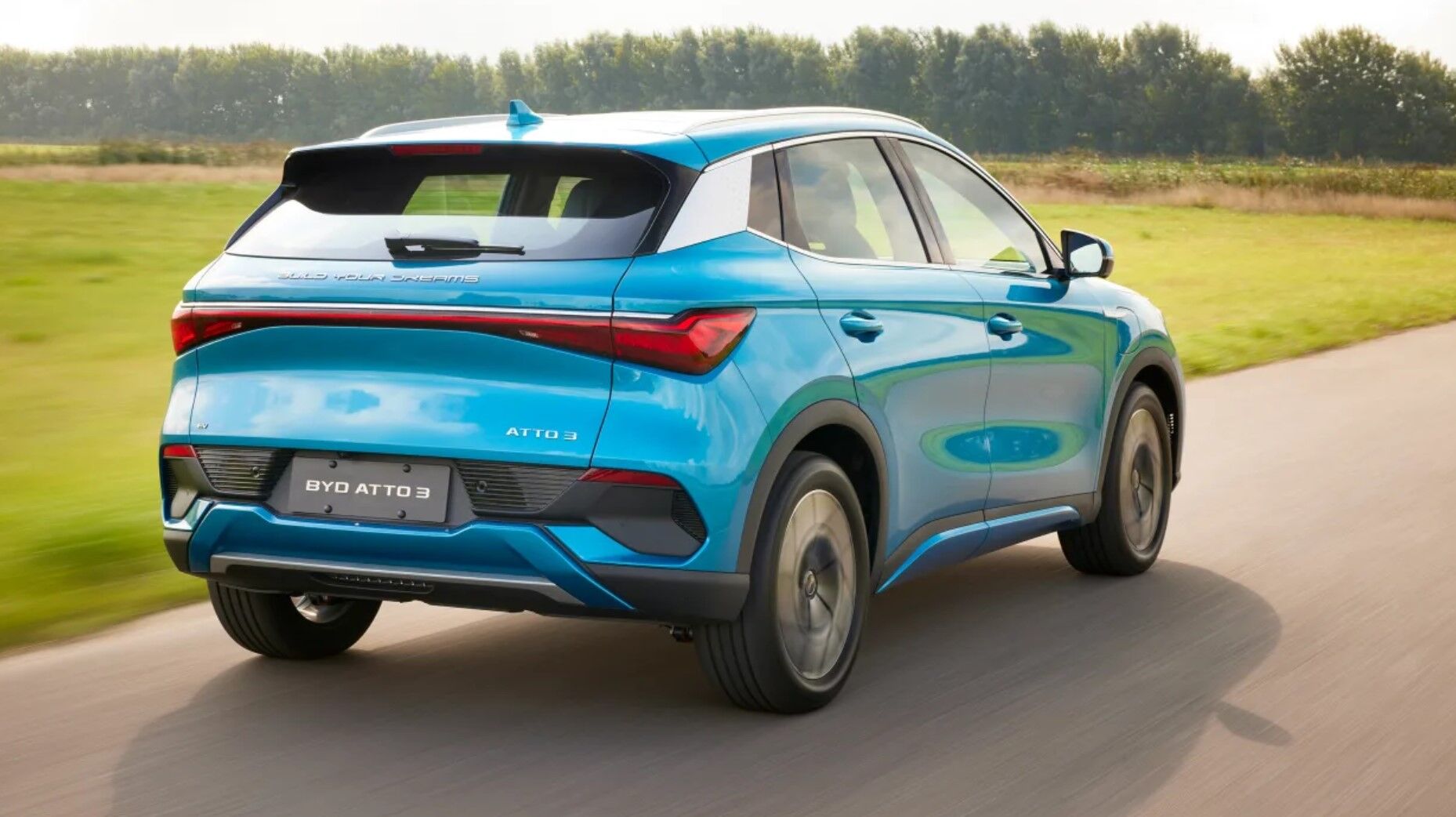 A short drive around an airfield wasn't enough to give us a conclusive view on the Atto 3's on-road behaviour in this first drive review – but it was sufficient for it to show considerable promise. For starters, the integrated electric motor unit is nicely calibrated – especially so for anyone coming out of a conventionally powered car. That is to say that you'll have to really stab the throttle pedal for things to become undone; otherwise the Atto 3's progression is well judged, sensible and pleasingly linear.
The same can be said for the brakes. Modulating the transition between energy recuperation and conventional discs and pads is notoriously tricky but goodness, BYD has come darn close to nailing it here. There's no nasty sponginess or step to speak of – although we'd rather have just one setting instead of being able to choose between two levels of left-pedal resistance.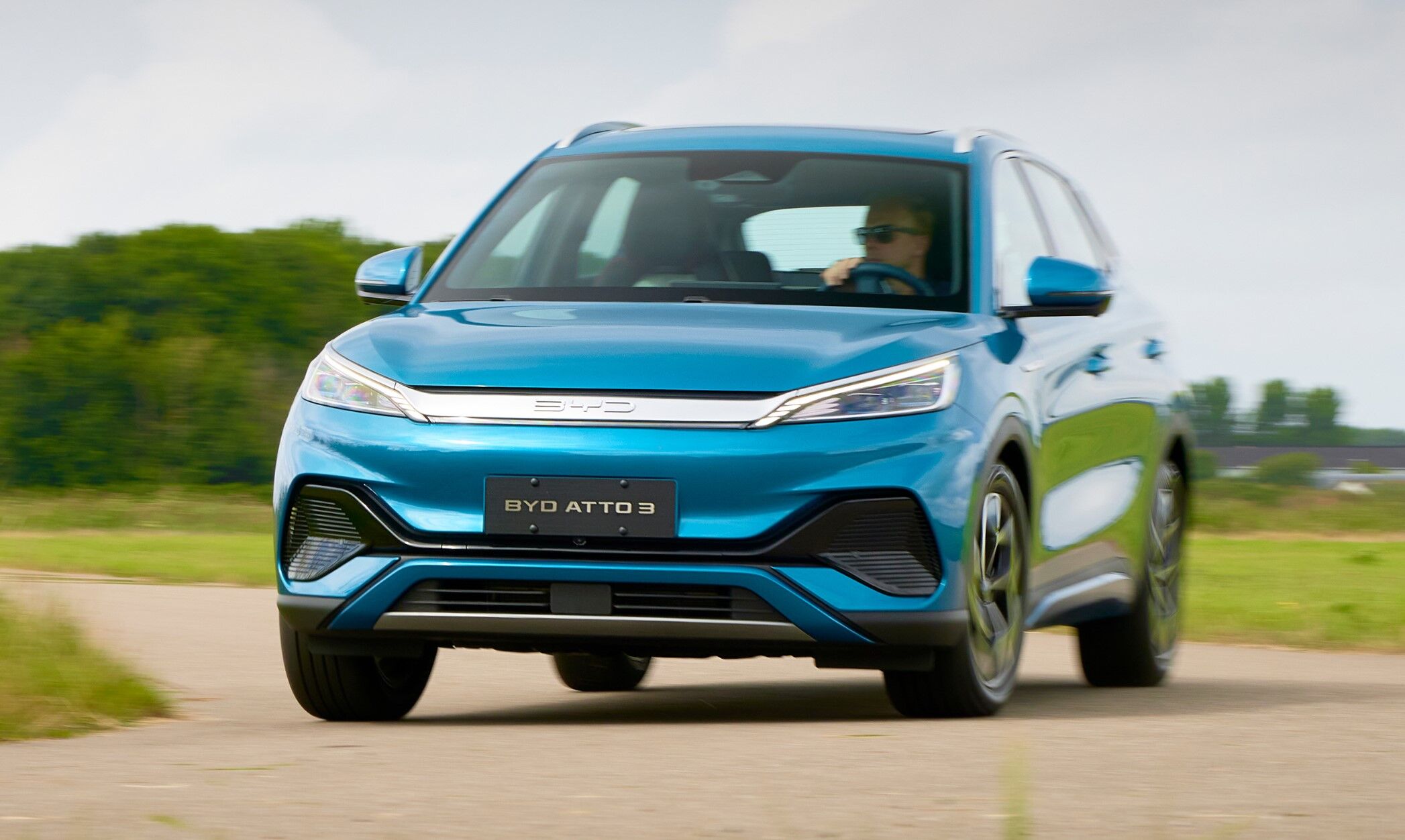 This also applies to the steering, which is perhaps the weakest link. You can pick between 'Normal' and 'Sport' but, a difference in weight aside, you're still left with a set-up that feels vague and slow to respond. A bit more bite around the straight ahead and heft that falls somewhere between the two configurations offered would be a marked improvement, we'd argue.
The rest of the chassis feels compliant – or at least, it did up to the 80km/h maximum speed of BYD's test layout. We suspect there might be a bit more body roll if you hurl the Atto 3 at a corner at a higher rate of knots, but around town and in most everyday situations you'll find it comfortable and composed. Only the roughest expansion joints between concrete road sections made it through to the cabin.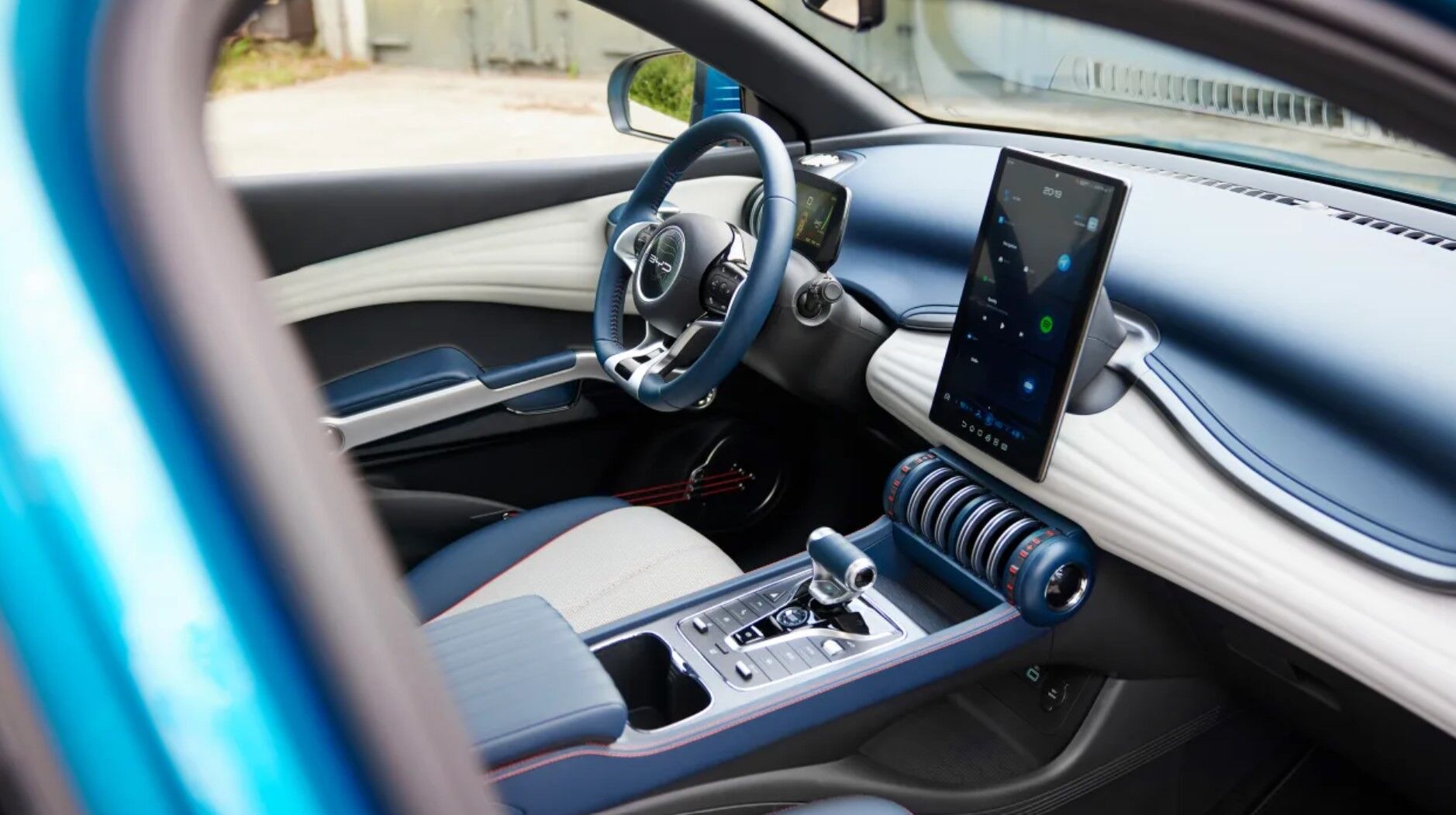 There's a little bit of electric-motor whine under hard acceleration – but no worse than you'd find in many other front-wheel-drive EVs. We were more bothered by a fair amount of wind rush emanating from the side mirrors; it was noticeable at 60km/h, so we expect it might be annoying at motorway speeds.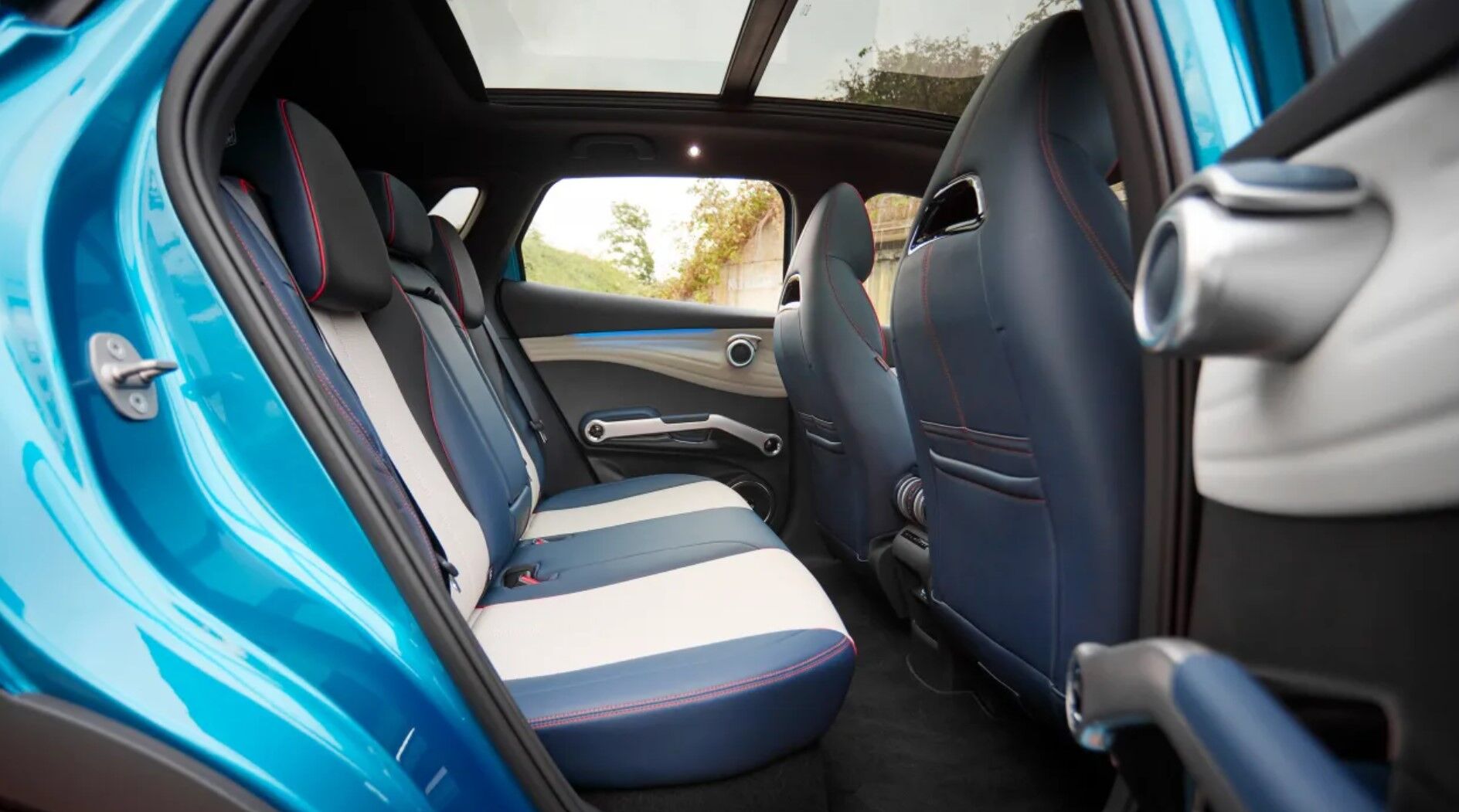 Inside, you might be surprised by how neatly finished the Atto 3 is. There are soft-touch materials in many of the key areas and while there are some fussy elements – the dashboard's air vents seem designed to make a statement, and there are flashes of red piping on the seats and the 'guitar strings' that form the door side pockets – the overall effect has a bit more panache than, say, MG's cabins.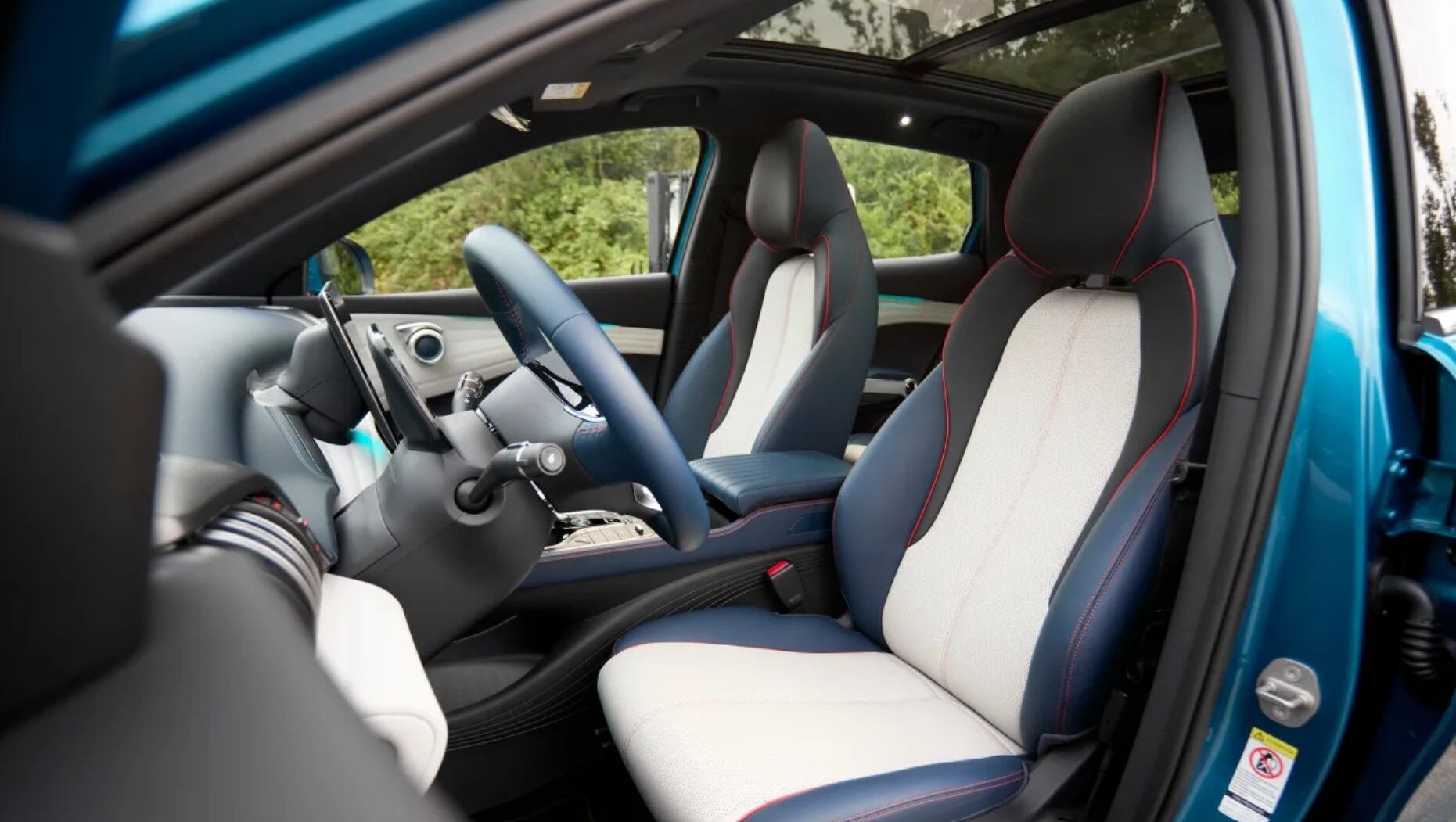 There's a tech tour de force in the middle of the fascia, too, with a 12.8-inch high-definition touchscreen infotainment system that can rotate between portrait and landscape orientation. BYD suggests you might want to use the screen upright for navigation, and return it to a wider layout for music; we're less sure it wouldn't be used once (you can control it via the screen or a steering wheel-mounted button) and then left in a single position thereafter.
Either way, BYD has confirmed support for Android and Apple connectivity, but this might be added via an over-the-air update soon after launch. As it stands, the interface resembles that of an Android smartphone; it's pretty, but potentially a bit fiddly for in-car use.
This vast, crisp display is one area that belies the car's Chinese origins in a good way. Western customers might find other elements, such as the Atto 3's various musical jingles – including a chordal indicator bong that's been sent from hell – a little wearing. Hopefully BYD will use the upgradability of its own operating system to offer more subtle, sophisticated alternatives in due course.
It's very spacious inside given the Atto 3's footprint. There's room on board for five six-footers, even with the standard panoramic glass roof fitted, and the boot capacity is a very respectable 440 litres. This can be expanded to 1338 litres when the (60/40 split) rear seats are folded down, and while there is a step in the floor as a result, you can use the adjustable height to make a slightly smaller but reasonably flat load bay.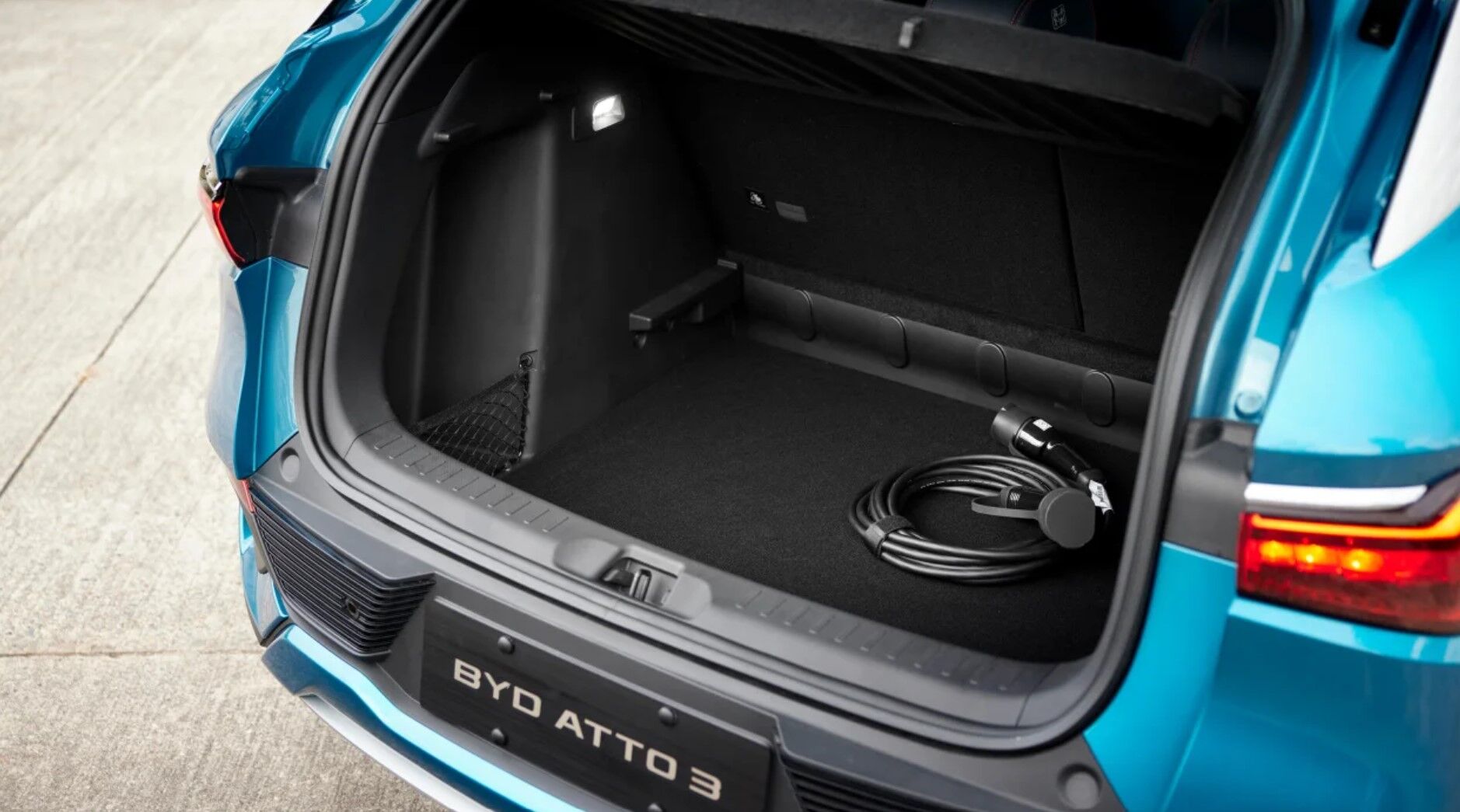 There's a little bit of storage space beneath, too – ideal for cables, since there's no space under the bonnet – but it's disappointing to see that there's not even a single moulded plastic hook shopping bags.
The Atto 3 already feels like a coherent, well-engineered offering that, if pitched appropriately, has the potential to give BYD a flying start in Australia. We'd already say that if you're going to be in the market for a family EV at some point in the next 12 months, this ought be on your radar.
John McIlroy